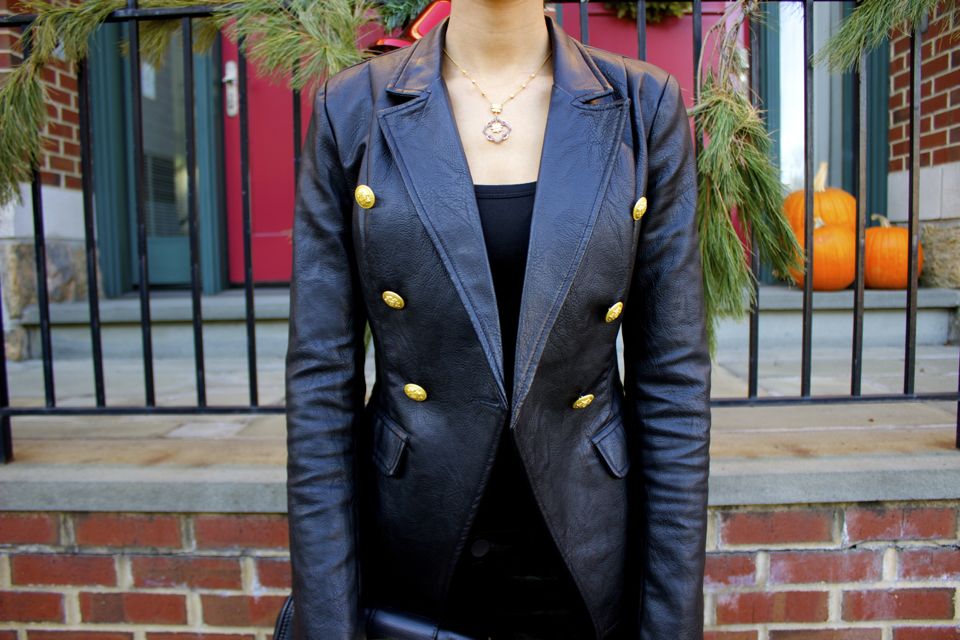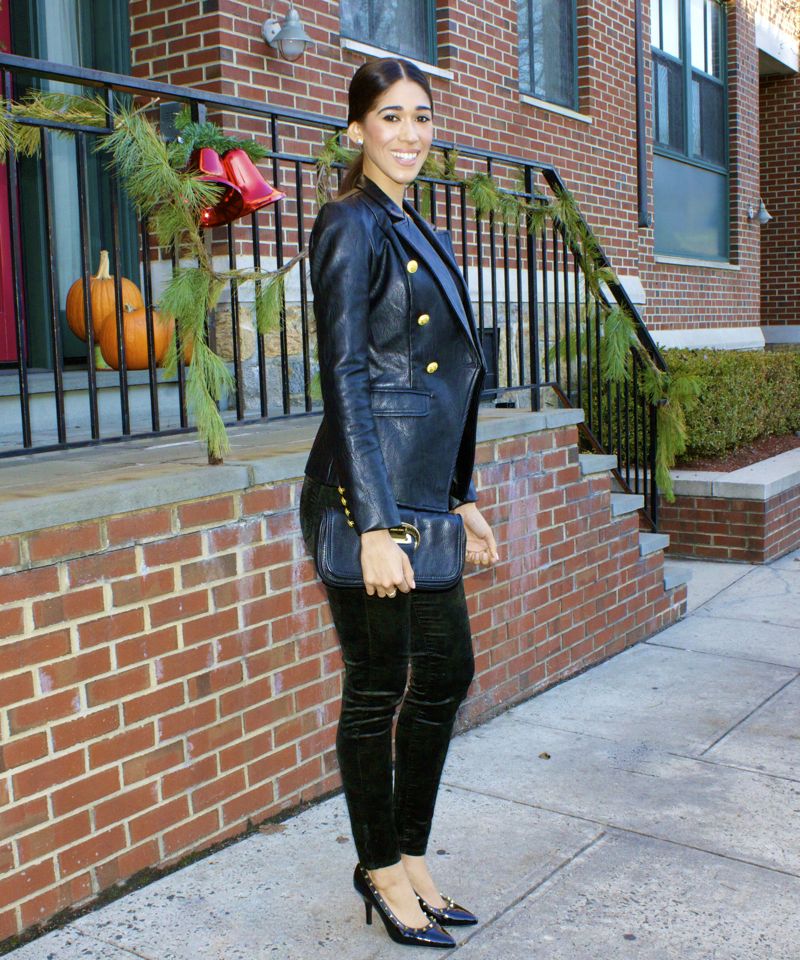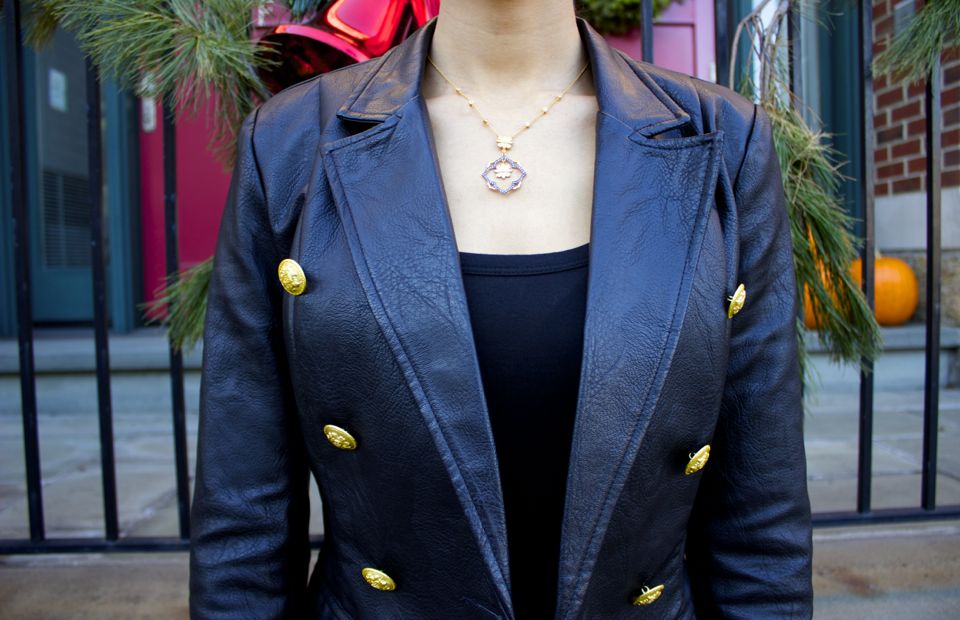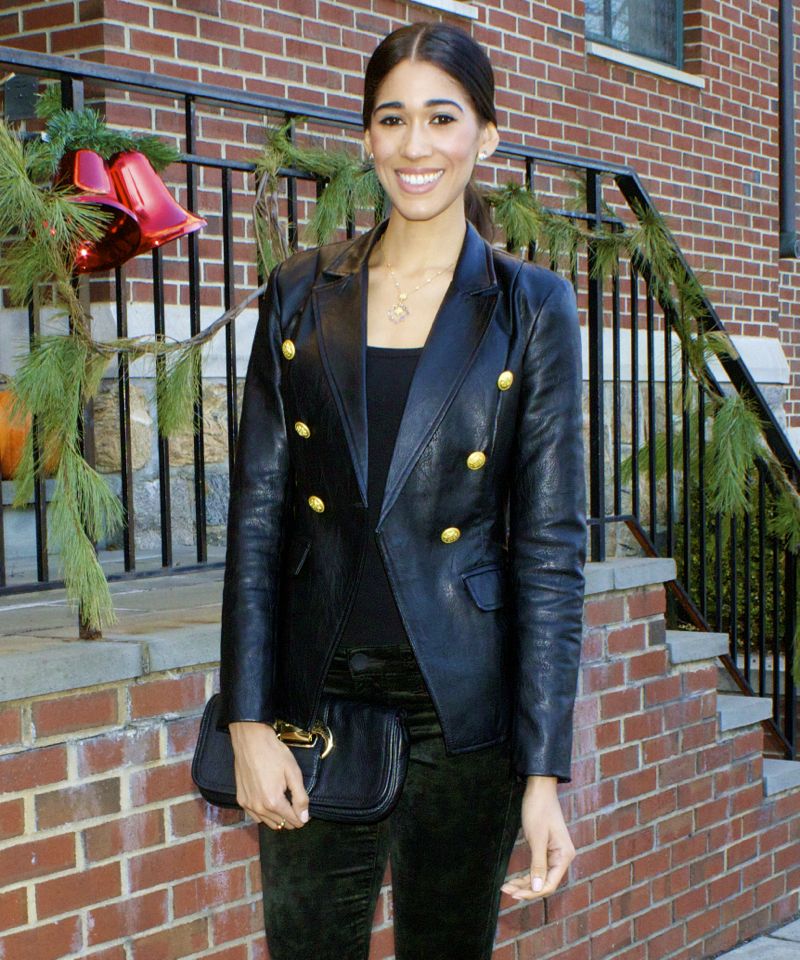 GET THE LOOK!
Blazer: Missguided (velvet version here, very similar version ON SALE HERE) // Necklace: c/o Joey J. Jewelry (USE CODE CONTOUR FOR 10% OFF YOUR ENTIRE PURCHASE! HERE) // Velvet pants: Kut from the Kloth from Nordstrom Rack (similar styles ON SALE HERE & HERE) // Heels: Steve Madden from Marshalls (similar style ON SALE HERE) // Clutch: Michael Kors from Marshalls (similar style ON SALE HERE)

Happy Monday, beautiful friends!
I hope you all had a wonderful weekend and are getting more into the Christmas spirit, if you celebrate!
I'm sure some of you may remember the look I wore featuring these velvet pants a couple of weeks ago (here). I just couldn't resist wearing them again, since we're in the holiday season and it's both green and velvet; I mean, can it get any more festive than that?! This time around, I decided to pair them with a leather blazer which has some gold button details on both the bust and sleeves. I fell in love when I first saw it because it reminds me so much of the famous Balmain blazer. This is a perfect example of when the save wins the save vs. splurge battle, haha!
Generally when wearing velvet pieces, I like to mix them with a different fabric because I feel the contrast of another material allows for them to stand out more on their own. I've heard some ladies mention that although they love the idea of velvet or have seen pieces they've loved in the fabric, they've passed on them simply because they didn't know exactly how to wear them. My suggestion if you are thinking the same, is that it always goes perfectly with leather; I also love the idea of pairing it with sequins during the holiday season for a luxe and festive look. So, if you have your eyes on a velvet blazer, for example, I'd suggest wearing it with a pair of leather leggings/pants or coated jeans.
So, what do you think of this look? Which kind of fabrics do you like to mix to create your perfect fall or winter outfit? Comment and let me know! I hope you found inspiration in this post. Thank you so much for taking the time to stop by; have a wonderful day, my beauties!
Xo,