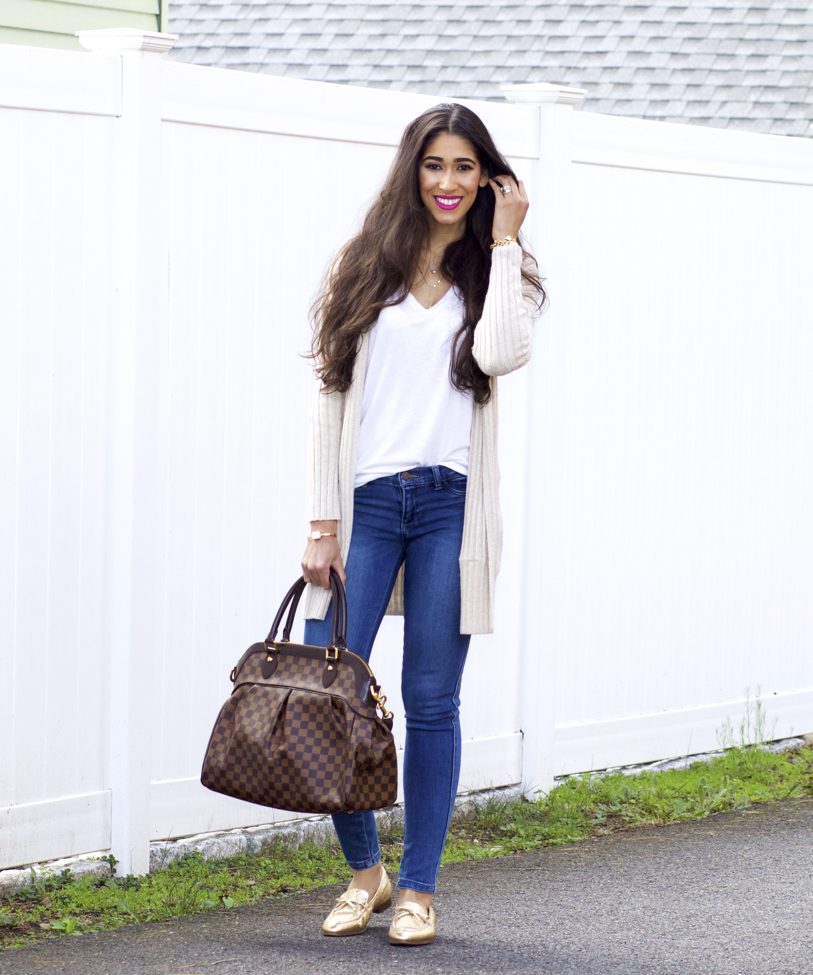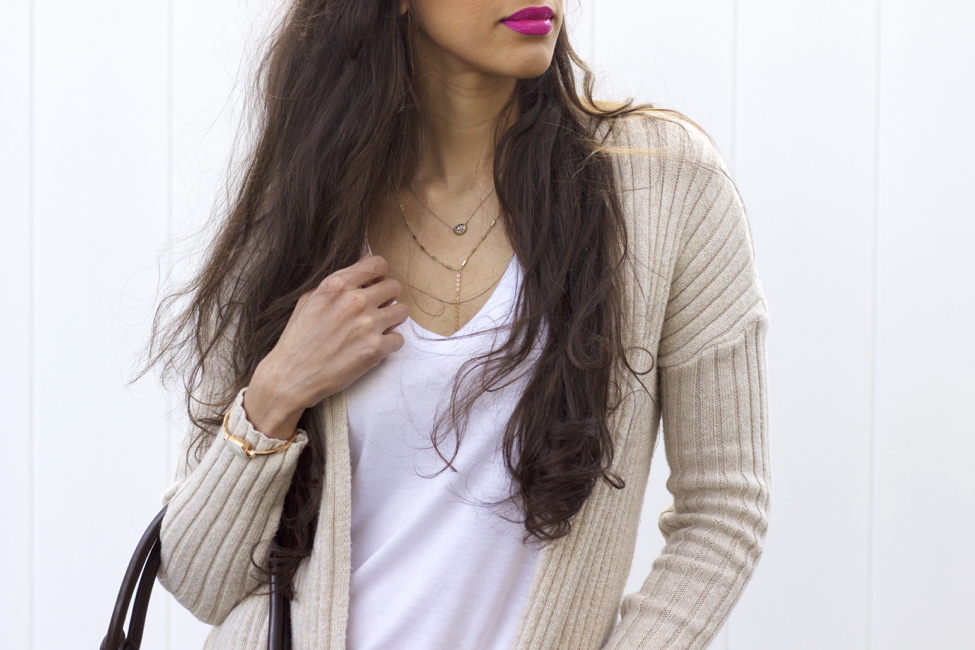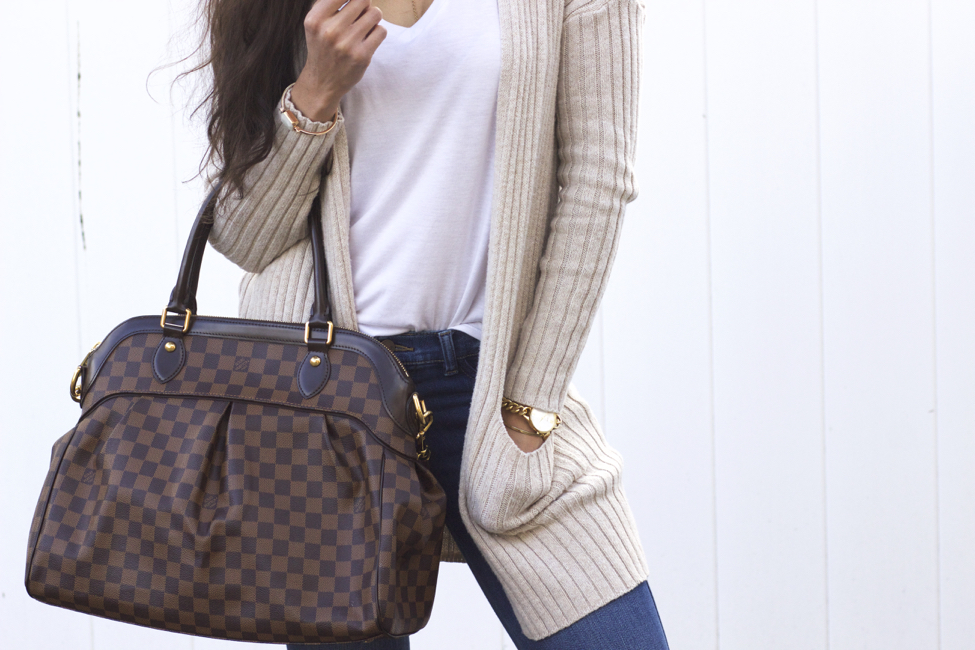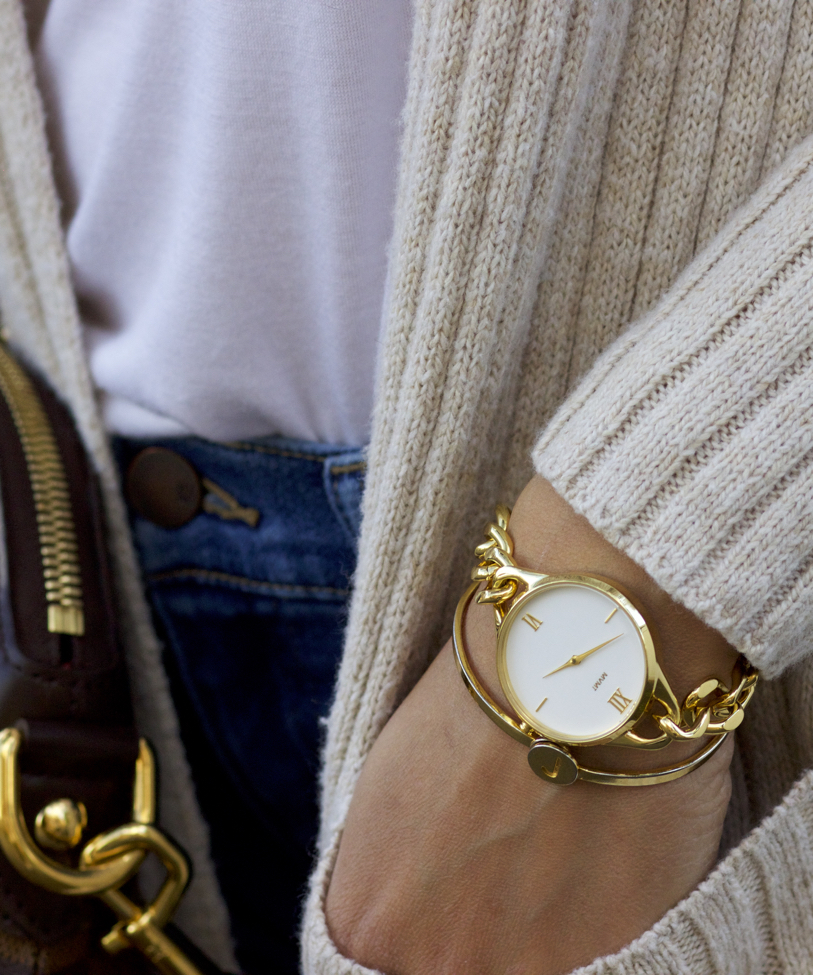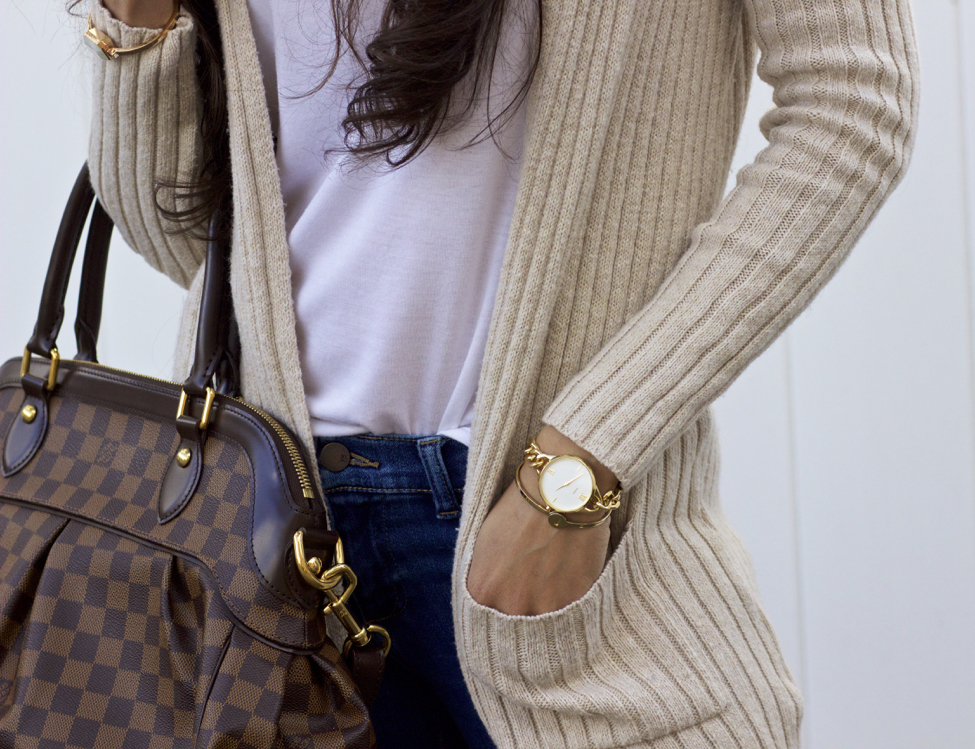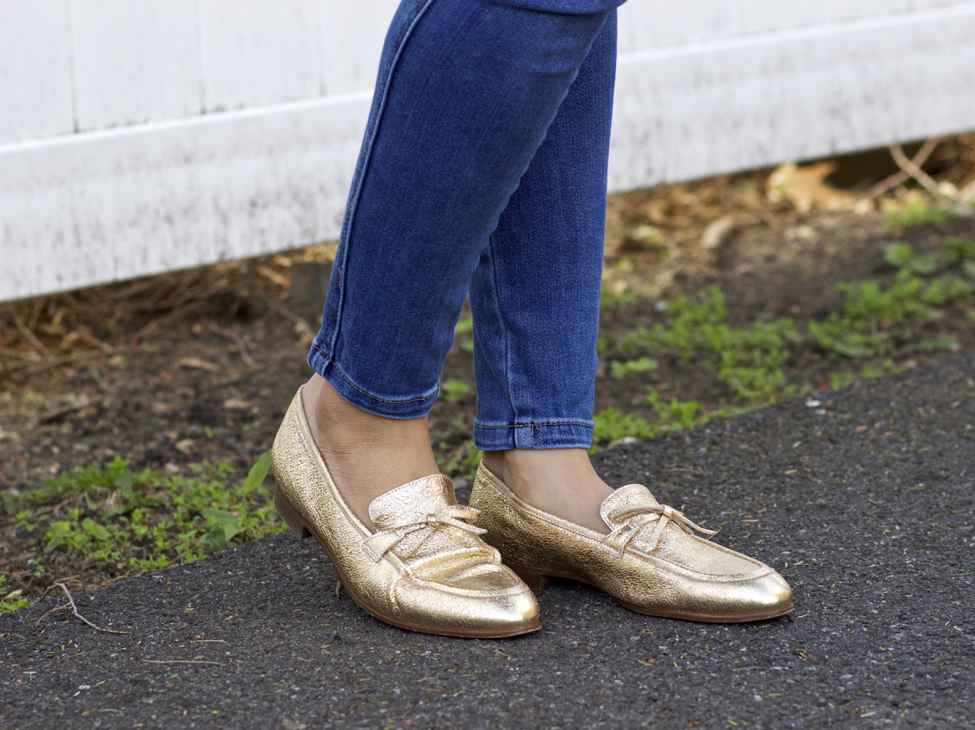 CARDIGAN: Similar | TEE (ON SALE FOR $14!) | JEANS: Similar | LARIAT NECKLACE C/O | WATCH C/O *USE CODE THESTYLECONTOUR15 FOR $15 OFF YOUR ORDER!* | MONOGRAM BRACELET: Similar | LOAFERS: Similar | LIP COLOR | BAG: Louis Vuitton Trevi GM
---

---
Happy Monday my beautiful friends!
Though the weather has been up and down since the start of spring, it seems as though the extremely frigid temps are gone, leaving us with chilly early spring/fall-like temps every couple of days. On those days, I've been reaching for my cozy cardigans and leather jackets, which I must admit, I've missed. I'm thankful that I no longer have to wear my puffer or wool coats and can play around with light layering.
I snagged this ribbed cardigan during the Nsale at the end of last summer, so it's unfortunately sold out, but I found one that's quite similar. I loved it so much that I purchased it in both the off white and black. Cardigans like this are such staples in any wardrobe, as they go with any and everything. You also get plenty of wear out of them during the spring, summer nights and into fall. Today, I've decided to style it with a simple white tee and some gold accents, keeping much of the outfit neutral with eye popping details. This has been my go-to style strategy when I know I'll be out all day with Aviah and want to be both stylish and practical.
The key to achieving a look that's chic for a mom on the go is to work with eye catching details, such as metallics and pops of color. Most of my shoes that are in rich, bold colors are heels and if I know I'll be spending the day with Aviah by myself, I obviously can't wear them. Instead, I'll add that same color I would've otherwise worn on my feet, on my lips.
This is also a great way to brighten the face and add a touch of spring to your outfit without having to go out and purchase new clothing. Colors such as pinks, oranges and reds can have such a huge impact not only on your makeup look, but your entire outfit.
I hope you all had a great weekend! The weather was absolutely beautiful on Saturday, so we spent much of the day outdoors. Aviah and I had lunch in our backyard and she was loving all the birds that were coming around, since we have a bird feeder. We spotted a few cardinals and some other beauties. Then I took her to the park; she loves the swing! By the time we made it back home, she was knocked out, haha.
What are some things you other mamas like to do with your little ones when the weather warms up? This new mama needs ideas!
Thanks so much for stopping by, my sweet friends, and I hope you have a great week ahead!
XO,