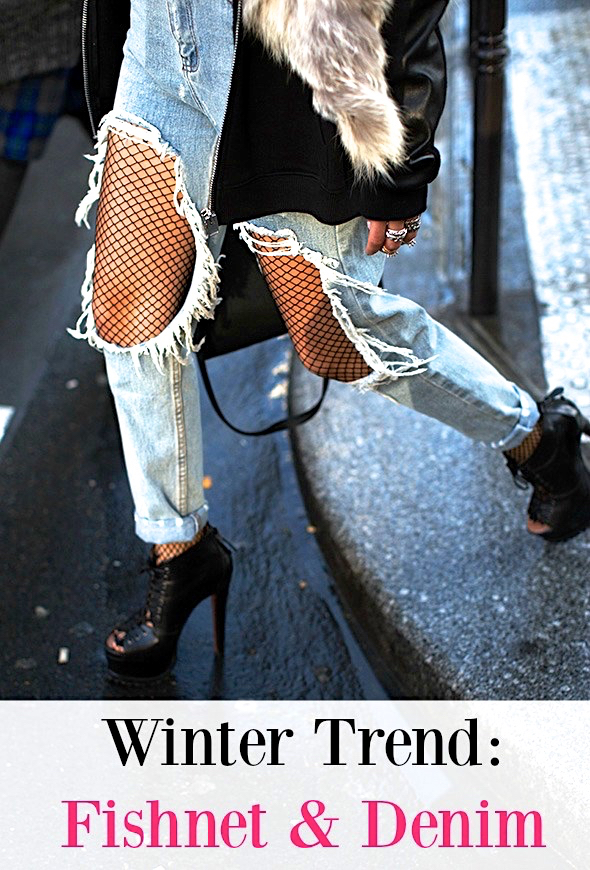 Happy Tuesday, friends!
How was your Christmas weekend? I hope you had a wonderful time spent with your family and loved ones. I had a fantastic time, I took the extra day off from blogging and all social media yesterday to enjoy with my mom, niece, and step-daughter; it was so much fun and it was nice to get a little break and detox from the phone, haha.
Anyway, I wanted to talk about a trend I've been seeing pop up a lot lately and that's fishnet tights paired with denim. Basically, it's the same concept as we discussed in my How to Wear Ripped Jeans in the Winter post, but this won't actually give you the warmth as the other styles I showed and mentioned in that post.
I think it looks so cute peeking through the rips in jeans, adding a touch of grunge to a look. I've also noticed that fishnet socks have also been quite popular and are commonly worn with pumps, which create a nice contrast, too. I also love the idea of experimenting with other colors, though the most common I've been seeing around is black, but a pop of blue fishnet tights, for example, peeking through some rips would give a nice unique spin to the trend!
:SHOP FISHNET TIGHTS & SOCKS:
---

---
What are your thoughts on the trend, would you try it yourself?
Thanks so much for stopping by, my gorgeous friends; I hope you're having a wonderful day so far, see you back here tomorrow with a new post!
XO,