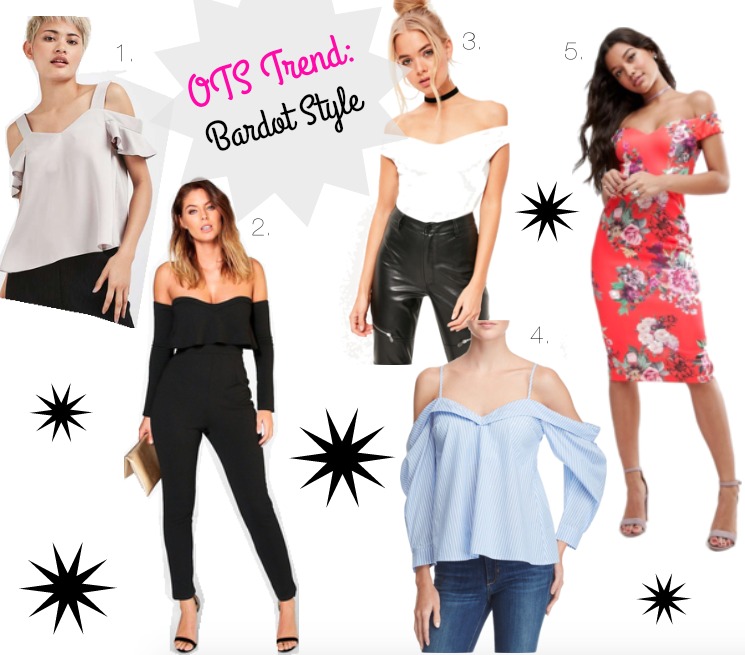 Happy Thursday my gorgeous friends!
As we all know, the OTS (off the shoulder) trend has been going strong since the spring of last year and it shows no signs of stopping as we transition into spring and summer this year. What I love about trends that I personally embrace, be it colors or specific styles and details, is that we begin to see variations of the style, making it more wearable and easily adaptable to our own individual tastes. When the OTS first showed up, we saw straight bare shoulders and with time, the cold shoulder (basically cap sleeves with huge slits) and now, we're seeing what's named the bardot.
The bardot neckline isn't anything new, though. It's been around since Brigitte Bardot herself coined the style, which is basically a slight off the shoulder with a dip, often with a sweetheart neckline. In other words, a wide v neckline. I wanted to point out this particular version of the OTS style because I know many of us may not like the widening effect the straight neckline of the standard OTS provides. It can makes us wider than we may want to appear, of course this all in regards to personal preference. I, personally, love both styles. If this is the case with you, however, and the reason why you've stood clear of the trend, just know that there are options out there and by knowing the keywords to type in when shopping (bardot, wide v, sweetheart OTS) you'll find what you may have been looking for all awhile. Or, you could create the effect with a button down shirt you already own, by unbuttoning the first few buttons and exposing your shoulders on each side, voilà, you've got yourself the same thing and didn't have to buy a brand new shirt! This has actually been a very popular way for rocking the OTS trend lately, so street style chic!
The dip in the center of this particular style prevents the eye from looking straight across, merging both the effects of a wide and v-neck, which is universally flattering for women of all shapes and sizes, regardless if you think you're wide on top or not ;) It creates a spotlight or center focus (literally) to your collarbone area, which is, once again, one of the most universally flattering ultra feminine areas of all women.
I hope this post inspired those of you who felt this style would never work for your body shape or structure to perhaps try this style and I'm sure you'll love the way you look, I guarantee it (Men's Warehouse guy's voice, haha). Thanks so much for stopping by, my beautiful friends, and I hope you're having a wonderful day so far!
XO,