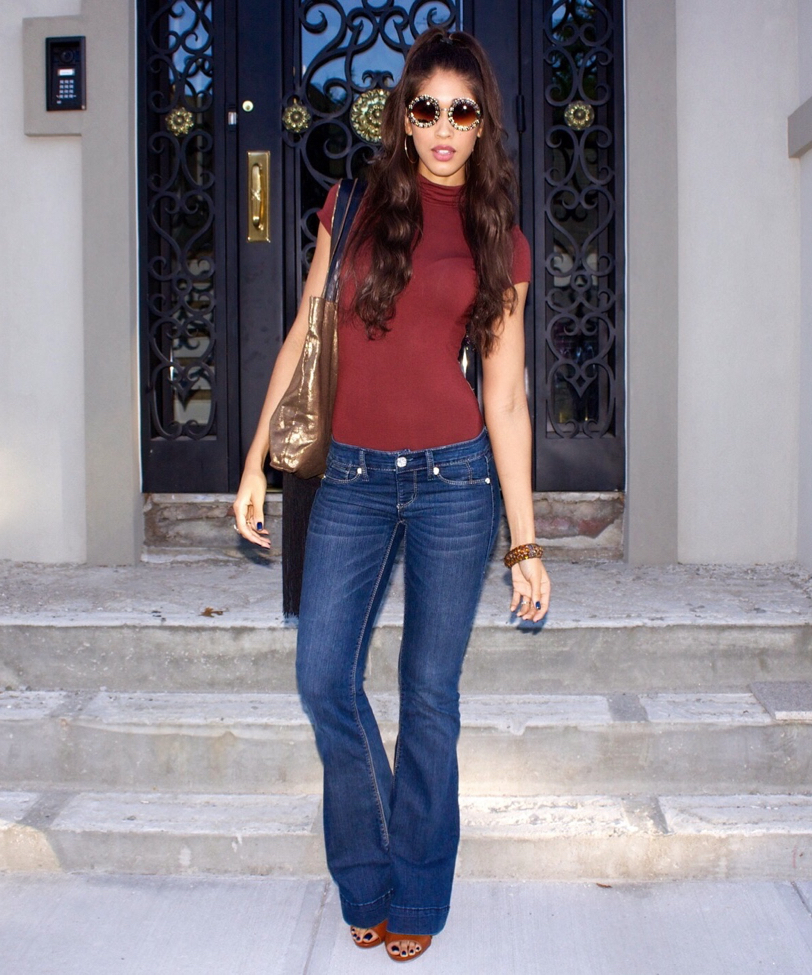 :SHOP FLARED JEANS:
---
---
Happy Thursday my dear friends!
These past few seasons, denim has been a major trend in every possible way. From chambray shirts, denim jackets, patch work and frayed hems, now to the flared bottoms. Actually, everything bell shaped is major this season, including bell sleeves! I guess this just goes to show that 70s inspo is here to stay and hey, I ain't complaining!
When it comes to flared jeans, I know many can be on the fence for various reasons. I've spoken with those who are petite and they feel they make them appear short and stubby and those who are curvy, feel they make them look wider. Here are my solutions for both (and more) which I hope you find helpful:
Petite: Only purchase your flares from either petite shops or collections to ensure that the bottoms won't be too long. Even then, you may feel they're a tad long and this can be resolved by either getting them tailored and/or adding platform shoes. I personally think flared bottoms look best when worn with heels because they not only provide hight and prevent the bottoms from dragging on the ground, but they also lift the body visually and can help prevent the stubby effect.
Curvy: As suggested for petites, heels can do wonders for making the body appear more sculpted when wearing flares. If you're self conscious about the flares making your hips appear larger, I'd suggest opting for solid darker rinses that can visually slim the entire leg. Avoid whisking, which is the white faded effect usually around the hip area, which you can see on the ones I'm wearing above, as well as a light wash in the center of the leg. As with highlight in makeup application, these features can make the areas appear fuller and bring more focus to them and if this is something you don't want, then avoid them and opt for a solid jean.
Tall: If you're tall or have long legs and want to show them off, flares are the jean for you! They do wonders for making the legs appear miles longer and combined with a pointed toe shoe, you've officially stollen the show, girl!
Curve Creator: For those who aren't curvy and wish to create some visual curves, flares can do just that! The flared hem add width and when coupled with whisked effects and light rinses or washes, it can add fullness to the legs. If you want to make the booty appear larger, more sculpted and defined, then opt for those with either welt pockets or no pockets at all.
Shoes: Unlike the skinny jean that pairs well with virtually any shoe style, flares look best with only a handful of styles because of the amount of fabric at the hem. I'd suggest: clogs, mules, pointed toe or almond toe pumps and ankle boots.
I hope you found this post helpful in wearing and styling flared jeans this fall and winter and hopefully it inspired you to give them a try if you were on the fence prior to reading! Thanks so much for stopping by, my dear friends, and I hope you're having the best week so far...it's almost Friday, woohoo!
XO,