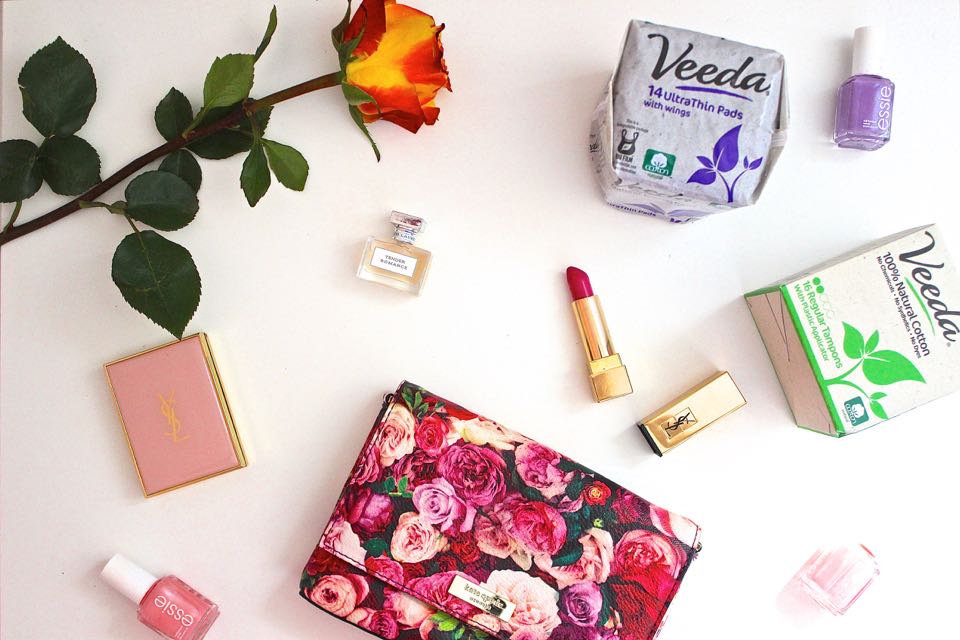 SHOP THE POST!

Happy Thursday, dear friends!
Today's post is different than most because it includes a product and brand review. If you've been a reader of The Style Contour for some time now, you know that I don't do many product reviews, simply because I'm very choosy with what I share with you and for many reasons. The most important reason is that I honestly consider you all to be my friends and I value the relationship we have and because of that, I will never share anything that I myself am not interested in or don't love or use myself. With that, Veeda, a natural feminine hygiene company, reached out to me about a month ago to review both their 'Ultra Thin Pads' and their tampons and after further researching the brand, I had only vaguely heard of the company prior to them contacting me, I agreed. The reason I said yes is because it's an all natural, hypoallergenic brand and many of you know that I use mostly all natural products, as shared in My Hair Care Routine post, so it naturally, no pun intended, felt like a good fit for a collaboration. To be honest, I only tested out the pads because I personally don't like using tampons, so I cannot share my experience with using them, but I highly suggest you read the many benefits of using this brand, if you use tampons, over the popular brands on Veeda's FAQ page.
Let's first start off with what the differences are between Veeda and many of the larger brands' pads. Veeda's pads (and tampons) are made of 100% natural cotton and are hypoallergenic, whereas many of the other larger brands contain a mix of bleached viscose rayon, cotton, and synthetic ingredients, also containing pesticides, herbicide residues, synthetic chemicals, fragrances, dyes and are not hypoallergenic. Think about that. Why would we want to place anything that contains all of those harmful ingredients near our private areas? And when talking about tampons, inside of our bodies! Placing a bleached item inside of our body has to have some sort of negative effect big or small.
Now, I'd like to briefly share my experience and thoughts based on my use of the 'Ultra Thin Pads.' This may seem a bit TMI, but I promise I won't be getting into great detail, haha. My cycle lasts between 5-6 days and starts off light. I no longer experience heavy periods after I've greatly minimized my consumption of both dairy and meat (dairy and white meat 1 or 2x a week, red meat 1 or 2x a month), so if you experience heavy periods and PMS cramps (I used to get them real bad), I suggest you try cutting back on them as well. My period isn't extremely light, so when I first opened these pads, I was a little nervous because they look really thin compared to the ones I use, so I started to freak out a bit, since I'm so active; I work out rigorously 5x a week, basically during my entire cycle! Thankfully and surprisingly, these actually didn't leak and didn't make me feel like I was wearing a diaper (haha), I'm being REAL! I was able to work out comfortably and go about my everyday life without thinking about the worse case scenario or reliving my college nightmare during my Sociology class. YES, it happened in class and I had to tie a sweater around my hips, thankfully I had one with me, #soembarrassing!
As for what I love about the brand, aside from their products, is that they give back and I'm all about giving back. Anyone who knows me, knows that I'm a huge giver and so that means a lot to me when a company uses their proceeds for a good cause. They've created their 360° Care Fund, which uses their online proceeds to help disadvantaged women and children around the world by providing financial, material, educational, childcare, psychological and moral support. I find this to be quite amazing!
For the most part, I'm really impressed by both the company and brand (read the company's interesting start in developing the brand here). I like that they're sold at many drugstores (where I generally shop for my hygiene products) and supermarkets, such as Stop & Shop. So they're easily accessible and their price points aren't bad, which is awesome. The only downside is that the largest pack for the pads contains only 14, as opposed to the popular brand I was using that contains 48. For those of us who live with other women and share pads or tampons, this can be a bit costly, even though the price for a pack isn't bad, but having to buy them more frequently can add up. Now that I know that they're sold at where I currently shop (I can't believe I've never noticed them before) I'll be purchasing them because they just simply don't contain all the harmful ingredients that the ones I'd been using and trusting for all these years do.
I hope you found this post helpful, my dear friends, I definitely suggest you try out Veeda's products, you have my stamp of approval and because I want you all to give them a try, I asked the folks over at Veeda if they would be kind enough to provide you with a coupon code and they were more than glad to do so! Use code: VeganLA10 to receive 10% off your order on Veeda's website! Thanks so much for stopping by and I hope your day is as wonderful as YOU!
XO,