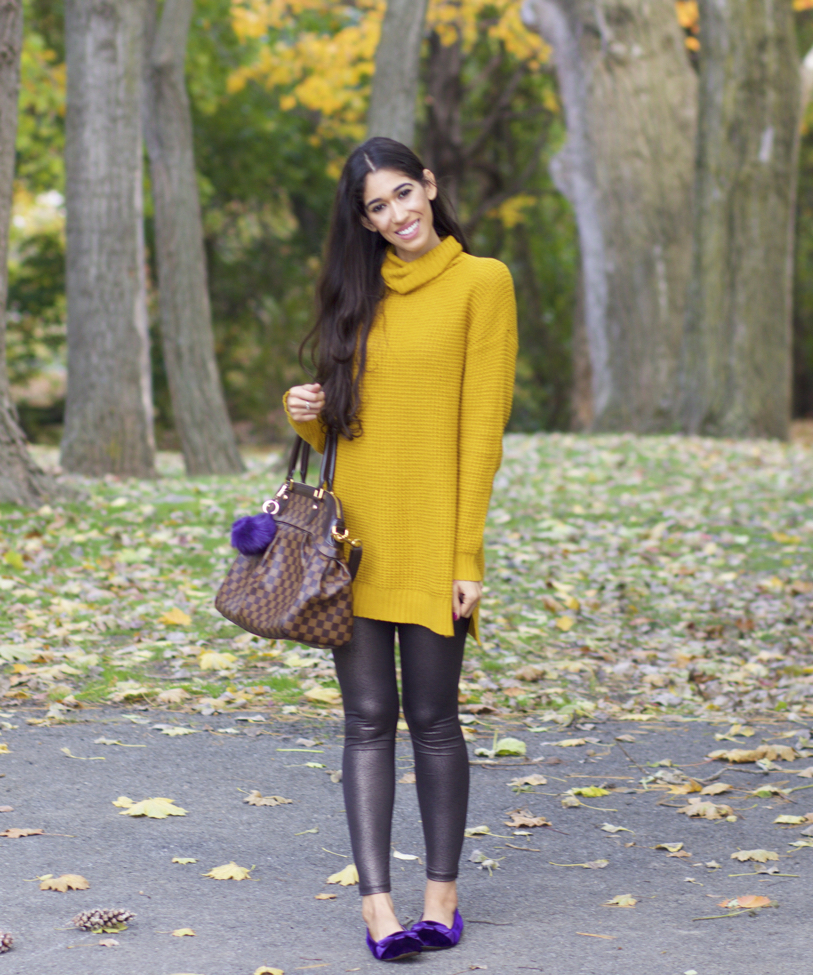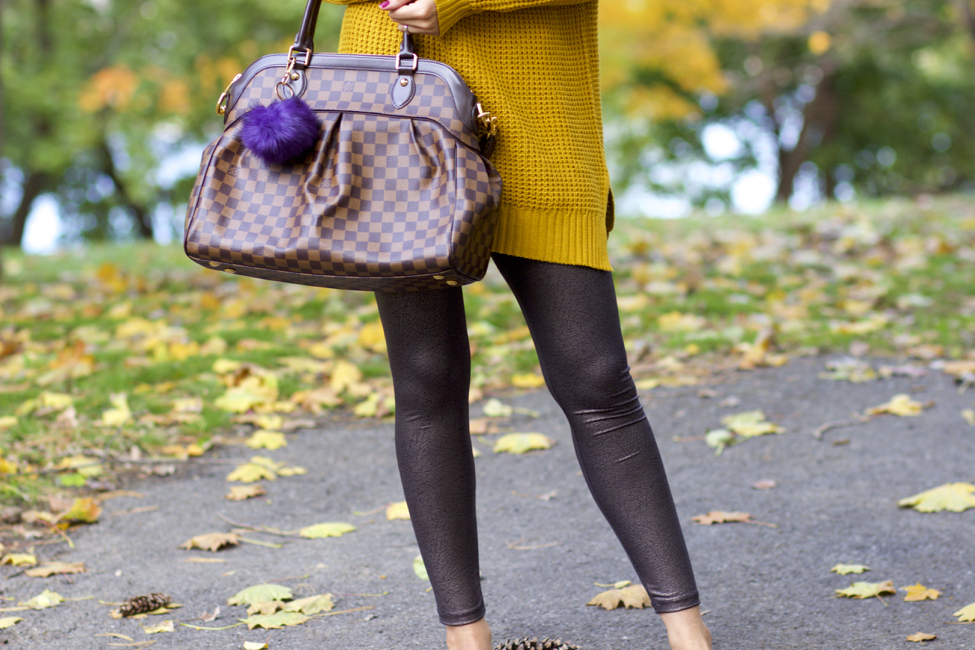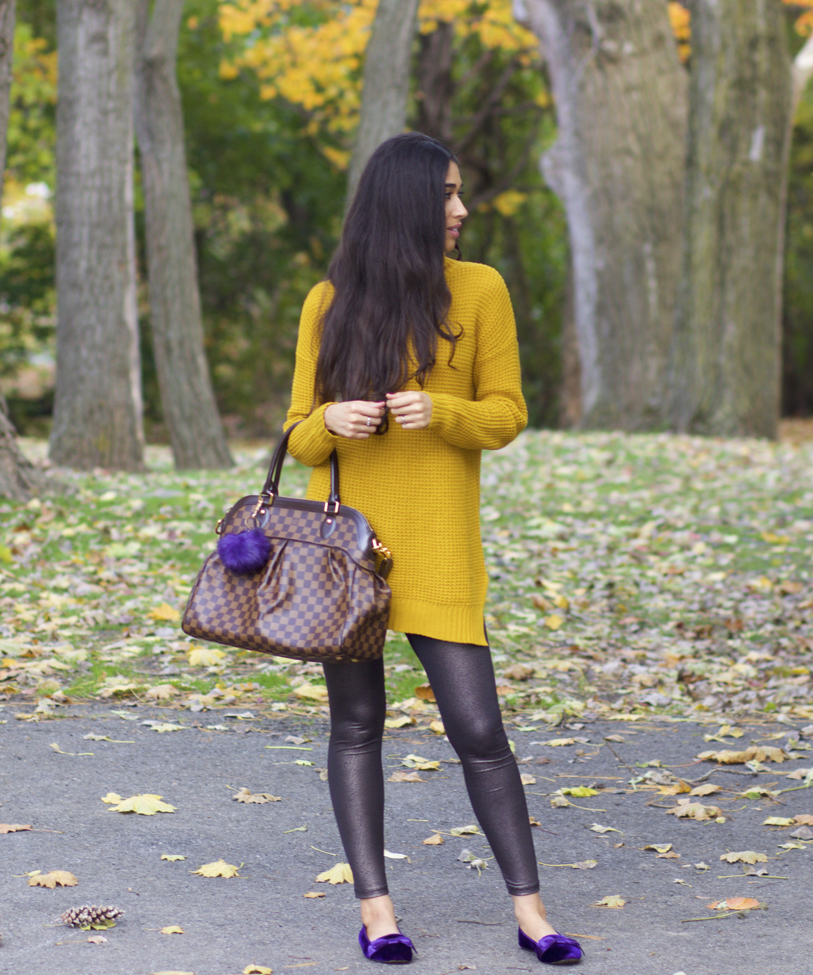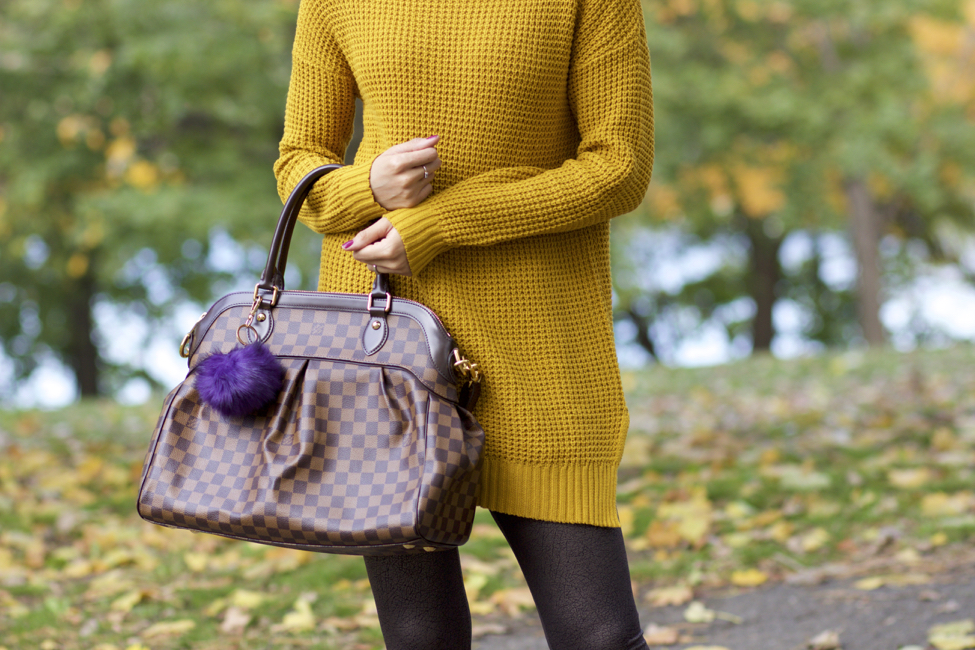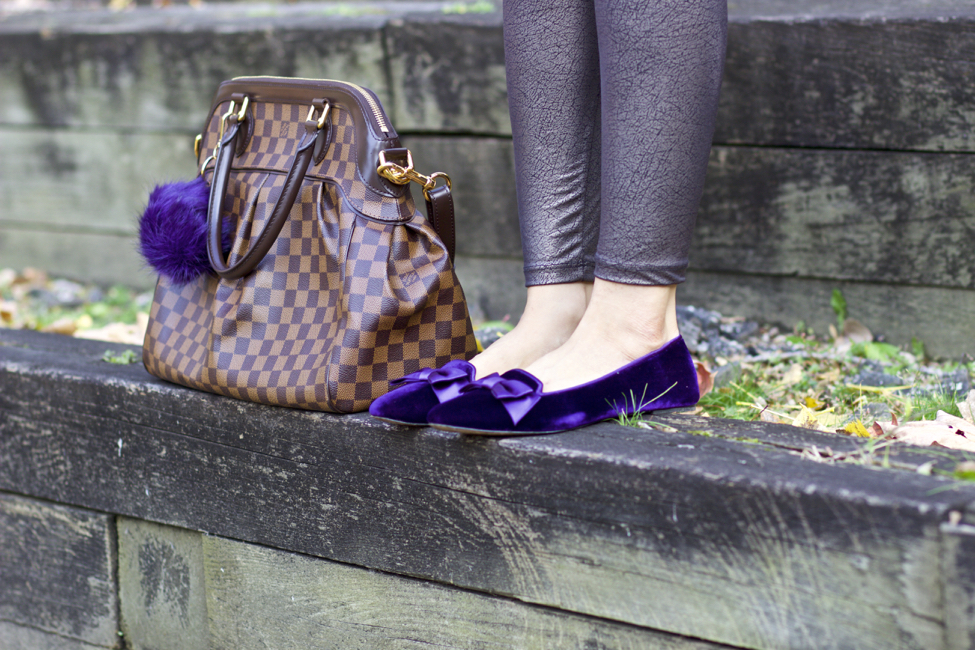 :OUTFIT DETAILS:
---
SWEATER: Nordstrom Rack (HERE) // LEGGINGS: Nordstrom Rack (similar HERE) // BAG: Louis Vuitton // POM POM: similar HERE // SHOES: Kate Spade (loving these)

---
Happy Humpday, friends!
How's you're week going so far!? I've mentioned at the start of fall that mustard yellow is one of the popular color trends this season and it makes for a super trendy outfit when paired with pink, as we've discussed in this post. I feel since it's a bit of an uncommon color, we can often scratch our heads at the thought of trying to think of colors that would make for a great combination. Aside from pink, I think shades of purple work just as great, though not as unexpected. I mean, I'm not going to lie, I do think of the LA Lakers. I know, me and my color analogies; remember the mustard and red color combo?! Yup, I bet you now think of McDonalds after reading that post, lol!
Anyway, I love the idea of pairing mustard yellow with violet and if it can be in a velvet texture, ah, all the better! I'd reserve mixing mustard with lilac or lavender for the spring months, so just know you will still get use out of your mustard piece well into spring! Well, what about winter you ask? Team it with black and you've got your winter mix!
I styled this tunic with a pair of copper toned leggings and purple velvet loafers for a relaxed, yet stylish look. Sometimes, I'm just not in the mood for heels, especially if I have a lot of running around to do and I love that I've been able to jazz up my looks with a little pop of texture and color with these babies. So, if you've been thinking about exploring the velvet trend, i'd suggest a pair of shoes. I think you can get a lot more use out of it than any other item, though I'm not against the idea of snagging other pieces, I'm quite obsessed myself!
As you will notice, the tunic is fairly long and since I'm wearing flats, it makes my legs appear a bit shorter, especially in comparison to both Friday and Monday's post. This definitely goes to show what a difference styling and visual effects can create. So, if you're petite, I'd suggest you avoid a long tunic like this paired with flats, especially if you have shorter legs as it is. On the other hand, I'd suggest teaming it up with a pair of pumps and perhaps even tucking in the front when wanting to go the oversized route.
Have YOU embraced mustard yellow this season? If so, what are some colors YOU love to pair it with? What about velvet, are you in or out on this trend?
Thanks so much for stopping by, my dear friends! There will not be a new post up tomorrow; I'll be back on Friday, so don't forget to stop by and have an amazing day!
XO,