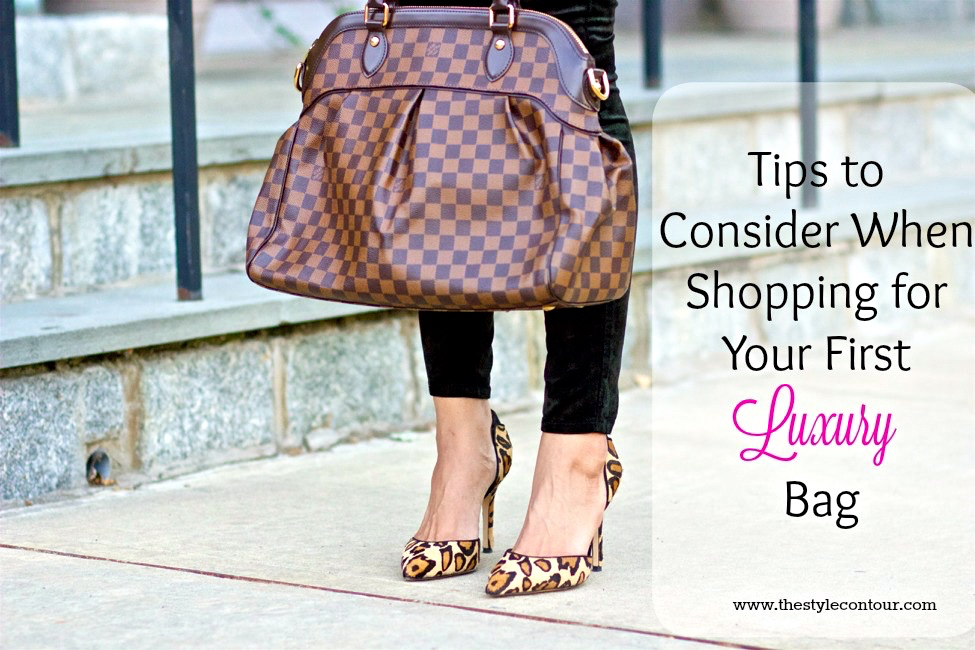 Happy Tuesday, my dear friends!
A couple of weeks ago in my Worthy Fashion Tips with JCPenney post, I mentioned that I prefer to invest in luxury bags and many of you agreed and there were also a number of you who hadn't really considered it prior to reading that post. This inspired me to share some suggestions I feel would make the process that much easier, if you're now considering, especially with the holiday season around the corner (again, I can't believe this!).
I do believe that it's one of the most important pieces in your entire wardrobe that you can and should invest in for a number of reasons. The first being that a bag is something that's a necessity not a want, that we use everyday to carry all of our daily essentials. Since it's one that's needed for everyday life, it's important to consider one that can hold up to constant wear and that will also work well with most of your wardrobe and outfits. While collecting bags and having many styles to choose from is fun, it really isn't necessary and in some cases impractical, depending on your financial goals and priorities.
Prior to owning luxury purses, I found myself tossing away bags after a couple of years because the details would either begin to tarnish or the seams began to fall apart and this is not a good look, especially if you're a (aspiring) professional. So, here are my suggestions for what you should consider before shopping for your first luxury bag:
1. Set a REALISTIC budget
Due to social media there is a trend for everything. You guys, there was an avocado toast trend and a matcha latte trend for crying out loud and all for the sake of a great Instagram shot! Same is true for clothing and accessories, right now there are quite a few Gucci bags that are trending and trending hard. Don't get me wrong, I love them and wouldn't mind owning them all, but if it's not in my budget, I refuse to max out my credit or wipe out my savings just to have the "it" bag of the moment and neither should you! Take a hard look at your finances and determine what's realistic for you to be able to save for a luxury bag without skipping a meal. There are all sorts of price points ranging from the hundreds to thousands in each brand category, so there truly is something out there that's fabulous for every budget!
2. Neutrals
Once again, there are quite a few purses that are trending, many of which have some sort of embroidery or noted detail that makes it pop. My advice would be to avoid this with your first luxury bag purchase because it can limit you to only special events, occasions, or perhaps just the weekends. The idea is to select a style that can be worn all day everyday from work to play. This would be easier to achieve when selecting a solid neutral or a pattern comprised of all neutrals, such as: black, various shades of brown, various shades of grey and navy. I'd suggest you avoid white for obvious reasons, you'd be so scared to ride the subway wearing it in fear of someone dirtying it, which will be inevitable if worn everyday. Also, neutrals tend to be more classic and timeless, so you'll be able to wear it for years to come as you get older and your personal style continues to evolve.
3. Lifestyle
Like I just mentioned, it's best to opt for purses that are in neutrals colors that can pass the test of time. At the same time, you do want to consider your current lifestyle demands. Do you commute? Are you a mom needing to carry baby essentials? These are things to consider that can determine the size and practicality of it, ensuring that you'll get the most use. For example, yes a Chanel Boy Bag is beautiful and timeless. Like we've mentioned, it's a classic style and can be selected in a neutral. At the same time, even if you select the largest size, you still won't be able to throw in your heels and laptop during your commute or diapers, a bottle or two, and change of clothes, along with all the other essentials needed for the day. Do you see what I mean? If all these things are needed, then a tote would be your best option as opposed to a satchel or crossbody, again for your first purchase. Remember, as time and money allow, you can always purchase other luxurious brands and styles!
Since we're on the topic of size, I do want to point out that your height can also be factored into whether a bag is the perfect match for you. If you're petite, for example, a Louis Vuitton PM tote may be a better option as opposed to the larger size, the GM, which can overwhelm your frame. You'd still get the space needed because of the overall style of the bag, but the size may be more flattering for your height. Again, this is only something to consider, not a must of course.
4. Shop around IN STORE first
Many of us have heard of luxury online shops that sell either new or gently used luxury bags, which may be a great option to start. However, I do believe it's necessary to do a little window shopping to see and touch the actual bag or a similar version to the bag in person, so you can throw it over your shoulder and see how it looks on you. I can't tell you the amount of times I've seen something online, ordered it, only for it to be not the best match for me and though I still loved it, it had to go back. Don't wast time, money, and make yourself disappointed by not knowing what to expect in advance. Then, if you've decided that you've found a great offer on a reputable and accredited site, such as TheRealReal or Luisaviaroma, then proceed with your purchase because at least you already know what to expect!
Keep in mind that you can also snag great discounts on designer bags (Burberry, Gucci, and more) at outlet stores, too! So do Google your nearest Outlet mall and prep your budget, you'll score an even greater deal as the holiday season approaches and discounted percentages go up! Saks off 5th always has great options, so I highly suggest you check them out!
My preferred brand: I personally love Louis Vuitton. Their bags are definitely worth every penny, if you are considering. The craftsmanship and attention to detail and customer service is beyond superb. I have 3 bags and I would suggest their solid (neutral) colors, classic brown monogram or damier prints. They match well with many outfits, can be dressed up or down, and are found in a variety of styles and sizes, to once again suit your lifestyle needs. I do have an Alma vernis satchel that I love (the shiny burgundy one I wear a lot) but I wouldn't suggest it for a first luxury bag purchase because it's VERY high maintenance (easy to scuff, smudge, and scratch) at least in the vernis leather material.
I hope you found this post helpful in selecting the ideal luxury bag to meet your everyday needs and style. I also want to mention that if you're thinking to ask for a luxury bag for a gift, be as specific as possible. Like, screen shot the exact purse and e-mail it, lol. If someone's going to spend all that time and money in purchasing such a wonderful gift, you both want to make sure it's one you'll love and wear for years to come!
Thanks so much for stopping by and let me know which luxury brand do YOU love most when it comes to bags? Have the best day ahead, my dear friends!
XO,