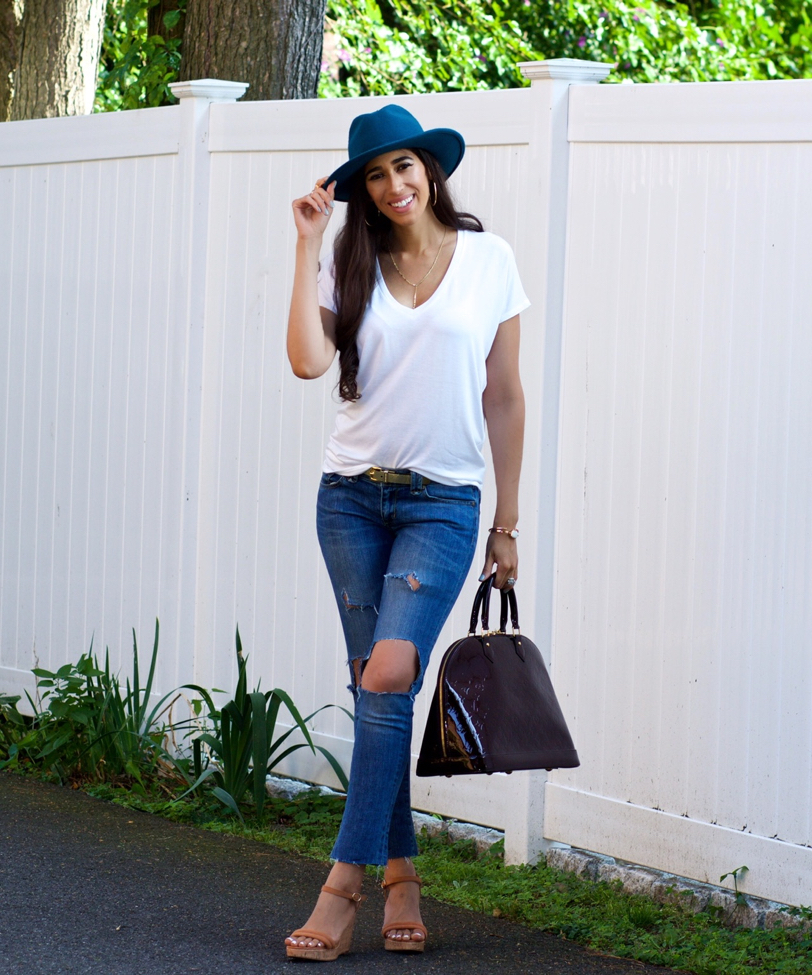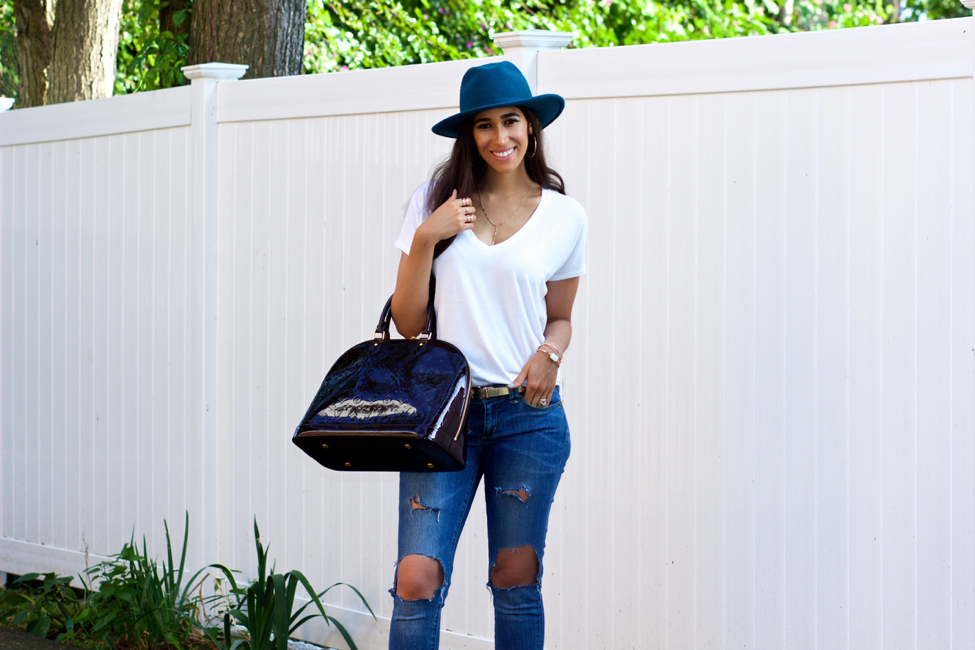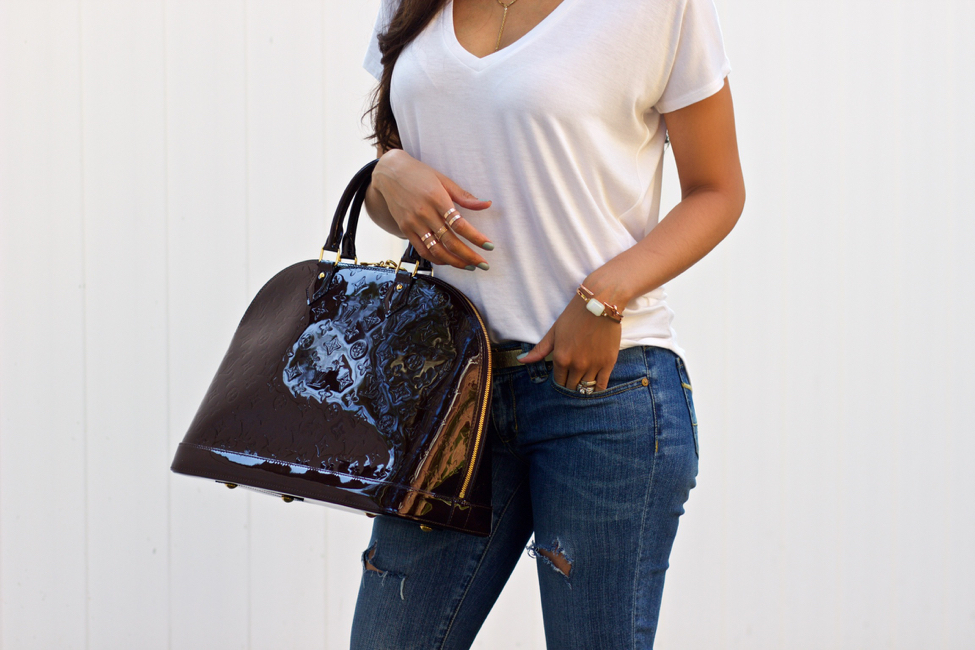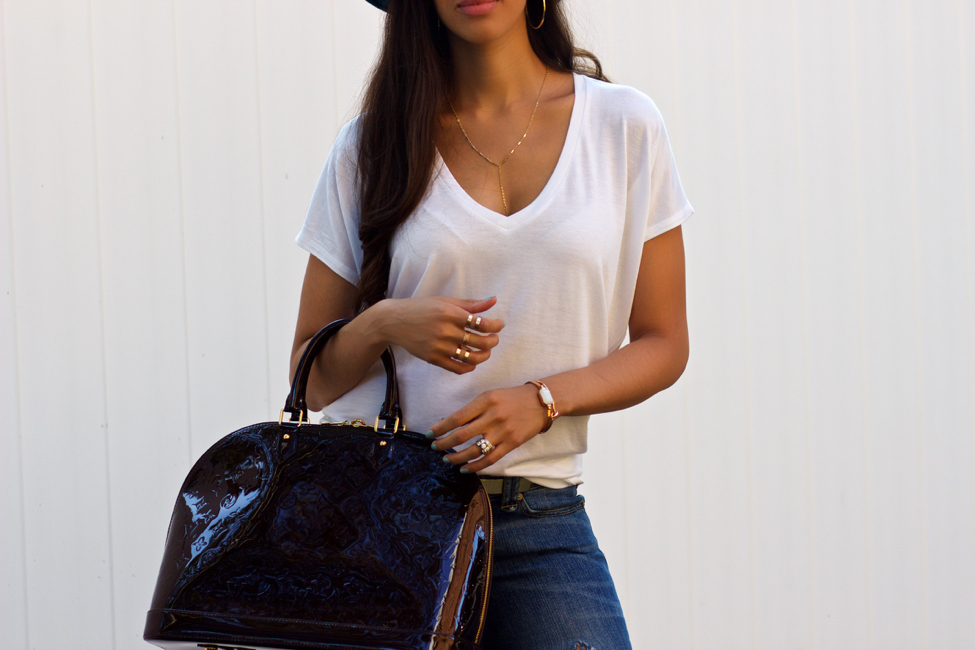 Tee (ON SALE!) | Jeans: DIYed an old pair, similar here | Y-Necklace c/o | Moonstone Smart Bracelet c/o | Knotted Cuff c/o | Hat: Similar | Rings c/o here & here | Belt: Similar | Shoes: Similar | Bag: Louis Vuitton (similar)
---
---
Happy Monday my gorgeous friends!
How was your weekend?! As I said on Friday, Eddie was off from Thursday to Sunday, which rarely ever happens (maybe 3 times out of the 12 years we've been together!) so I really soaked up every minute with him, Aviah, and my step-daughter Destiny. We moved to Connecticut a year ago, but so much has happened this past year (we moved, I got pregnant, Eddie switched jobs & I gave birth) so we didn't have much time to get familiar with our new home town, until this past weekend. It literally felt like a vacation because again, I'm so not used to him being off for so long and life was just going at a slower pace, especially since I ditched my phone (for the most part ;).
I know some of you watched my IG Story of Aviah, isn't she getting so big?! She was wearing the Kate Spade outfit I got her during the winter, when I was still pregnant (flashback here) which she's only worn once and it already is too small to wear again :( Still holding on to it for baby #2 or #3 ;) She's doing a bunch of adorable things, like laughing! Whenever Eddie whistles, she starts cracking up! You guys, she'll be two months this Saturday; I can't deal with it! As she starts to get bigger, I'll be sharing more of her on the blog and social. I feel it's only right because you all are my friends and you've been on this journey with me from day one!
Anyway, since we are in the last week of summer, it's time we start saying the f word a little more...no, not that f word. Girl, STOP..I don't curse! I'm talking about fall! I've already began to prepare the way with a segment I've started two weeks, Fall Essentials, which you can check out here & here, in case you've missed them! Today's look is a perfect way to slowly welcome the season in a way that's still practical and seasonally appropriate for summer. What I did was work with summer pieces and added in some fall toned accessories with the hat and bag. This is literally the easiest way to add a touch of fall without saying good-bye to summer.
To talk a little bit more about my outfit in detail, I want to just share my love for these tee's! I got five and plan on adding more colors because they always seem to be on sale! They are extremely comfy. The only negative thing I can say is that they run a little on the bigger side; the v-neck comes down pretty low, so you risk showing some cleavage. If you're not comfortable with that, I'd suggest you size down twice for a more comfortable and modest fit. Aside from that, they are the perfect basic to add to your wardrobe and they come in so many colors!!!
Thanks so much for stopping by, my beautiful friends! Feel free to share some of YOUR favorite ways you add fall touches to your outfits, I'm always looking for some new ideas and inspo!
XO,