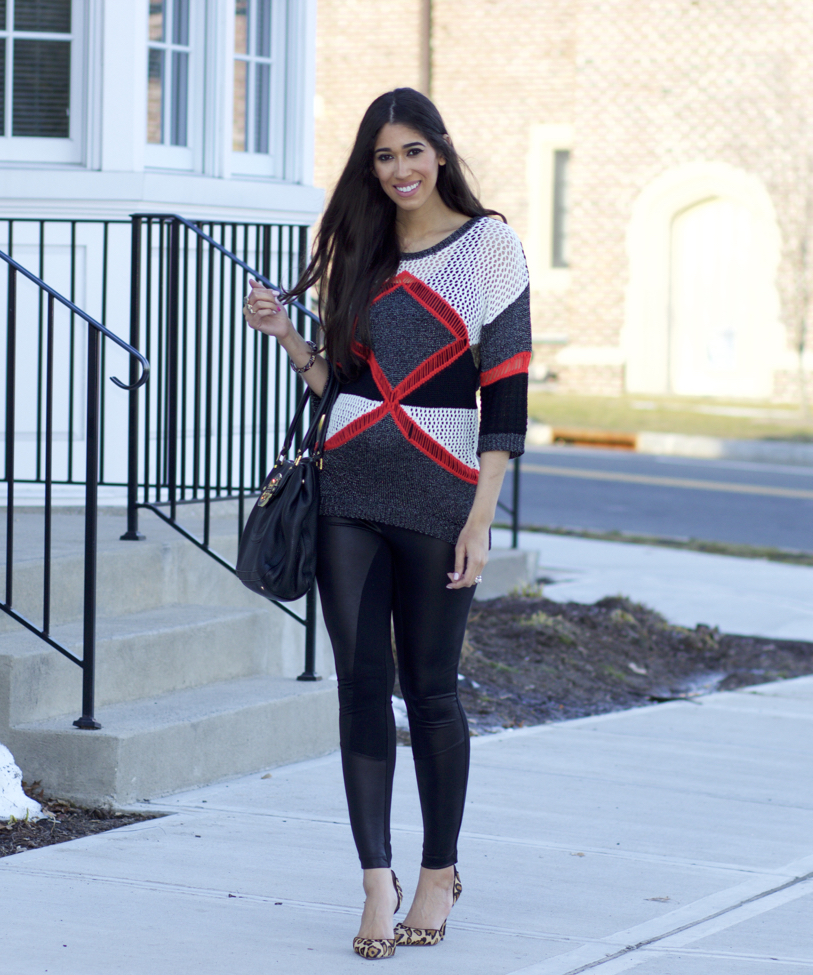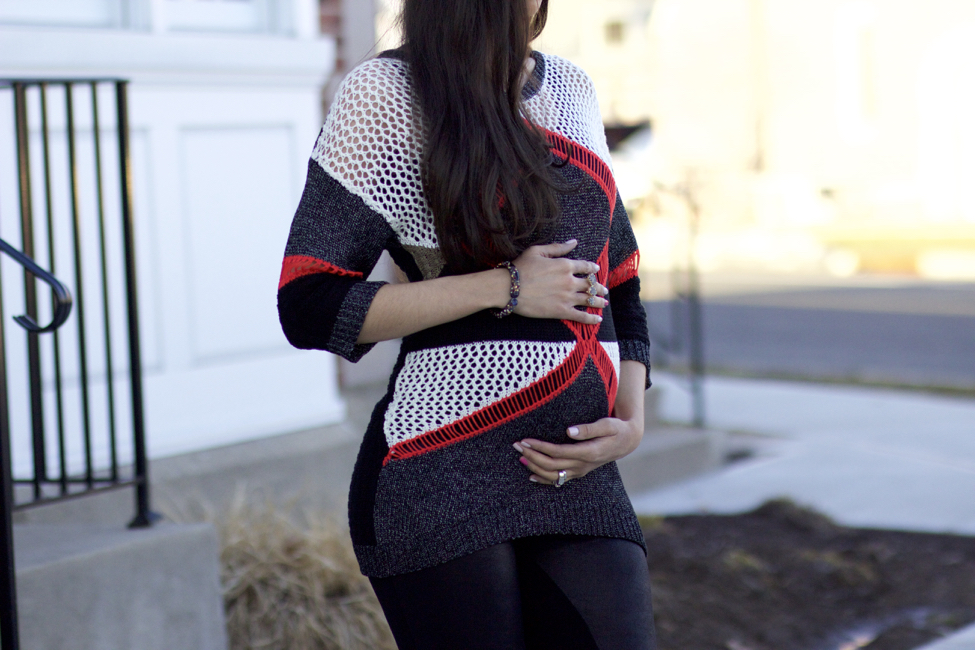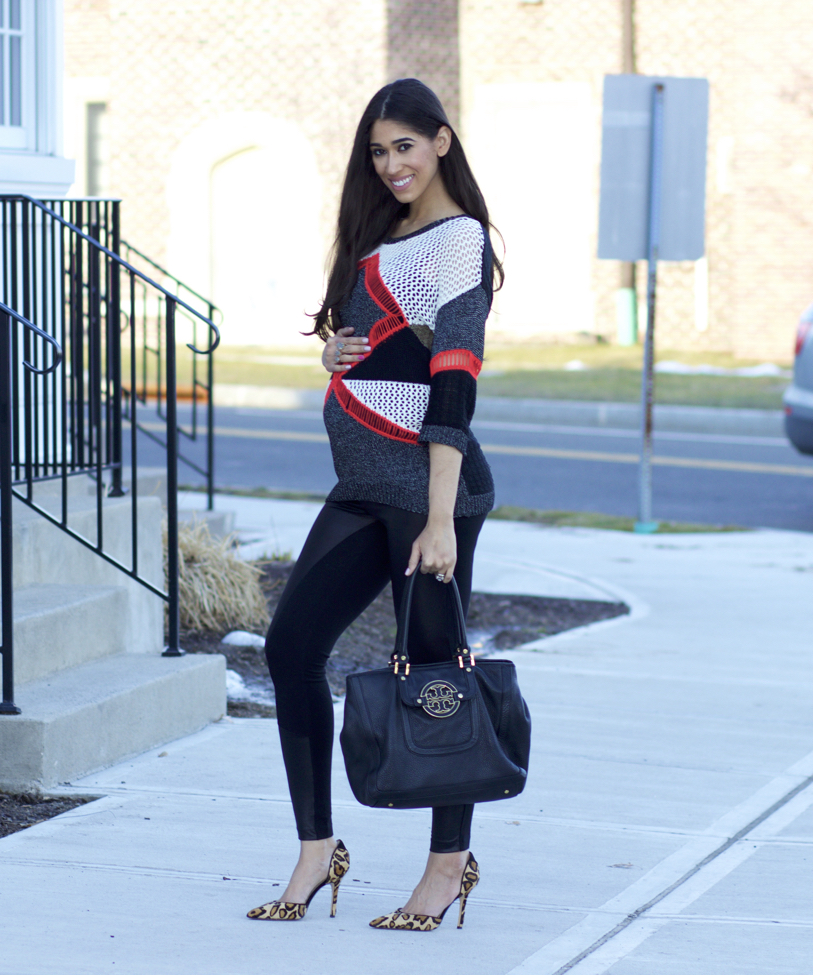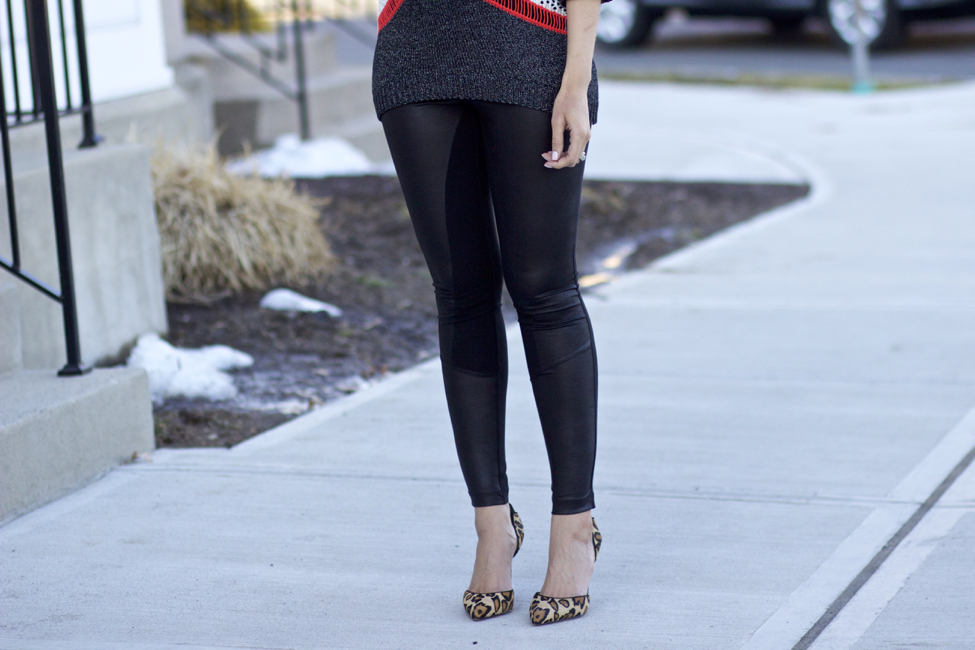 Sweater: c/o DEX (Similar Here) | Leggings: Express (Similar Here) | Bag: Tory Burch (I love this one) | Shoes: Sam Edelman (Similar Here)
Ahhhh how I've missed you my gorgeous friends!
Though I've only taken an extra day off from the blog yesterday, I feel like I've been gone forever. Even more so, since I have't been able to respond much to your comments and actually interact with you. Last week/end was SO overwhelming! I already mentioned that in Friday's post, so I won't get into it again. I had hopes of having a relaxing weekend and that just didn't happen, haha. But, it's okay because we were able to spend Saturday night with my niece to celebrate her 18th birthday (did you see the photo I shared on IG stories!?). We had intentions of having dinner and dessert at the Sugar Factory in NYC because she's been wanting to go there for the longest time. I'm not much of a candy eater. I do, however, love my chocolate and baked desserts, but that's about as sweet as it gets.
I will say this, it's worth visiting if you're ever in New York and wish to do some tourist-y things and enjoy lots of sugar, haha. You do want to make reservations about a month in advance though to ensure you won't have to wait, it's THAT popular, since many celebrities have been there. Would you believe that we had a 3hr wait!!!? Yes, you read that right. We got there at around 6ish, so we decided it would be best to eat dinner at a restaurant nearby and just have dessert there because by the time we'd be done eating dinner, we'd be seated and the hype is more around the desserts anyway. With that, we still had an additional 1/2 hr wait! My niece wanted to have one of the goblets, that big ol' drink you saw Eddie and I drinking on IG stories. It's like a soda with candy in it. You can have them with or without alcohol and we, of course, had the latter. It was okay, way too sweet for my liking. Overall, I would say that the place isn't worth the hype in my humble opinion. We didn't get home until almost 1am and had some things to do on Sunday, so now you know why I was so pooped that I had to take the day yesterday, haha.
The outfit I'm sharing today is what I wore to celebrate Saturday night. I actually styled this sweater similarly a couple of years ago (here). This time around, I added a different purse and some leopard pumps for a fun night out look. I love the design of this sweater because it flatters the midsection and my bump perfectly with the X mark pattern in the center and black panels on the side, creating a nice slimming effect, while still showcasing my bump in a flattering way. Unfortunately that night, some of the stitching in the X ripped and made a huge a hole, so now I can't wear it again, which sucks. I decided to pair it with leather accented leggings for comfort and edge. If you're pregnant too, I highly suggest leather accented leggings because you still have the stretch and comfort that regular leggings provide with the cotton and spandex material, yet you can still embrace the look of leather pants. A win-win.
Thanks so much for stopping by my dear friends, I hope you enjoyed the post! Feel free to let me know what you did this weekend in the comment's section. Speaking of, please bear with me as I respond to your comments! Have a wonderful week ahead!!!

XO,