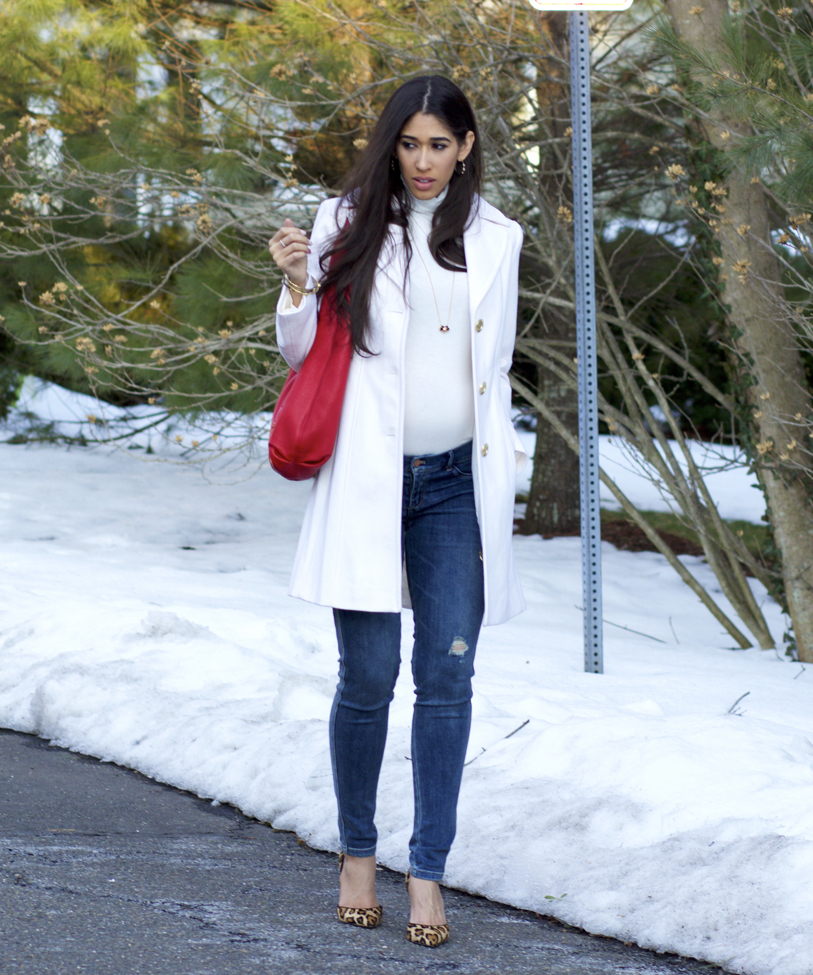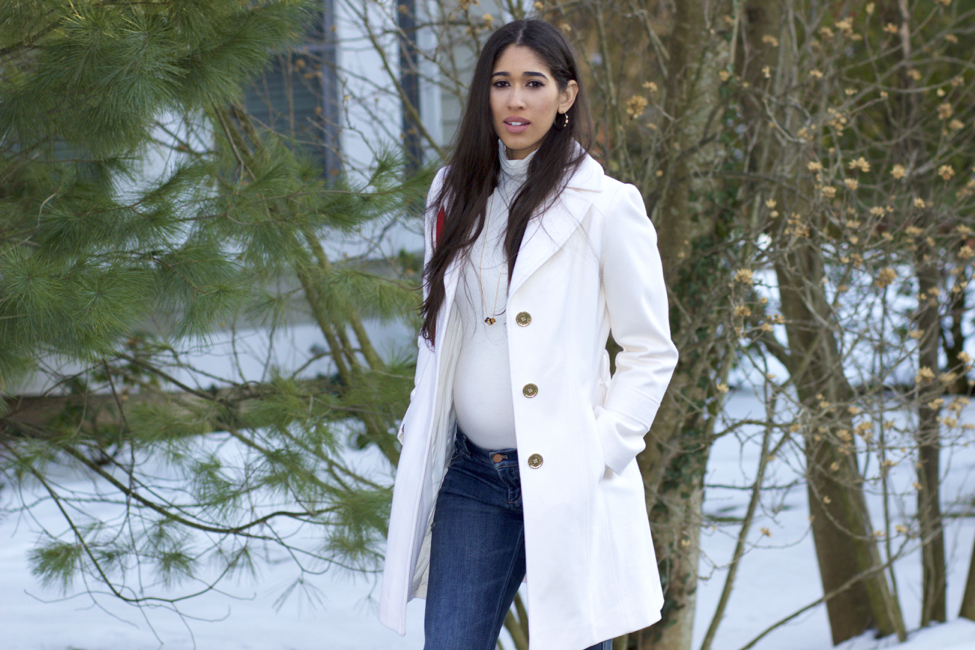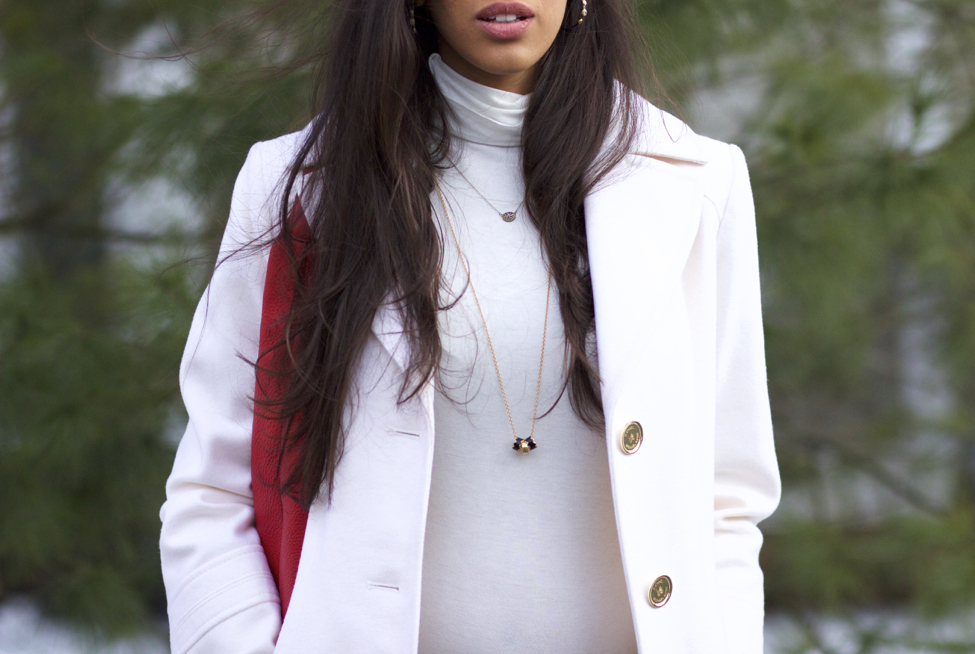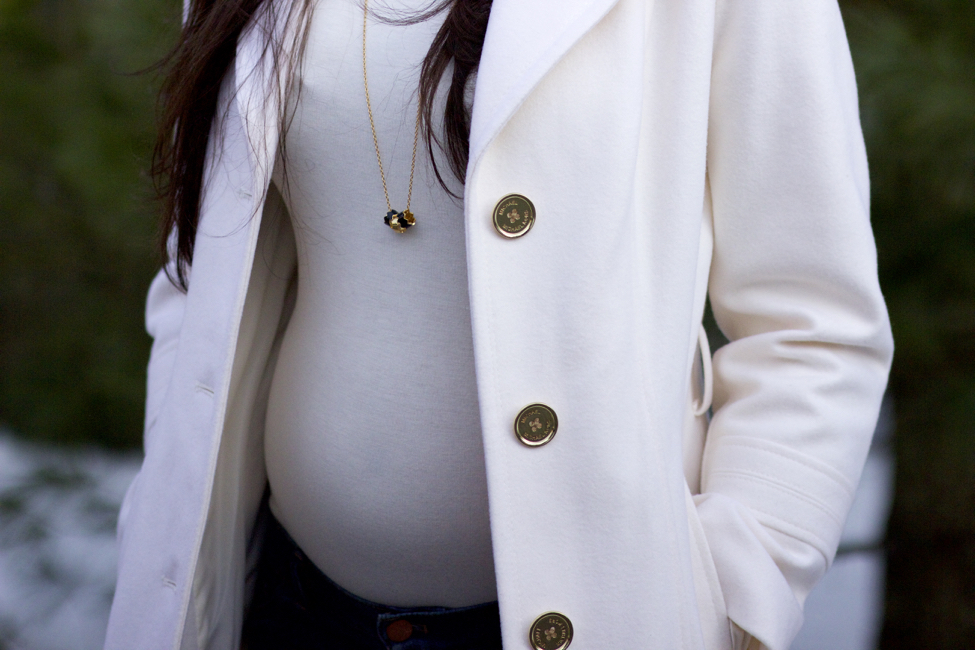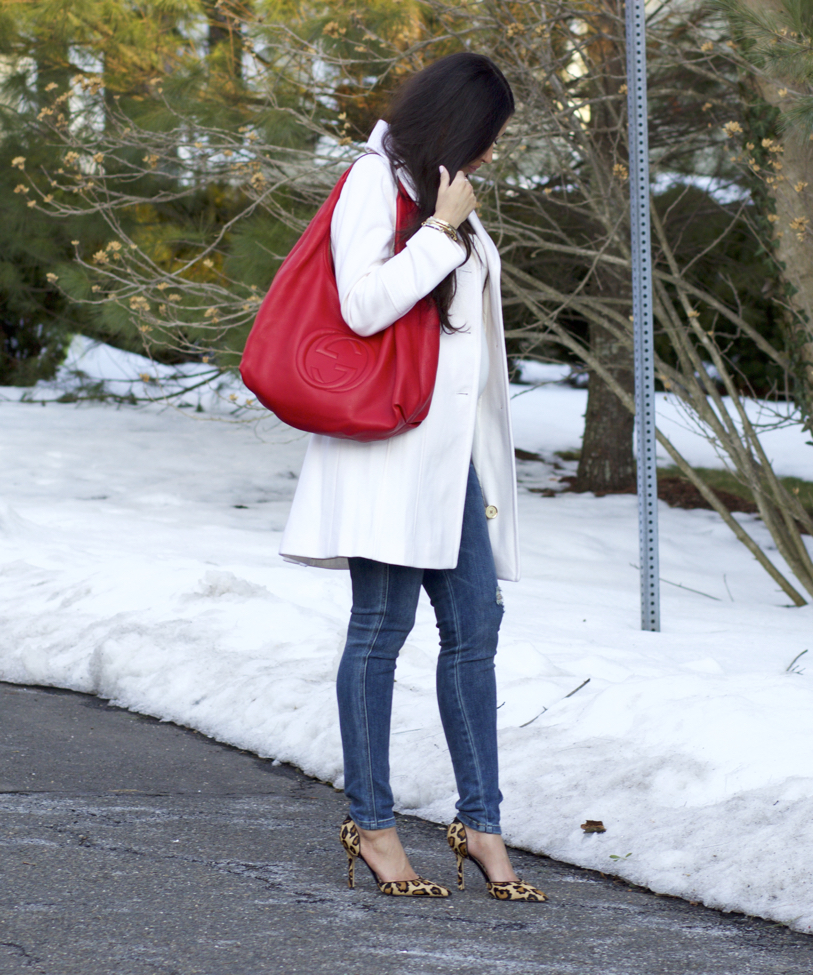 Coat: Michael Kors | Turtleneck: Halogen | Jeans: New York & Company | Long Necklace: c/o Gorjana (similar here) | Short Necklace: c/o Athra Luxe | Bag: Gucci (different style, same collection HERE) | Shoes: Sam Edelman (similar HERE)
TGIF my sweet friends!
Oh what a week it's been, I'm so glad it's nearly over, haha! This has got to be one of the most busiest weeks I've had in a really long time, even more than the holiday season. We've been doing so much running around trying to find a place for our baby shower in May that will host around 70 people. We've decided to not restrict it to just women because so many of our friends and family want to be apart of it. We have narrowed things down a bit, but still haven't determined where exactly. I want to do a tea party theme with an English breakfast. We've found a great place that will cater that has phenomenal reviews, but we just need to find a location. It's been fun, but oh SO tiring.
We've also been shopping for baby A's furniture because we think it's best we get the crib and changing table ourselves, so we've omit it from the registry. We've got our mind set on one we both fell in love with from RH Baby & Child that converts into a toddler bed, so we get more for our money in the long run. Aside from those two pieces, we've been adding as we go. I'm thinking to do a garden theme with floral pieces and butterflies. The color palette will be soft pinks, grey, white, and pops of light green...I want it to be a calming and soothing environment for both baby A and I. As promised, I will be sharing a haul of the clothing I've picked up (which is A LOT!!) next week, either Tuesday or Thursday, so keep an eye out for that, if you're interested!
Now that we've gotten baby talk out of the way, let's talk about today's outfit! I love winter whites, specifically ivory and all shades of off white. I think they look so sophisticated paired with any color and create a nice soothing vibe, perfect for winter. I also love how it looks paired with gold accents. Turtlenecks that have a nice stretch to them have quickly become a favorite of mine as my bump is growing. They look so chic and can be worn with anything and everything, so easy and so good. I love to tuck them into jeans to polish off a casual outfit, while dressing them up with pumps or cute boots. Today, to add some pizazz, I added in the classic and harmonious duo, red and leopard to the cream and I love how it came together and I hope you do, too!
Do you have any fun plans this weekend? I hope you found some inspiration in this post, my dear friends, and thank so much for stopping by!

XO,