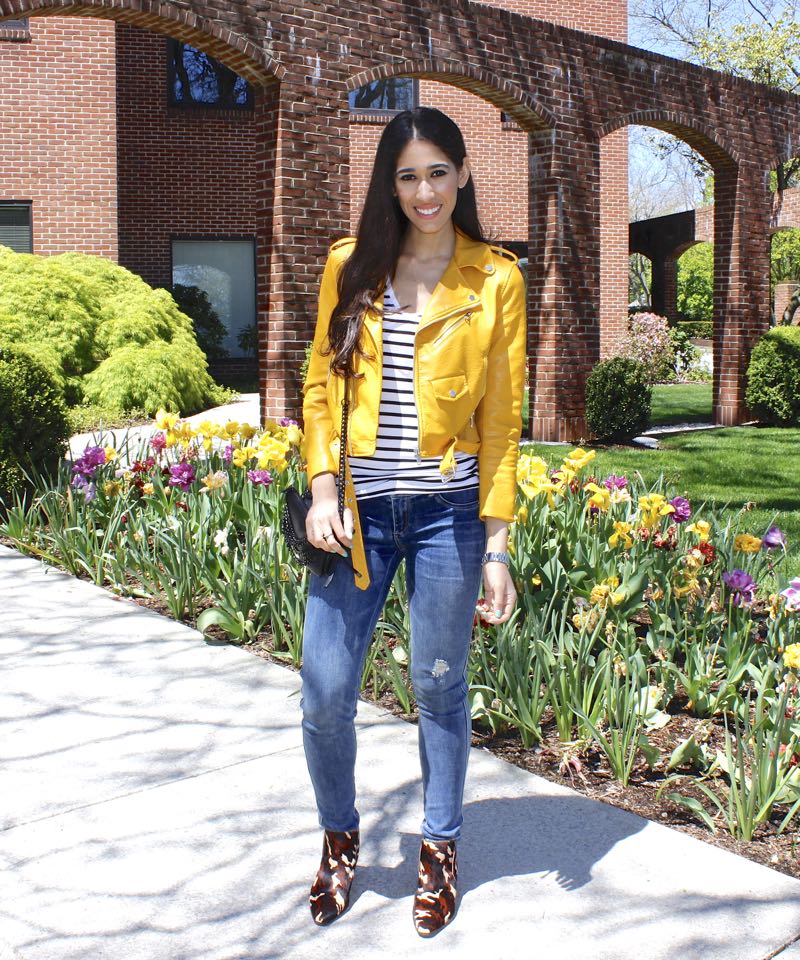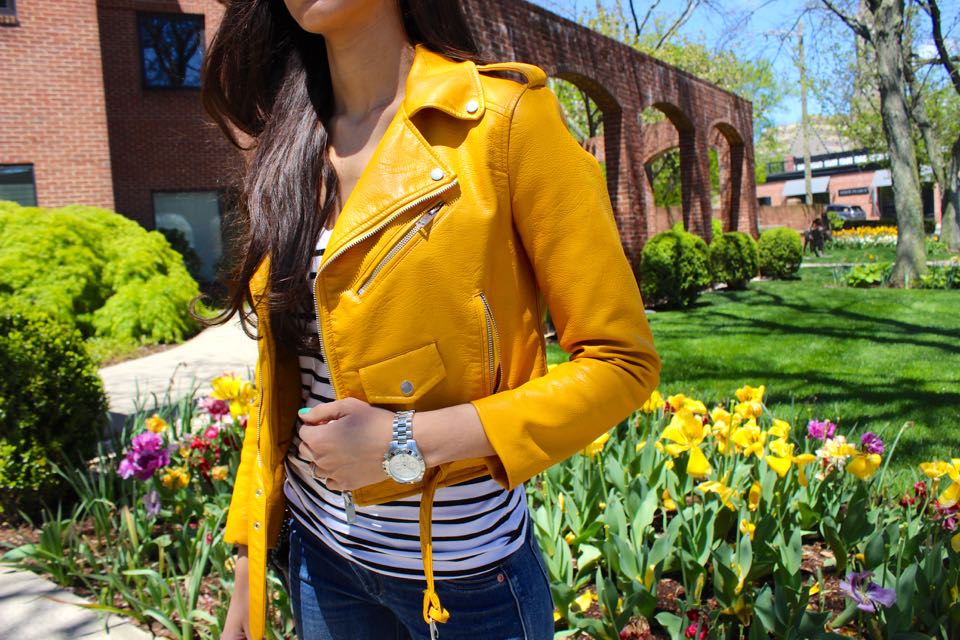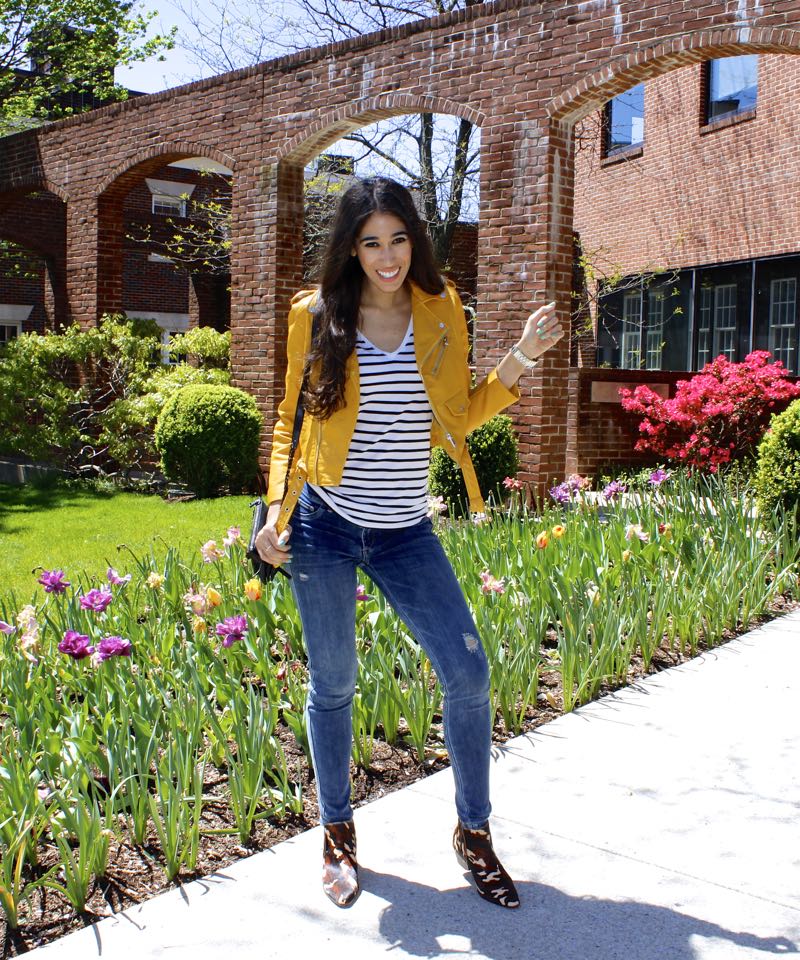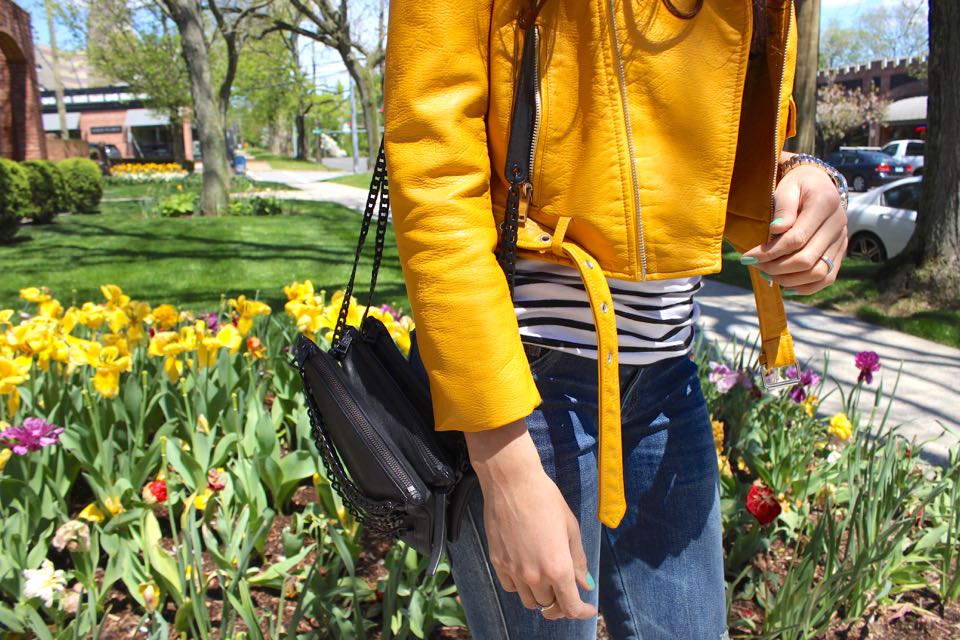 GET THE LOOK!
Jacket: Zara (HERE) // Shirt: Max Studio (similar HERE) // Jeans: New York & Company (HERE) // Watch: Michael Kors (HERE) // Purse: Ash (ON SALE HERE) // Boots: Nina Originals (ON SALE HERE)

Happy Friday, my dear friends!
We've made it to the end of yet another week and it feels just like yesterday I was typing last Friday's post; this week kind of flew by, if you ask me! Today's look features a trending color this season, yellow! I styled this yellow leather jacket in a similar fashion a couple of months ago, but with additional pops of color, in My Current Obsession + a Quick Tip On Identifying Undertones in Accessories post. This time around, I wanted to pair it with black and white, specifically in a striped shirt. Stripes are a HUGE trend this season, mainly in bolder versions. If you're thinking about experimenting with bolder stripes, but are uncertain as to how they would look on you, I have a complete guide that'll make the whole selective process that much easier in my How to Wear 2016's Bold Stripe Trend for Your Body Shape post. Now back to the classic black and white stripes! I just love the way yellow looks against both the pattern and colors, it creates a bit of a retro '60s vibe, which you know I love! I decided to go with a pair of skinny jeans that are slightly distressed, with a rinse that has a subtle yellow/golden tint, which the camera didn't really pick up on, unfortunately. I chose to style them for this reason, I love the way the tint tied in with the color of the jacket.
If you've been a reader of this blog for some time now, then it's no secret how obsessed I am with these camo printed western booties, I've styled them in countless ways here, but today, I wanted to style them differently by pairing them with classic stripes, which I haven't yet done, 'til now! I shared a post back at the start of fall, entitled Fall Print Guide, in which I shared some prints and patterns that are perfect for mixing and matching, particularly during the fall and stripes and camo were one of the combinations I suggested. Even though the mix was recommended for the fall months, by adding brighter accessories, such as the yellow moto jacket, it can be worn both then and now! If you're one who finds mixing patterns a little intimidating, I suggest you spread the prints out in your look, as I did here. In other words, add one patterned piece to the top portion of the body and the other to the lowest, which would of course be the feet, placing solids in between. It'll cause the eye to travel, instead of focusing on the two patterns that are set so close together, which would make for an overall bold statement.
Do you like mixing patterns and if so, what are the two you like to combine the most? Thanks so much for stopping by, my beautiful friends, and I hope you have a wonderful weekend, see you back here on Monday morning with a new post!
XO,