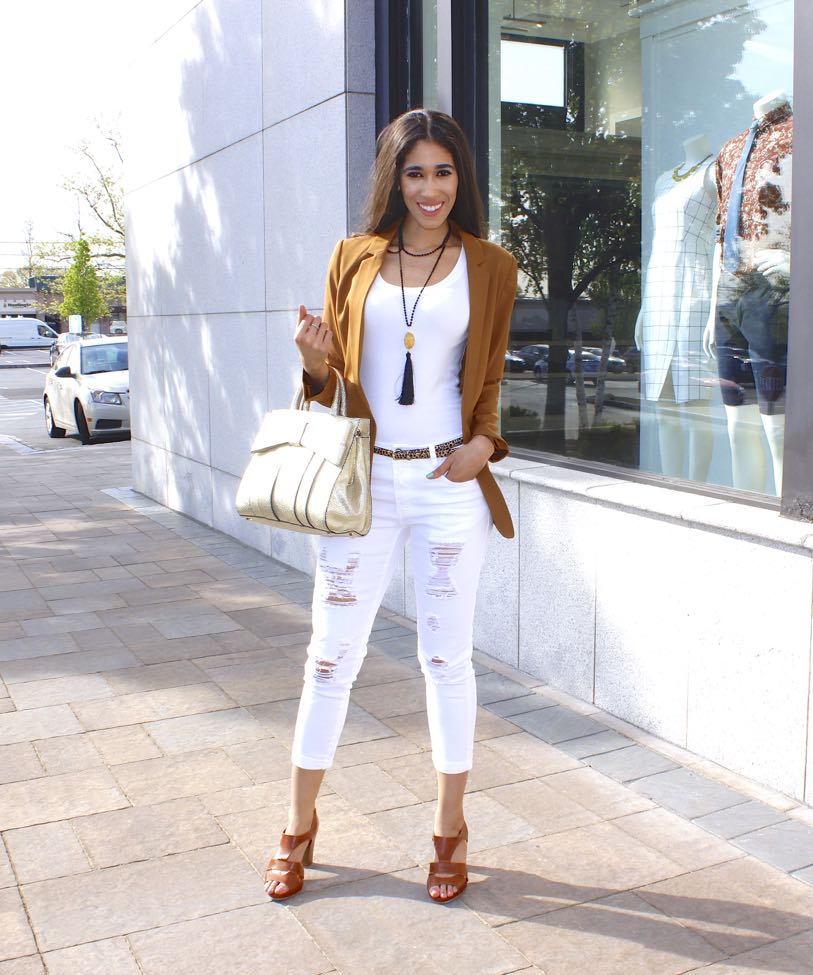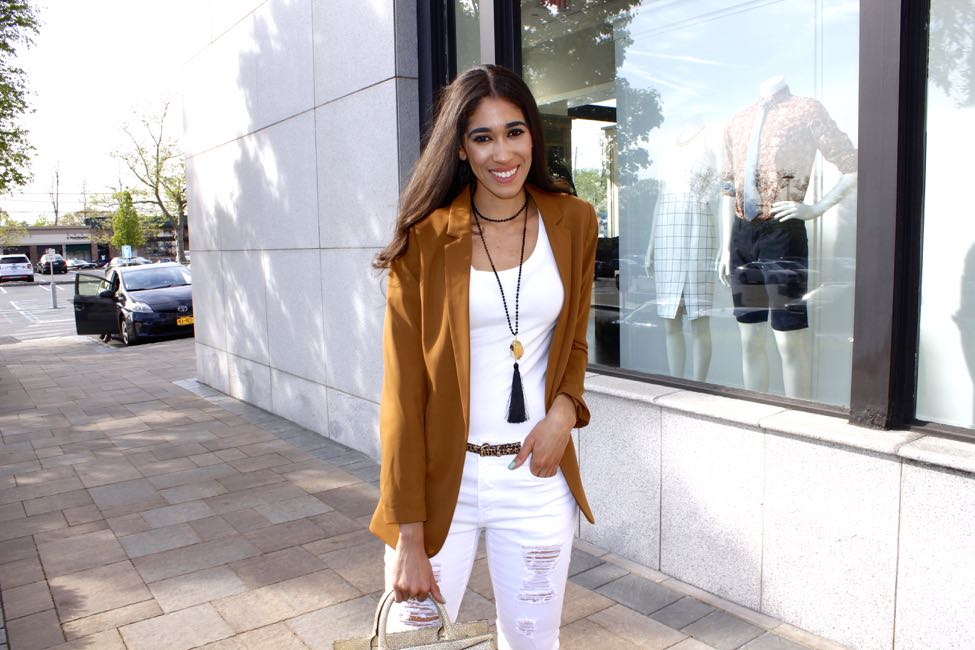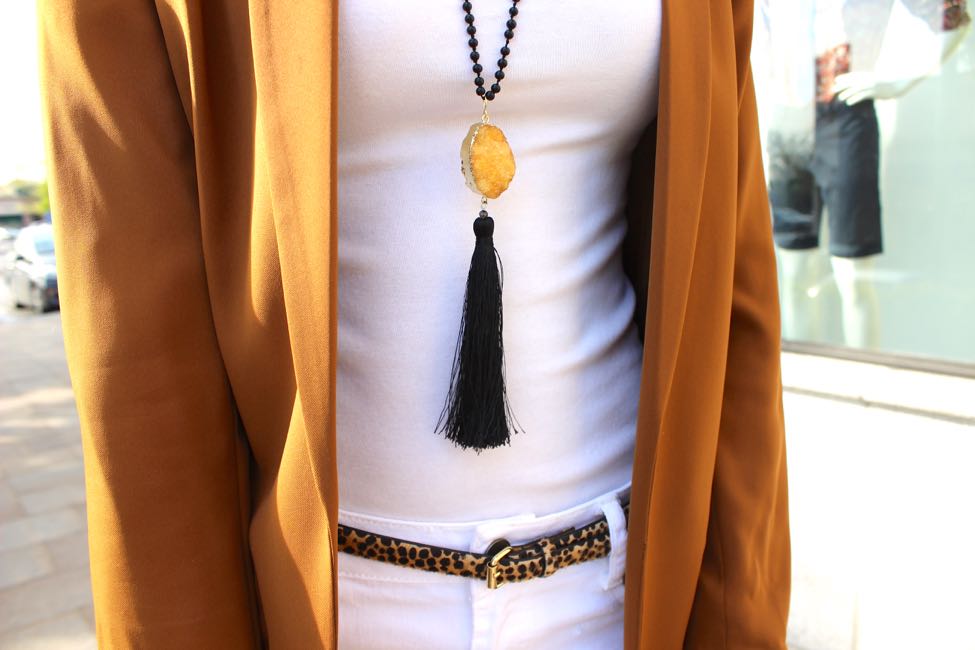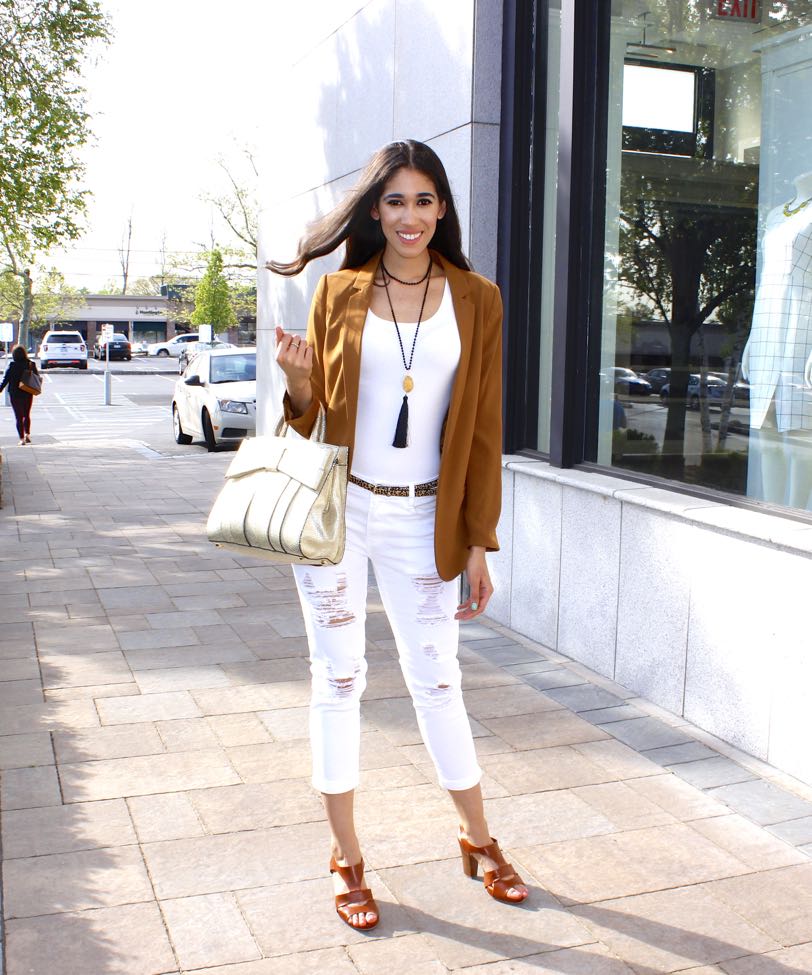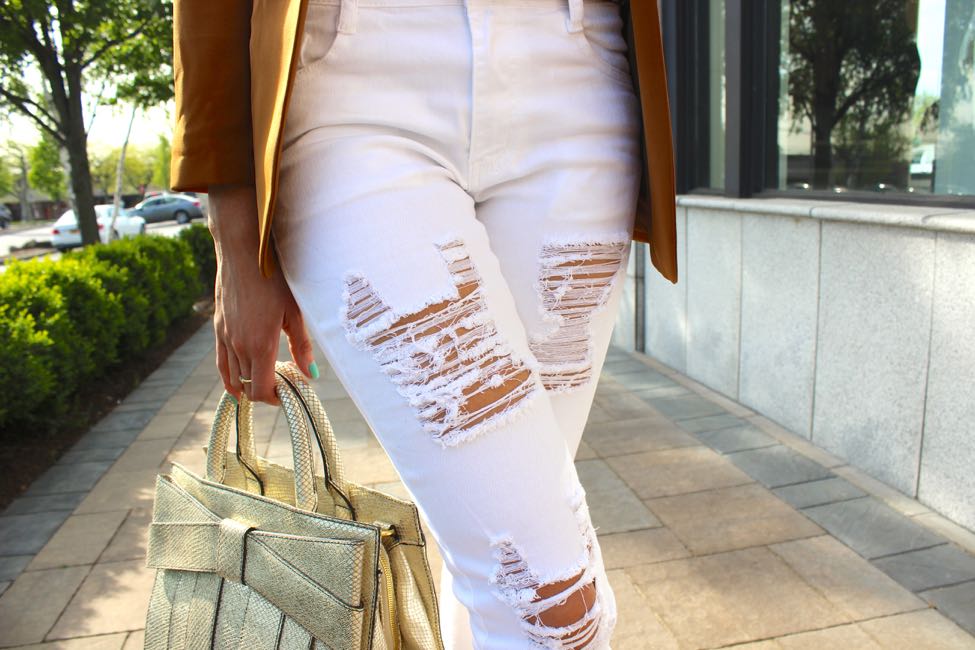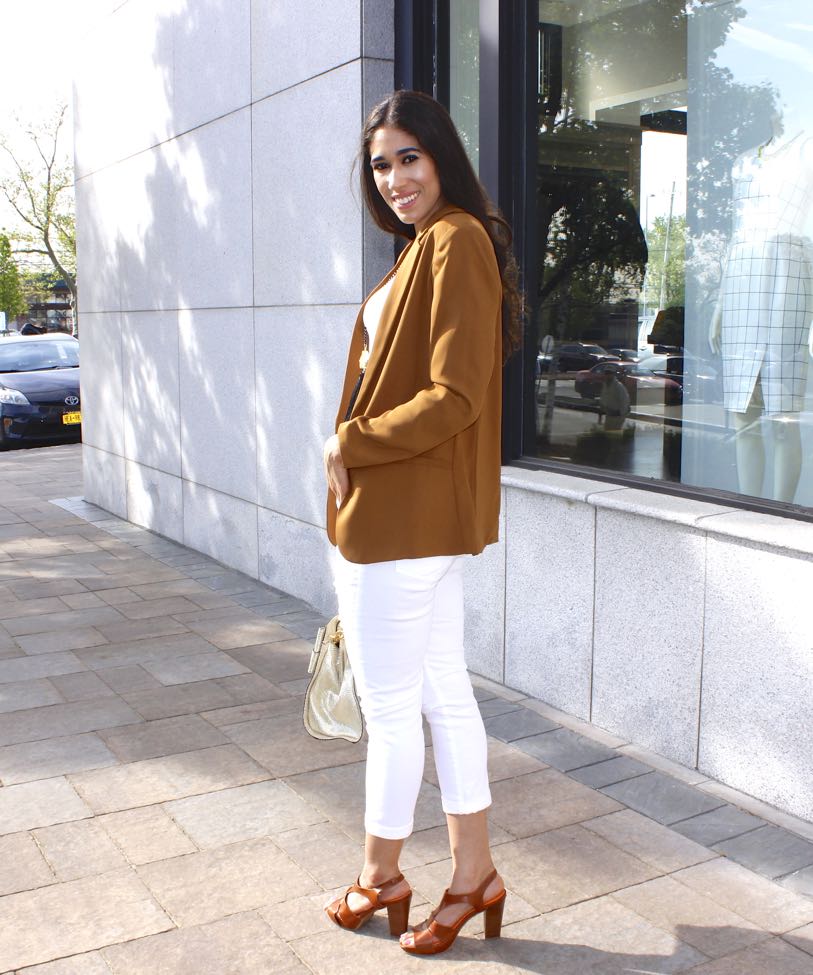 GET THE LOOK!
Blazer: H&M (similar HERE) // Shirt: Cynthia Rowley (similar HERE) // Necklace: What Would V Wear (HERE) // Jeans: c/o Bluefaith Denim (similar HERE) // Belt: Thrifted (similar HERE) // Shoes: Kenneth Cole (similar HERE) // Purse: Zac Posen (similar HERE)

Happy Monday, beauties!
I hope you all had a wonderful weekend and are ready for a fresh start to a new week! Speaking of fresh, no other color comes to my mind when thinking of fresh and airy vibes other than white! As we transition into warmer weather, white pieces are essential not only for retracting the heat, but for creating seasonal outfits with a lighter color palette. As we all know, white can be worn with every color and pattern, just like black, but there are specific colors that pair best with it that exude different vibes, such as cognac. I love this shade of brown paired with white, I feel it's a very sophisticated, yet bold combination, most suitable for spring and summer.
Of course you can opt for any shade of brown to create this effect and I'd like to share some suggestions on which shades would look best for either your skin tone or hair color. If you have a warm undertone and/or brown or dirty blonde hair, cognac or camel visually produces a nice healthy glow to the skin. The reason is because these shades have a more golden undertone, which as you may know is the most flattering metal of choice for those with this skin tone. If, on the other hand, you have a cool undertone and/or platinum blonde or red hair, tan shades, which are a bit lighter, are a great option for creating that luminescent glow because of it's subtle ash tint, which as we know includes grey and silver, the metals that look best against cooler skin tones. It's amazing what different colors and shades can do for the skin, isn't it?!
Now, I have to let you all know how much I love this tassel necklace, which is incredibly special to me because it's from the jewelry collection handmade and designed by my dear friend and fellow blogger, Vanessa Lambert of What Would V Wear. Vanessa and I haven't had the opportunity to meet in person (yet), but have connected through social media and I'm so thankful that we have because she truly is such a wonderful and talented woman, whom I admire! This necklace is simply gorgeous and so well made, featuring a beautiful natural druzy stone and silk tassels. She makes them in an array of colors, so be sure to check them out! Plus, tassels alongside pom poms are a huge trend this season!
So, what do you think of the look?! I hope it inspired you with an idea for wearing and styling your white pieces this season! I hope you have the most amazing start to your week, my dear friends, thanks so much for stopping by!
XO,