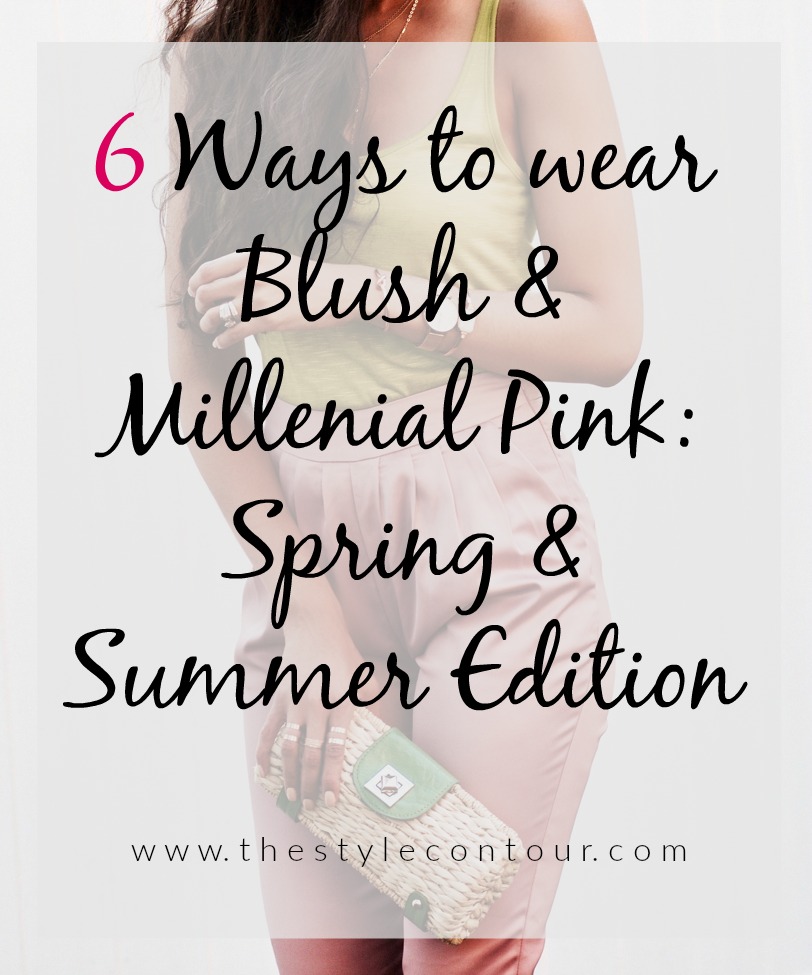 Happy Friday my sweet friends!
First, I'd like to thank all of you for your incredibly kind words on last week's Mother's Day post. I loved reading how some of you other mamas could relate to what I've experienced so far and the support all of you in general showed. I also want to briefly mention that I'm trying to get pack on track with my regular posting schedule starting next week. I mentioned in this post that we found out my mother-in-law has stage 3 stomach cancer. Since that post, she's been in and out of the hospital (mostly in) and has undergone quite a few surgeries. We've all been taking turns in spending time with her in the hospital, which has of course effected my availability in scheduling content for the blog. Things seem to be somewhat improving, which will enable me to work on content and interact with you all once again.
Since I haven't been able to take any photos this past week, I thought it would be a good idea to compile some of my favorite looks styling blush & millennial pinks to give you some ideas on how you can wear them this spring and summer season. It's gained popularity within recent years, as they're both shades that are flattering for every skin tone and color. They also, surprisingly, work well with an array of colors, which makes adding pieces to your wardrobe more practical.
Though they've been quite popular, you might be most familiar with blush pink and may be guessing what on earth is millennial pink? Millennial pink is more or less a range of pink from blush (soft, baby pink) to a more mauve-y shade. Think rose gold tones. Because these shades have been trending so much in recent years, it's so incredibly easy to find pieces in these shades from clothing to accessories or even jewelry, as mentioned, rose gold is grouped in this category.
1. Millenial Pink + Black Sequins + Lace +Denim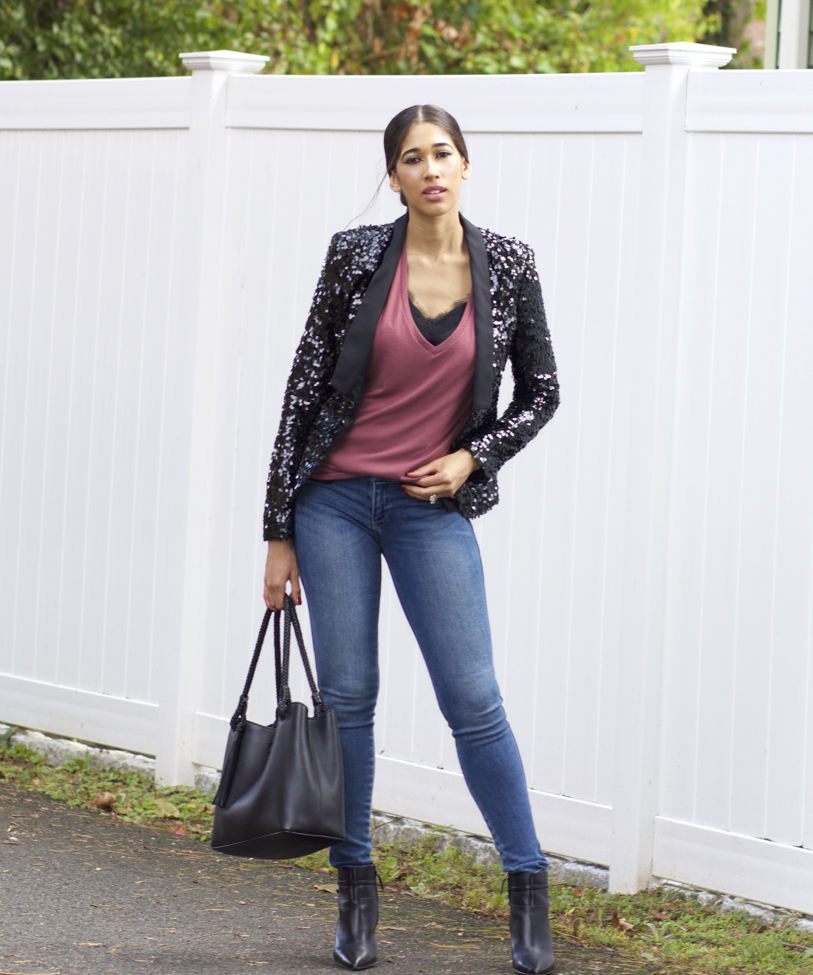 I absolutely love this combination because it's embracing pink, but in a rather mature, sexy, and sophisticated way. Though I'm working with a millennial shade, you can certainly recreate this look with a blush or softer alternative. The addition of the sequin blazer adds some texture to the outfit, as does the lace, but the lace also adds a sexy, feminine vibe as well. I don't think more vibrant shades of pink, such as hot pink or magenta, would create the same effect because I feel when they're combined with black, they can have a bit of a retro, fun vibe and can even look a bit costume-y when worn with black sequins. A bit too 80s.
If you're experiencing warmer weather already, simply swap out the jeans and boots with a pair of denim shorts and black ankle strap sandals.
2. Blush Pink + Black + Off White + Gold Accents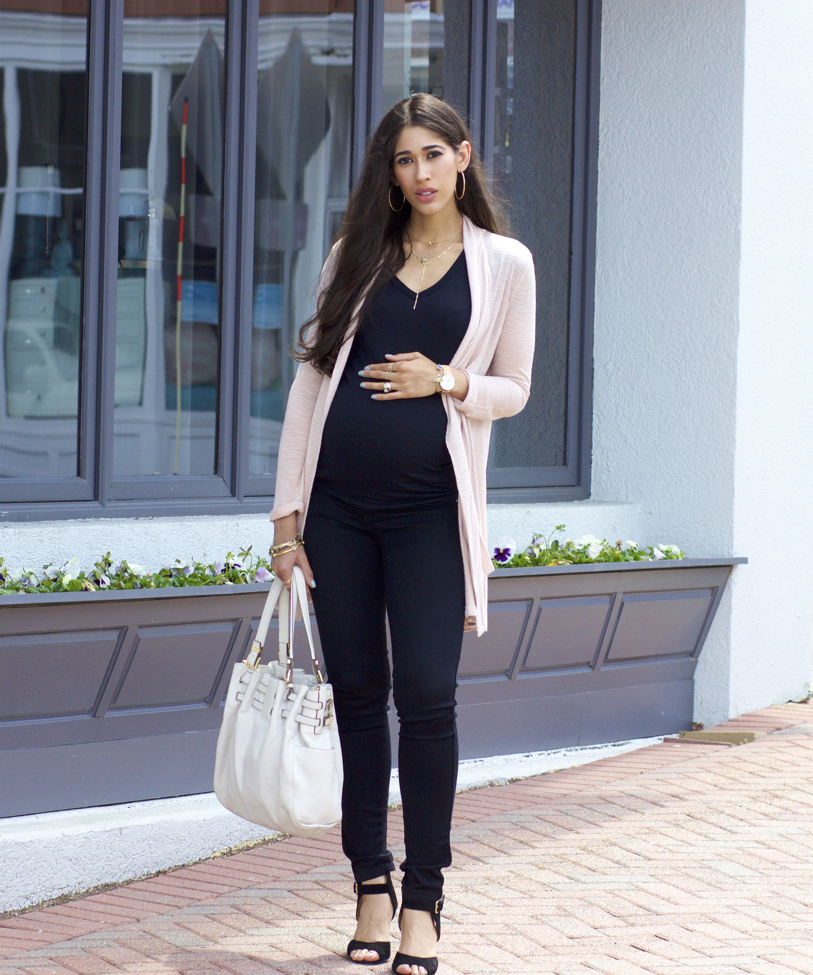 If you're looking for an outfit that will elongate and slim your body, this is it. As we all know, black slims and elongates, specifically when done top to bottom. However, if you're not mixing up the textures in your outfit because it's too hot or you simply don't have any black textured pieces in your wardrobe, a blush (or millennial pink) duster/long cardigan can break up the look a bit, preventing it from looking one dimensional and flat. To bring the outfit to life even further, you can add in some gold accents.
Black and gold tends to have a sophisticated look, so it can make an outfit appear luxurious, even if the pieces themselves aren't. Though gold may not be your metal of choice, you can do it in the form of a buckle detail on your shoes or sandals. If you don't want to go out and purchase a new pair of shoes, you can simply go into a thrift store and get a pair of gold clip on earrings and clip them to the front of your shoes for the same effect. The further away from your face, the more flattering the gold will be, if you feel silver or white gold looks best on you.
3. Blush Pink + Medium Wash Denim + Heather Grey + Rose Gold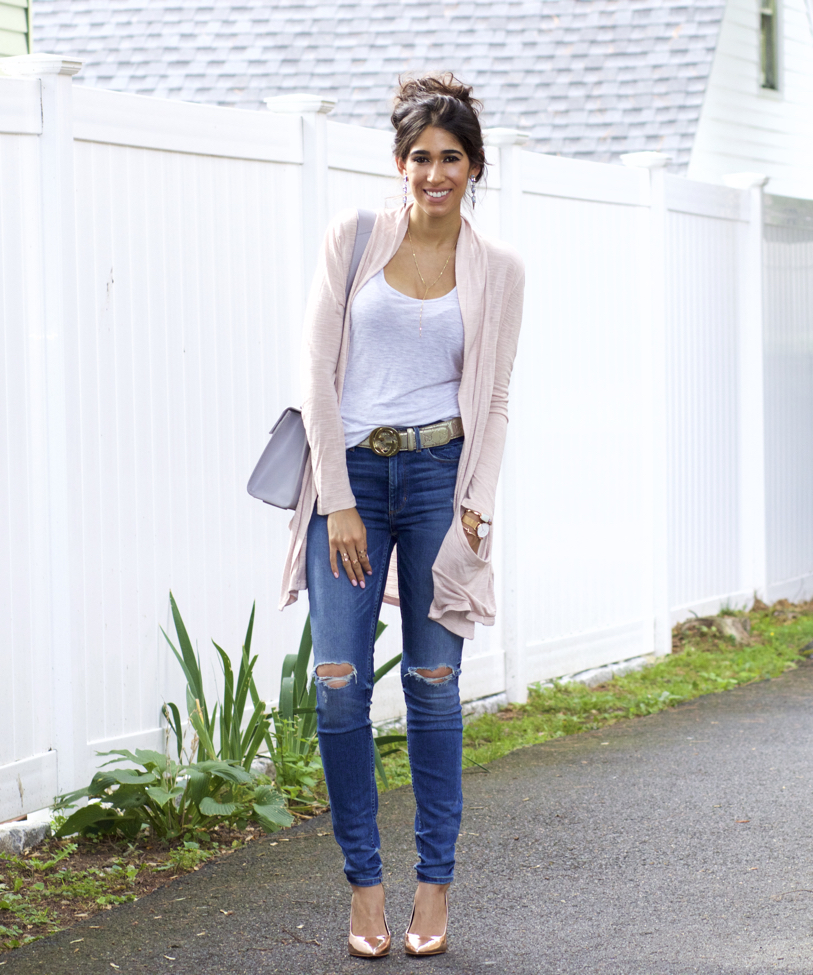 We're working with the same long cardigan seen in the previous outfit, but here we've styled it blue denim. Blush pink is a shade that I feel looks great with any denim wash, but can really pop against medium-darker denim washes. It also looks really pretty combined with grey; I prefer lighter shades for the spring and darker shades for the winter. I've added in some rose gold accessories, but this combination would look just as great with silver.
4. Blush Pink + Camel Brown + Rose Gold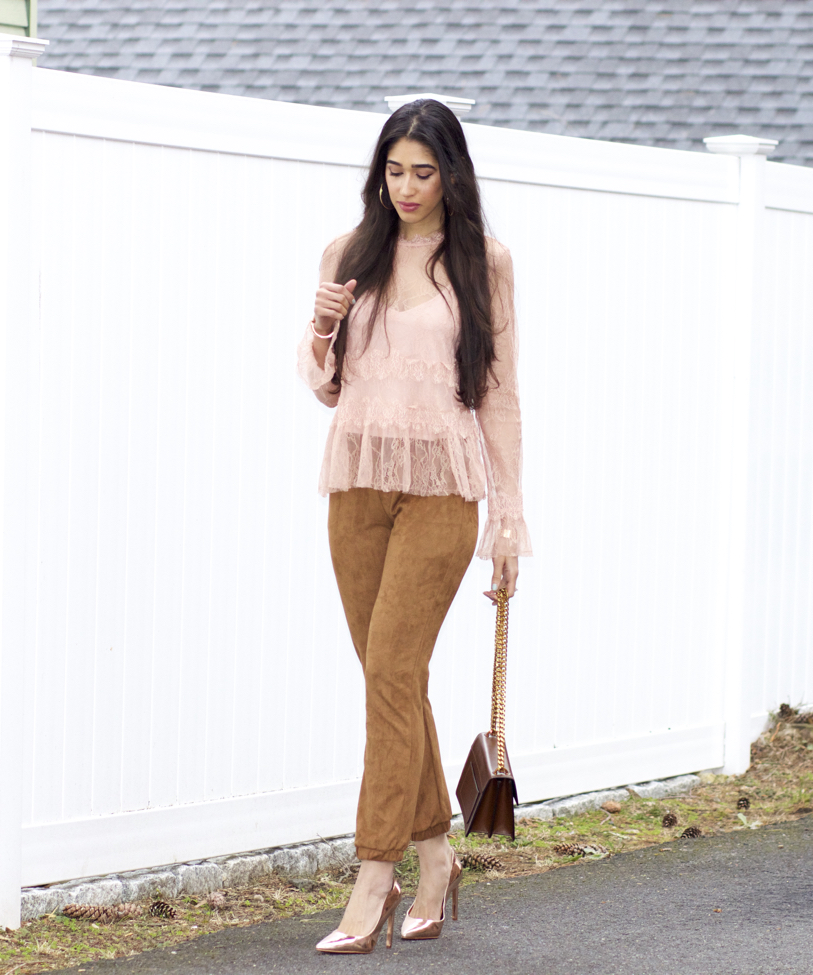 Blush pink looks so pretty paired with nearly every shade of brown, in my opinion. Though I do prefer to combine it with brown textures, such as leather or suede. For spring, however, I like a camel shade most, since it's lighter and when done with faux suede, it can feel a bit lighter than a typical leather piece would. Plus, it looks so good with rose gold. Though this combination would look great on everyone, I think it would look particularly striking on blondes!
5. Millenial Pink + Light Wash Denim
There's not much to say about this combination other than they just work! If you're looking to style a pink dress, adding a denim jacket with some frayed or even distressed details can help to off set the playfulness the dress may otherwise have by adding a bit of edge. The jacket I'm wearing above has a raw frayed collar and I love the way it looks paired with the pink maxi.
I also added in snakeskin slides for some added detail. I think it looks rather nice paired with the pink. Leopard tends to be my favorite animal print, as I find it to be more versatile than snakeskin, but in this case, it compliments the pink perfectly!
6. Blush Pink + Chartreuse (pea green)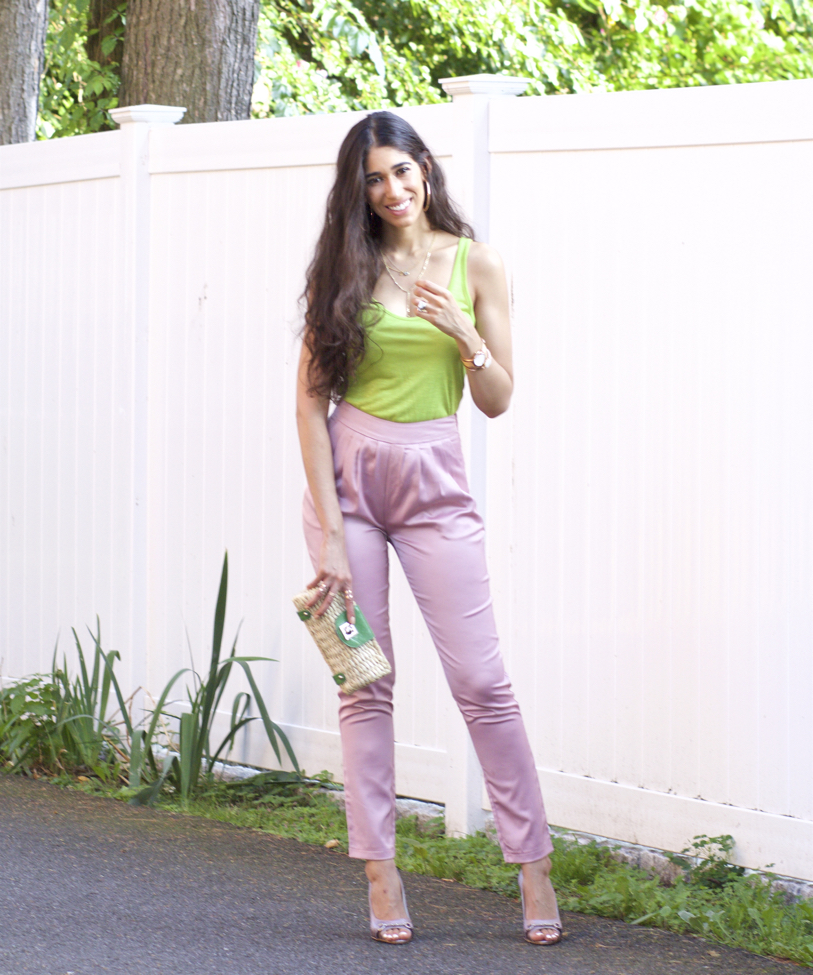 Who knew that pink and green could look so good together? For sure this is a more playful, summery kind of outfit, but sometimes you just gotta live a little! I think this combination looks especially nice if you have a little tan, as well as on darker skin, making it that much more perfect for summer. To offset the playful vibe of the combo, I'd suggest either wearing heels or adding in some texture, like a basket or woven bag that's trending again this season.
*SHOP BLUSH/MILLENIAL PINK*
---

---
I hope you enjoyed this post and found some inspiration for wearing these pink shades this season. Depending on the mood and vibe you wish to create, there are various combinations you can work with to achieve them and I hope this post provided you with some ideas on doing just that. Aside from the colors I've showcased, I'd also suggest combining blush and millennial pinks with: navy, white and true red.
Thanks so much for stopping by, my sweet friends, and I look forward to seeing you all on Monday; have a great weekend!
XO,