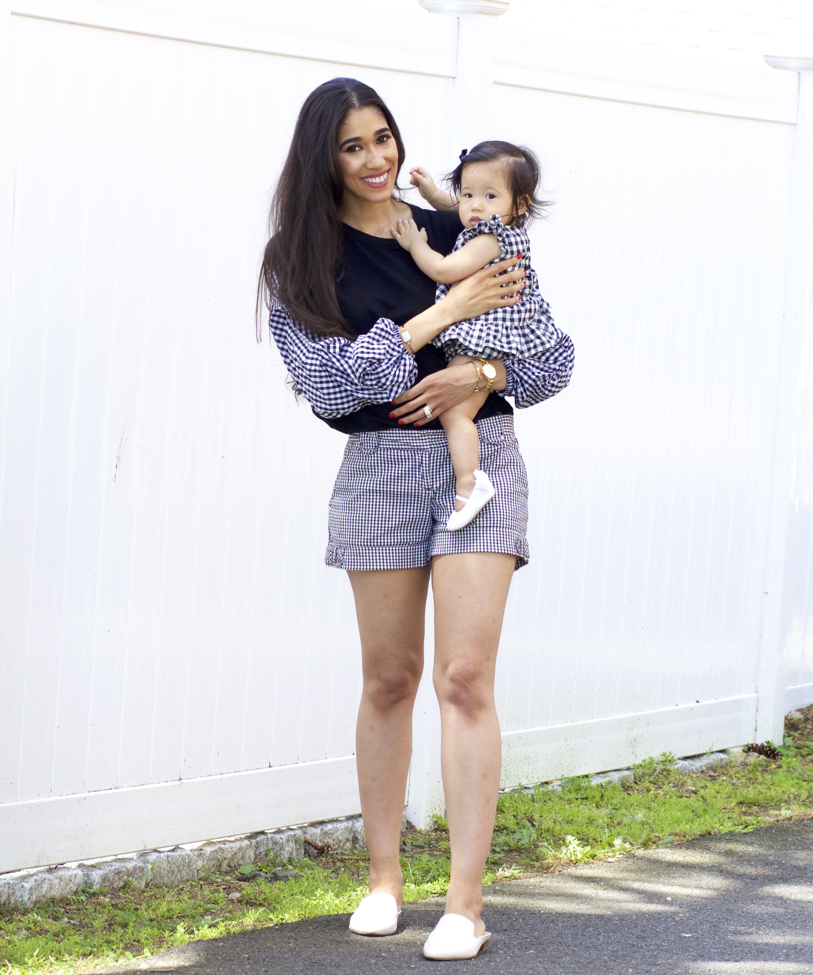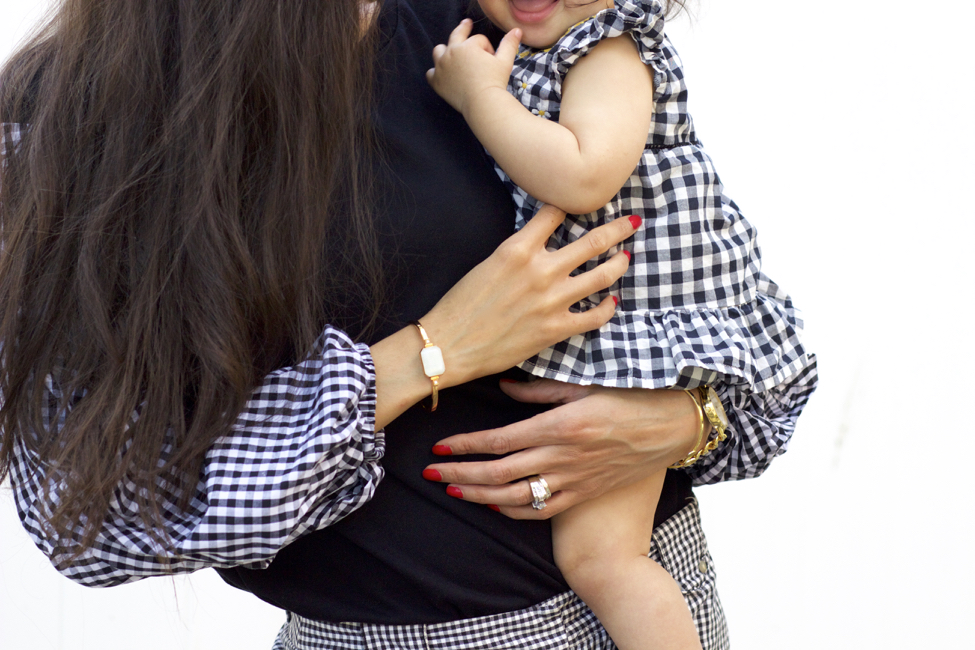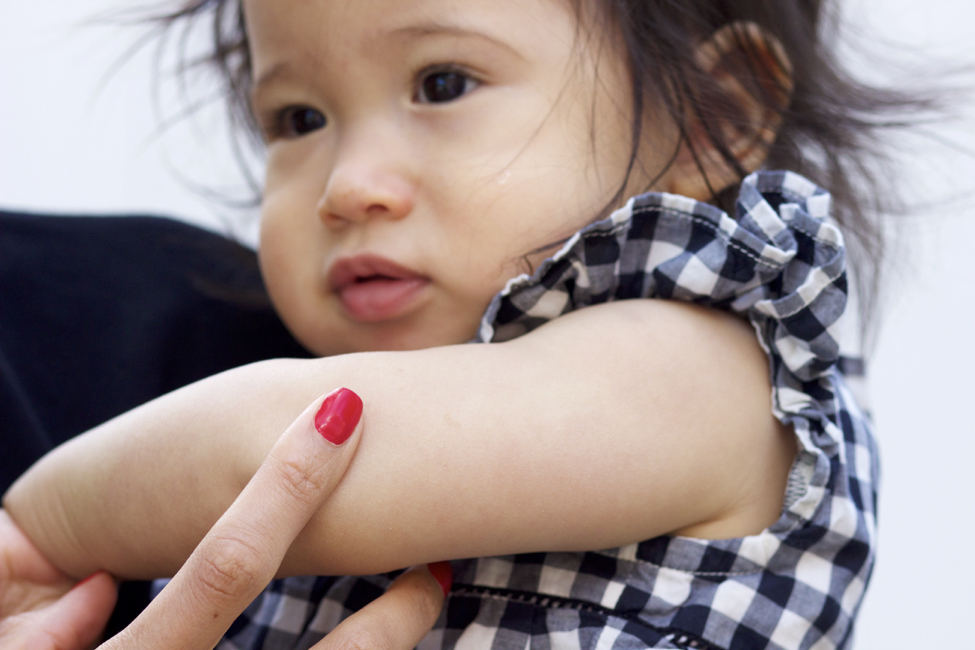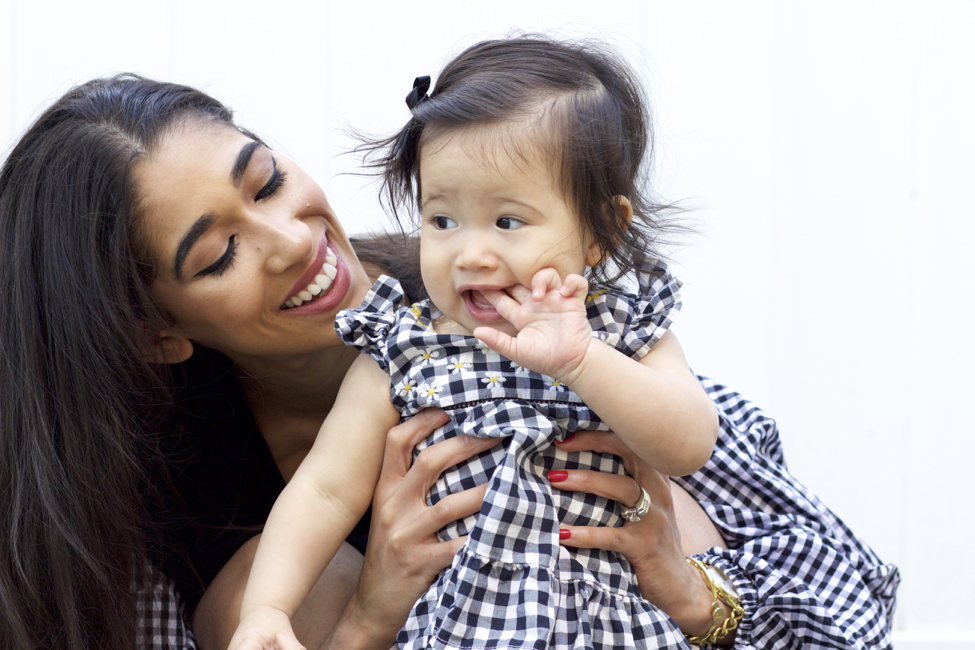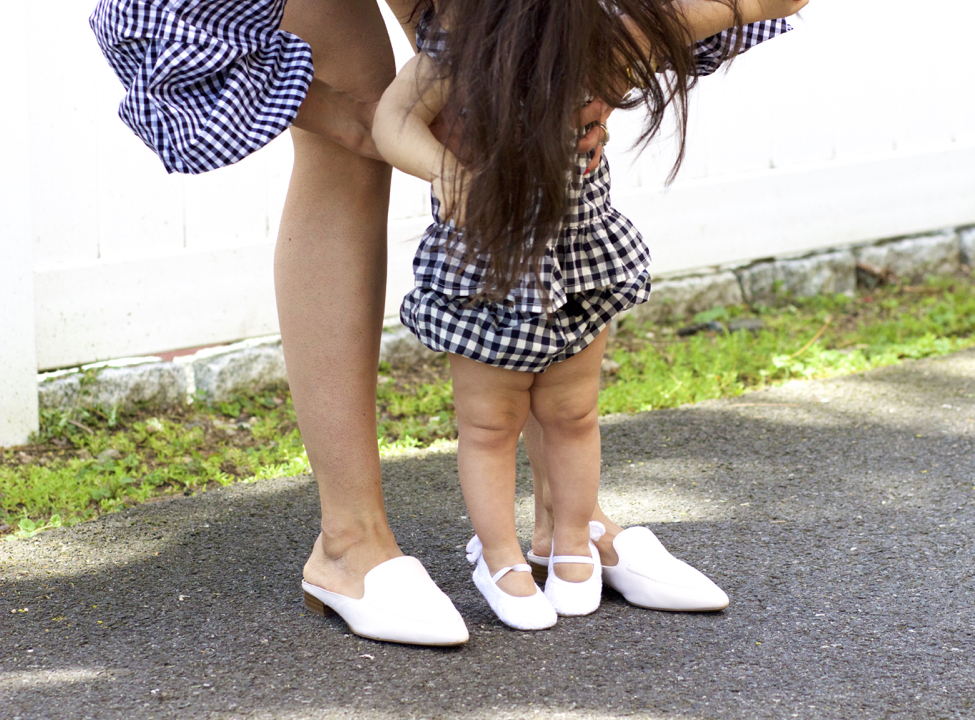 MY OUTIFT: SWEATER: Similar | SHORTS: Similar | Watch c/o USE CODE thestylecontour15 for $15 off your order | SHOES
AVIAH'S OUTFIT: GINGHAM SET: GAP (sold out online, but check in stores!): Similar | SHOES
---

---
Happy Friday my sweet friends!
With Mother's Day being this Sunday, I thought it would be the perfect time to feature Aviah on the blog. She's only made an appearances a handful of times and as promised, I'm featuring her again. You guys, doesn't it feel just like yesterday I was sporting a bump? She's 10 months old and I still sit here scratching my head wondering how and when did this all happen, it's crazy!
With her turning one in little less than two months, now is the perfect time to share what my first year as a mom has been like thus far. Let me start off by saying this, anyone who knowns me intimately knows that I'm a very disciplined and regimented person. I need to set goals and have a set plan to x each one off my list. I've always been this way since I was a little girl. My dolls were always neatly arranged, legs aligned perfectly, and I scrubbed my doll house clean with Windex each week.
Fast forward two decades and my floors are covered with toys, I mop my dining room floor I don't even know how many times a day, since they're often covered in baby food and my days are completely different. Just when I think I have somewhat of a routine going, there's sleep training that needs to begin, teething, or developmental milestones that begin, hello crawling and climbing! It's humbled me in many ways and has blatantly forced me to realize the fact that I'm not always in control nor do I have to be.
I've learned to see and appreciate the beauty in just being and letting life unfold, though it hasn't been and still isn't easy, especially with my personality. As much as I crave routine, some days Aviah just wants to be clingy and have my undivided attention and I'm fortunate to be able to give that to her, it's a pleasure. Nothing makes me happier than to see her laughing hysterically at me being silly or tickling her. I've come to realize that these moments really do go by faster than you can blink, which makes them that much more important to cherish.
It's true what they say, there's no love like a mother's love. There's absolutely nothing that I wouldn't do for Aviah. She's my heartbeat and drive and it's a true blessing to be her mommy. It's also true that you'll never not worry once you become a parent. I can't' tell you the amount of times I've consulted Dr. Google and have made myself go into full on panic mode with what ifs. Fears of not being the perfect mom, knowing that I have the responsibly of molding this tiny human into a strong, independent, intelligent, loving woman someday is in itself quite intimidating, but I've been assuring myself that I'm doing the best I can and will continue to learn as I go.
I hope you enjoyed this Mother's Day post, my friends! If you have any specific questions about my experience with motherhood, feel free to leave them in the comments for me to answer. Thanks so much for stopping by and I hope you have a great weekend celebrating your mom and being celebrated if you're one yourself; Happy Mother's Day!
XO,