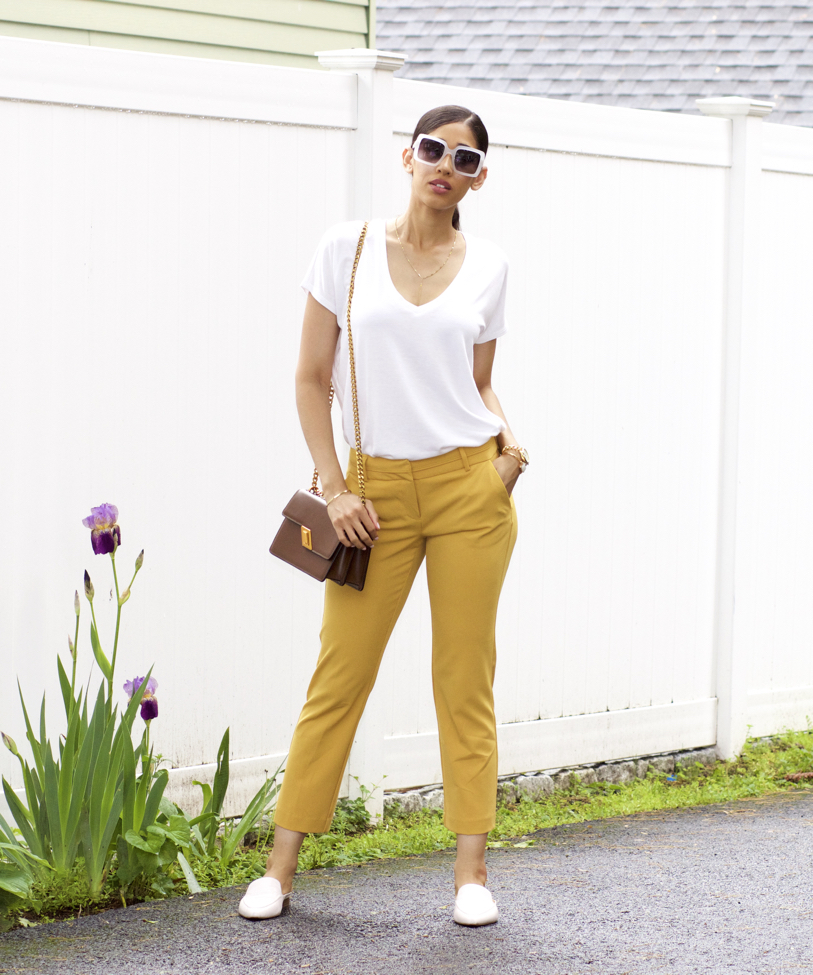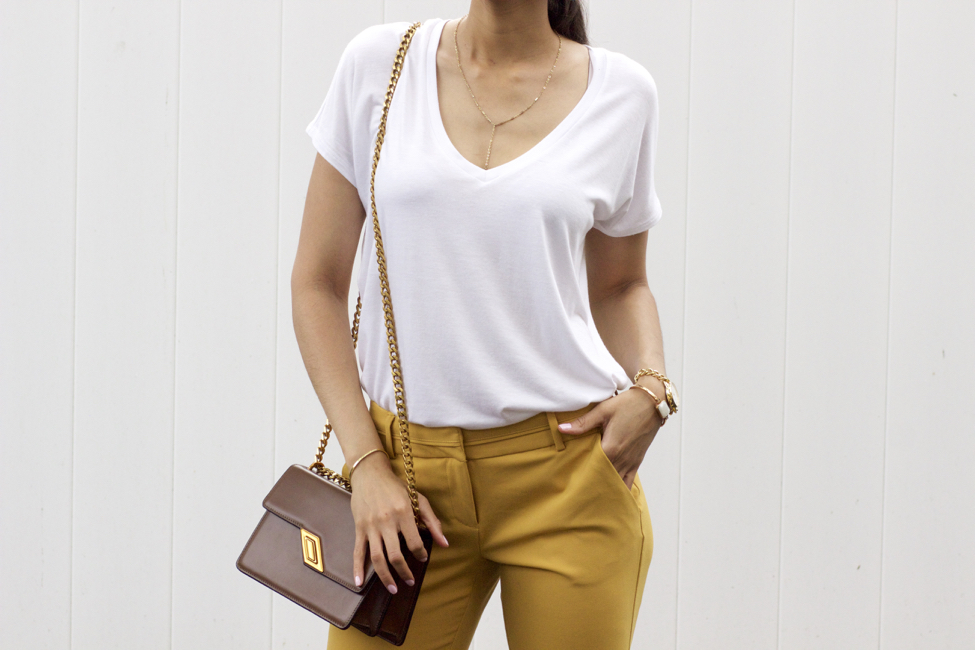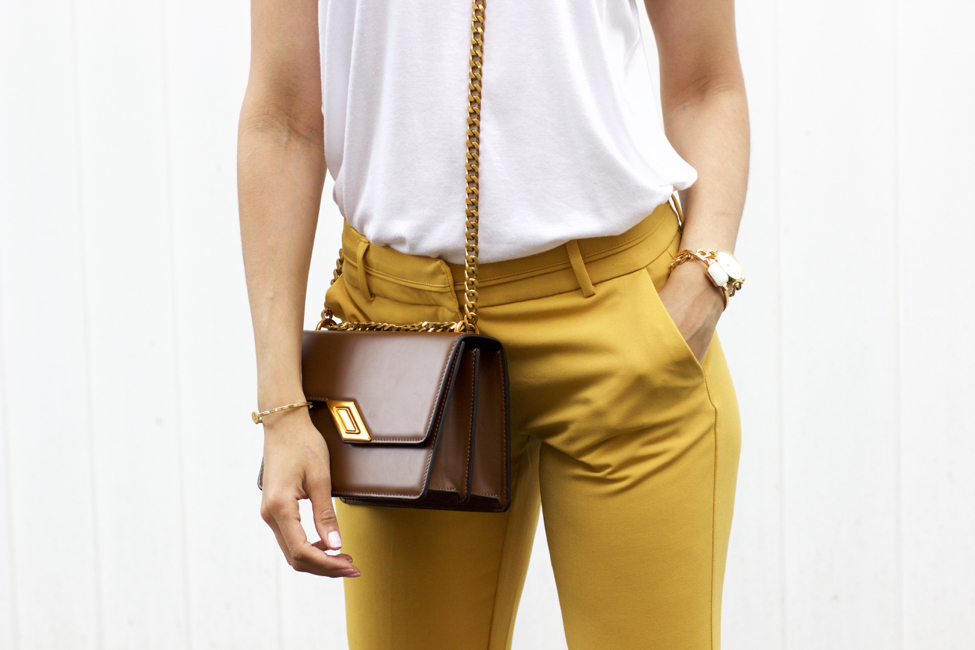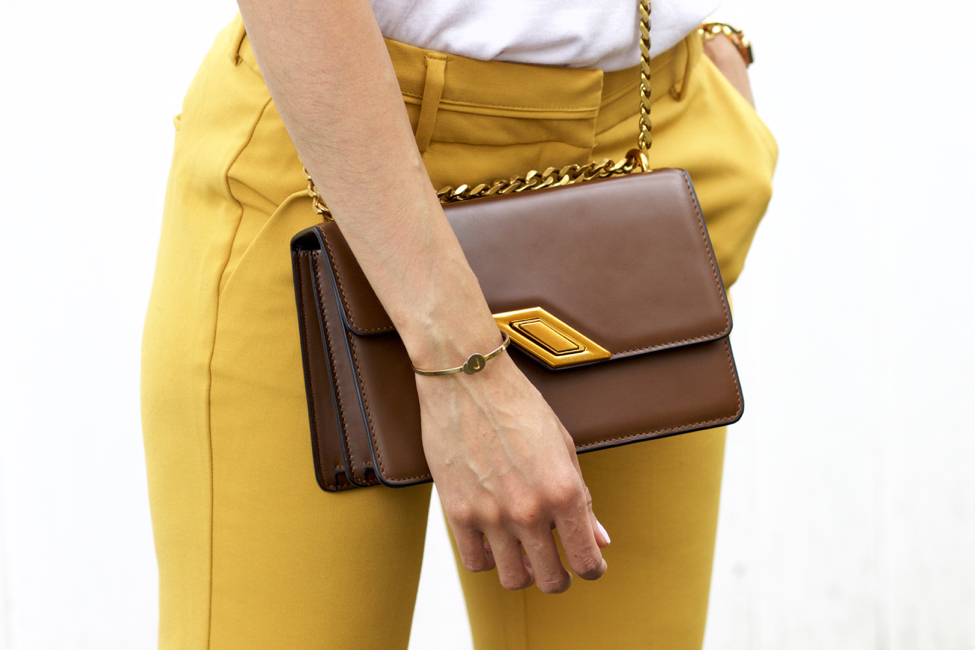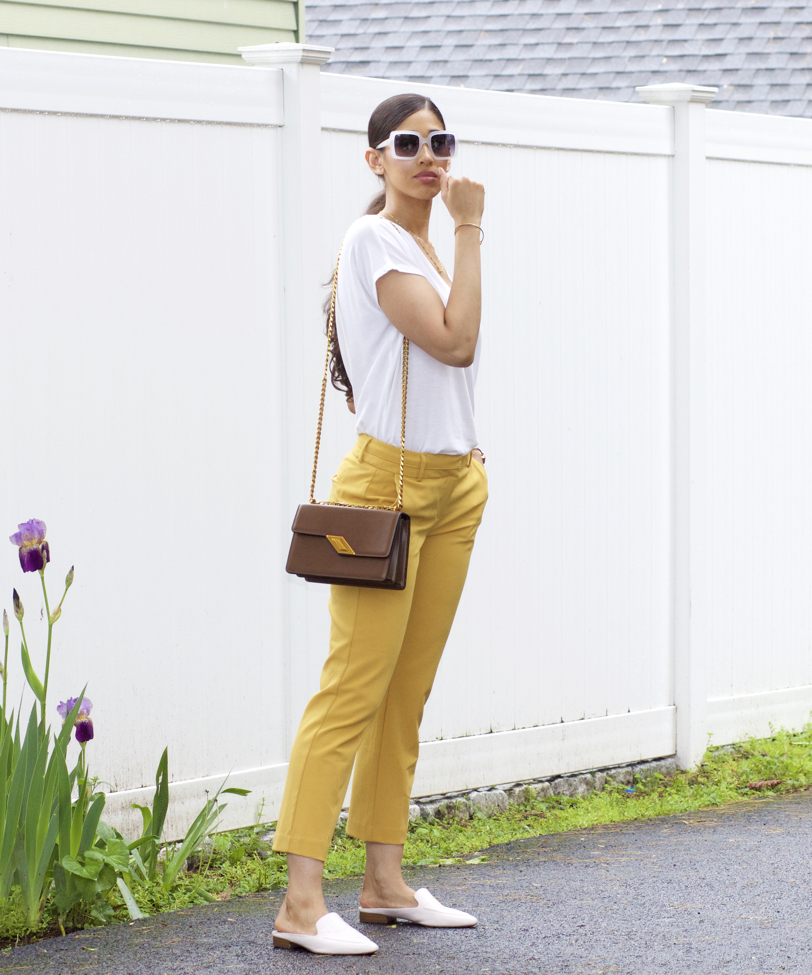 TEE | PANTS: Similar | SUNGLASSES & WATCH C/O *USE CODE THESTYLECONTOUR15 FOR $15 OFF YOUR ORDER!* | NECKLACE C/O | BAG C/O | SHOES
---
---
Happy Monday my beautiful friends!
After a full week of what seemed to be non-stop rain and cool temps, I'm so happy to be starting off the week with some warmer weather again! When it's nice out, I've been reaching for these Franco Sarto mules. They're incredibly comfortable and go with just about everything in my wardrobe. What I love is that they effortlessly dress up any outfit, so I feel more put together when strolling around with Aviah in the most simple outfit.
Today, I've decided to pair them with these mustard yellow cropped leg pants I've had in my wardrobe for several years. I used to mainly reserve them for the fall months because that's typically when we see mustard yellow worn most, but in recent years, I've been challenging myself to look for new ways to style the color during both the spring and summer months, too. I now feel that every color can be worn all year long, it's the other colors and elements you put together hat can change the entire vibe, making it more seasonal. Understanding the concept of remixing is what makes for a more versatile and fresh wardrobe.
We often think of capsule wardrobes consisting solely of the basics in neutral colors, but I find that to be partially true. You can have colorful and printed pieces work just as well longterm and it's rather simple to do this. When it comes to making fall or winter colors more seasonally appropriate for the spring and summer, all you have to do is pair them with white and depending on the colors, pastels, but white will always work in lightning and freshening up the overall look. It'll add a nice, fresh effect to the look, balancing out the moody vibe of the more darker, saturated color.
Though I've styled these mustard pants with white pieces today, I think baby blue, blush pink and beige would look just as good.
What are some things you like to do to get the most use out of some of your favorite pieces to make them more seasonal?
Thanks so much for stopping by, my sweet friends, and I hope you have a great week ahead!
XO,