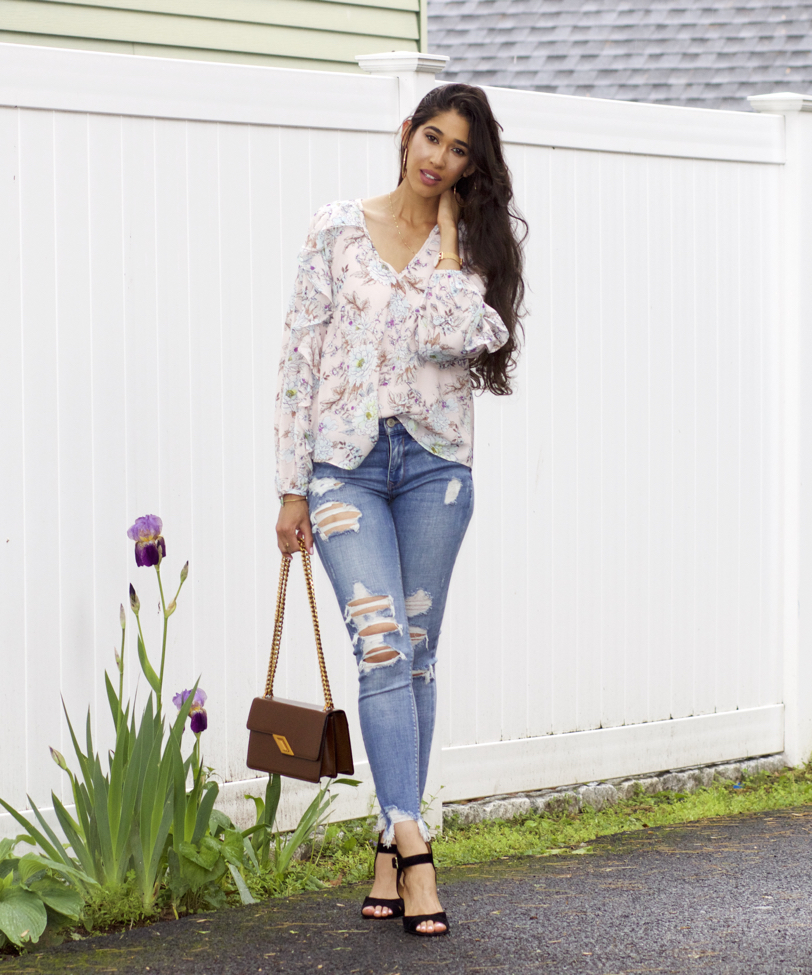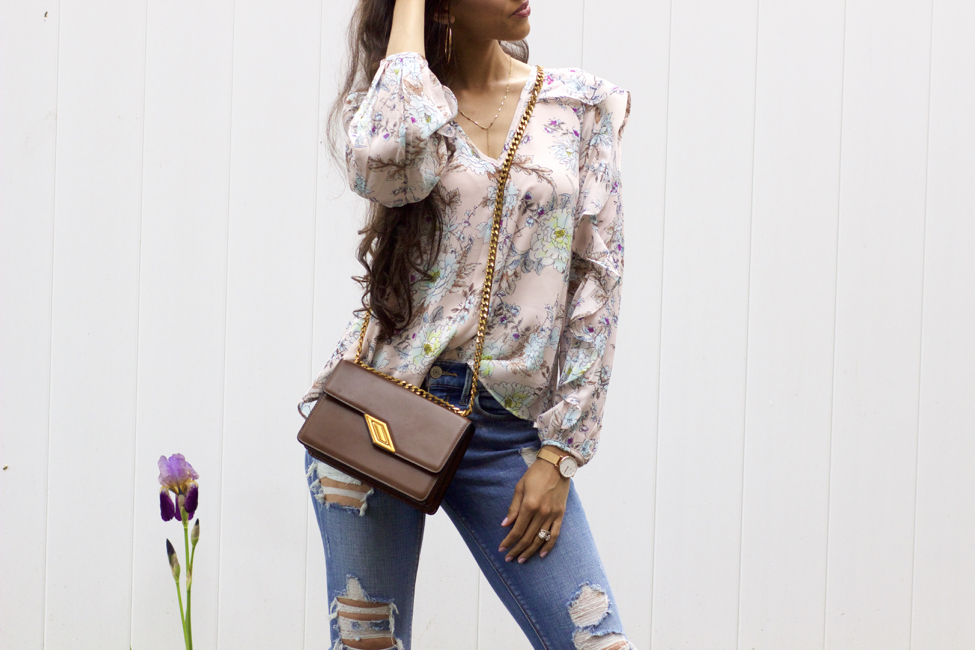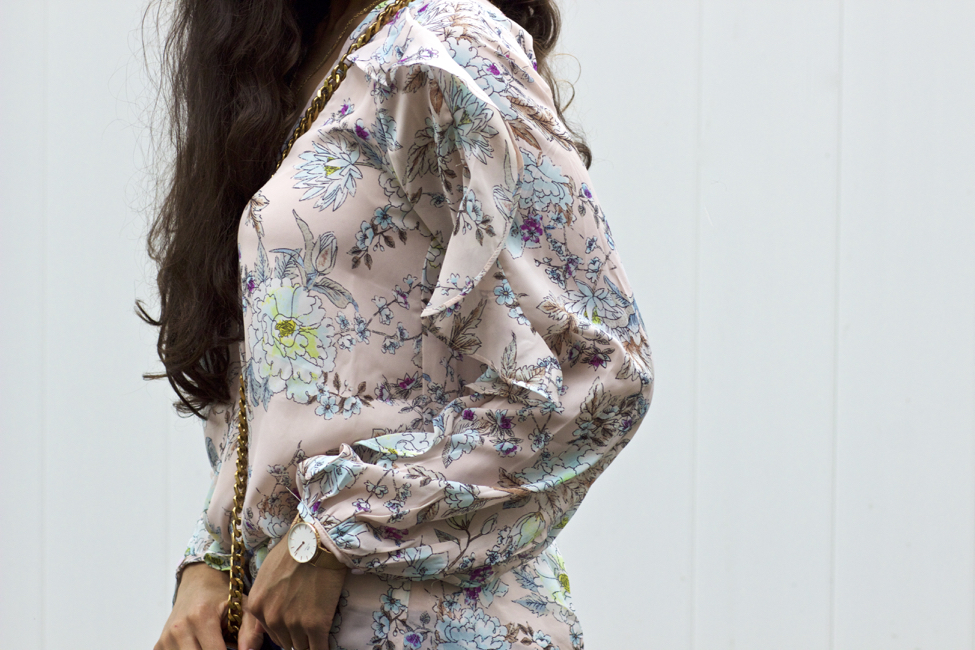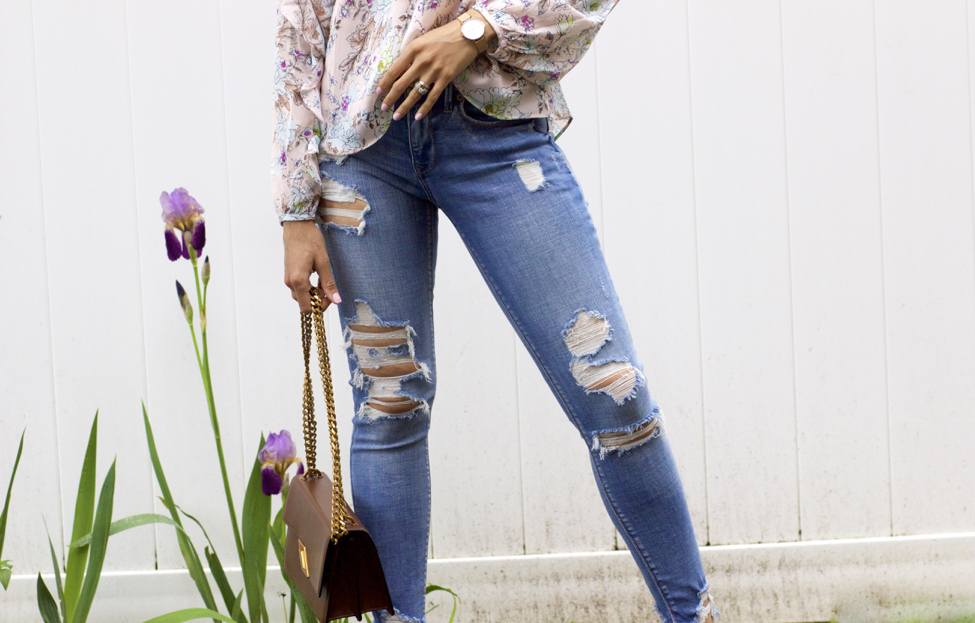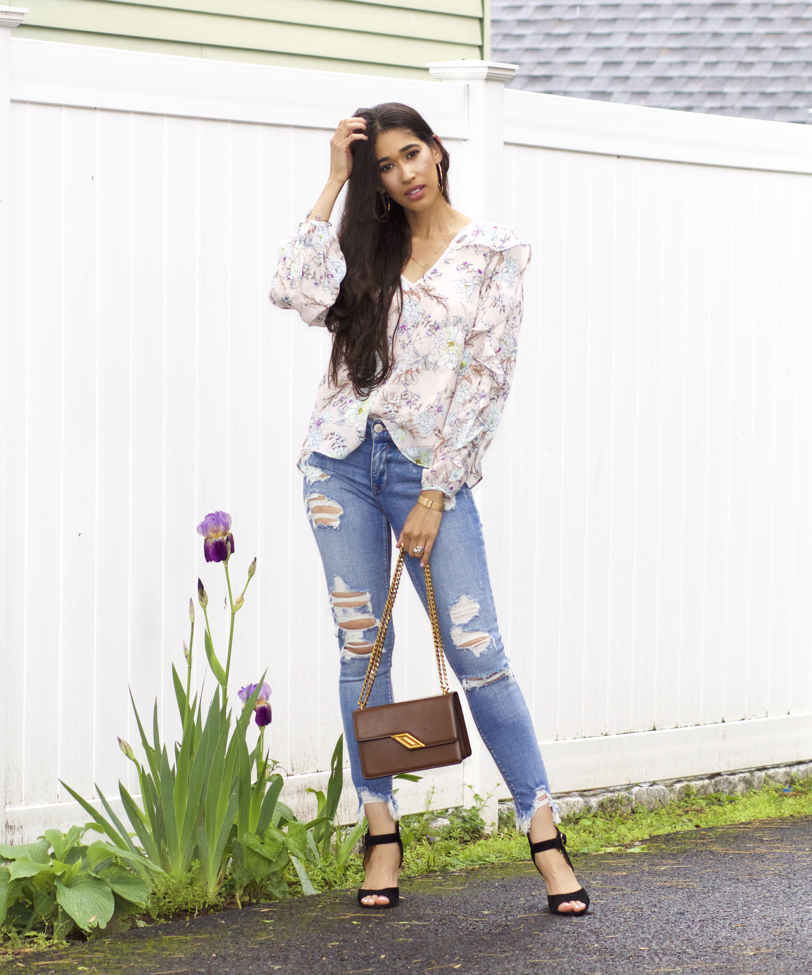 BLOUSE: Similar C/O in the May My Fashion Crate package | JEANS | BAG C/O: Similar | SHOES: Similar
---

---
Happy Wednesday my beautiful friends!
Today I'm styling a top I received courtesy of MY Fashion Crate this past weekend. If you watched my unboxing video this past weekend, it's the piece I wasn't sure was a top or dress. Though I loved the print when I first saw it in the package, I honestly wasn't expecting the beautiful ruffle details on the arms, which makes it that much more beautiful! I absolutely love it and might wear it to a baby shower I'll be attending this upcoming weekend.
As we know, there's nothing groundbreaking about floral prints for spring, it's certainly expected, which makes shopping for them a bit more challenging, as you may feel the need to look for pieces that feature the pattern, but in a much more fresh and inspiring way. At least I do. I like to look for unique color combinations, as well as different florals, too (remember this post?). I also love details that make the piece that much more special, such as ruffles or perhaps a lace-up detail.
Ruffles are one of my favorite details though because I love the dimension and movement it adds to an outfit and it can certainly be flattering. I know when some of us think of ruffles, we think of overwhelming styles that are froo froo and look a bit gaudy. You want to look for pieces that have the detail, but have it layered in a way that's not overwhelming by either having it in only some areas of the piece or just balanced out visually (like this top I styled not too long ago).
You may also want to be mindful with how it flatters your particular figure. For example, if you have fuller hips, a floral printed blouse with ruffle details would be a great option for balancing out your curves in a flattering way. If, on the other hand, you're busty and wish to avoid placing additional volume in the area, you can opt for a floral printed maxi with ruffle details.
What are some ways you like to wear florals? Are there any specific details you look for when shopping for them?
I hope you found some inspiration for wearing florals and ruffles this season in a way that's fresh, flattering and far less boring! Thanks so much for stopping by, my friends, and I look forward to seeing you all again on Friday!
XO,