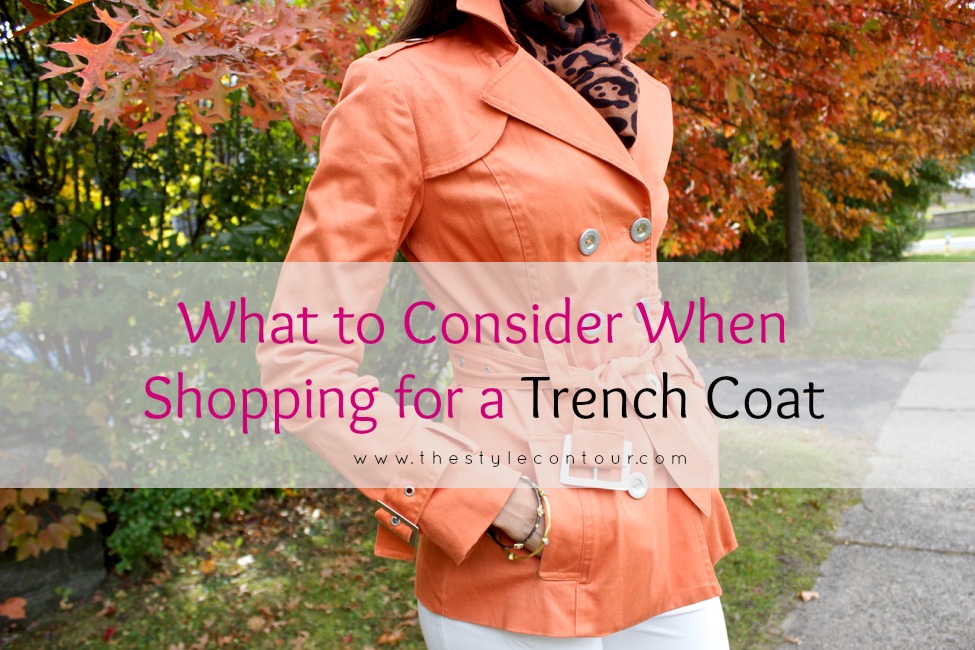 Happy Tuesday my gorgeous friends!
As the weather begins to get nicer and we no longer need the bulky wool coats to keep us warm, we often look for lighter jackets that we can wear that will serve us well on those often chilly spring (and fall) mornings; a perfect option in such case is a trench coat. What inspired me to write this post was the conversations some of you and I had on a recent post of me styling a trench coat. Some of you were unsure as to which styles would be flattering for your particular body shape as well as what color to get. Hopefully after reading this post, some of your uncertainties will be made certain, so you can shop with confidence for a style that will meet your particular needs!
1. BODY SHAPE
As with many of the clothing choices I discuss here on the blog, body shape has a lot, if not everything, to do with how a trench coat will look on you, so it's certainly something to consider!
Large busts (apple or hourglass shapes): I'd suggest a trench coat with a double breasted "military" design (like this one). The two columns will help to visually slim the bust and will typically give you more room to work with for a more comfortable and flattering fit. Chances are there won't be any gaping, which can happen with single button columns when you have a larger bust, brining attention right to the center of your chest, whereas the double breasted design buttons is a bit off centered. This style is actually quite easy to find, since many trench coat styles offer this design anyway.
Curvaceous hips (pear or hourglass shapes): To highlight your lower curves in a flattering manner, you can either look for styles that are cropped, taking on the look of a blazer or for styles the fall mid thigh. A double breasted design in a cropped length will not only flatter your hips, but also balance out your upper body by providing two focal points to the center of your chest with the buttons align. If you'll opt for this length, I'd suggest avoiding any additional details to the hem that can add unwanted fullness to the hips.
2. HEIGHT
Tall: For those of you who are tall, it all comes down to what you feel most comfortable with in terms of length. Do keep in mind that if you opt for cropped styles or those that hit around the upper thigh will make your legs appear longer, so if you have a short torso and long legs and seek to balance out your proportions, you may want to avoid this by opting for a longer length.
Petite: The opposite to what I've suggested for tall frames would work best for you, so cropped styles or those that fall around upper to mid thigh would lengthen the leg visually and prevent your frame from appearing lost in the extra length. That said, I'd suggest avoiding long styles, though this all comes down to personal preference of course.
3. COLOR
This is coming from someone who loves color, neutrals are best. Though you've seen me style my bold orange trend a number of times and it can certainly be worn in numerous ways, neutrals undoubtably allow for more wear. That said, I'd personally suggest beige as the color of choice. Why? It's lighter in tone, so it works well for both spring and fall. The darker the color, the more likely it will exude fall and winter vibes only and you of course want a more timeless and non season restricted option. I mentioned in a former post that I did have a classic beige color that I had for years, but the style was no longer suitable for me, which brings me to my next point.
4. GO CLASSIC
Considering everything else I've mentioned above and reiterating a bit of what I mentioned for the pear shape in my first point, opt for classic styles that don't have any extras. No trendy embroidery, embellishments, or color blocking. The reason is, you want to keep this piece for as long as possible and chances are over time, your style will change, mine did and now I'm starting over again in my personal search for a trench that's suitable for me. If you already have a more classic style and want to add another that's more trendy to your collection, then by all means do so! You at least have a basic you can always count on.
5. PRICE
I'm sure many, if not all, of us have a classic Burberry trench on our wish lists! What may be keeping it on that wish list is the hefty price tag, haha. Though with a timeless classic essential, the price is justifiable, so if you have the funds, go for it (but try it on in person first, keeping all the pointers I mentioned in mind). If the funds don't currently allow, you can still find great trench coats no matter your budget, there are so many brands and shops that produce this classic! You can even try your luck at thrifting and maybe, just maybe, you'll find yourself a Burberry ;)
I hope this post gave you some helpful tips to consider when shopping for a trench coat. It's a piece you'll often wear, so it does require a bit more thought than an of the moment piece. Thanks so much for stopping by and I hope you're having the best start to your week so far, my beautiful friends!
XO,