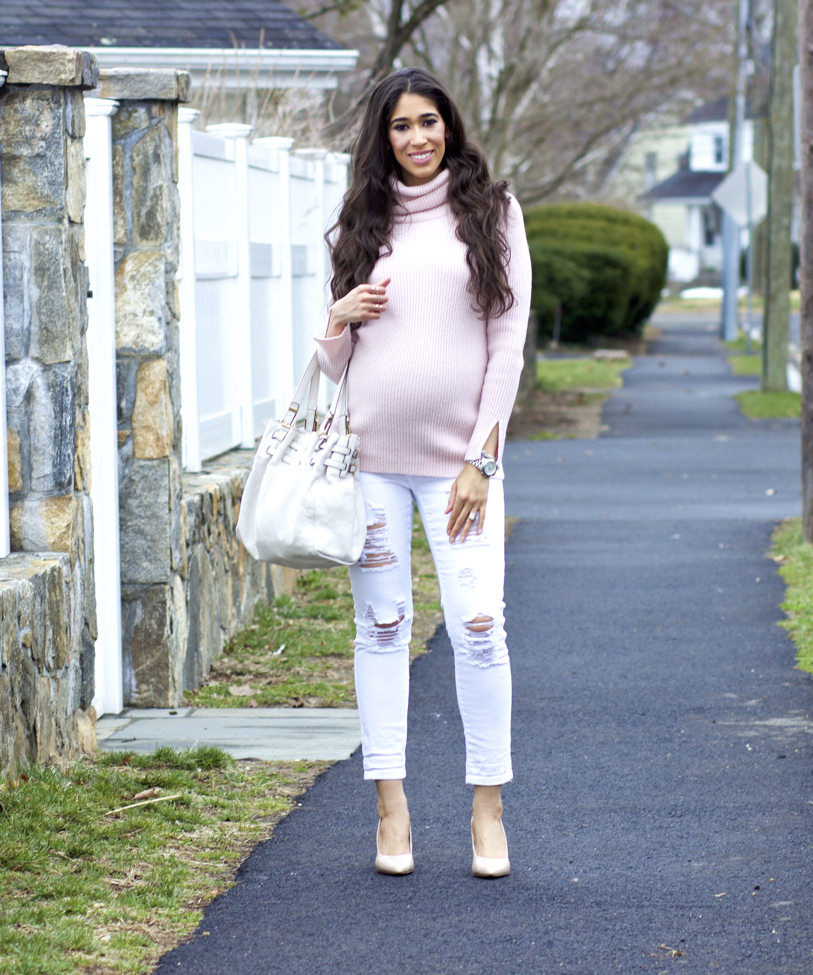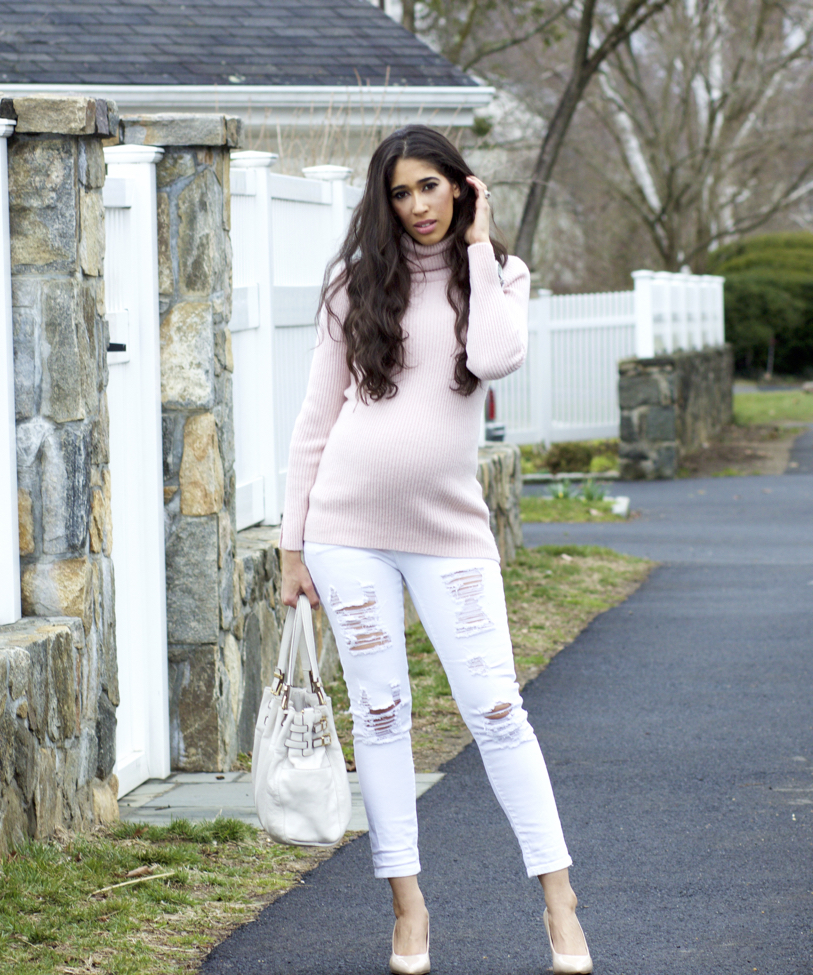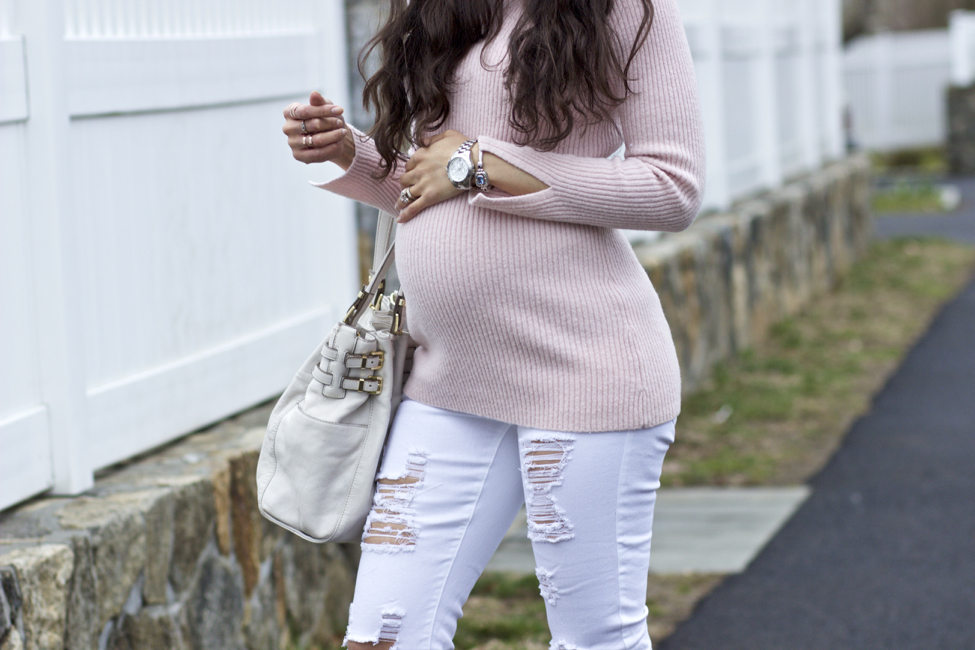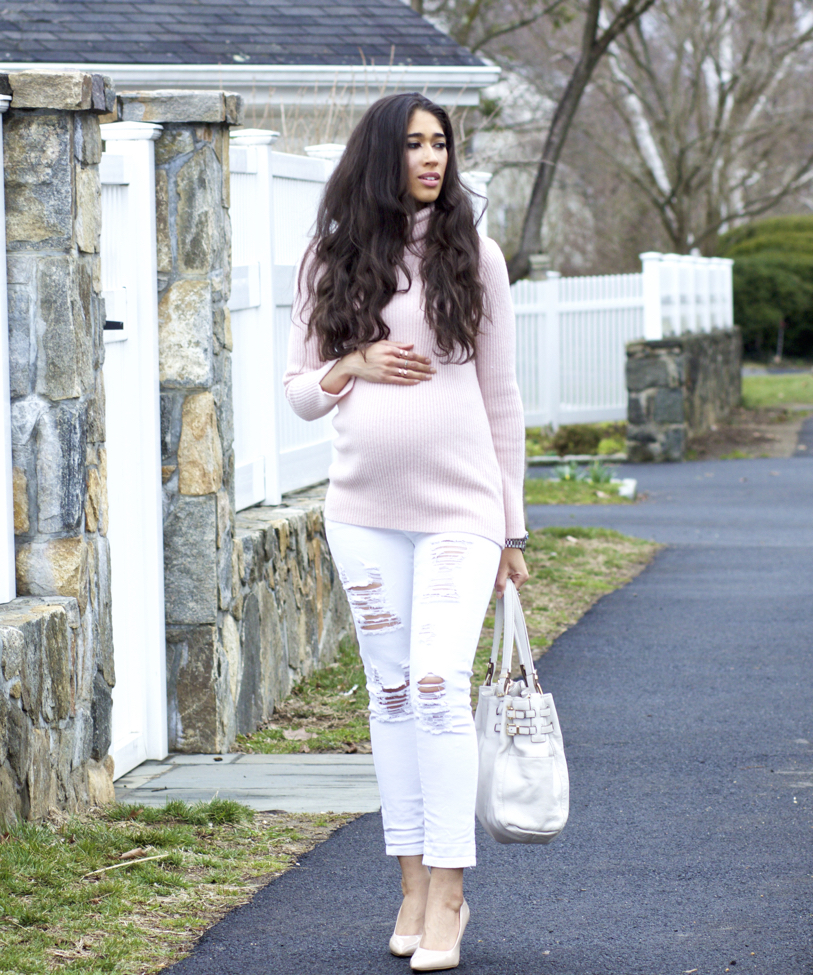 Sweater: Banana Republic (similar) | Jeans: Similar | Watch: Michael Kors | Cuff Rings c/o | Bag: Michael Kors (LOVING this one) | Shoes: Nine West
Happy Monday my gorgeous friends!
How was your weekend? I did some online shopping; I FINALLY found a couple pairs of cute AND affordable maternity jeans on Asos' site, fingers crossed that they'll fit. You guys, it really is so hard to find them in my size and price range. I don't want to spend a ton on maternity jeans because I won't be wearing them long, so I just can't justify the hefty price tag.
I managed to still wear these distressed favorites of mine with the help of the belly band. I swear, I have a love-hate relationship with this thing, lol. Sometimes it comes through for me and others, not so much. I guess it's really the fault of the denim, as every pair of jeans fit differently. I don't know.
What I do know, though, is that I love blush pink and white for spring, it's so refreshing. It's not an extraordinary color combo by any means, but I love it nonetheless! I love the way the soft pink and distressed white denim create somewhat of a juxtaposition with a feminine and edgy fuse.
I'm learning when it comes to dressing a (growing) baby bump, stretch is key. Pieces that have a more fitted (but not overly snug) design are most flattering because they don't add any additional visual weight. They instead flatter the bump by showing off the actual shape, while laying nicely on the rest of the body, which any pregnant woman or any woman in general for that matter would appreciate, am I right!? It's always a win when a piece falls nicely on the body in all the right places, now if it were easy to find them all the time, it'd be even better, lol!
Anyway, I hope you're all having the best start to your Monday so far and thanks so much for taking the time to stop by (and say hello!); have a wonderful week ahead, my friends!
XO,