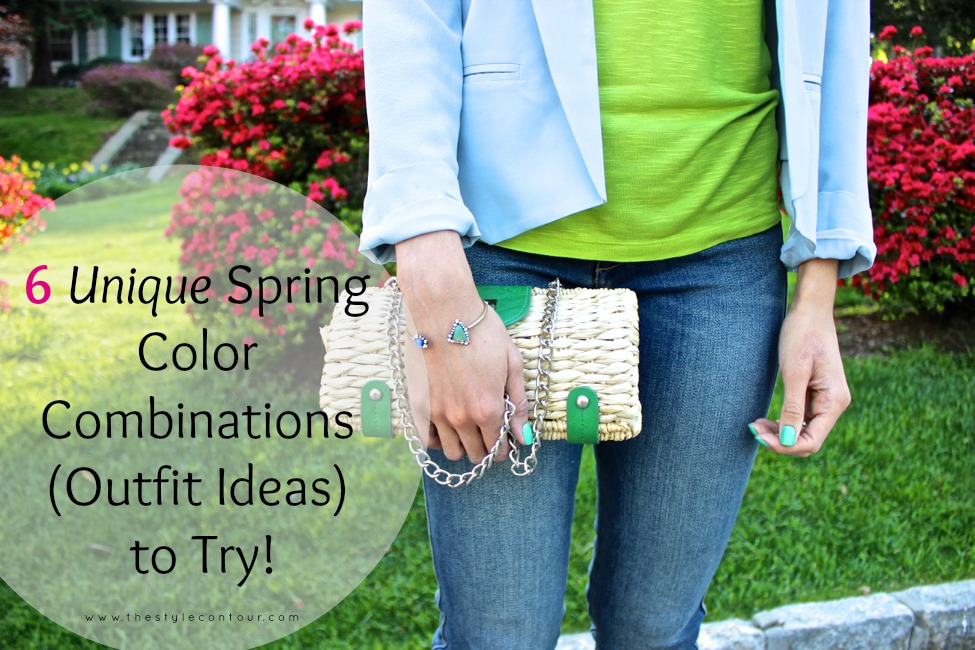 Happy Friday my gorgeous friends!
We've made it to the end of the week, which calls for celebration! It did kind of seem to go a little fast this time around though, perhaps it's because of all the naps I've been taking lately?!
I'm not going to be a negative nelly and harp on the cold weather we've been having and my disdain for it, but it did interfere with me being able to share an outfit post, as I typically would on a Friday. So, I figured I'd share a little #flashbackfriday post featuring some outfits that are perfect for spring and are quite unique in color combination.
As you all know, I love to play around with colors, sometimes I create successes, other times not so much, but that's how you learn what works, right!? Well, today, I'm hopefully taking some guess work out of your hands with some color combinations I've put together last season and received so many compliments on. Of course your pieces will vary, but even if you happen to have some accessories in the colors that are within any of the outfits, you'd be able to recreate the look with your own spin. Since it's Friday and you may have some night out plans, let's start off with an outfit/color combination that'll be perfect for the occasion.
1. MINT GREEN/AQUA/TURQUOISE & BLACK WITH SILVER ACCENTS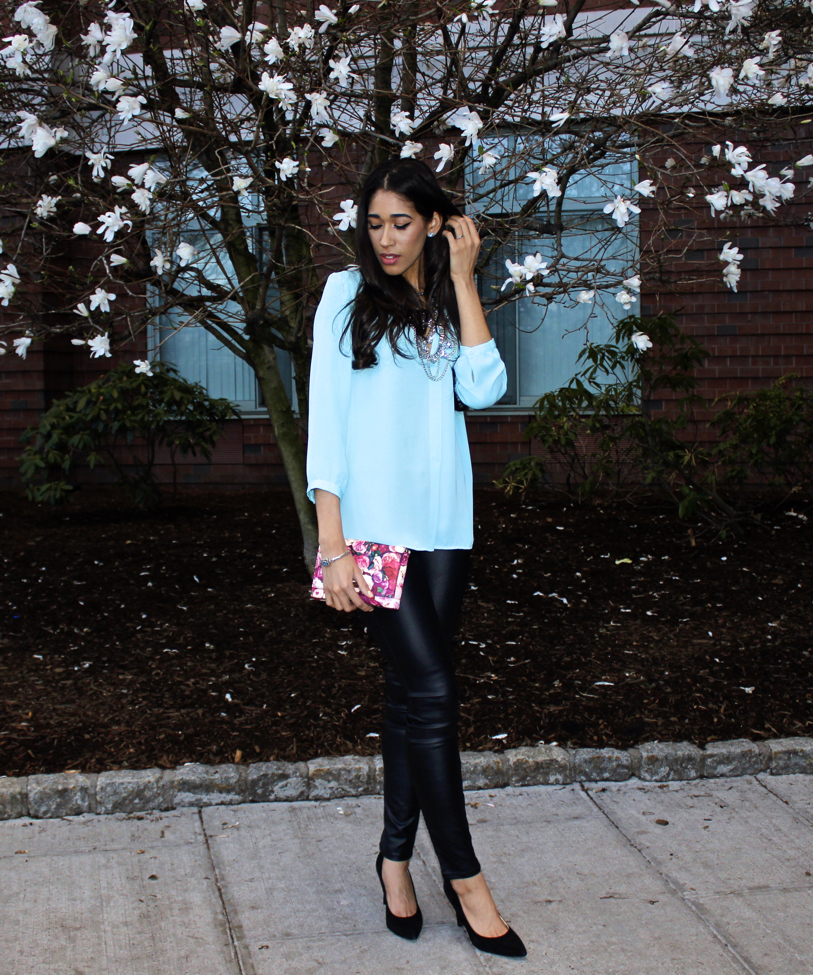 This combination is beyond perfect for a spring/summer night out. As you can see, I paired the aqua blouse with black leather leggings, but this would look just as cute paired with black leather shorts or a leather skirt if you're being blessed with warm weather right now (so jelly!)
2. NAVY & BLUSH PINK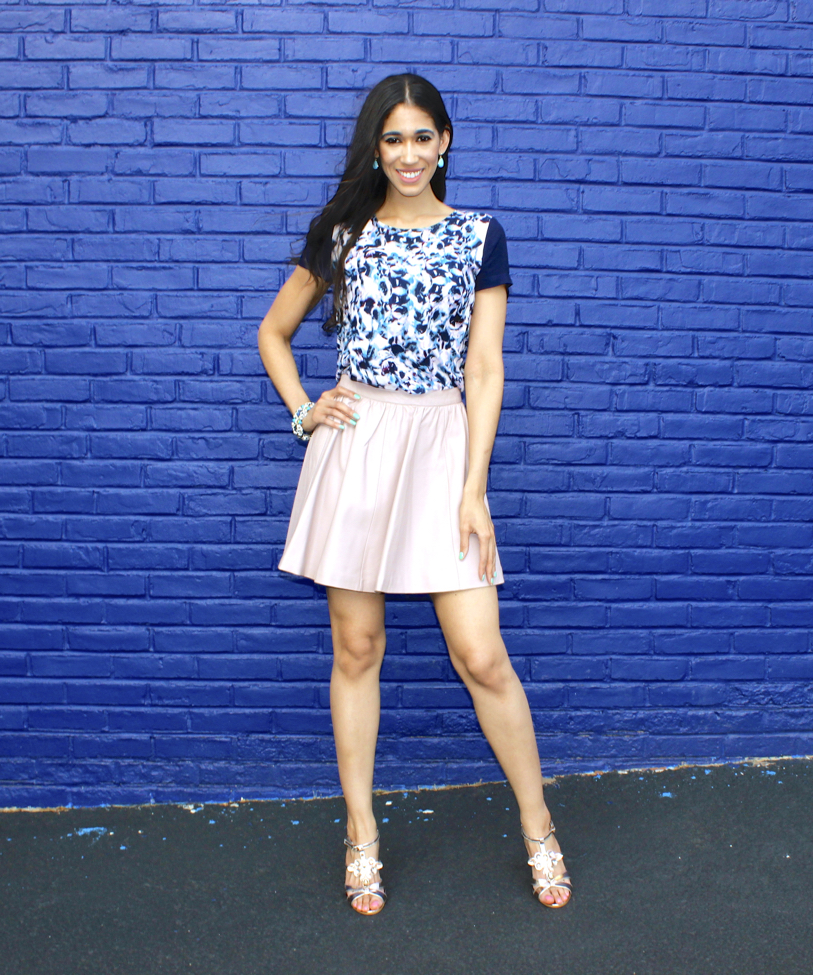 Since we're still in the very start of spring, navy is still wearable, though I know some prefer to wear it all year round, it's all a matter of personal preference. Blush is trending BIG this season, as we discussed in this post, so here's a great way you can wear your favorite blush piece with colors other than the usual white, grey, or black to mix things up a bit!
3. COGNAC/CAMEL BROWN & WHITE
I mentioned in Wednesday's post how much I love earthy tones come spring and fall, including lighter shades of brown. I like to pair them with softer neutrals, such as light grey or white, which creates a nice light refreshing feel, perfect for spring. For a more stand out effect, I'd suggest a white top and bottom (the contrast is even sharper and makes for such a great duo) paired with a cognac/camel blazer, duster cardigan, or light weight coat and some sandals. If you don't have shoes in the color, but have a pair of leopards, that would totally work!
4. TERRACOTTA/RUST/BURNT ORANGE & LIGHT WASH DENIM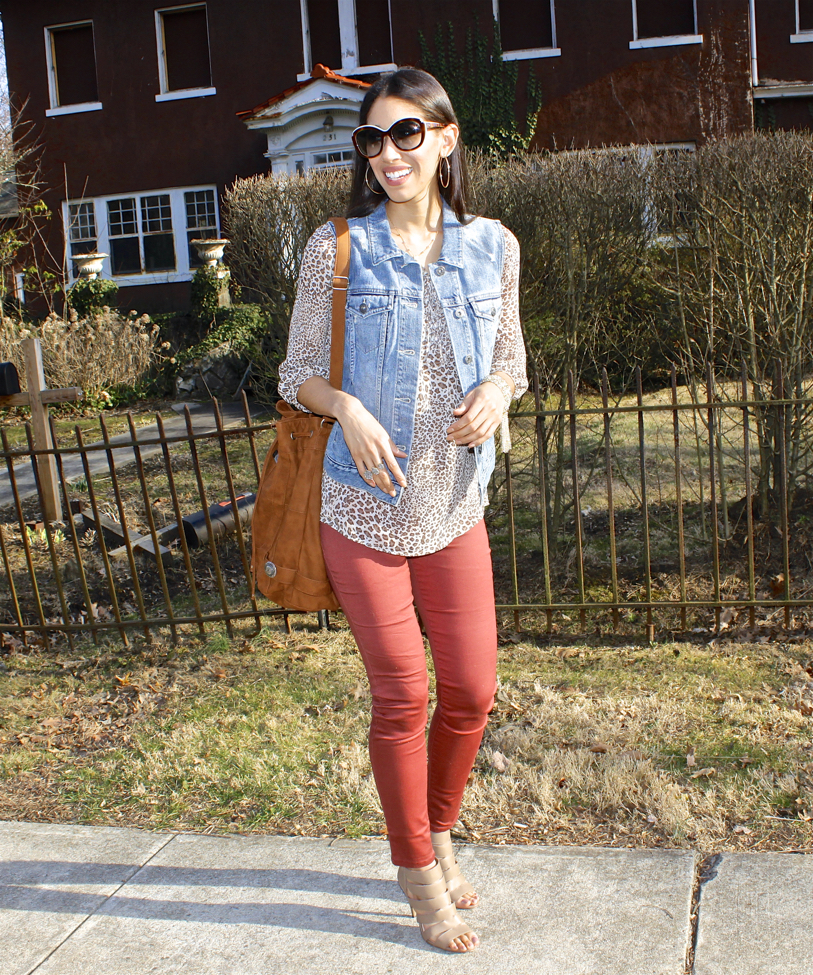 We're so used to seeing rust associated with fall fashion, but to me, it's an earthy tone, so it can be worn both during the fall and spring. To lighten up the color and exude more of a spring vibe, I'd suggest pairing your piece with some light wash denim. Be it a vest, jacket, or pair of jeans, depending on what piece you have in the color. When I think of this color, one of the first things that comes to my mind are flower pots; I mean how close can we get to a spring vibe, am I right!?
5. PASTEL BLUE AND/OR CITRON AND/OR FUSHIA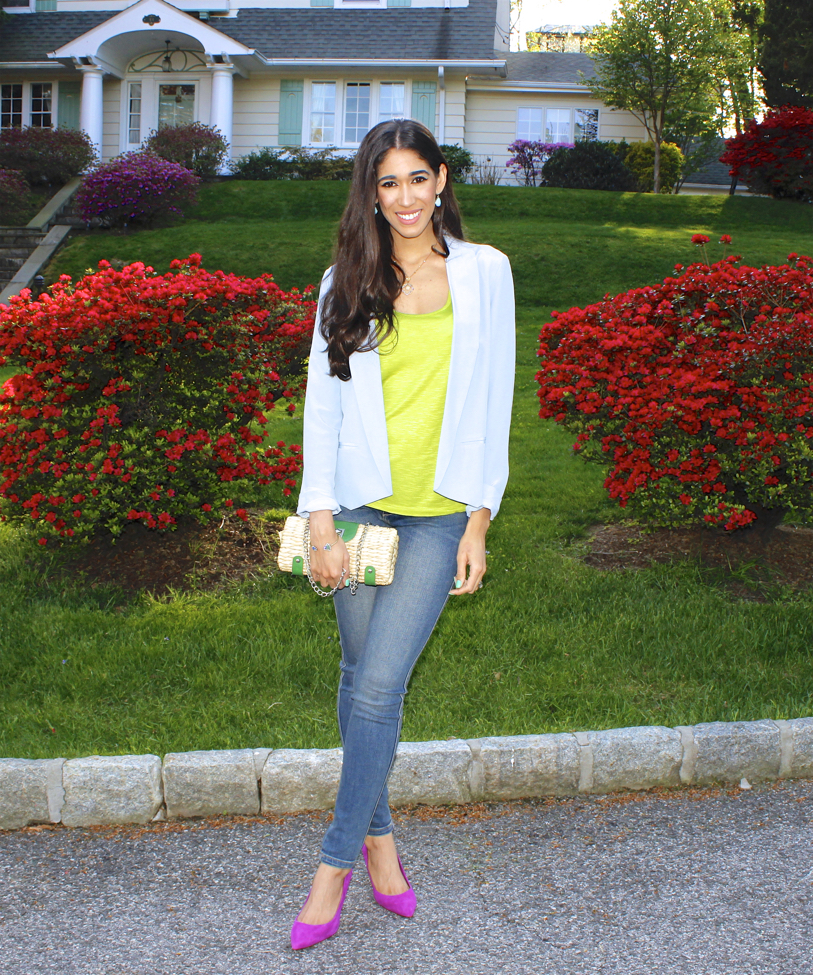 Okay, this one may be for the fashion adventurous, the one who loves all things color and bold looks. ALL of these colors look great on all skin tones btw! You can wear them all together in one outfit for a color block effect or you can pair any of the three together (pastel blue and fuchsia, or pastel blue and citron, or citron and fuchsia). That kind of felt like solving a probability equation, remember those?! Haha!
6. NEON YELLOW & EMERALD/HUNTER GREEN/TEAL WITH GOLD ACCESSORIES
This may be my favorite of the bunch, I just LOVE the contrast of the bright, neon yellow and the rich, saturated green shade. I know neon is not a widely accepted color group because it brings back really bad 80s fashion memories, but hey, 80s fashion is trending again and this time around, we can get it right, haha! If you have fair skin, neon yellow can have the tendency to wash you out, so I'd suggest perhaps either a buttercup or mustard yellow shade instead, which are more dense in color.
I hope this gave you all some unique color combination ideas for creating your next seasonal outfit. Perhaps for Easter or Mother's Day even? Thanks so much for stopping by my dear friends and do let me know which look(s) is YOUR favorite! Have a wonderful weekend!
XO,