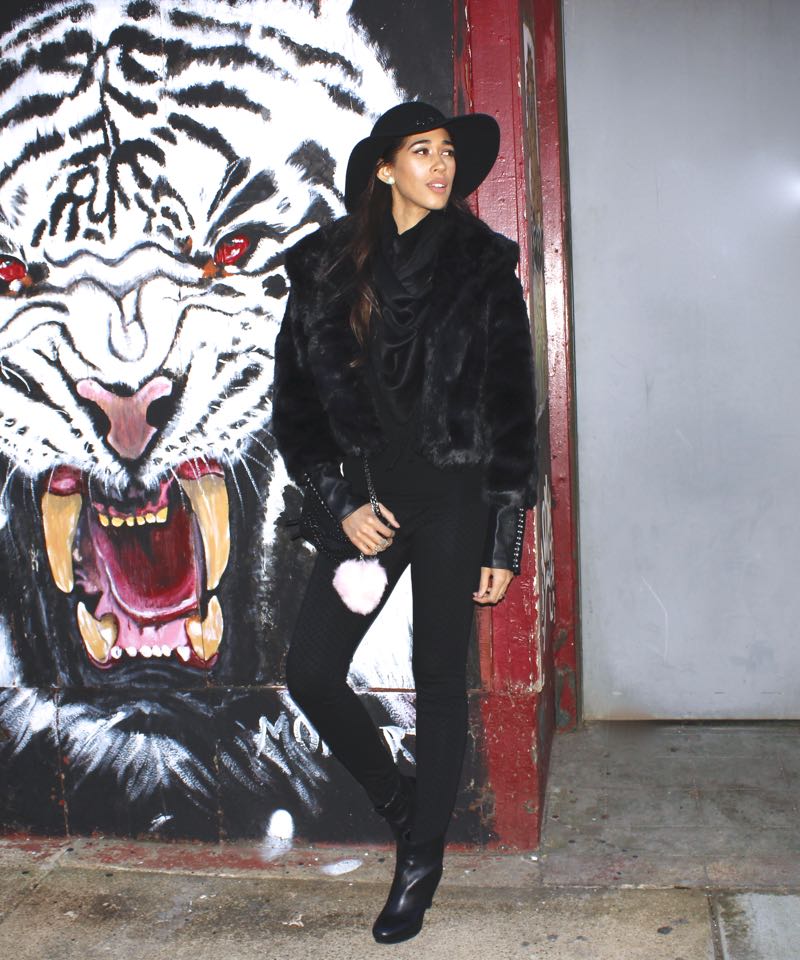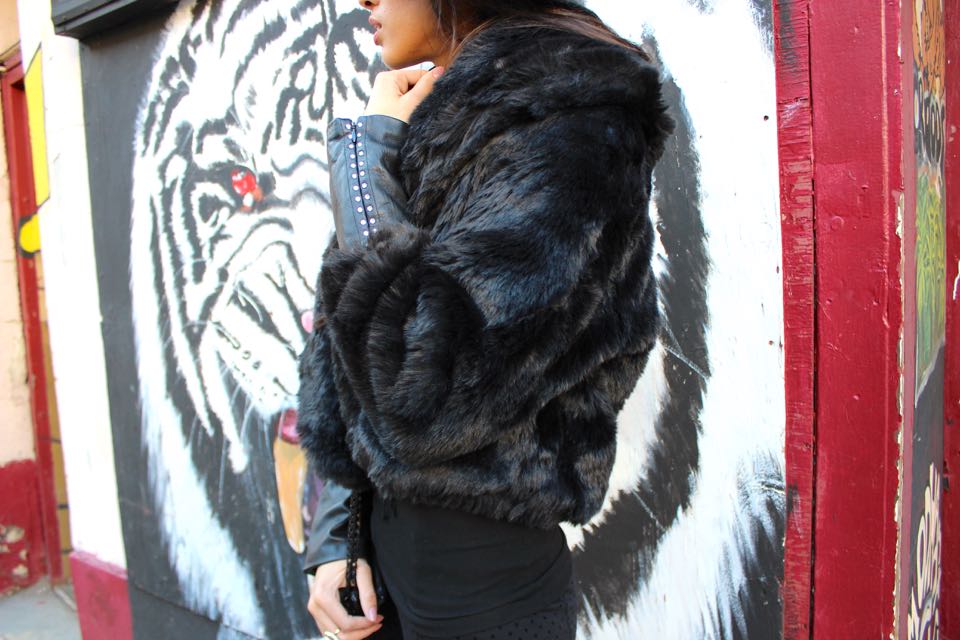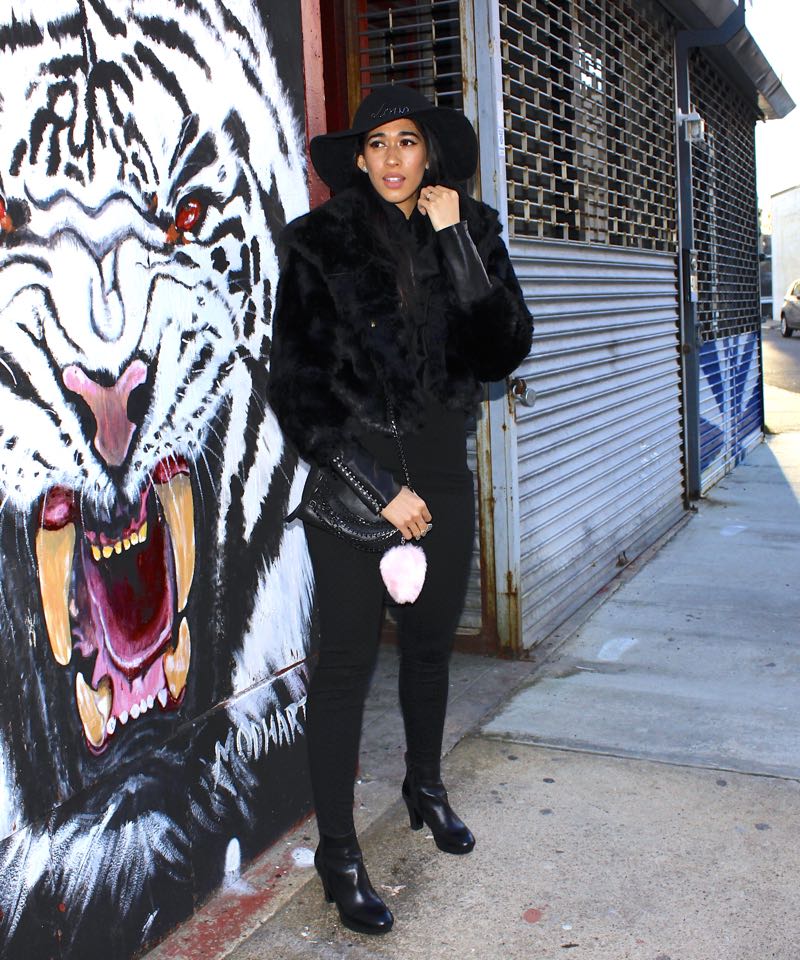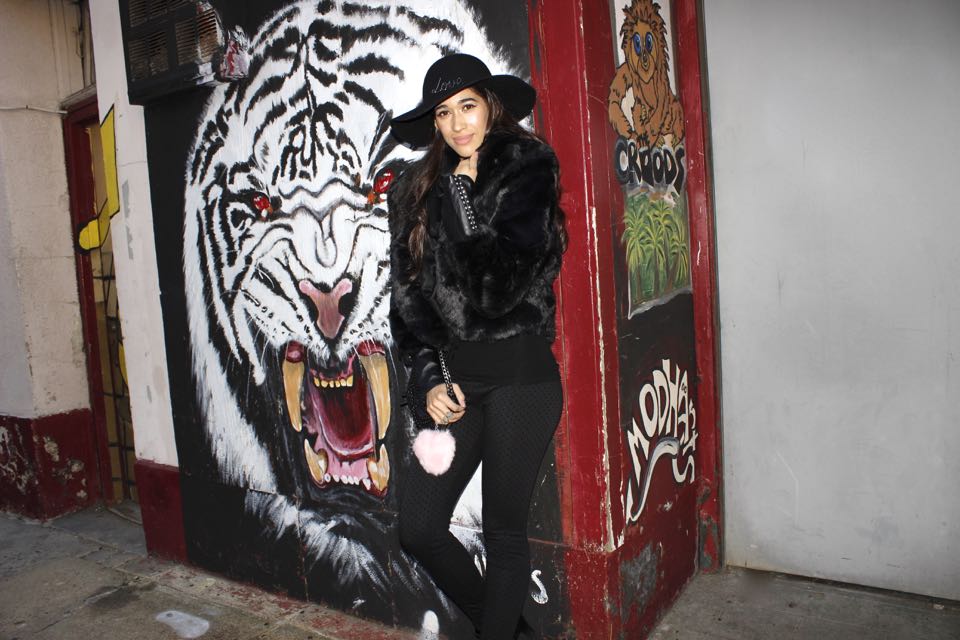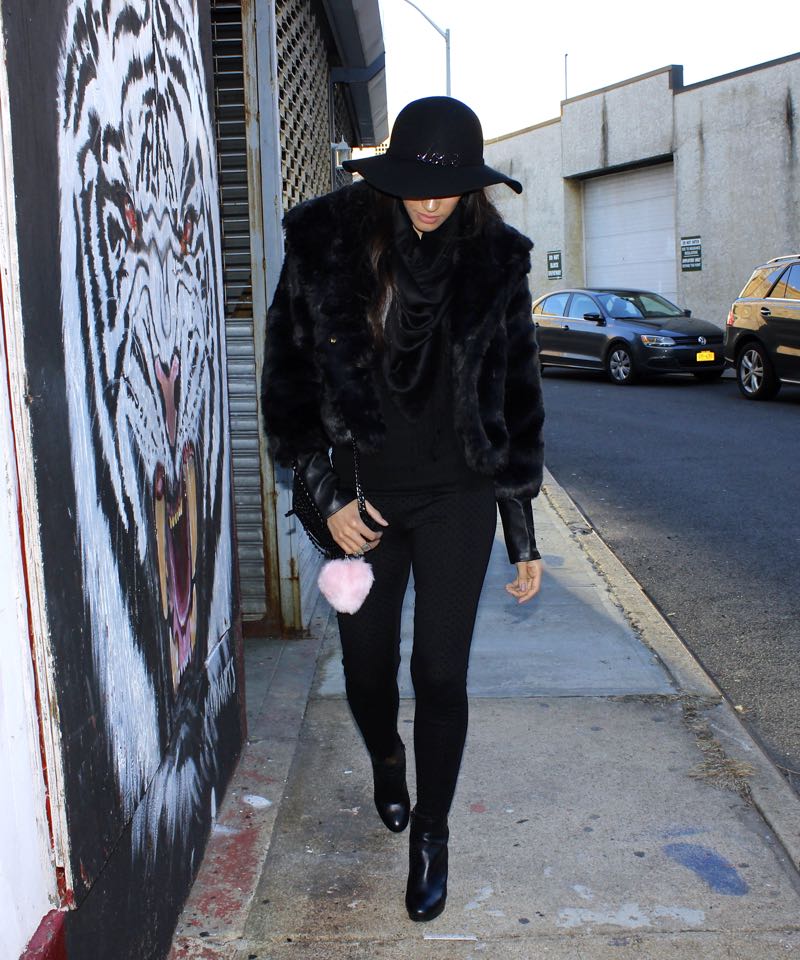 GET THE LOOK!
Coat: Baby Phat (yup, it's that old! similar style HERE) // Polka Dot Leggings: Marshalls (similar HERE) // Ankle Boots: Nine West (similar ON SALE HERE) // Purse: Ash (ON SALE HERE) // Hat: Bcbg (ON SALE HERE) // Heart pom pom: Marshalls (similar style HERE)

Hey there, beauties!
It's Friday, whoop whoop! Now, please don't be frightened by this tiger behind me, even though he does look a little pissed. Perhaps the flash from the camera bothered his eyes? Eddie and I were driving around looking for a spot to take these pics and he thought it would look great with the vibe of my outfit if we took it in front of this mural; double brownie points for him being a visionary!
Anyway, is there any other "color" we can always turn to that will save the day when we just don't know what to wear other than black? I think not! A few things I love about it is that it can a) make everything you wear appear that much more expensive b) instantly slim areas of the body c) Provide more options for styling! With all of these advantages of wearing black, is it really all that easy to create an entire outfit around? I think there are two things everyone should consider when wearing all black and that's adding distinct pieces and personality to a look.
When it comes to distinct pieces, I'm referring to items that noticeably stand out from the others in your pairing, even though it's the same color. This can be done with either textures or silhouettes, such as with fur, leather or embellished pieces, as well as with flowy tops, dresses or bottoms. By mixing up the fabrics, textures and shapes of your pieces, you're essentially adding dimension and bringing the outfit to life. When everything is seamless, it creates a single dimensional effect, which will cause your outfit to appear flat and boring and while wearing black is safe, we don't want it to lack any interest at all. Now, when it comes to the placement of these distinct pieces our bodily proportions should also be considered to avoid hiding our shapes under a ton of fabric or concealing it entirely so that our shapes aren't even noticed. So, my suggestion would be to wear a more distinct black piece in an area you want to highlight, as counterintuitive as that may sound. In other words, place the distinct piece in an area you would wear a bright, bold color.
As for adding personality or mood, I feel it's more important to somehow incorporate this when the outfit is all black than any other monochrome creation and I think it's because black is the only color that we can easily get lost in, since it's so dark. The way you can add some interest to your pairing would be to incorporate a hat, scarf or purse that's reflective of your overall personality or how you happen to feel the day you wear your outfit.
I hope you found this post helpful, my friends! As always, thanks so much for taking the time to stop by! Let me know, do you ever wear all black or do you just tend to go for one black piece in your look? Have a wonderful weekend and I will be back on Monday with a new post!
XO,