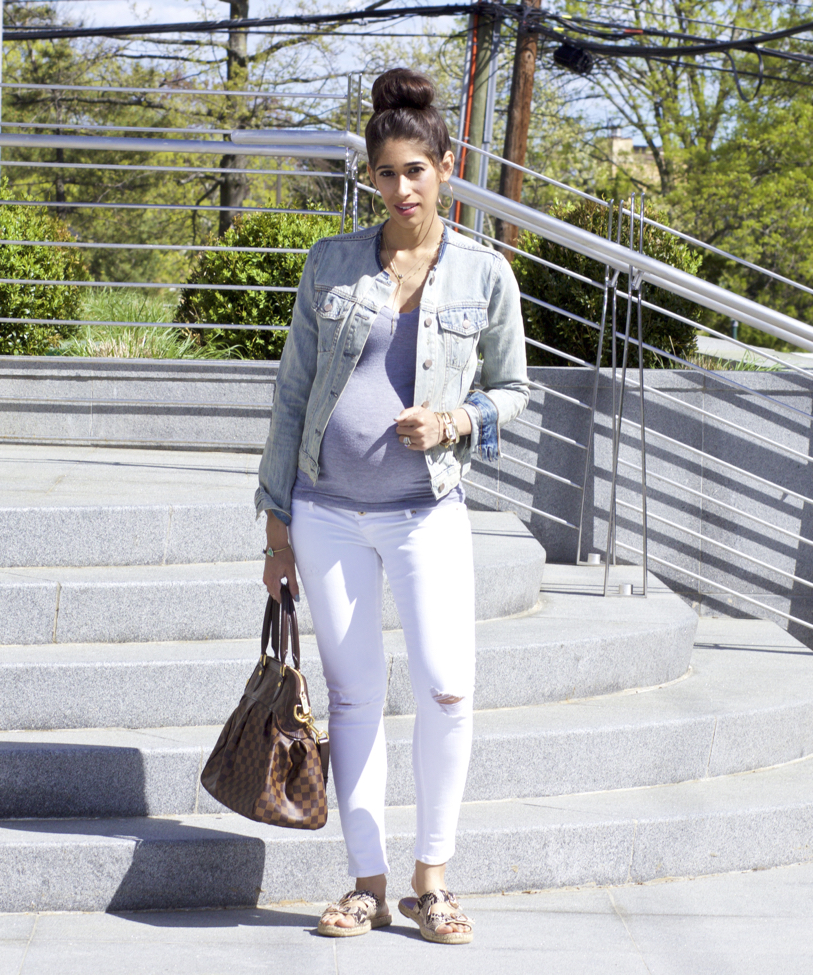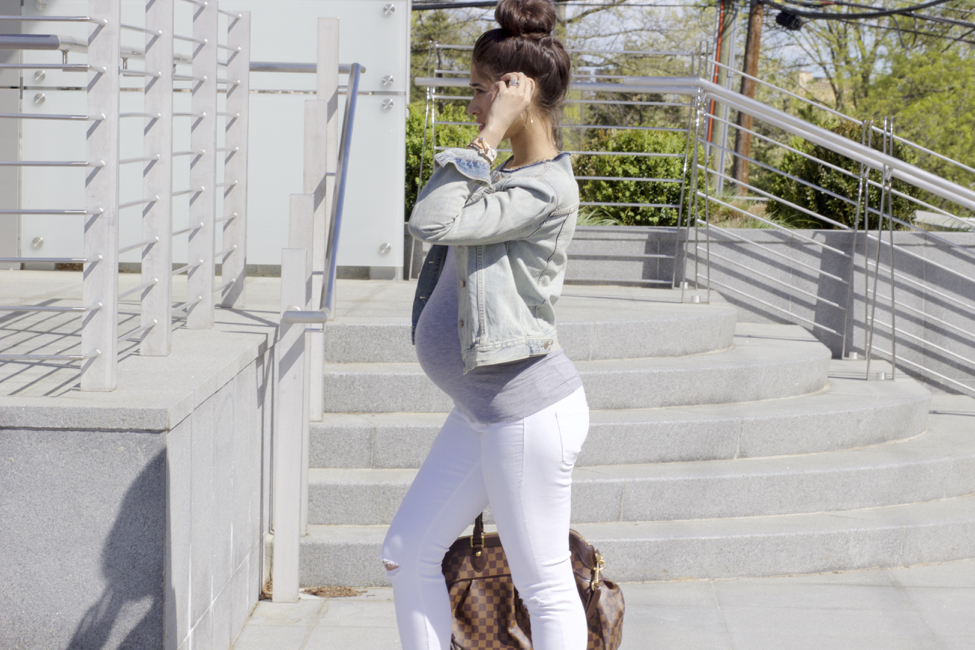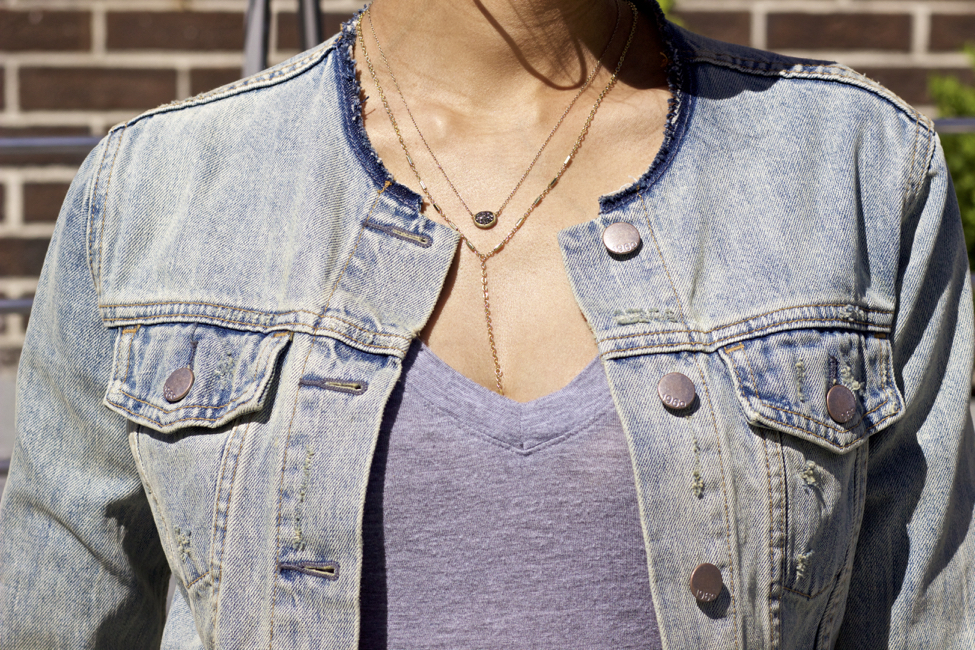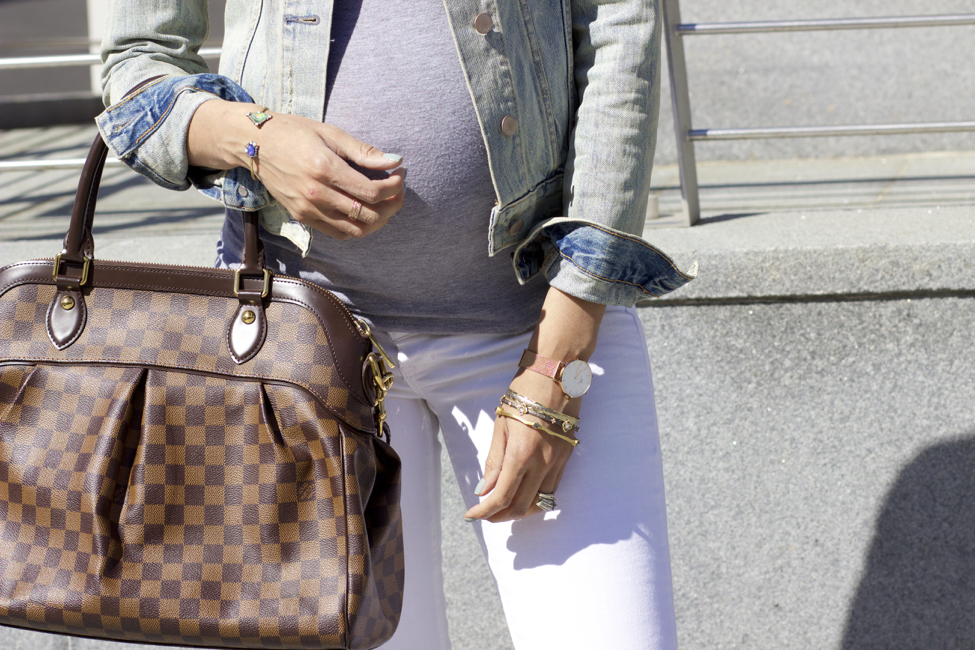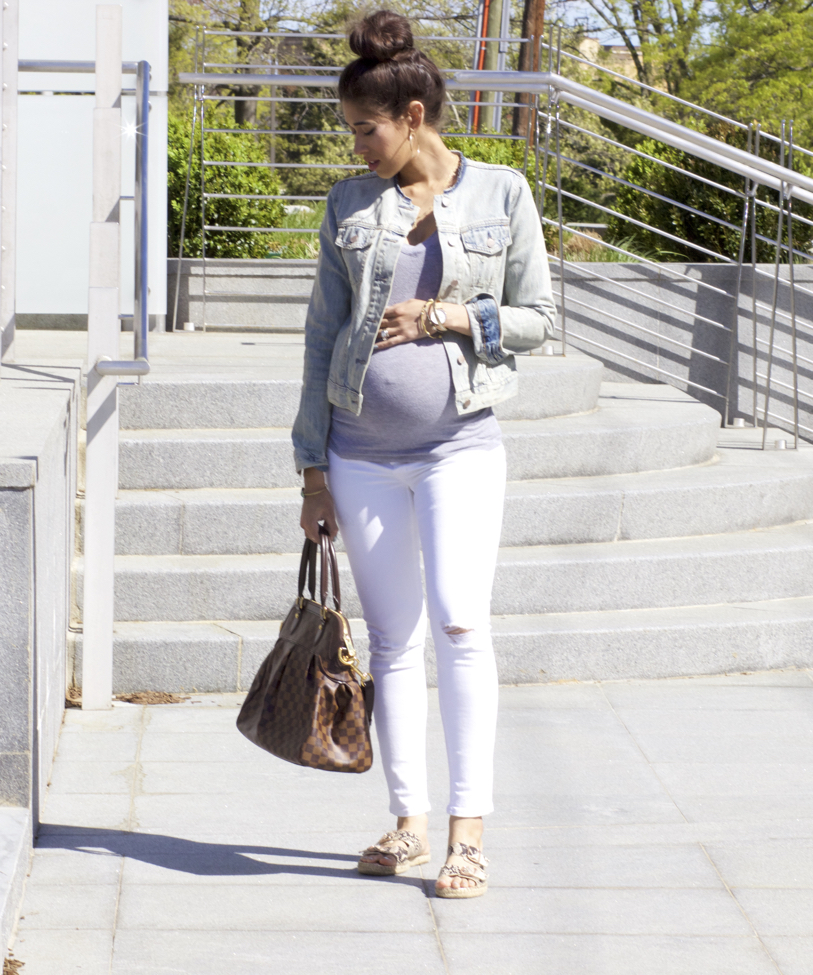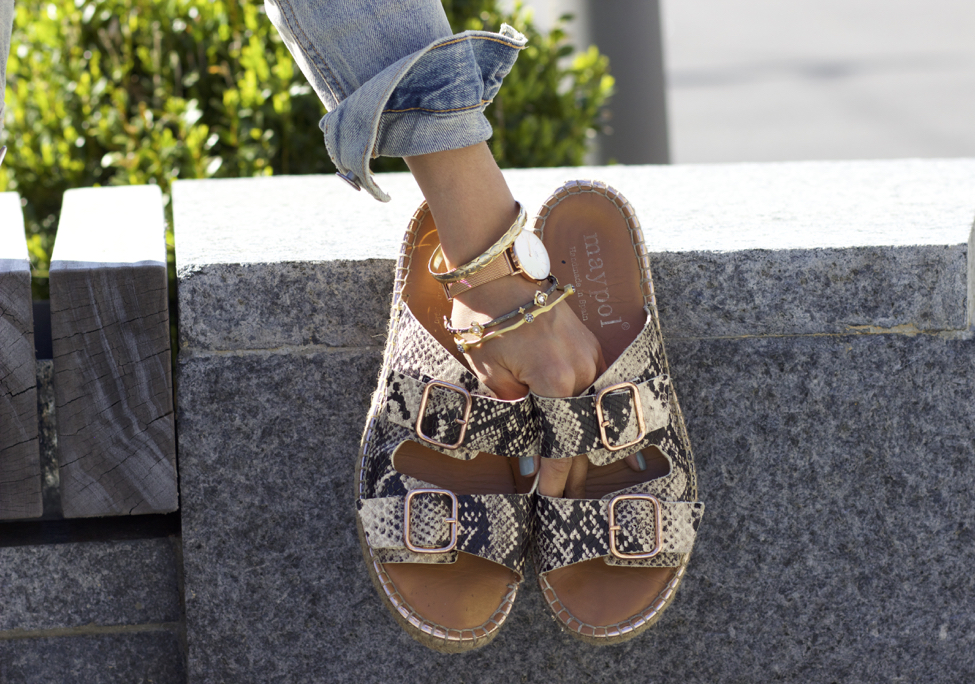 Jacket: Gap (similar here) | Tee: Similar | Jeans (non-maternity here) | Shoes: Maypol (similar here & here) | Y-Necklace c/o |Watch c/o (USE CODE STYLECONTOUR FOR 15% OFF) | Purse: Louis Vuitton
---

---
Happy Monday my gorgeous friends!
I hope you all had a great weekend! This is the second time you're seeing these white distressed maternity jeans, so I figured it was worth while to share my thoughts briefly. Though the fit nicely and I love the belly band that's attached, which is quite comfortable, I'm not too crazy about the fit, it's okay. I much prefer the ASOS pair I wore last here, they're much more stretchy and comfy. But, since my due date isn't until the 4th of July, I knew I wanted to be able to wear white jeans and the ones I have don't have enough stretch like my New York & Co pairs, so I decided to try these out.
Okay, so I mentioned last Tuesday how much I look forward to taking part of the denim pearl trend after having baby girl. Another one I'd like to partake in is the raw denim trend, I really love the distressed look on denim no matter where and how it's distressed and I also love the bell fringed hems, too. But, for now, I'm doing it up in a raw collar denim jacket I've had for a few years now. You can imagine how much of a trend setter I felt when this trend came out and I knew I already had this jacket in my closet, haha. I know I'm not the only one who feels quite amazing when that happens, right!?
The jacket is a medium wash and I loved the way it look paired with the white denim, it makes for a nice contrast and allows for each to pop on their own. Denim on denim or the "Canadian Tux" doesn't show any signs of stopping and I have no complaints. I love the look and the effects that can be achieved with the styling. For a:
1. ...elongating effect, opt for the same denim rinse, i.e. both dark denim pieces on top and bottom be with a jacket or shirt paired with jeans, shorts, or a skirt.
2. ...jumpsuit effect, pair a chambray shirt and pair of jeans in the same rinse.
3. ...look that will break up the upper and lower body, if you're rectangular, athletically built, or tall opt for two different rinses as I've done in today's outfit.
It's amazing what attention to detail can do, right?! I hope this gave you some ideas on how to re-work your denim pieces this season. Denim is trending huge, so have fun mixing and matching, while creating some flattering results :)
Thanks so much for stopping by, my gorgeous friends, and I hope your day is as fabulous as YOU!
XO,