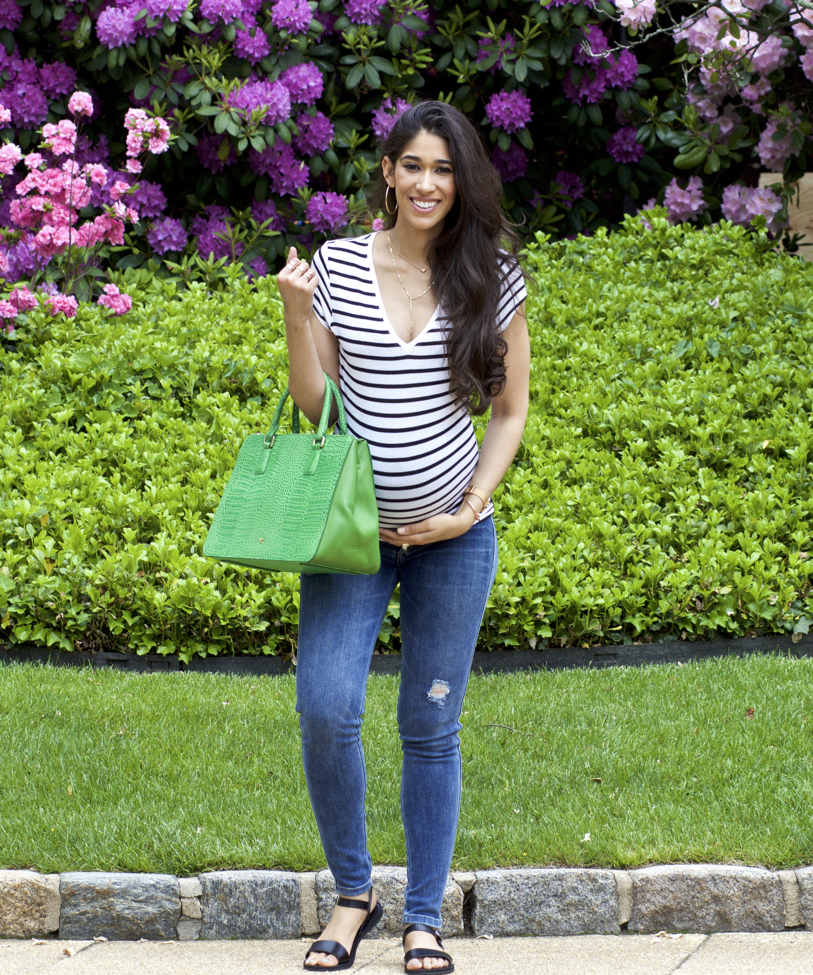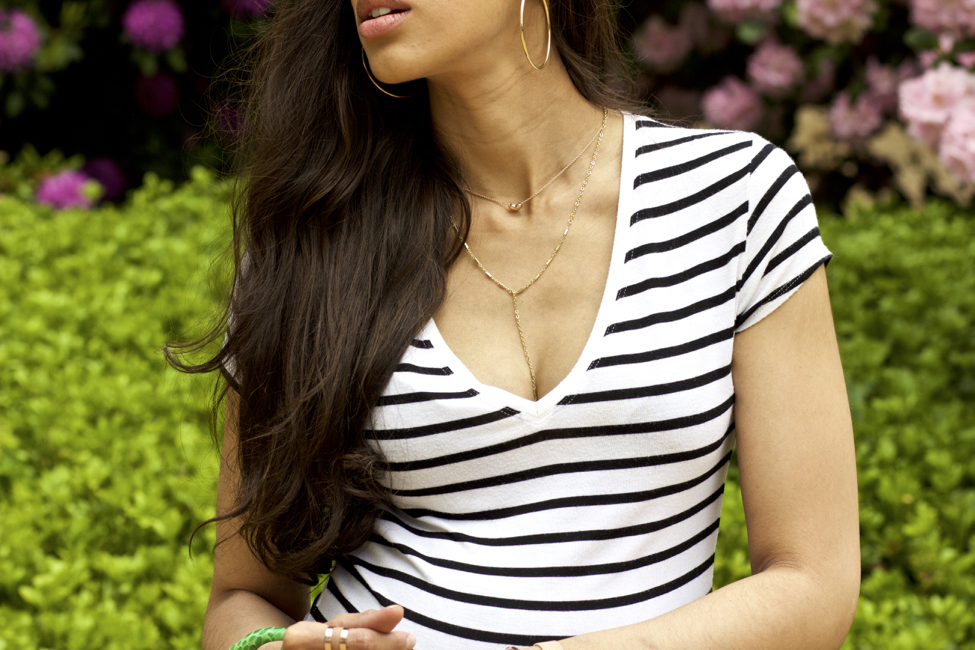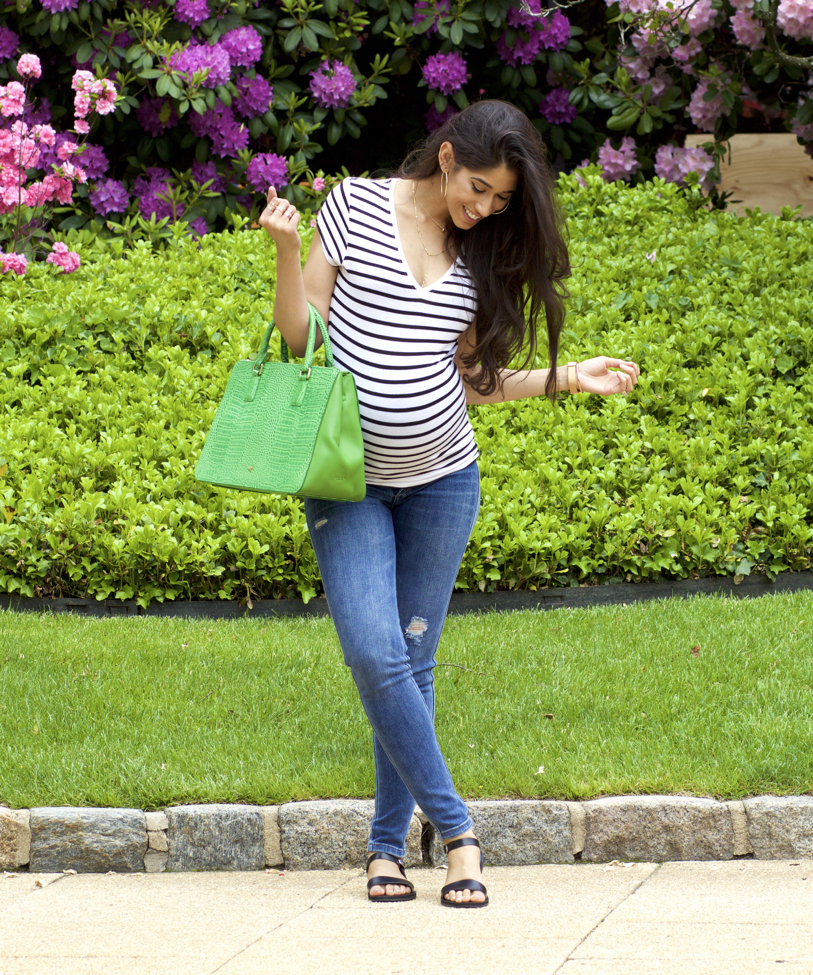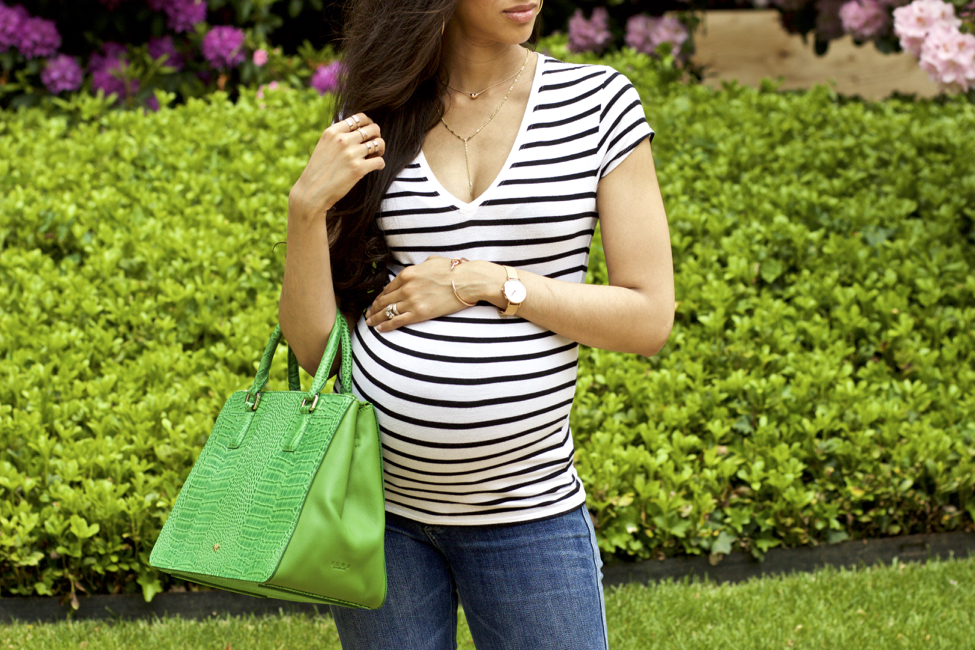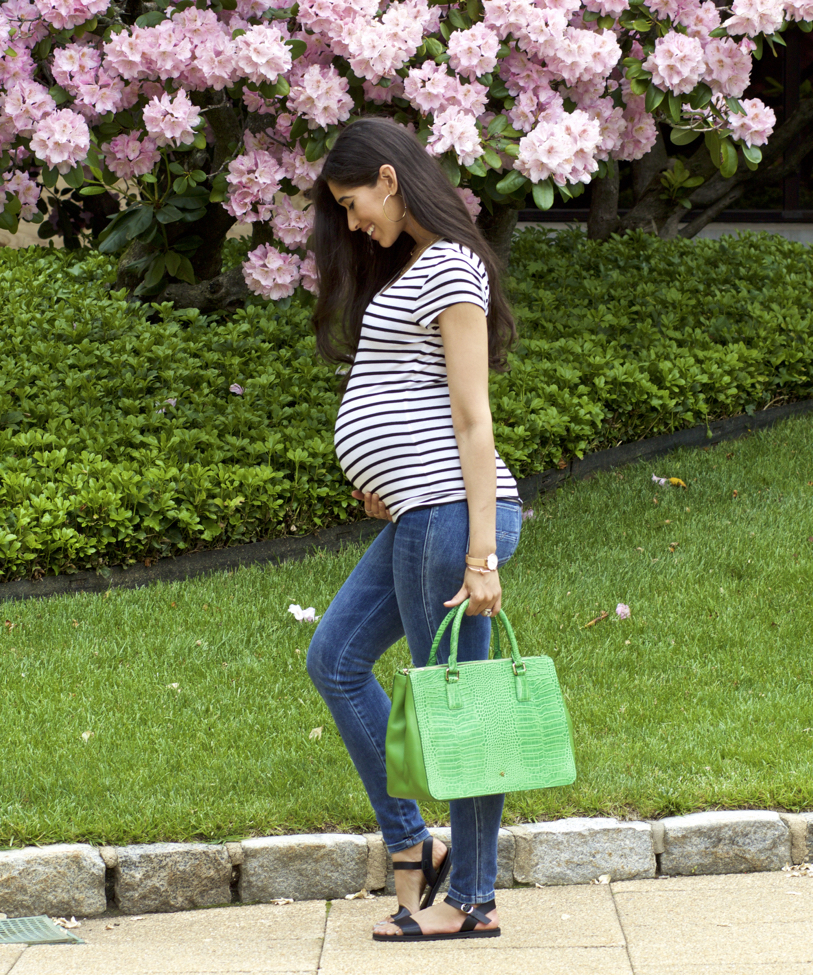 Tee: Similar | Jeans | Heart Necklace c/o | Y-Necklace c/o | Bracelet c/o | Watch c/o use code STYLECONTOUR for 15% off | Bag c/o (similar) | Sandals
---

---
Happy Friday friends!
We've talked A LOT about stripes here on The Style Contour and that's because they're such a classic! Year after year, we see various spins on the classic black and white, the latest being the banker stripes we've discussed last week (here & here). Regardless of what form the stripe takes in terms of trends, we will always turn back to the ultimate classic, black and white horizontals. Why? Well, they're extremely versatile and believe it or not, can be flattering, though fit and some attention to details are to be considered, as we've discussed in this post, so I won't reiterate all the details here.
Often times, we see a classic red thrown into the mix when wanting to add a little color and there's not doubt as to why, it's uber chic now isn't it?! Though it be chic, I want to challenge you, as I often like to do, and encourage you to reach for an unexpected color, perhaps green? How often do we see green paired with black and white stripes? Not too often! How about yellow? Neither. Orange? Nope. These are all colors that I think would help to add that spring and summer touch to your classic season-less staple in a way that's new and fresh.
So what do you say, are you open to the idea of adding something a bit unexpected to your classic black and white stripes? It doesn't have to be a bag, it can be a pair of shoes or necklace, go on and give it a try! To help narrow it down, what color are YOU loving at the moment? Ok, I challenge you to add it to your stripes this weekend ;)
*Now onto some EXCITING news! This Sunday is my baby shower! Remember way back I told you all I wanted to go for an English Breakfast theme and how Baby A's nursery will be a garden theme?! Well, I've combined the two concepts when speaking to our party planner and I've been loving all the updates I've been getting from her and I can't wait to see it all come to life on Sunday. Some of you may already know, form our conversations in the comments of some blog posts, Eddie and I didn't have a formal wedding. I didn't even wear a dress. I wore a white satin top and white pants (don't ask, I had just turned 20, lol). We kind of just went into our Pastor's office and well, got married, haha. Yup, we were eager. I've never had a sweet 16 or big party before, so this is a really special day for us to celebrate a life we've created together. I'll be sharing some peeks on Instagram stories, so be sure to follow along to see how it all turns out! I'll, of course, include an entire post here on the blog sometime next week as well, if you're not able to catch it!
Thanks so much for stopping by, my dear friends, and I hope you have the most amazing weekend ahead!
XO,