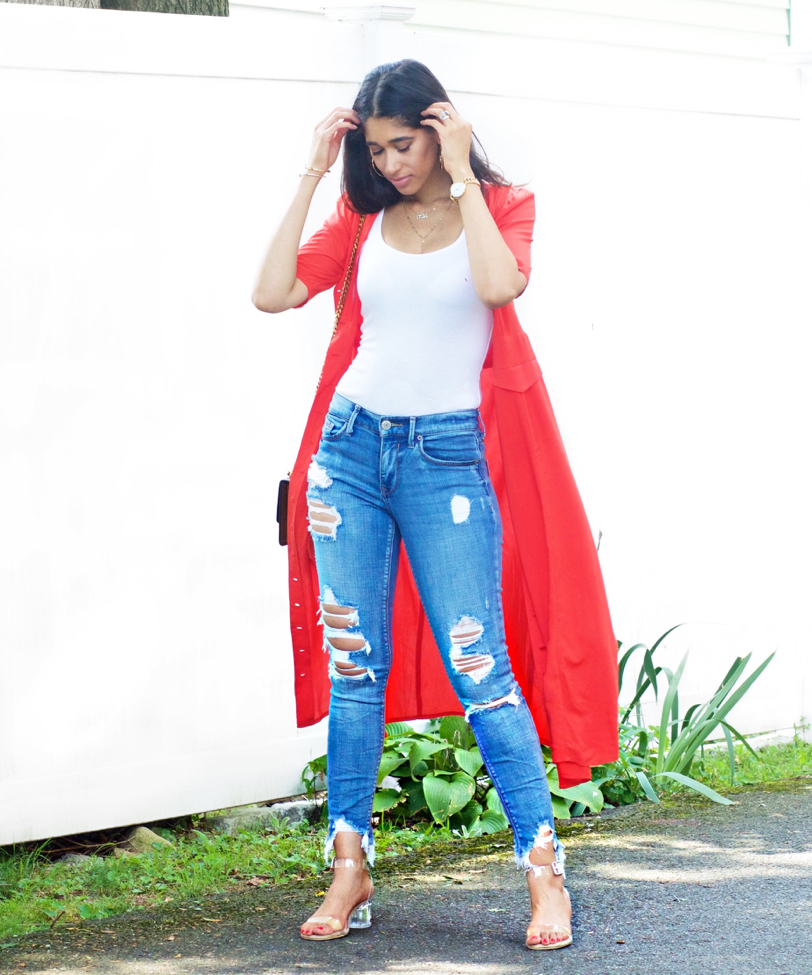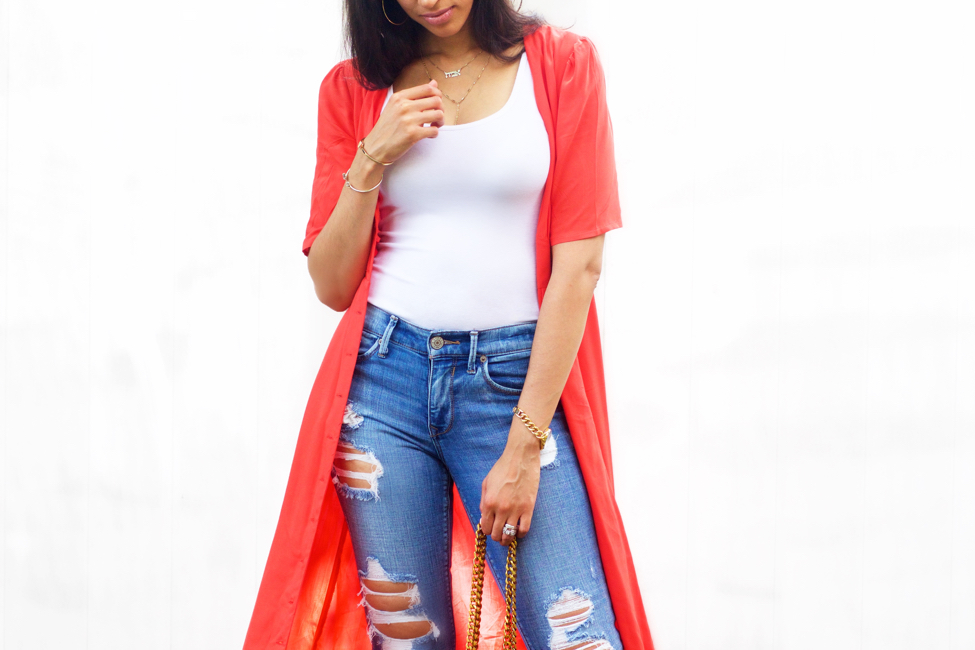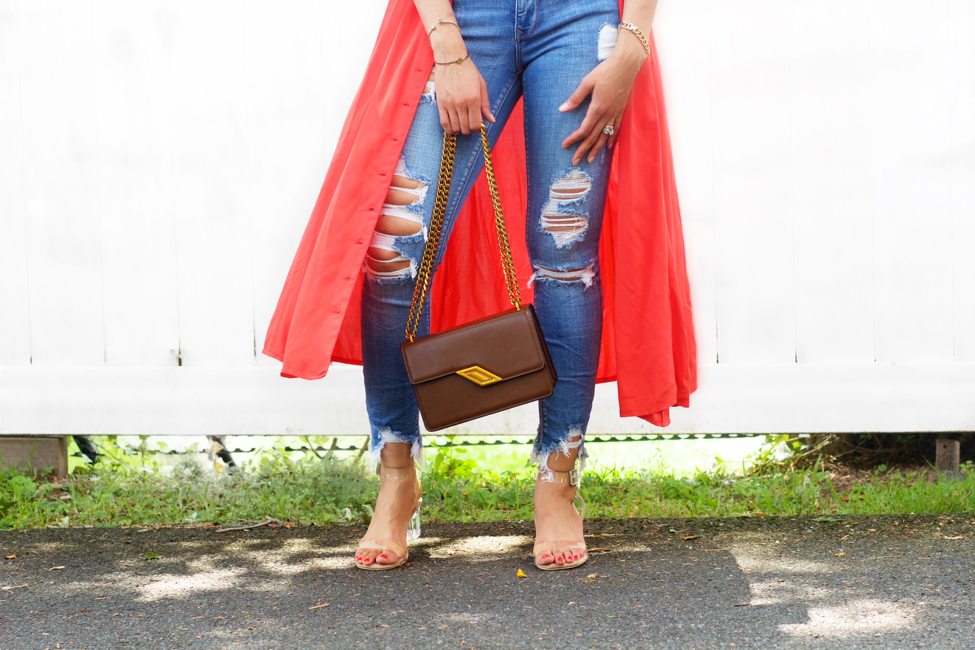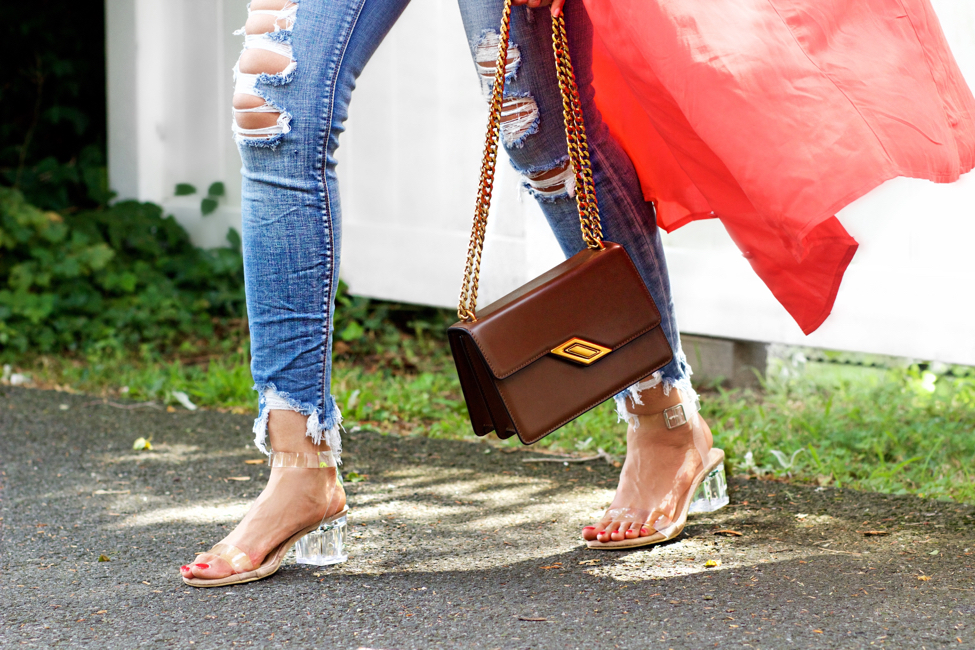 DRESS (maternity sold out, similar concept here) | TANK: Similar | JEANS | SHOES | BAG: Similar
---

---
Happy Monday my beautiful friends!
I hope you all had a wonderful weekend. Do let me know what you did, I love being all up in the business, ha! No, but I like to know what you all are up to. Eddie works Saturdays, so my weekend doesn't really start until Saturday night. This weekend, was pretty relaxing, since he spends time with the girls on Sundays, which allows me to rest a bit, which was so desperately needed after a long and rough week.
As for this outfit, does this dress/duster look familiar?! I wore it during the final weeks of my pregnancy with Ariah (see here). It's actually a maternity dress from Asos that's currently sold out, but to get this look, just type in midi shirt dress when shopping online and you should get similar options. I was able to find this one from Free People that's so pretty and comes in a few colors. I like it because it's actually quite similar in design to this one because it has that same detail around the waistline.
I love multfunctional anything, I mean who doesn't? They make that dollar stretch and are so helpful when traveling, too. You can get two very different outfits out of a piece like this, which makes it a must have in my book.
I decided to wear these clear block heel sandals that I'm loving atm. I love the clear heel trend this season. It's so flattering, as it makes you appear taller and gives off that floating visual effect, which I love, especially when wearing jeans that have details around the ankle that you may want to show off.
Are there any multifunctional pieces you love or different ways you like to wear something? I'm always looking for ideas and inspo for wearing things, so share!
Thanks for stopping by, my friends, and I hope you have a great week ahead. I look forward to chatting with you in Wednesday's post!