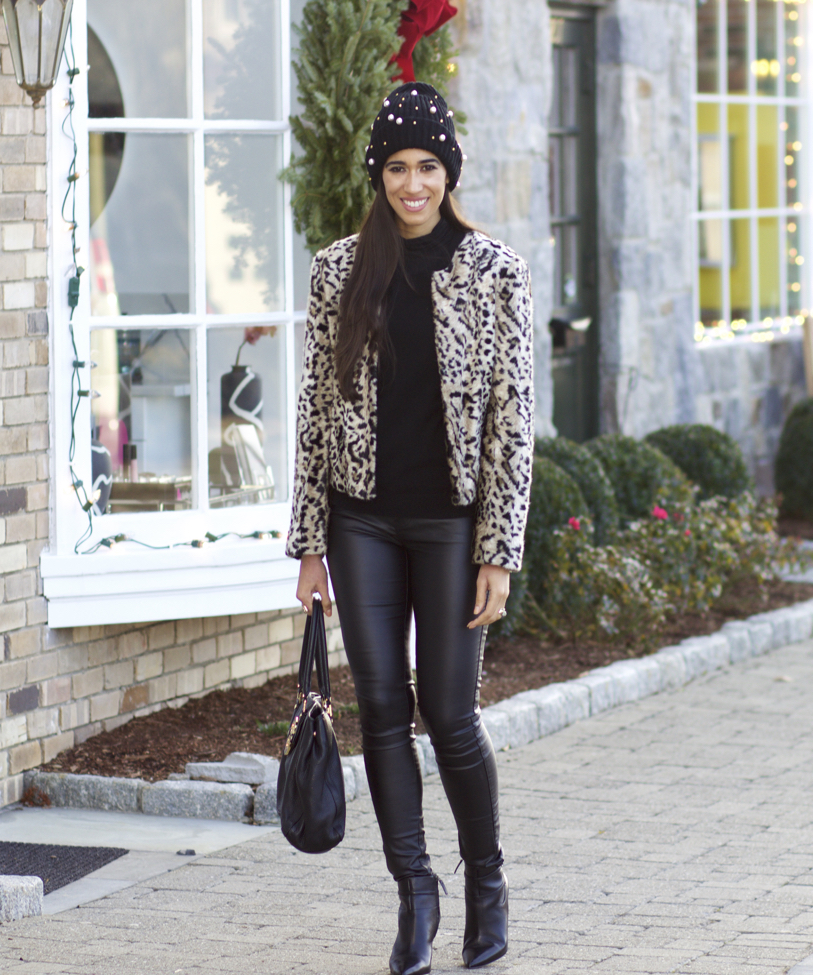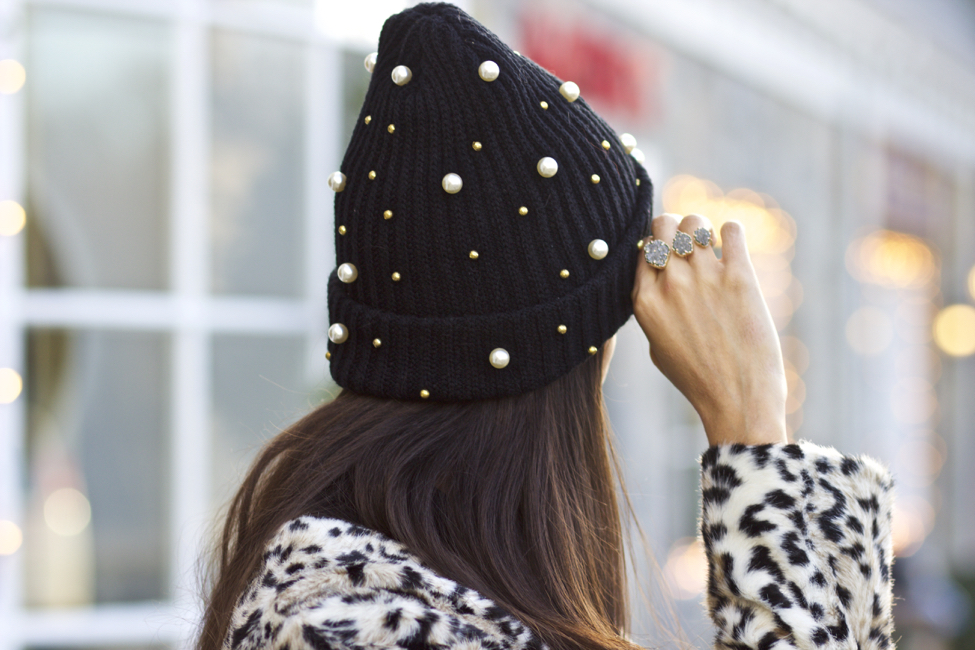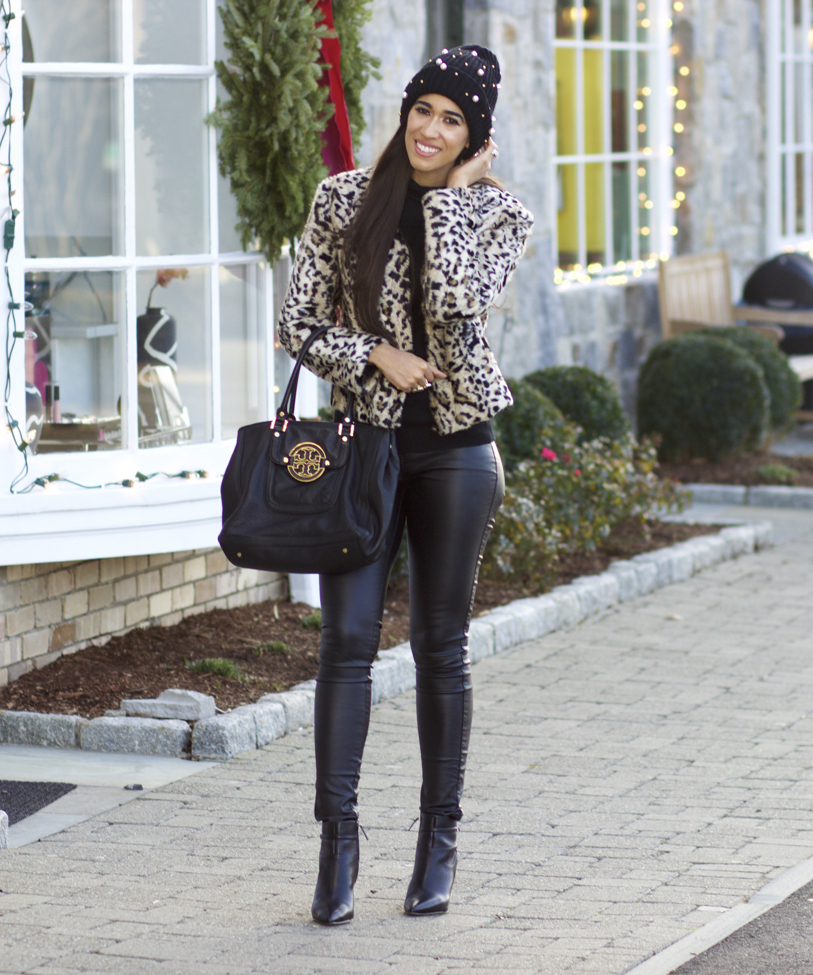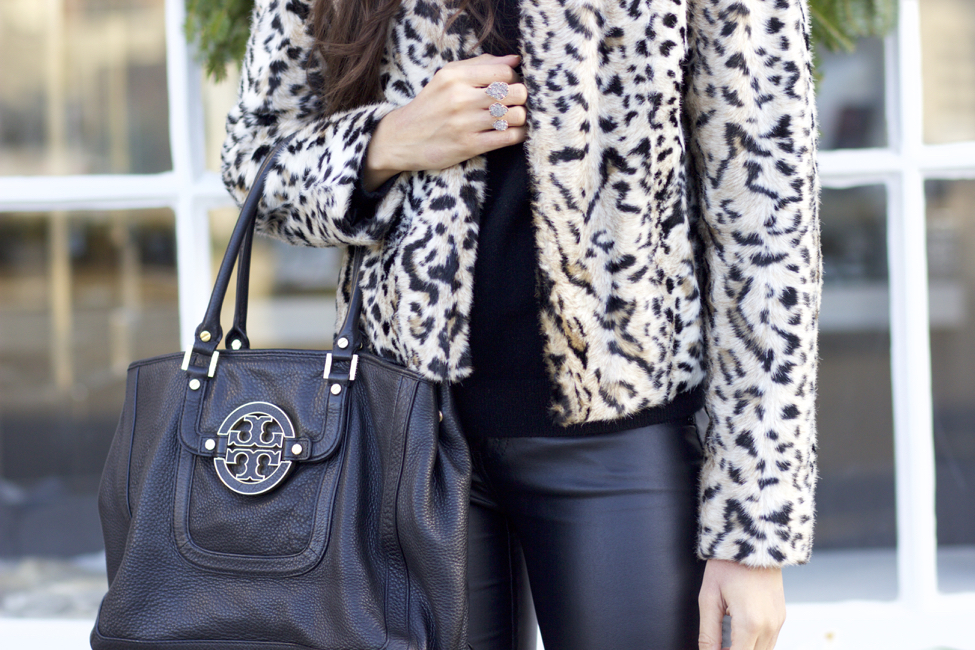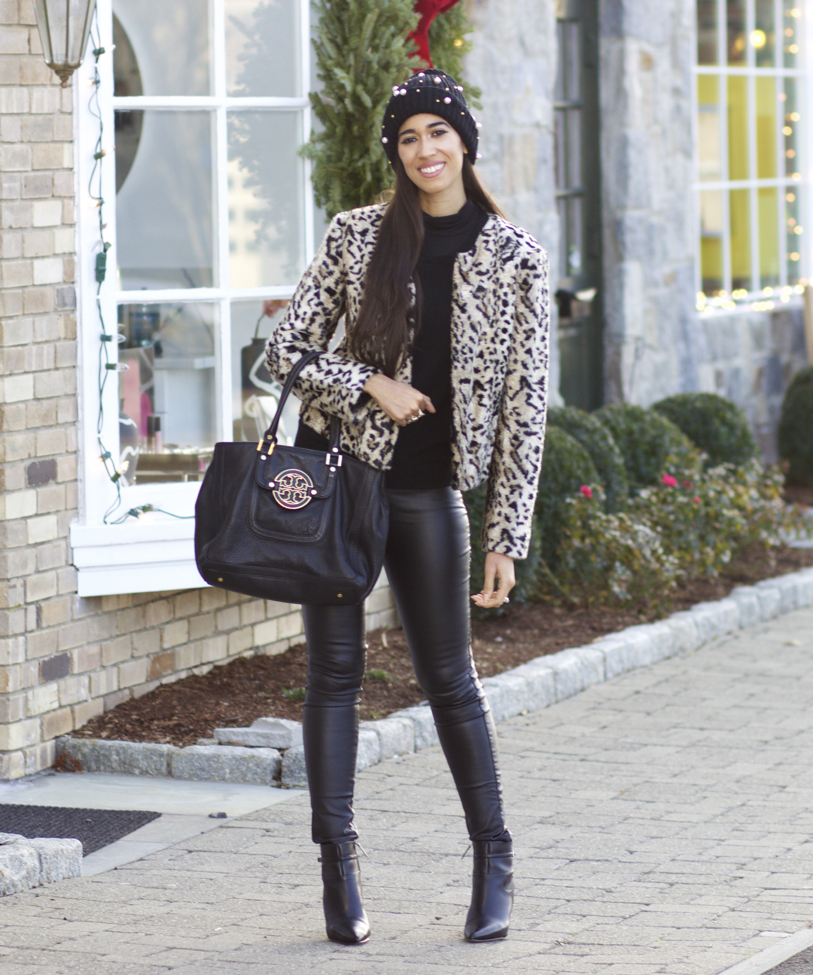 :OUFIT DETAILS:
---
Jacket: Express (similar HERE) // Cashmere Sweater: c/o MoonCats (HERE) // Coated Jeans: GUESS (HERE) // Hat: Nordstrom Rack (HERE) // Ring: c/o Kendra Scott (HERE) // Boots: Nine West (HERE) // Bag: Tory Burch (I'm loving THIS one!)

---
Happy Humpday, friends!
If I had to assign winter a print, I'd say it would be leopard with houndstooth in close second. As with spring and summer, florals generally come to mind first, and for me, so is the case with leopard this time of year and the fashion world seems to agree, as it's always a spotted trend on the A/W runways time and time again. What I love about it, is when done correctly, it can read chic and sophisticated, especially when coupled with a red lip, pearls, or both!
Today, I've skipped the red lip and opted for pearls with this beyond cute beanie with pearl details all throughout. What I love about it is that it's a great way to keep your head warm on those days (or nights) you're dressing up and want your entire outfit, including your outerwear, to look polished, yet don't want to sacrifice the necessity in keeping warm, too!
Yesterday we talked about how metallics are a great alternative to our classic neutrals, as it pertains to shoes this time of year and leopard accented pieces are yet another way to spruce up your holiday outfits!
A few short months ago, I shared 3 tips to keep in mind when wearing the print that'll prevent us from looking tacky, which unfortunately this print can do, if we're not careful! One of the tips I mentioned had to do with fit in regards to the other pieces we combine our leopard pieces with. I'd like to add onto this one by suggesting we opt for well fitted or structured pieces in the leopard printed pieces themselves, when seeking a more polished, chic, and sophisticated look. Otherwise, it can crete a more look more va va voom effect. I'm not saying there's anything wrong with that, but if that's not something you're going for, opt for well fitted, yet not skin tight.
For example, though I've paired my leopard jacket with a pair of leather coated jeans that are fitted, it doesn't have that overly sexy effect, since the jacket is more boxy in shape.
There are many ways you can incorporate leopard print into your outfits, the easiest would be in a pair of pumps, which are also quite versatile, since they also double as a neutral when in the classic color scheme. Jackets and pencil skirts are additionally great options (a leo skirt paired with a black or red tailored blazer and you're guaranteed to look absolutely chic!).
Everyone, regardless of body type can look amazing in a leopard jacket, though I'd suggest you pay mind to the length. For instance, if you wish to avoid attention being placed on your midsection, avoid a bomber style fur coat. The fur adds more dimension and volume than a classic satin bomber, which can make the upper body appear larger. Instead, opt for a longer style like this one, which will slim and streamline the body.
What are YOUR thoughts on leopard print? Is it a print YOU love? What's your favorite leopard piece?
Thanks so much for stopping by, my gorgeous friends, and I hope you're having the best week so far!
XO,