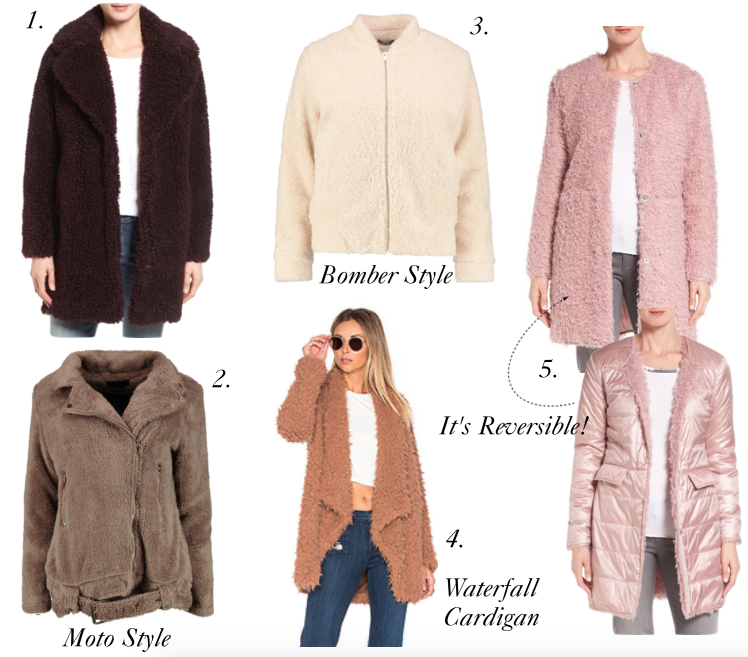 Shop the Set
Happy Tuesday friends!
Since the start of winter, we've had a lot of discussions about outerewar and why mixing up and styling our coats is something to consider, as it's essentially our entire outfit. There's been a texture popping up a lot lately and it's called the the teddy. It's given the name because the fabric pretty much emulates that of a teddy bear, so it's super soft and smooth.
The teddy can have a similar vibe to a fur coat, with a lighter feel, which may be a great alternative for those of you who don't like the bulkier look that many fur coats have, which is why I chose to share it with all of you as an option to consider if you've been wanting to add a textured coat to your collection. Since there are different styles found with this texture, you don't even need to commit to a coat and the heftier price tag that can come along with it. Instead, you can choose moto, bomber, or even waterfall style cardigan to pair under a coat you already own as an additional layer that will give the appearance of an outerwear piece once your jacket is removed.
I hope you like the pieces I've shared here, which one is YOUR fave? I'm kind of loving the reversible one, I love the whole two in one concept!
Thanks so much for stopping by, my beautiful friends, and I hope you're having the most amazing day so far!
PS: Feel free to check out these guides on selecting the best outwear for your body shape:
The Best Coat Styles for Your Body Shape
Winter Coats for Your Body Shape (puffer styles)
Spring Trend 2016: Bomber Jackets (Best Styles for Your Body Shape)
Jacket Style of the Moment: The Waterfall
XO,