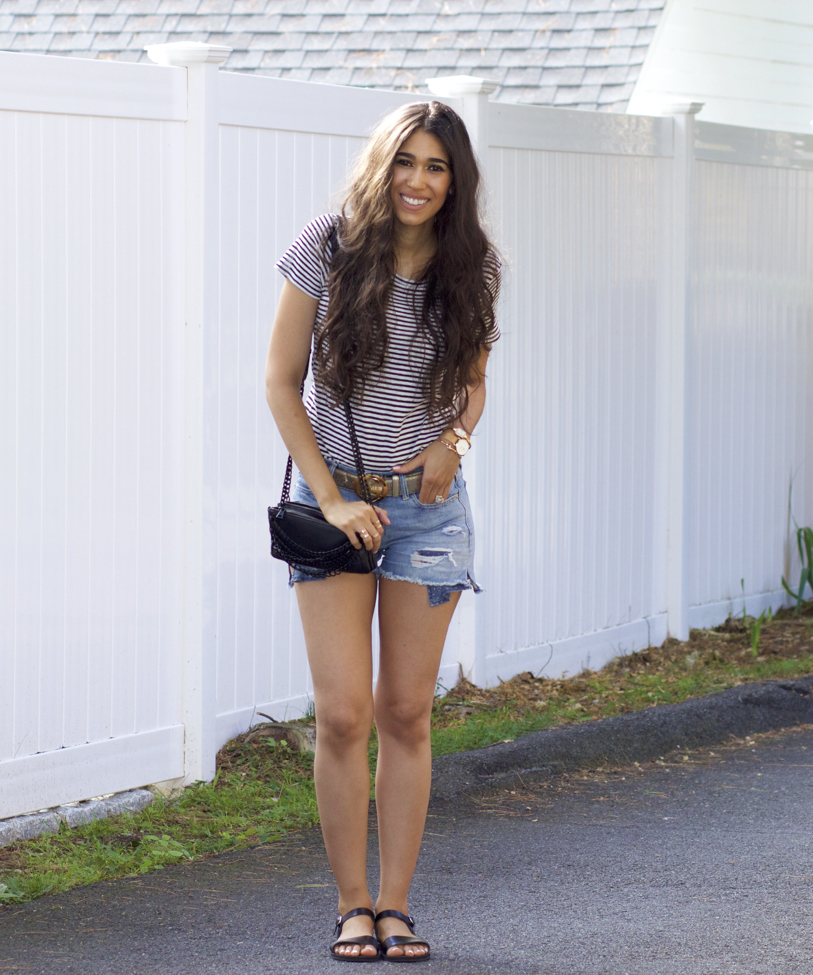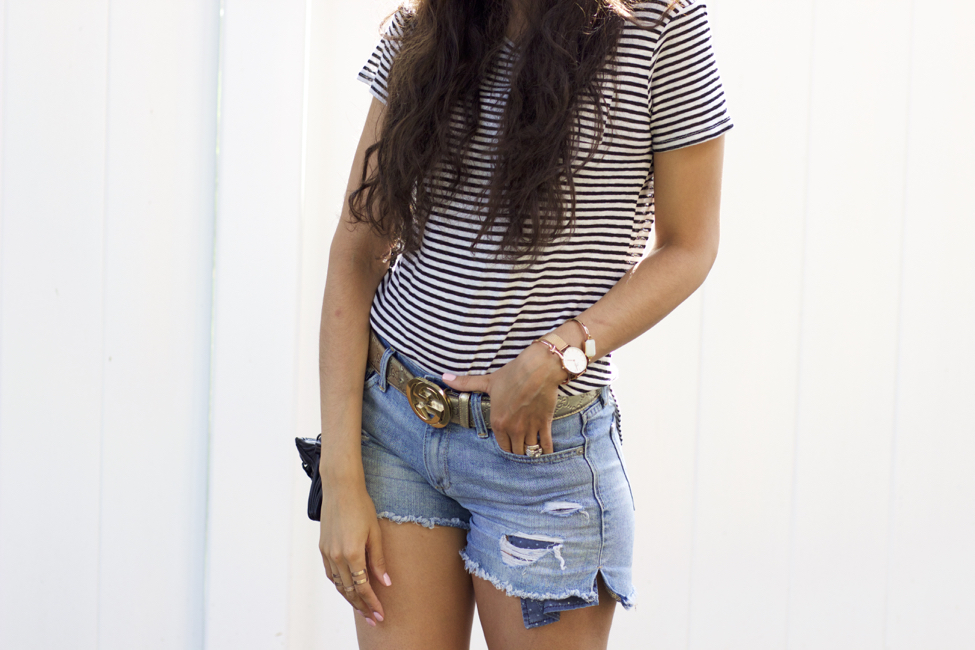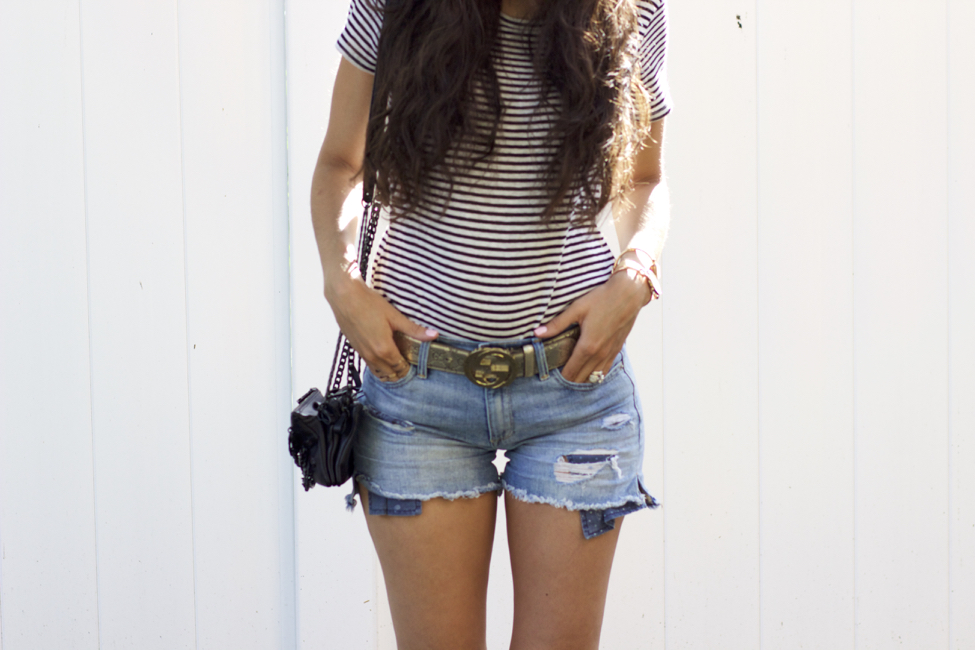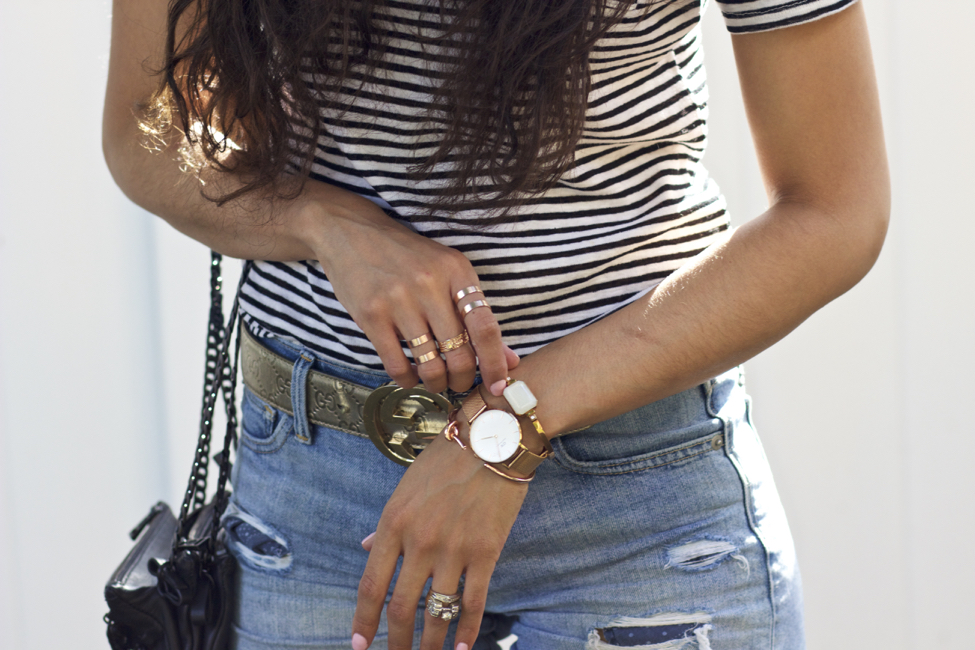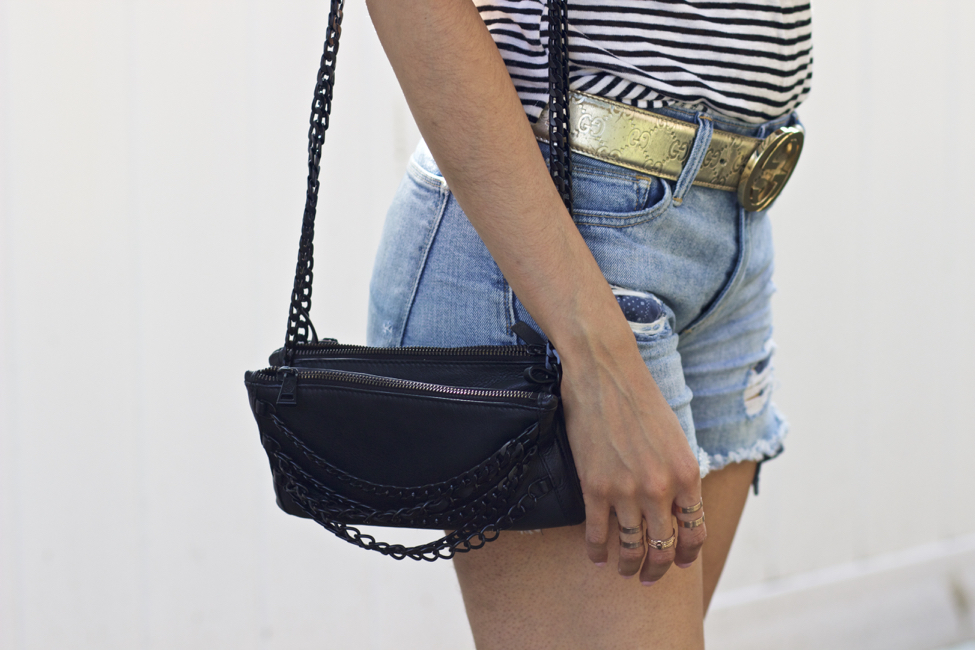 Shirt: Similar | Shorts: Similar | Belt: Gucci | Bag: Similar | Cuff Rings c/o | Belt Ring: c/o | Smart Bracelet c/o | Watch c/o | Knot Bracelet c/o | Sandals
---

---
Happy Wednesday my dear friends!
How's everyone's week going so far? I've had a rough one, guys. So, you probably don't know that I love my morning coffee. I'm not a coffee addict my all means, but my mornings just aren't the same without my cup. I also feel like my breakfasts don't taste that good without it, anyone else feel like that? Well, during my pregnancy, i had to cut back a lot because I began to get very jittery. I've always gotten that way if I drink it without having water beforehand. I got nervous considering that I was pregnant and if I was feeling that way, I knew it was definitely affecting Aviah. After having her over a month ago, I've been having my cup a couple of times a week and Eddie and I have realized that when I do, she's extremely irritable. So much so, that she'll be so tired, but won't be able to sleep, so you know what that means...we don't sleep either! So, when you see these photos I share, just know that I applied LOTS of concealer and brightened up my face so I don't scare you all away, haha.
We've also had to take my photos near the house because she doesn't really take well to her car seat, haha. We tried a shoot one day and she wasn't having it, so we decided that this will have to do until she grows a bit more and gets more accustomed to being in it.
Anyway, enough of my mommy update....
Today's outfit is fairly basic consisting of a tee and cut offs, it doesn't get any more simple than that. However, the belt really helps to amp things up and adds a stylish element. As many of you know, Gucci belts are trending huge this season and I have to say if you're considering adding one to your wish list, you must. As I've mentioned in a previous post, I've had this one since my high school graduation, it was gifted to me by mom. We're talking ahem, ahem years ago, that's a long time! I'd suggest getting it in a neutral color to ensure that you'll get as much wear out of it and it'll be worth the investment. So, you can go with a metallic or go the more classic route with either black, taupe, or brown. If you opt for a color, you may love it now, but that may change 5 or 10 years from now.
Thanks so much for stopping by, my dear friends, and let me know, what's one fashion item you've invested the most in or plan to?
XO,