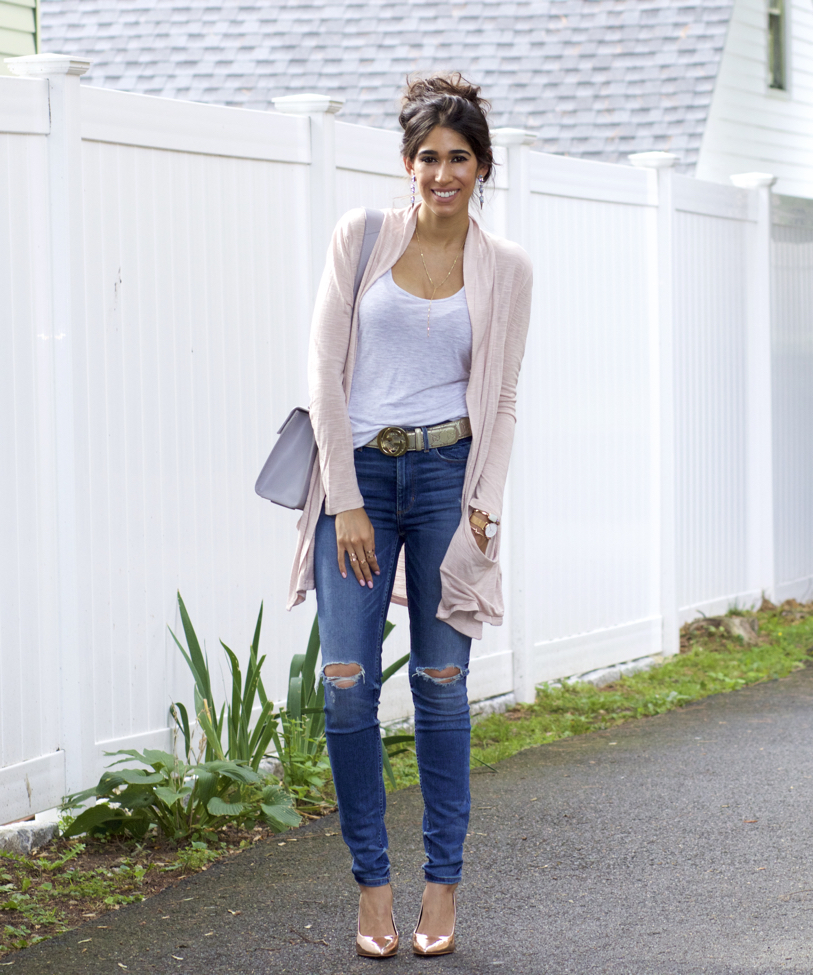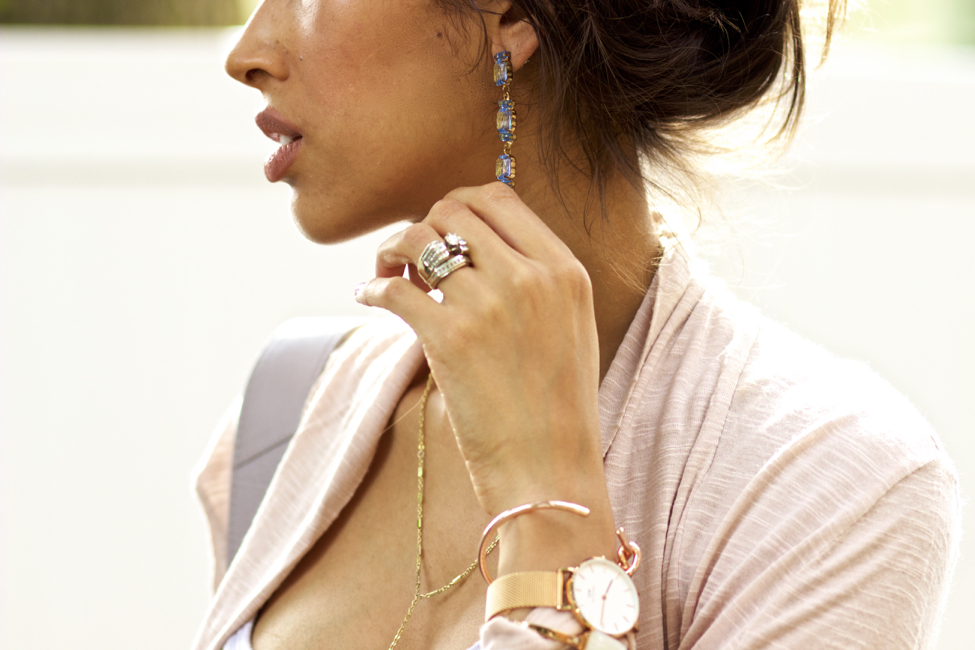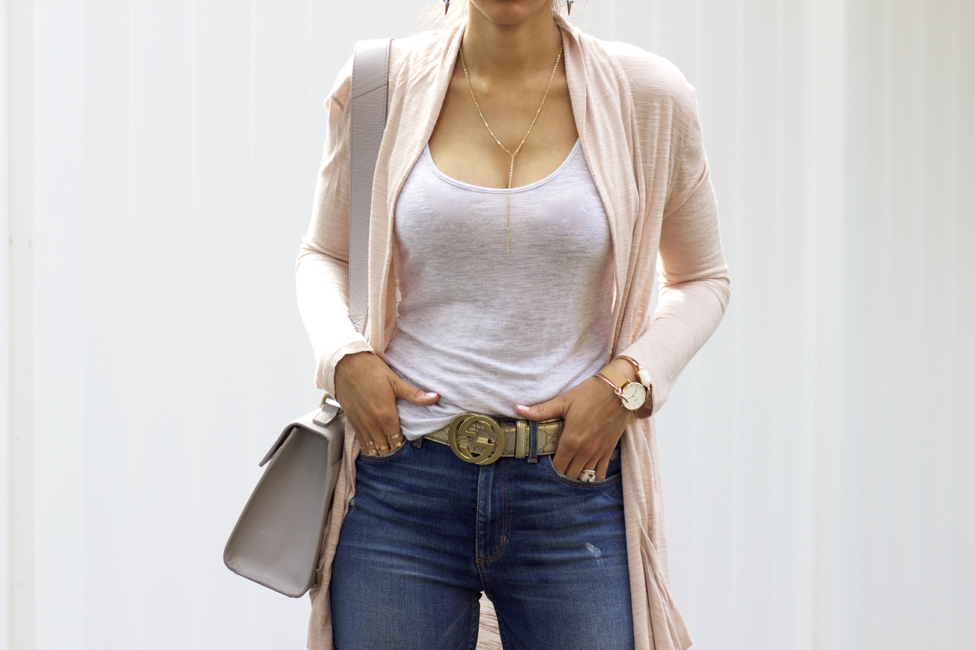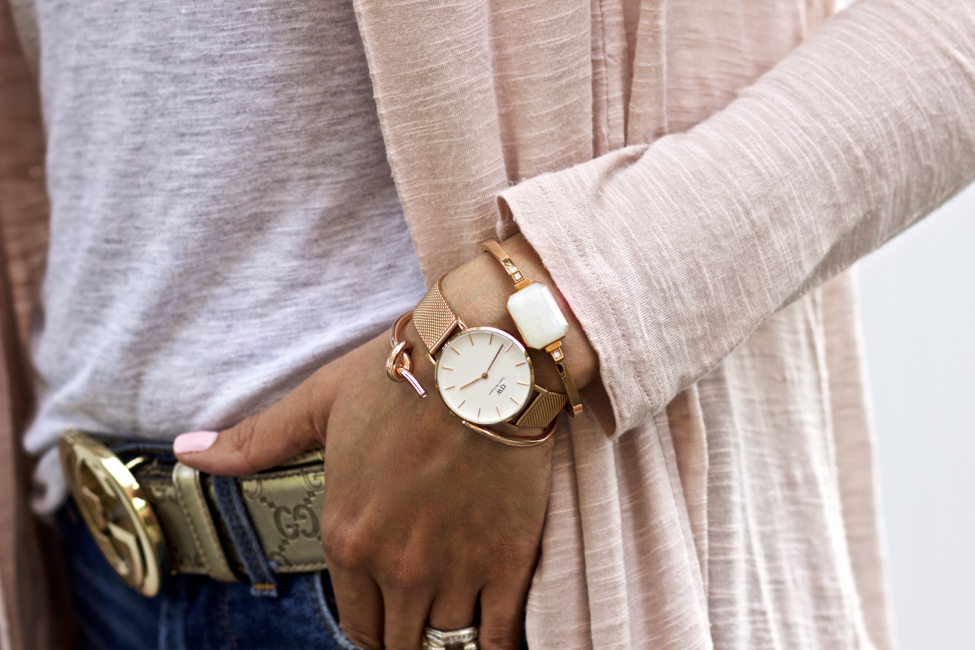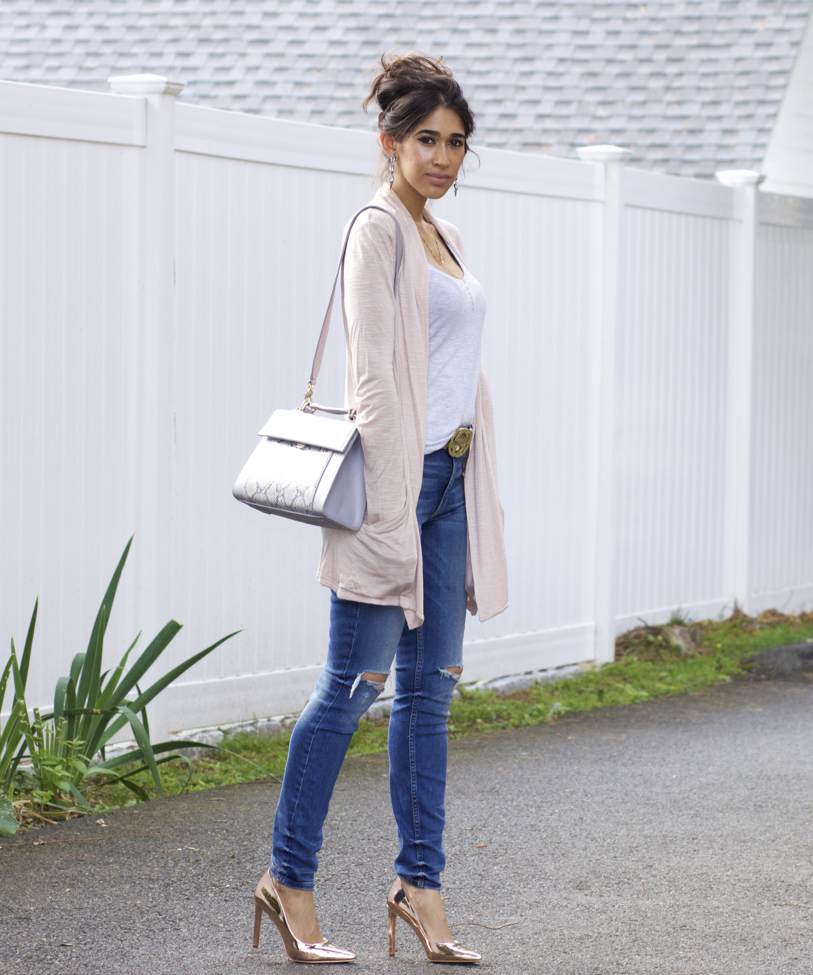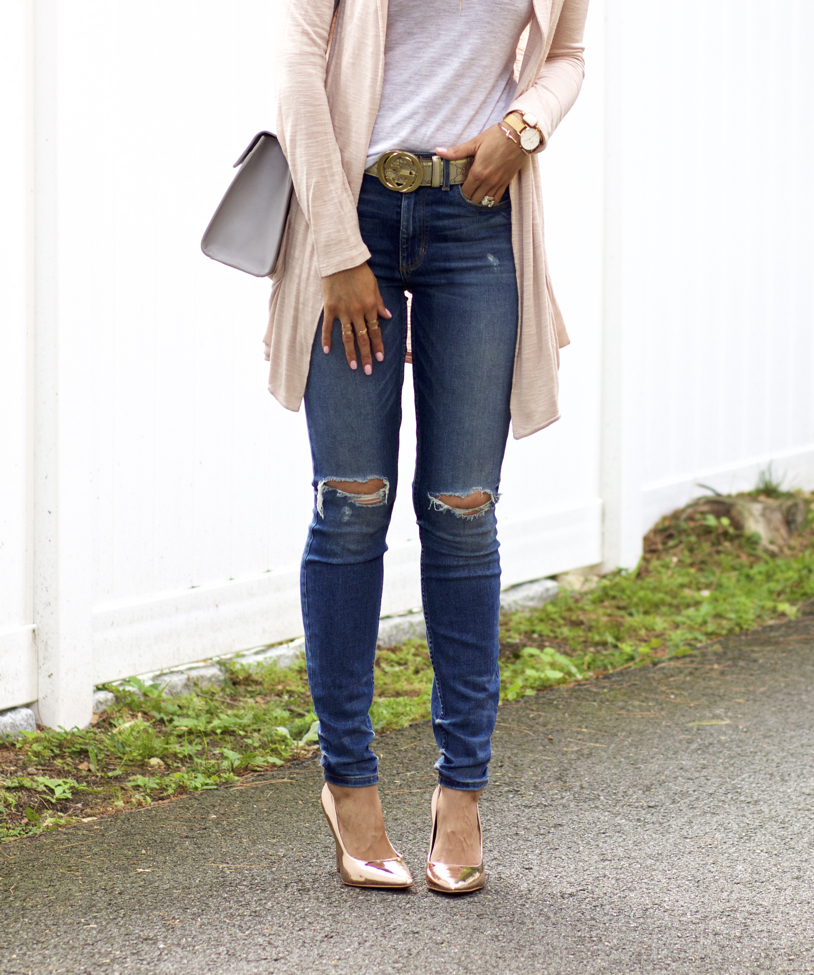 Cardigan: Similar | Tank: Similar | Belt: Gucci | Jeans: Similar | Shoes: Simlar | Bag: c/o Radley London | Necklace: c/o Midori Linea | Knot Bracelet: c/o Motif | Watch: c/o Daniel Wellington | Moonstone Smart Bracelet: c/o Ringly | Earrings: Similar
---

---
Happy Monday my beautiful friends!
I hope you all had a great weekend! Today's outfit was inspired by my arm party, which consists of all rose gold pieces. I was particularly excited about wearing this new smart bracelet I recently received from Ringly, a smart jewelry line. Their concept is to connect us with technology by seamlessly fusing it with fashionable pieces that fit well with in our everyday lives and personal styles. Basically, that technology can be sleek and stylish. They're a brand developed by women, so the importance of having pieces that are wearable and fashionable are just as important as their practically. They have a beautiful selection of pieces ranging from rings to various bracelet styles. The one I selected is from their 'Luxe' collection, which features genuine semi-precious stones with 14k gold plating.
I'm totally new to a tech piece like this, so I was so excited to begin wearing and using it. Both my mom and niece have a Fitbit, this functions pretty much like that, so if you have one or are familiar with them, then you have a gist. It comes in a chargeable jewelry box that you insert the piece into and pair it as you would any bluetooth piece to your phone. Once it's paired, you can then assign VIP contacts with special colors that will subtly light up and vibrate to let you know that they're either calling or texting you. You can also receive alerts and notifications from your favorite apps (over 100!) and track your steps and set personal goals, pretty cool right?!
I'm pretty sure if you've been reading the blog for quite some time now, you know that when I love something, I wear it often, so you can expect to see this bracelet a lot, haha! I tend to wear both my Daniel Wellington rose gold classic petite watch and Motif Endo knotted bracelet paired together, but I've always felt that another piece was missing and this bracelet has now completed the "set" I wished to create. It also comes in gold and silver, so if rose gold isn't your thing, you have options, along with selecting the semi-precious stone of your choice (purple jade, moonstone, agate, labradorite, and howlite, which looks like white marble).
Getting back to the overall outfit, the rose gold trio inspired me to wear my rose gold pumps that I've only ever worn once and a blush cardigan, which gives off the same rose toned effect. Rosé All Day is the name of the bracelet, hence the title, plus we're in rosé season and this outfit reminds me of it as well.
What do YOU think of smart jewelry? Have you ever tried them before? If so, what's YOUR favorite brand and piece to wear?
Thanks so much for stopping by, my dear friends, and I hope you have the most amazing week ahead!
Linking up with Kelly from Rosy Outlook, be sure to check out her amazing blog and join the link-up, too!
XO,