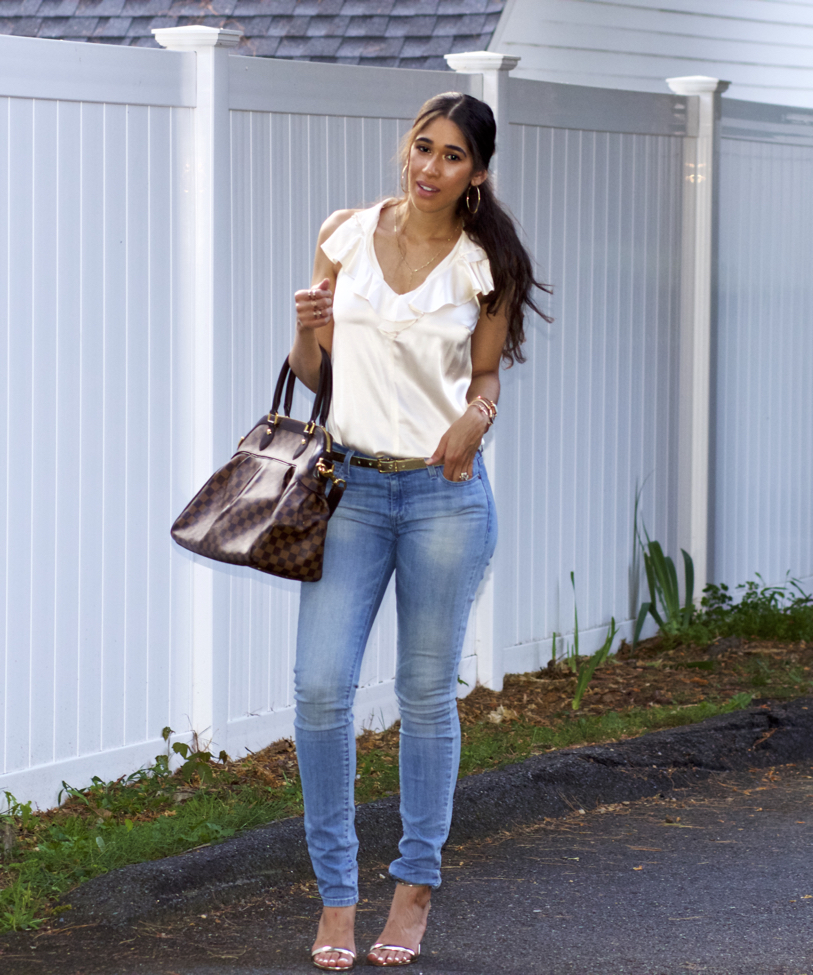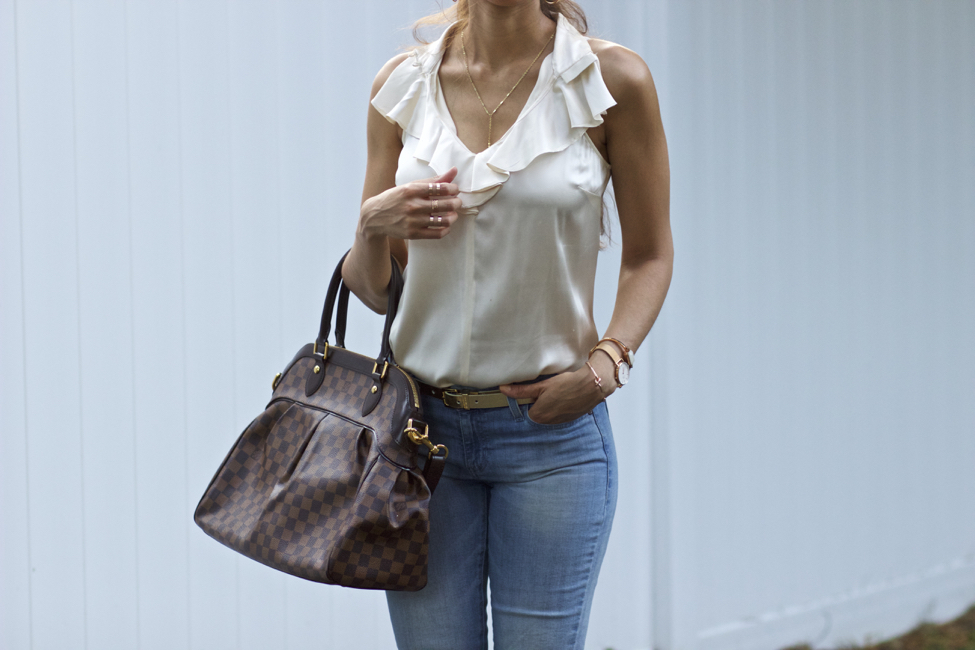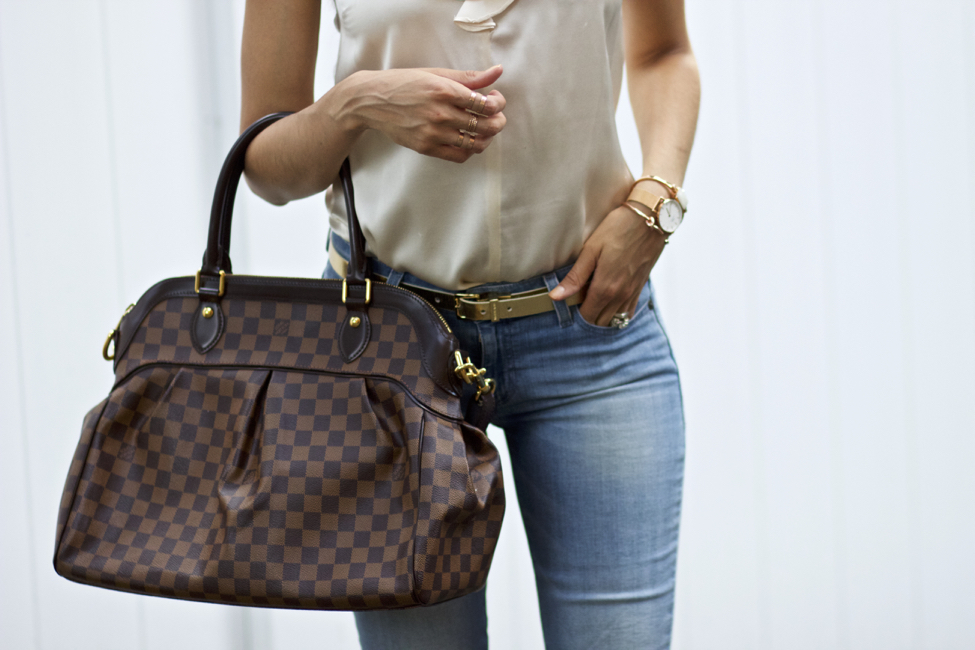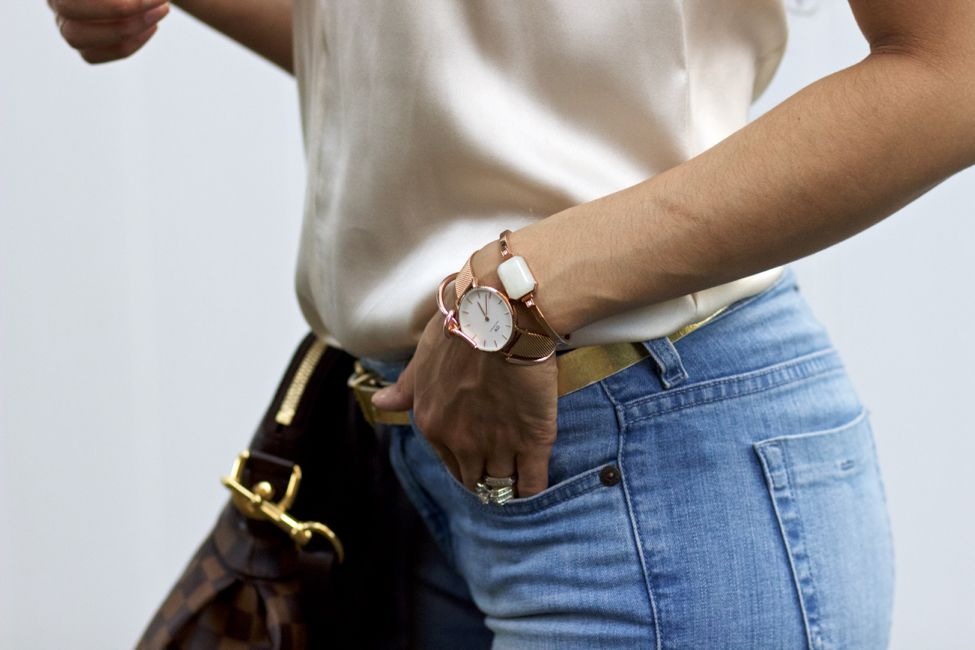 Top: Similar | Jeans: Similar | Necklace c/o | Watch c/o | Knot Bracelet c/o | Moonstone Bracelet c/o | Belt: Similar | Bag: Louis Vuitton Trevi GM | Shoes: Similar
---

---
Happy Monday my dear friends!
I hope you all had a great weekend and are off to a wonderful start to your week so far!
Spending money on a ton of luxurious, high-end pieces isn't always an option due to the hefty price tag, but that doesn't mean that we cannot dress in a way that looks expensive. There are certain fabrics, textures, and even colors that can make an item appear more expensive than it actually is, like satin. Satin has a very romantic, therefore luxurious look to it.
To be honest, the majority of the investment pieces I own are accessories because I feel I can get more use out of them than a special occasion or seasonal top or dress, though I'm not opposed to the idea of splurging on such pieces. If you have the means and feel you'd get enough use out of it, go for it!
However, what I like to do is look for clothing that exudes a luxurious vibe, even if it's a faux fabric, and pair it with one of those investment pieces I mentioned to make the entire outfit appear more expensive and chic. If you don't have an investment piece, no worries! Pairing your satin piece with a solid neutral purse and/or shoes will create the same effect, even more when it's in a rich brown shade.
Is there a fabric that you feel enhances your outfit? Satin, silk, cashmere? I'd love to know!
Thanks so much for stopping by, my beautiful friends, and I hope you're having a great start to your week so far!
XO,