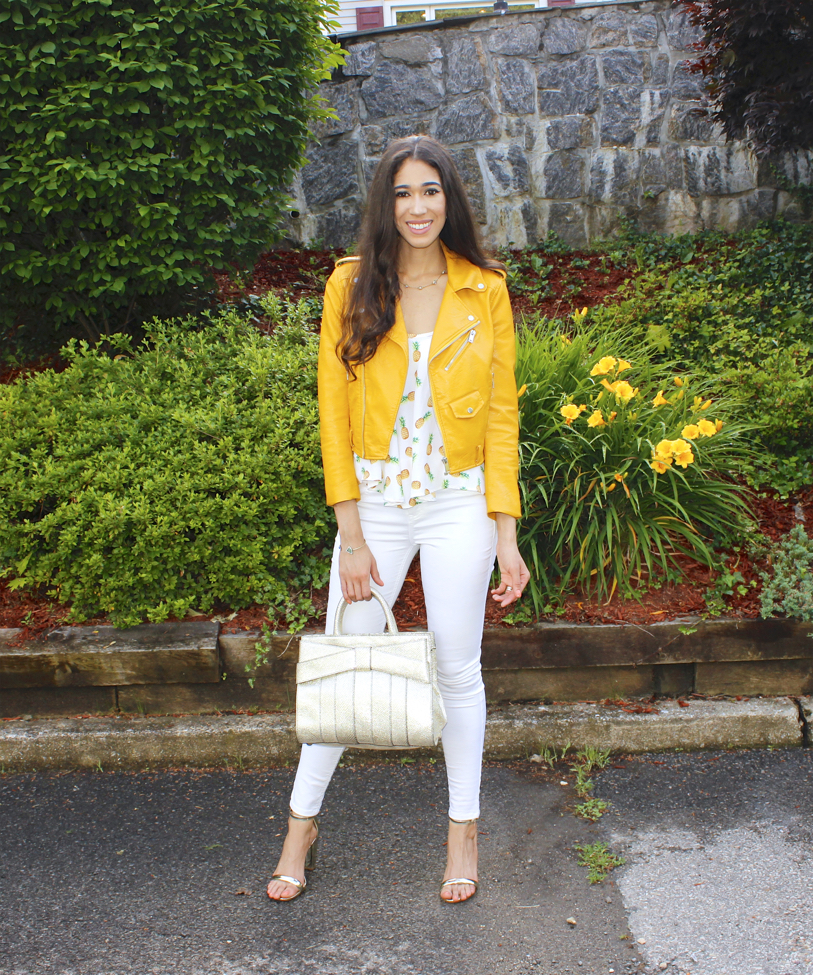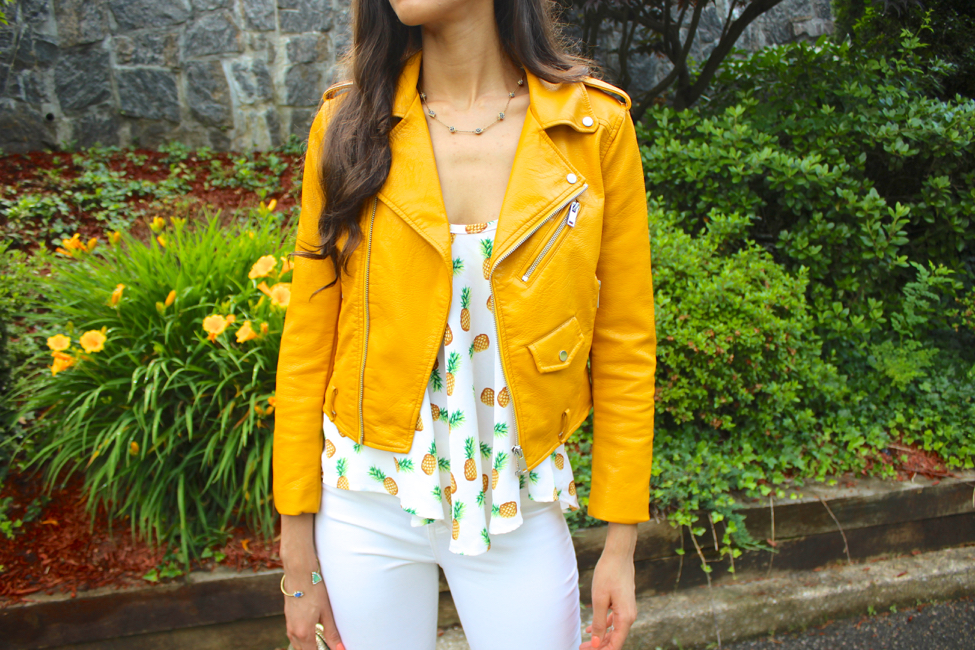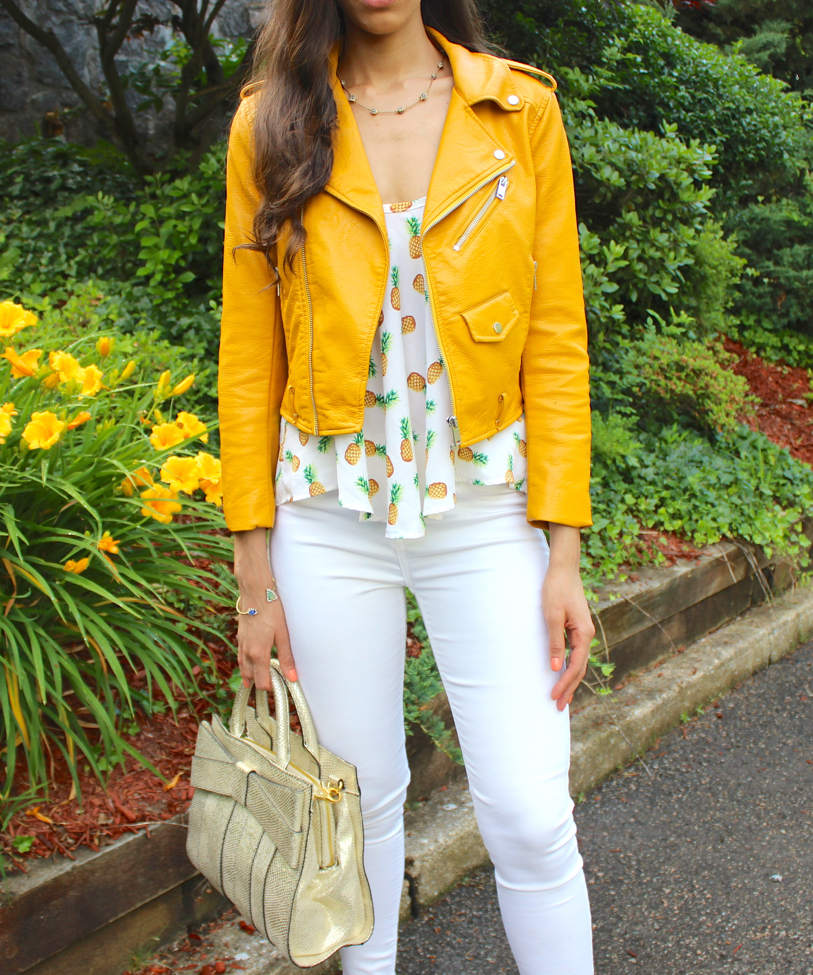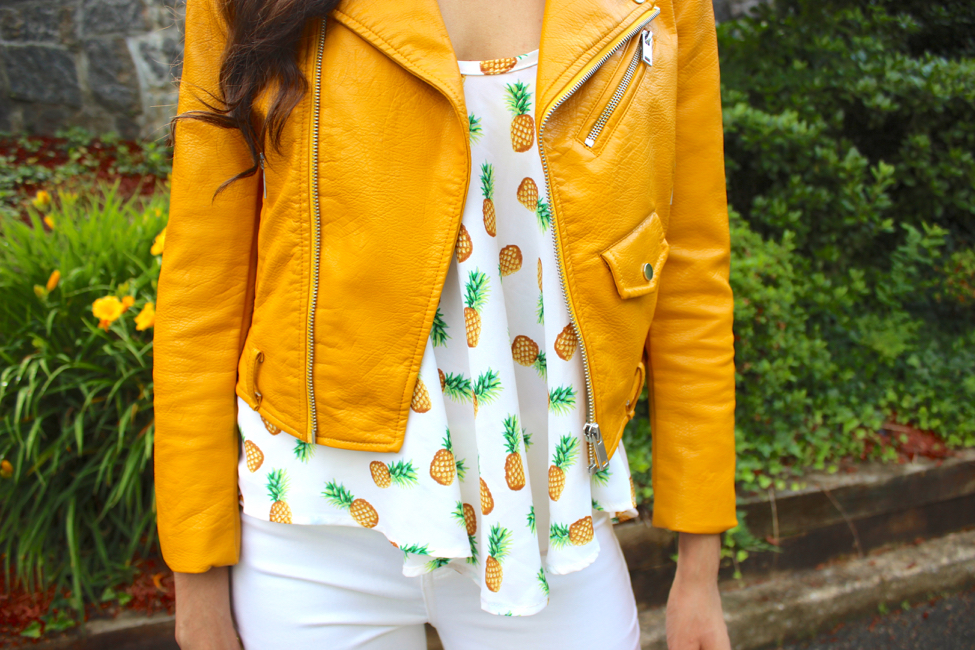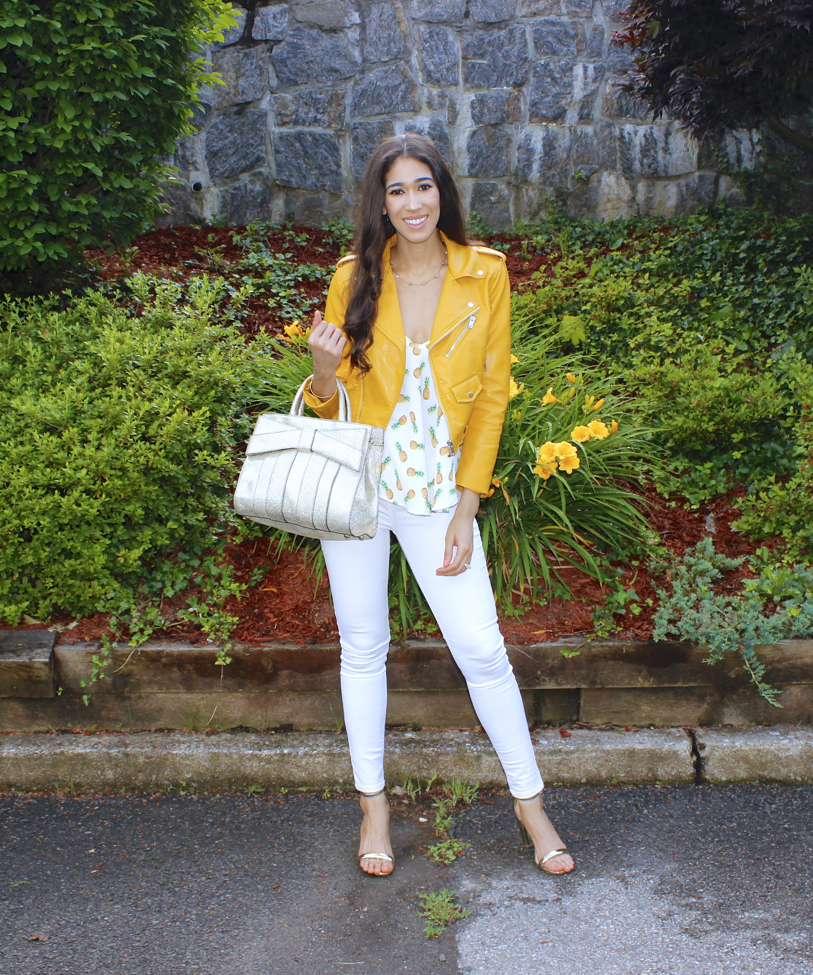 GET THE LOOK!
Jacket: Zara (HERE) // Tank: c/o Red Light PR (similar HERE) // Pants: Marshalls (similar HERE) // Sandals: Aldo (similar HERE) // Purse: Zac Posen (similar HERE) // Necklace: c/o Athra Luxe (HERE)

Happy Hump Day, friends!
I've had this pineapple printed tank for about two years now and I've finally decided to wear it. I've wrestled with the thought of giving it away, but since I've been seeing the print everywhere for the past two seasons (remember my trend report on it last month!?), I decided to hold on to it for a little while longer, actually wearing it this time around!
Since the weather has been switching back and forth between hot and humid to cool and sometimes muggy, I decided to wear the tank with a yellow leather jacket. The jacket isn't super heavy, making it a great option for those cool summer nights; I have my eyes on both the baby pink and blue versions! I loved the way it looked with the yellow pineapples, adding to the outfit, making it more vivid, since much of the outfit contained white.
What I really like about the flowy style of the tank is that it adds more of a dressier feel than a basic tee, adding a playful vibe with the print to a more feminine style of the top. I also tend to prefer wearing flowy or loose fitting tops when wearing white pants, since it balances out the visual weight the white creates. If you're a pear or hourglass shape and feel that you can't pull off white pants, you surely can! It's all about what you do up top that can help balance out the bottom, making it all work ;)
Fun Fact: I grew up "allergic" to pineapples and have only been able to eat them in recent years. Turns out that I wasn't allergic to the actual fruit, I was allergic to the pesticides! I can only eat organic pineapples, as well as all the other fruits I was never able to eat as a kid, which is an endless list! Goes to show that raw and natural is always better for you health!
Thanks so much for stopping by, my beautiful friends! I hope you're having the most amazing week so far and tell me, are you into the whole summer, novelty style prints and patterns, like pineapple and watermelons!?
XO,