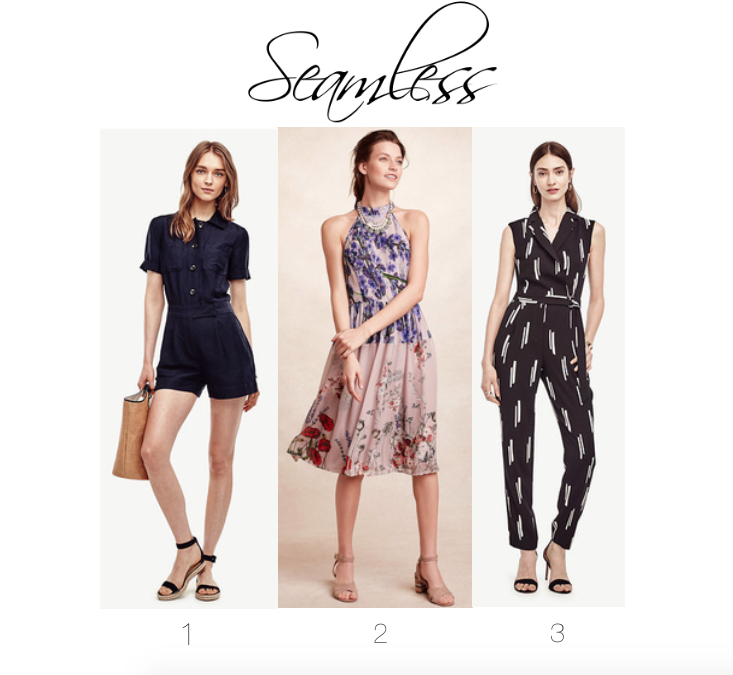 SHOP THE SET!
Happy Thursday, friends!
As many of you know, I'm not petite, I stand at 5'8 (maybe slightly under, but who's really measuring!?). While I may not directly encounter some of the challenges that many petites (5'3 and under) face, I've helped style ladies who are and have spoken to some of you about the frustration you sometimes encounter while shopping. After many of our conversations, I felt inspired to create this post, in hopes of giving you some ideas as to what you can work with this summer that will help you feel great in the clothing choices you select and wear.
One word that comes to mind, especially for summer, is seamless! Dresses, rompers, and jumpsuits are not only last minute life savers for all of us, by creating an instant put together outfit, they all elongate the (entire) body. Well, when keeping a few things in mind at least.
Rompers for the most part are an easy option for petites because you won't encounter the problem of finding the perfect length, which can allow you to select the smallest sizes in misses if your size is not available in petites. This can also be a great option if you just prefer more coverage for your tushka because let's face it, sometimes rompers can be a bit too short, since we're working with one connected piece. When you adjust the top portion, you're also adjusting the bottom, so comfort is always key when working with rompers! Not only is shopping for a romper easier, but the fact that it exposes much of the leg, prevents you from appearing shorter!
When it comes to dresses and jumpsuits, there is often more of a challenge in finding the perfect fit in terms of length, which is why I suggest you stick to petite pieces for these, instead of venturing out into misses (unless you're already familiar with a brand) to ensure a proper fit and length. I've heard women say that as much as they love maxi dresses and skirts, they avoid them because they're petite.
I feel it all depends on a number of things, including the style of the dress itself and how you style it, so don't dismiss them entirely! I believe that when a maxi has more of a figure hugging fit, it will counteract the shortening effect because there isn't any access fabric, which could otherwise overwhelm a petite frame. Plus, you can always wear heels with your maxi pieces; I love the way platforms look with them in particular!
If you're not sold on the idea that you can still pull off a maxi piece, then I highly suggest a midi, like the one shown in the set above. Since it falls right below the knee, you won't experience the shortening effect that the maxi can create. I also want to point out that even though the midi dress in the set has a floral print, it isn't at all overwhelming. This may be something you want to consider. When wearing large graphics, particularly with a one piece, your entire body will appear smaller. Instead, I suggest you either opt for smaller to medium sized graphics or pieces that have dispursed sections of graphics.
Lastly, when it comes to jumpsuits, things can get a little tricky because of the pant length. I suggest you opt for a more structured, tailored piece, that streamlines the body. This would mean selecting straight fits as opposed to flares. Now, I'm not saying you shouldn't experiment with the '70s boho vibes, I just feel that you have more options with a straighter cut than you would a bell shape. For example, if you were to wear a pair of flares, it may be a bit challenging to get away with smaller heel sizes or flats without appearing shorter because of that access fabric around the legs and feet. With straighter pant legs, you can wear various heel sizes or flats. This, however, comes down to personal preference and style.
I hope all of you petite beauties felt this post helpful in narrowing down what would be the most easy and flattering style for your height this summer! What I love about all three one piece options in general is that you're able to also accessorize in a way that can help create the illusion of longer legs by adding a (thin) waist belt above your natural waistline! I also want to mention that I'm not suggesting you limit yourself to only one pieces this summer, that would be so unfair! What I am saying, though, is that these pieces are exceptionally flattering on petite frames, so make the most out of them by embracing them!
Thanks so much for stopping by and I hope your day is as amazing as YOU, my dear friends!
XO,