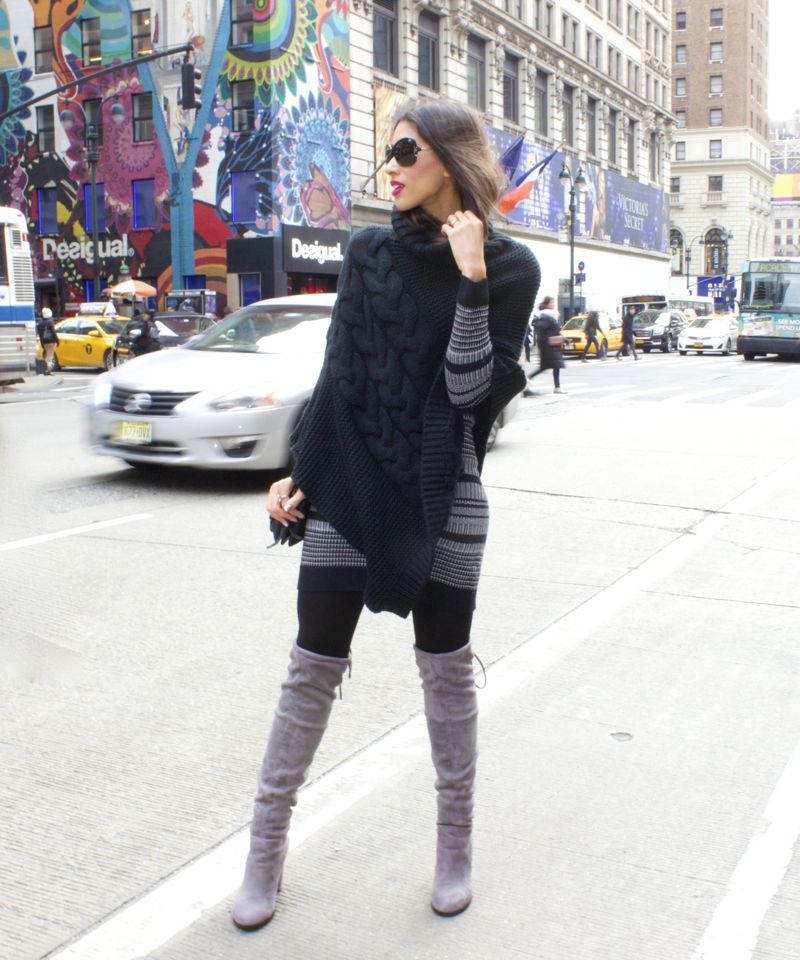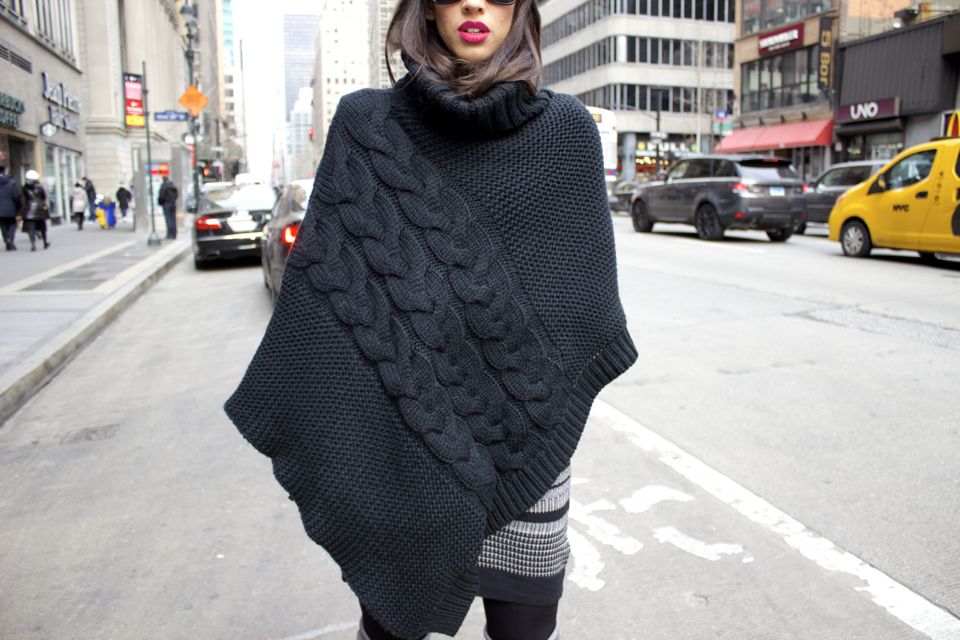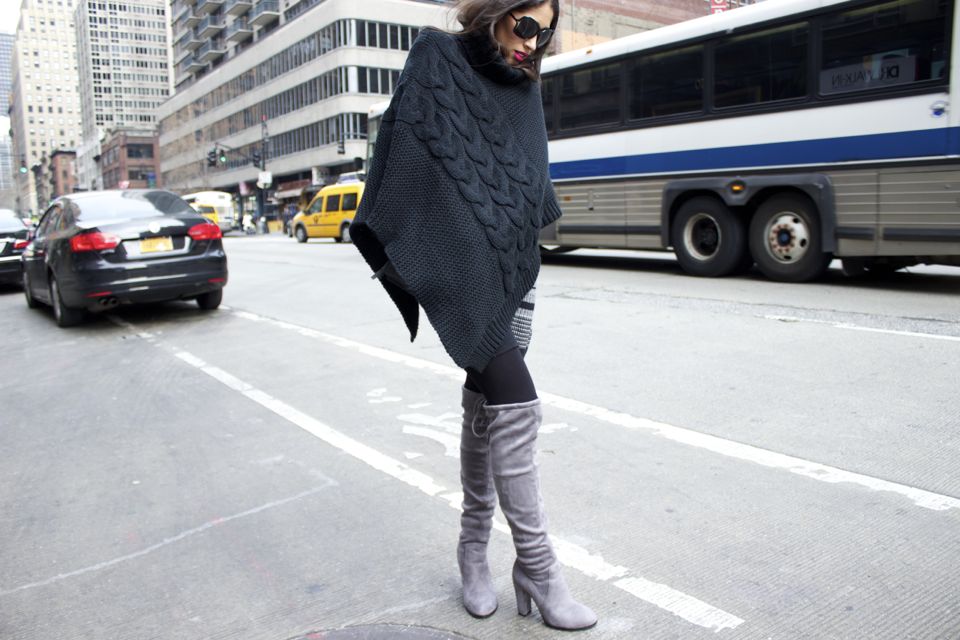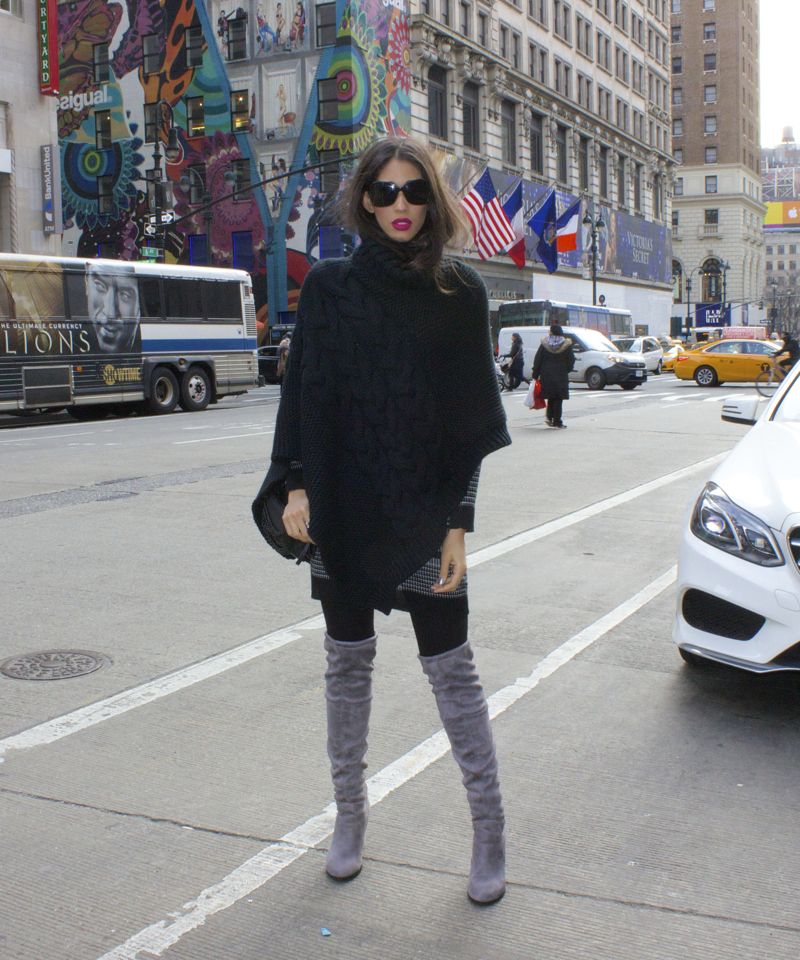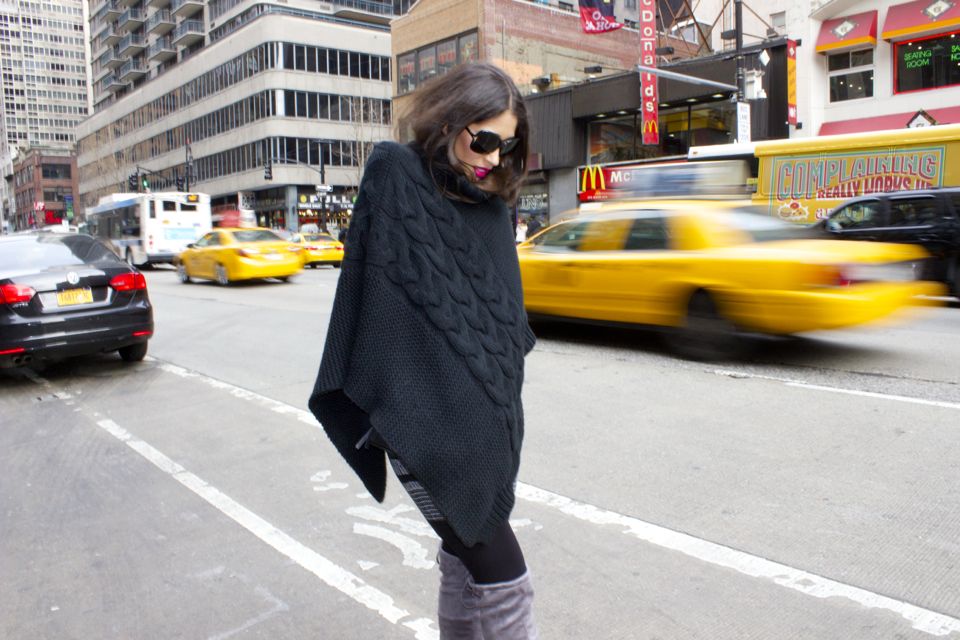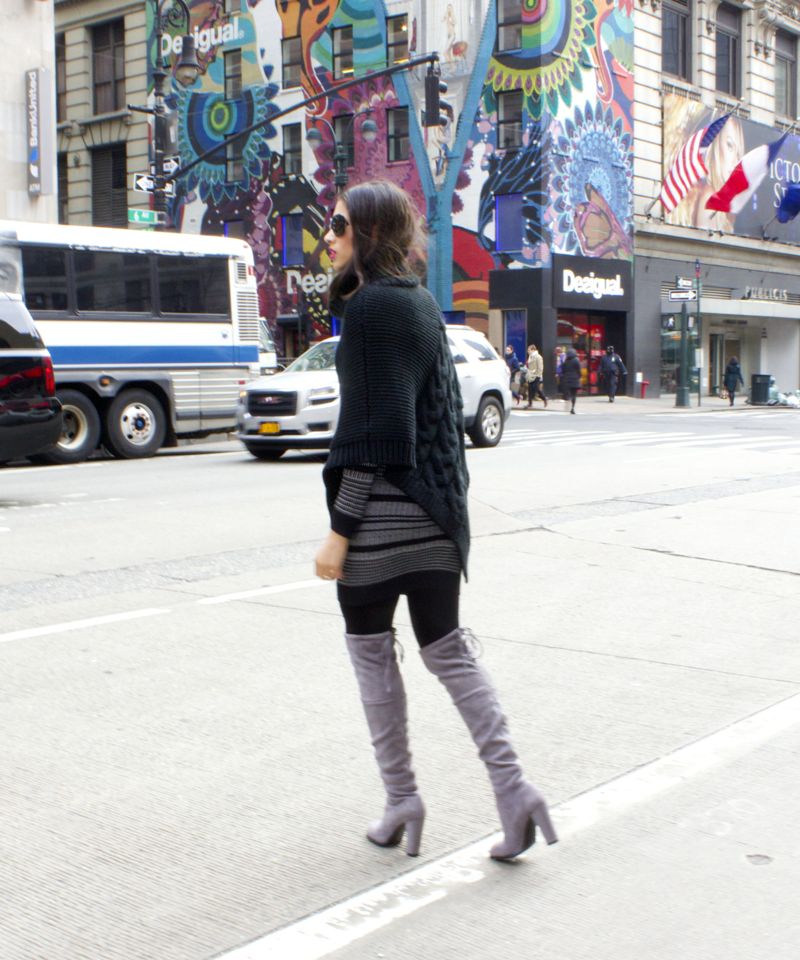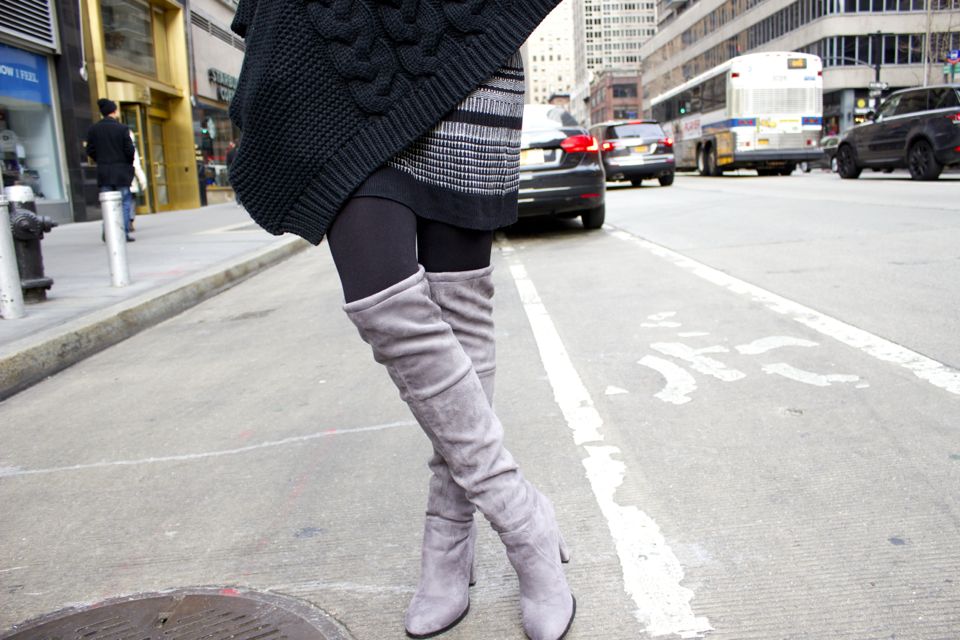 SHOP THE POST!
Poncho: Via Marshalls (similar style 50% OFF HERE) // Dress: c/o DEX (similar style ON SALE HERE) // Tights: Hue (HERE) // OTK Boots: Choie's (ON SALE HERE) // Sunglasses: Prada (similar style HERE) // Lipstick: Topshop (HERE)

Happy Monday, beautiful friends!
I hope you all had a wonderful weekend! I've mentioned a few times how much I love playing with textures and pattens when working with monochrome outfits, as they provide more dimension and interest to the look, preventing it from appearing flat and boring. Although this pairing isn't monochrome, it features a couple of neutrals, so I used the same approach to help liven up the overall feel. I think the key to adding more excitement to either a monochrome or neutral outfit, is to play up either your accessories or materials and patterns. I created a layered look to keep warm, but it also adds dimension because of the mixture of pieces and fabrics. This cable knitted poncho is my favorite because it looks so chic and is super duper warm! I have about 3 or 4 other ponchos, but I tend to reach for this one the most! I added it over this knitted striped dress with a turtleneck underneath, since it isn't the warmest on its own. I love the way the cable knit and stripes work together, creating a bit of a fun look, but one that has a bit of a serious tone at the same time, since all of the pieces are neutral. These tights by HUE are lined with this fuzzy like material that makes you feel like you're wearing pjs, which is awesome because it's so warm! I was originally going to wear my black OTK boots, but I decided to wear these grey ones that I wore on Friday because it brings out the grey in the dress;I didn't want black to be the dominant color because of the large black poncho; I was going for a nice balance with the two. When working with two colors that you want to equally showcase in your look, I would suggest wearing two large pieces in those colors and one that features both, so each are represented 50/50.
On an entirely different note, I wanted to share that while Eddie and I were taking these pics, I was approached by the crew of an upcoming reality series where everyday New Yorkers ask everyday life questions to seek advice from a celebrity, who will answer the question on air. I thought it was so cool to participate and I felt like a total celeb myself with those huge cameras and fuzzy mic thing, haha! It does sound like a fun and interesting show and kind of reminds me of the show H8R, but with a much more positive tone!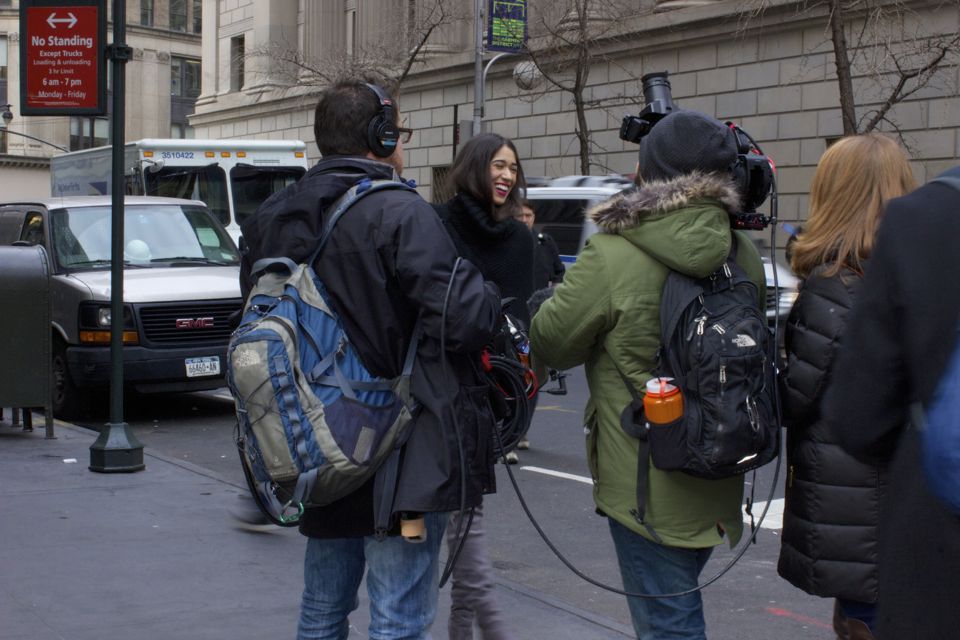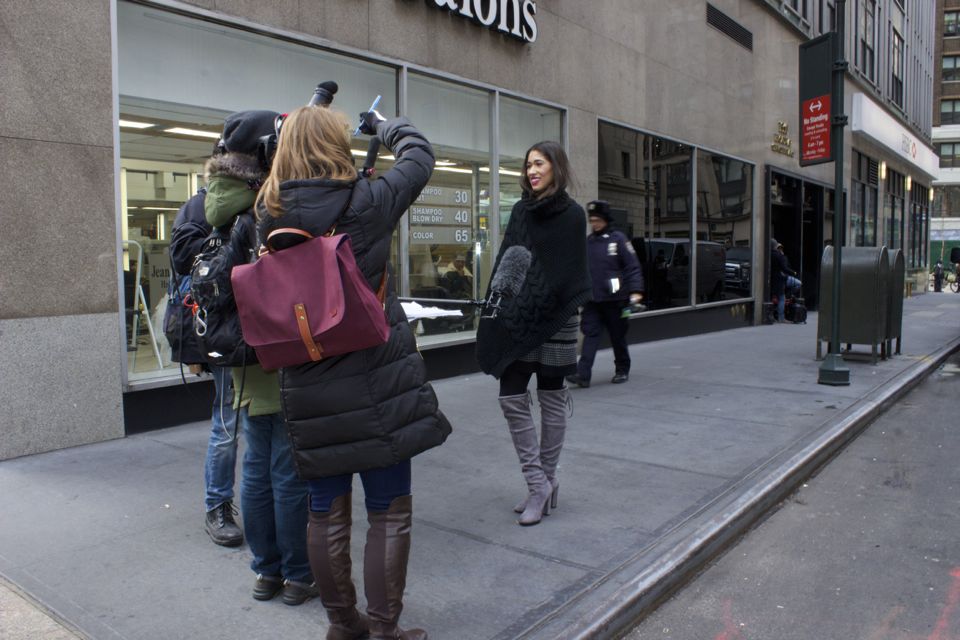 Anyway, I hope you found this post inspirational in creating an outfit with neutrals with a more lively feel. I hope you all have an amazing start to your week and thanks so much for stopping by, my dear friends!
Xo,