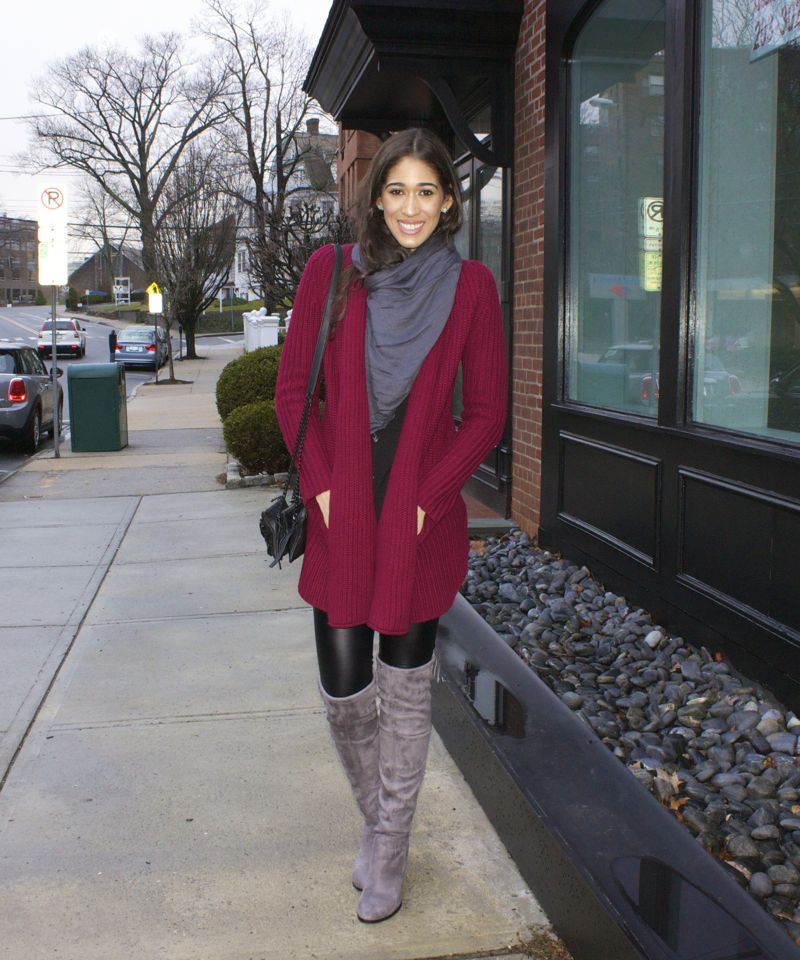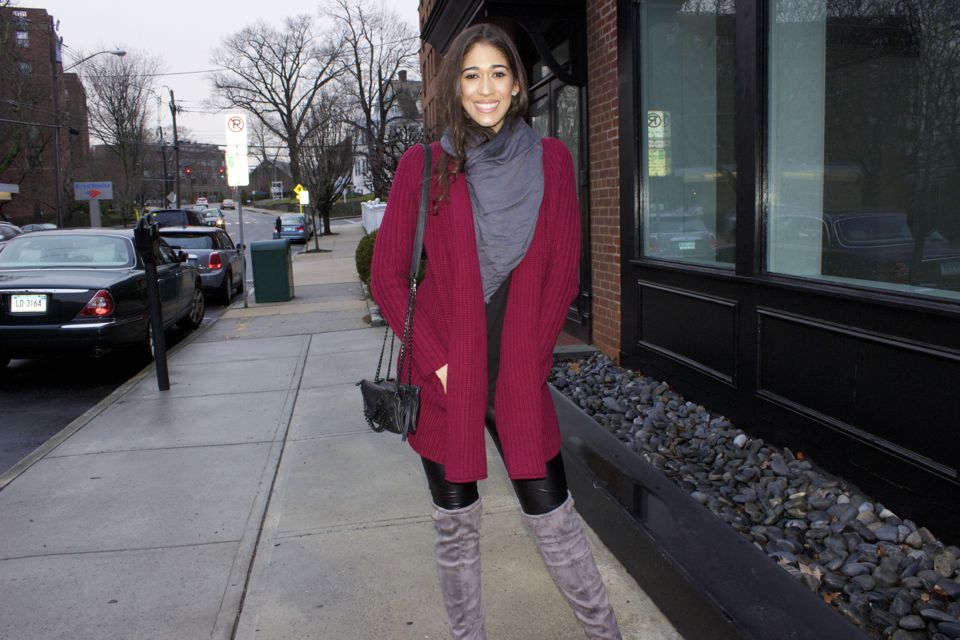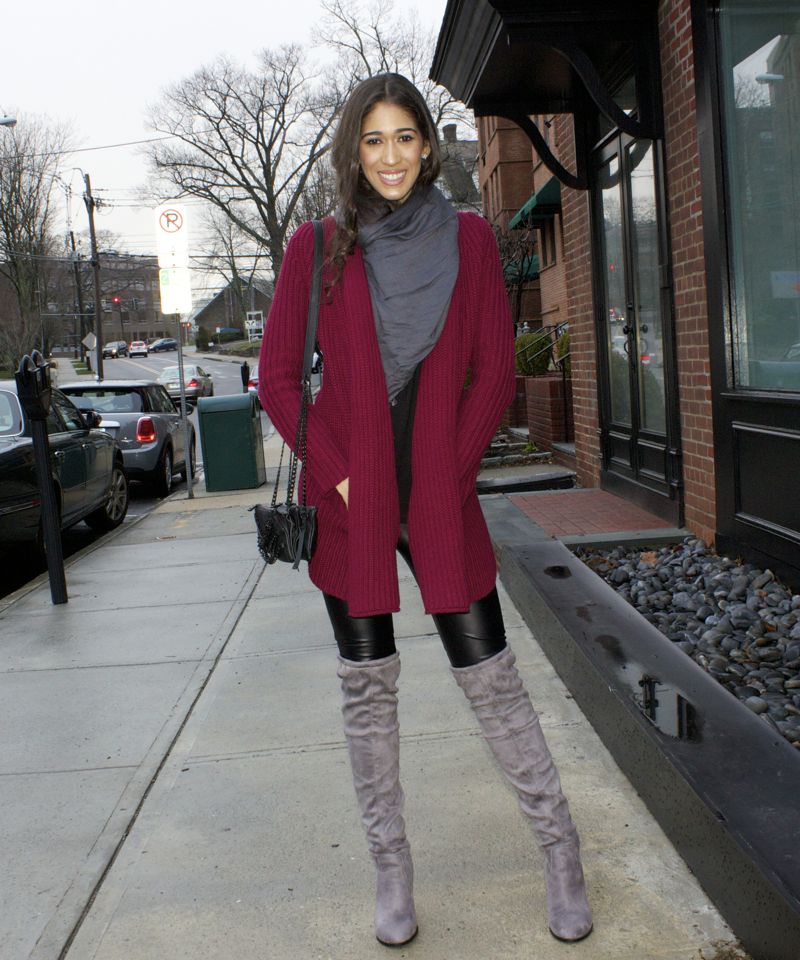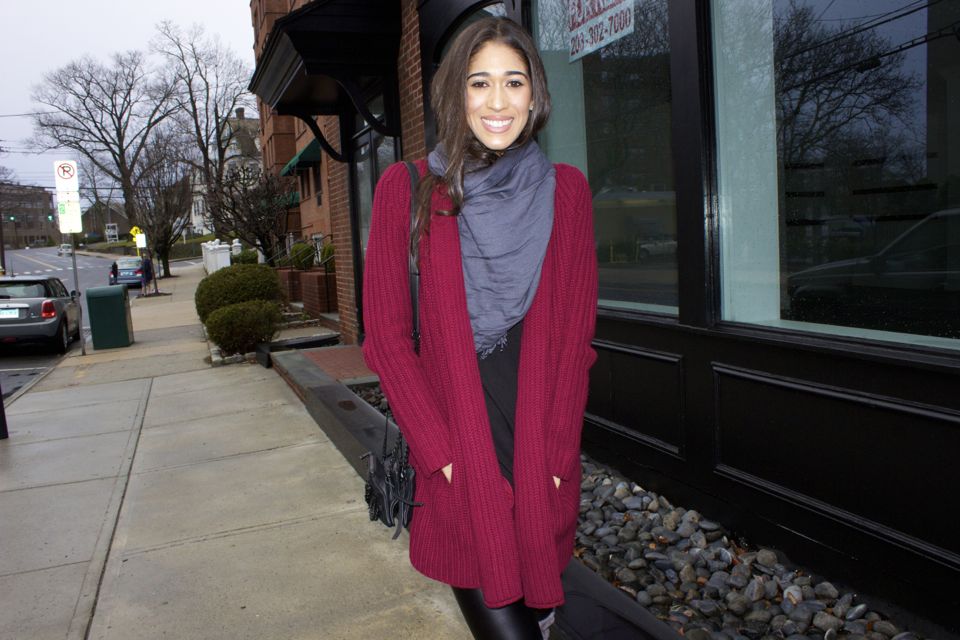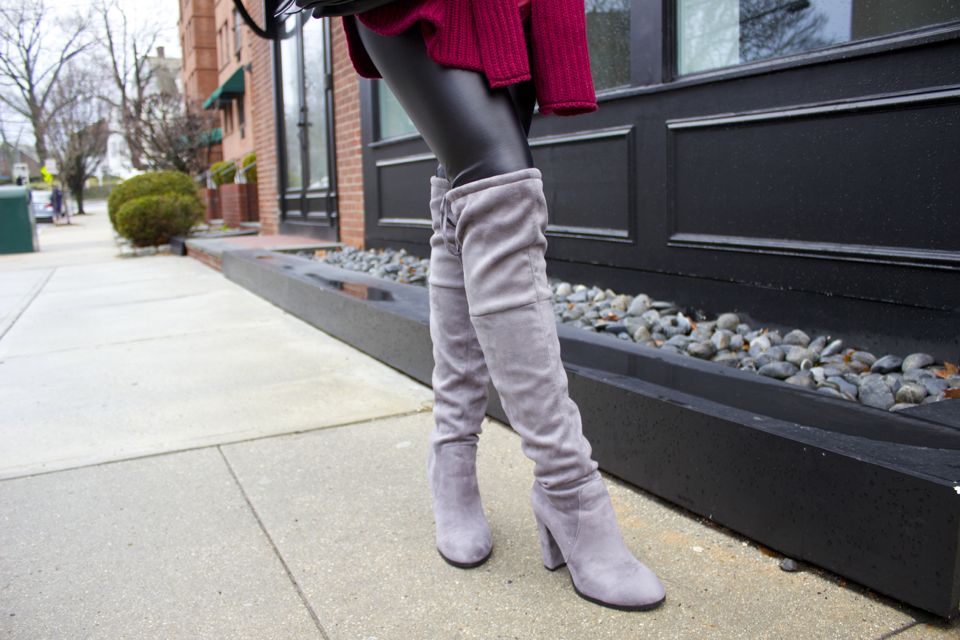 GET THE LOOK!
Cardigan: Max Studio via Marshalls (similar style HERE) // Scarf: Jones New York via Marshalls (similar style ON SALE HERE) // Leggings: Daily Look (HERE) // Boots: Choie's (ON SALE HERE) // Purse: Ash via TjMaxx (30% OFF HERE)

Happy Friday, beauties!
Can you believe it's already the start of the weekend?! I can't, wowza, time is going by way too fast! Anyway, one of my favorite casual and cozy pieces is an oversized cardigan. I love how sophisticated they can look, while being so darn comfy, too! What I love about the one I'm wearing is that it has these large lapels, which create a nice lengthening effect, balancing out the shortening effect that the over the knee (OTK) boots create. This is definitely a look I'd suggest to all my petite ladies out there; I know it can be a bit of a challenge wearing OTK boots without making you appear shorter, but with some simple styling techniques and pieces, like this cardigan, you're certainly able to get away with it. Now, I know you may be thinking, "how can two oversized shortening pieces possibly work together to prevent me from appearing shorter?" My answer to that is simply how the lines and large lapels work together to create length. If you're looking to lengthen, avoid horizontal stripes and opt for vertical, which always lengthens and creates a nice streamline effect. Plus, they're also slimming; anything that creates length will also slim ;)
Speaking of these boots, I came across them while browsing Choie's website and instantly wanted them. They were on sale and I was able to score some additional savings by searching for another coupon code via RetailMeNot. If you're not familiar with RetailMeNot, it's an app that shares coupon codes and sales from thousands of online and retail stores. I can't tell you how many times this app has saved me some $$$. I highly suggest you download it! Now, back to the boots. I've never shopped at Choie's prior to ordering these boots, but was curious after I've seen some other bloggers sport their pieces. When I read the reviews, it was suggested that you go up a full size. If you plan on ordering them, I don't suggest you go up a size because I did and they are big; they seem to run true to size! Thankfully I had some furry Dr.Scholls boot inserts that made them fit better. Since I have the inserts, I can't really say how comfy the boots are without them, but with the inserts, they are super comfy! Another thing I wanted to point out is that it took me nearly 3 weeks to get them and the packaging is far from appealing. They just came in a plain white box with the size written in pen. The duster bag that each boot was in was also torn. I mean, these little details do matter to me, but I honestly do love these boots, so I guess I'd try my luck with ordering from them again; just not when I need something urgent, since they take forever to arrive! So in short, would I suggest them? Yes, but only if you're able to catch them on sale. They're not worth over $100; I was able to get mine down to about $60 (with using RetailMeNot) with free standard shipping, which I think is a bit more reasonable.
I hope you found this post helpful and are having an amazing day so far, my dear friends! Thanks so much for stopping by and have a wonderful weekend!
Xo,