Happy Thursday my dear friends!
Amongst other prints and patterns I'm excited to discuss in upcoming posts, polka dots are a huge trend at the moment and I'm loving it! Moreover, I'm loving the fact that many of this season's trends are quite practical and in my humble opinion, timeless, as mentioned in Tuesday's trend report. I love it when this happens because it allows us the opportunity to snag pieces in the prints, fabrics, and styles of the moment that will also carry us through the years, one of which is the polka dot print.
Now, like other patterns, it has a vibe all of its own. We know that florals can have boho vibe, for example, and polka dots can be very regal and retro. Depending on your personal style and preference, this may or may not be what you're looking for. However, the main factor is how you style these pieces to really enhance or subdue its effect.
Overall, the larger the polka dots, the more of a regal '50s vibe you'll give off, especially when it comes to dresses and skirts. If this isn't necessarily the vibe you wish to create, then I suggest either opting for smaller scale sizes of the pattern and/or really focus in on the silhouette of the piece.
Accessorizing also plays a huge role in enhancing the regal or retro vibe, so I'd suggest you avoid pairing your polka dot pieces with these three particular colors: red, pink, and yellow, when it comes to shoes, bags, and jewelry, if once again, you don't wish to create the retro effect. If you do love this effect, on the other hand, then by all means, try and incorporate these colors somehow into your look!
I know this is a pattern that can be a bit tricky to wear for not only the style effects it can create, but also the effects it can create visually on the body, which is why I'm sharing some suggestions for pieces in the pattern that are suitable for different body shapes.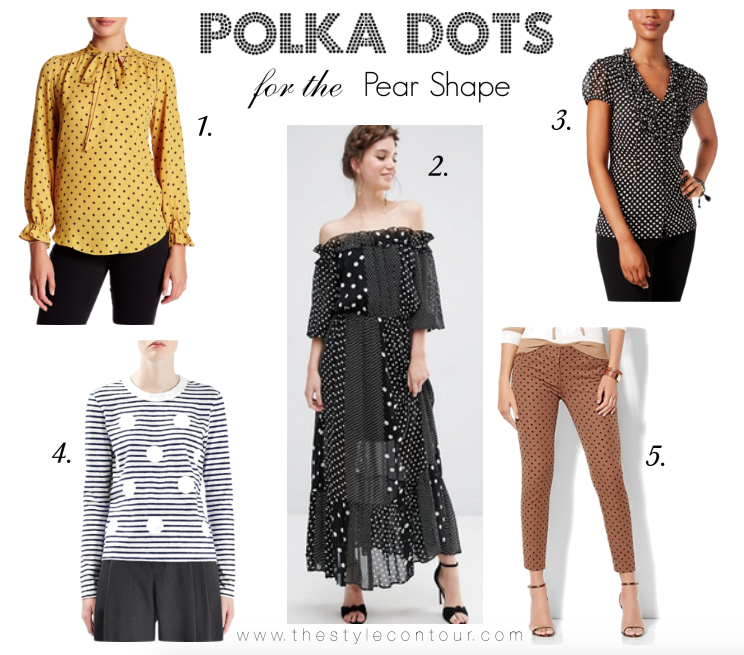 If you're a longtime reader of The Style Contour, then you know that I always suggest larger prints and patterns on blouses and top portions of dresses for this shape, because they create a focal point that's flattering and can help to visually balance out a great emphasis that would otherwise be placed solely on the lower region of the body.
Wearing smaller prints, would in other words, cause the lower body to appear larger. However, when there are details in the piece or a vibrant color that's paired with a more muted bottom, the effects are canceled out, #3 would be a perfect example of this. The ruffle on the bust helps to add dimension and create a sense of fullness on the upper body, which is particularly flattering for this body shape.
Going back to the point I made about smaller scale prints/patterns slimming an area, this would be ideal when it comes to trousers and skirts, as shown in #5; the larger the surface area the smaller the hips, legs, and thighs will appear. If you wish to enhance the size of your legs, then I'd suggest opting for a larger polka dot pattern.
Can we just take a moment to appreciate the originality in the design of the off the shoulder dress (#2)? I mean, this is a perfect example of how there truly is a style out there for everyone. This dress has a very boho and depending on how its styled, edgy vibe, both styles wouldn't even come to mind when thinking polka dots; I love it!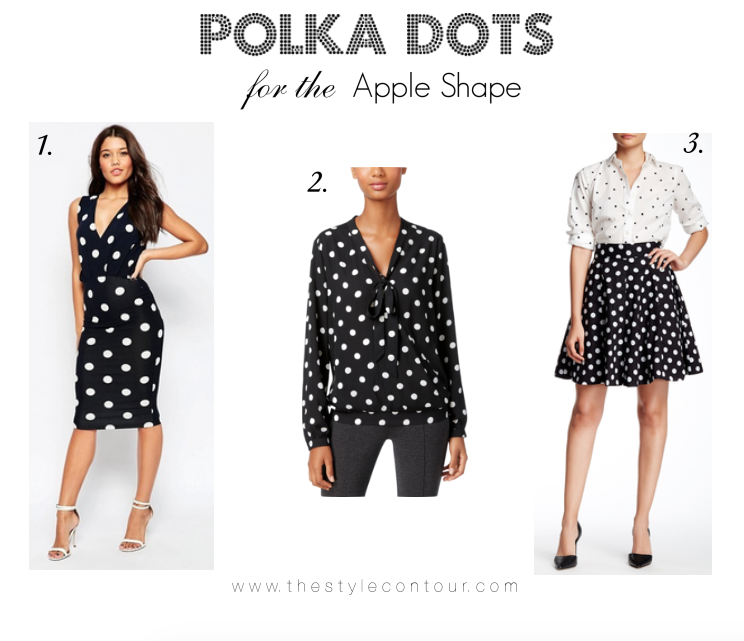 For all my apple shaped ladies, I want to first mention that I by no means suggest you only opt for black and white versions of the pattern. I searched high and low for more colorful options and unfortunately, much of the pieces I would suggest, are already sold out. You know how much I love color, so I wouldn't purposefully do this to you :) So, I'm showing three examples to give you and idea for what I feel would be most flattering, mainly because of the silhouette of these pieces, as mentioned in the beginning of this post. If you love the pieces I've included, then feel free to shop them, or just use this as a guide when out shopping for more colorful options.
If you happened to read the section for pear shapes, then you may be wondering why I'm suggesting larger print scales here, when if you fall into this body shape category, you mot likely have a fuller bust and wider midsection; the silhouette makes it all work is the answer! Both #1 & #2 have a v-neckline which is particularly flattering for this shape, as it helps to visually narrow in the entire upper body. The dress has a built in waistline, which creates a more flattering, cinched in effect and the blouse has a faux wrap, which helps to flatter a larger bust, both allowing for the use of a larger polka dot pattern.
Girl, you got some legs on you and so, dresses and skirts are the best way to showcase the. A high waisted A-line skirt (remember when we talked about the A-line?) will create the illusion of a smaller, defined waist and flare out slightly, balancing out wider shoulders. You will notice that this skirt is marked petite, but try my suggestion on wearing petite sizes here, it really does work as you will see!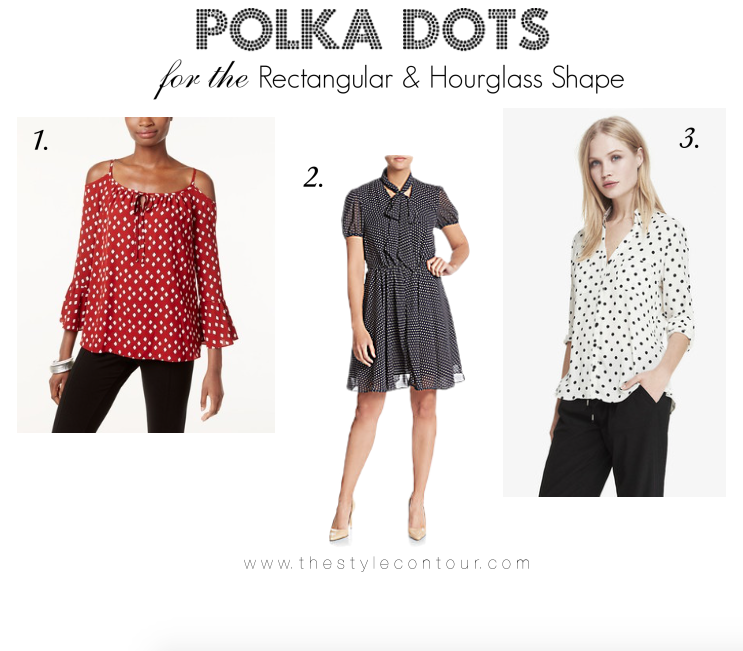 Lastly, for both my hourglass and rectangular shapes, pieces that emphasize your waistlines, such as the dress in the set above, would be great options as they will help to draw attention to your proportional frame. Though we're in fall and the temps are starting to dip, cold shoulder blouses can still be worn with turtlenecks layered under, as I did with my slip dress in yesterday's post.
Cold shoulders are particularly flattering for rectangular or athletic shapes, as they help to draw attention from wider shoulders, as they only expose part of the shoulder, which slopes downward, visually narrowing them; this further enhanced if the straps on the top are thicker.
Getting back to layering, outfits that feature a printed shirt layered underneath a sweater is also a flattering option for rectangular shapes, as it helps to visually break up the upper and lower regions of the body, as well as creating a greater emphasis to the waistline, due to the contrast it creates.
What are YOUR thoughts on polka dots, are they a pattern you'd wear? If you're not about which body shape you have, I encourage you to watch my video on how to take your body measurements to determine your shape and if you have any questions, don't hesitate to ask in the comment's section!
Thanks so much for stopping by, my dear friends, and I hope you have the most amazing day!
XO,