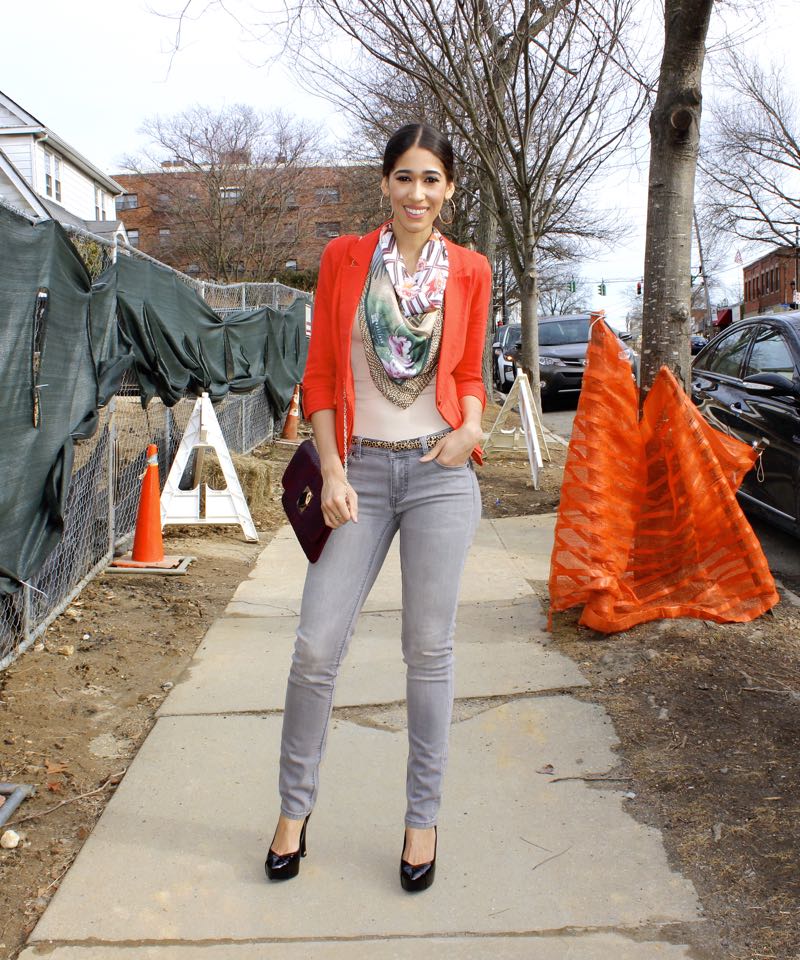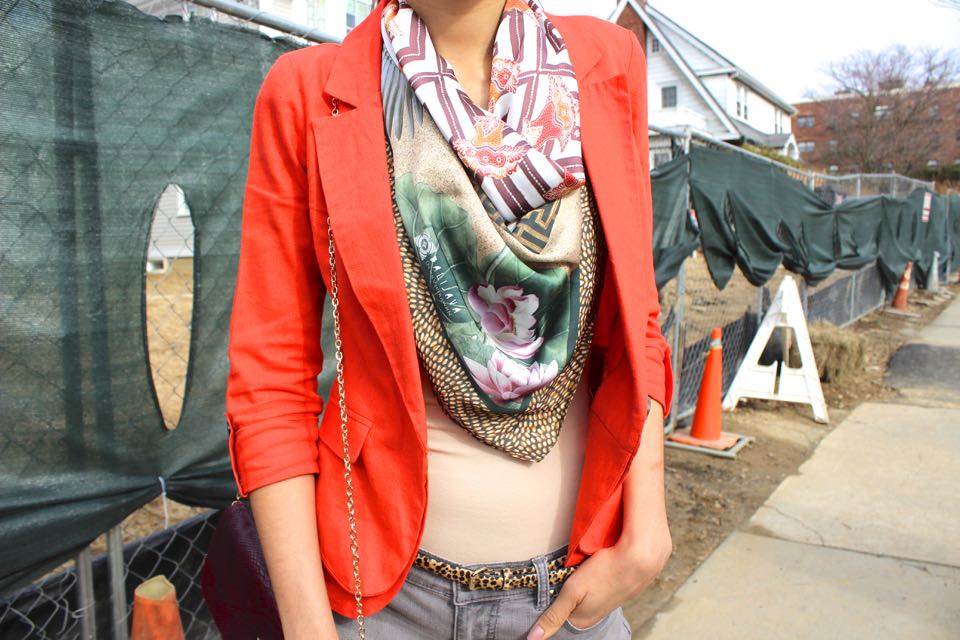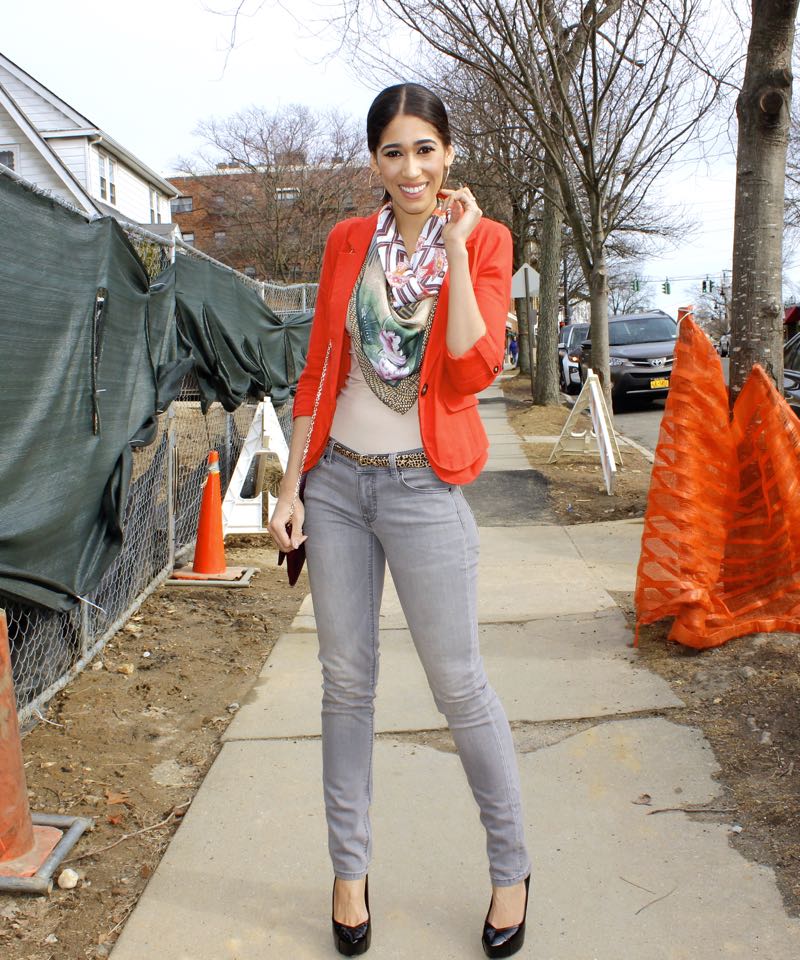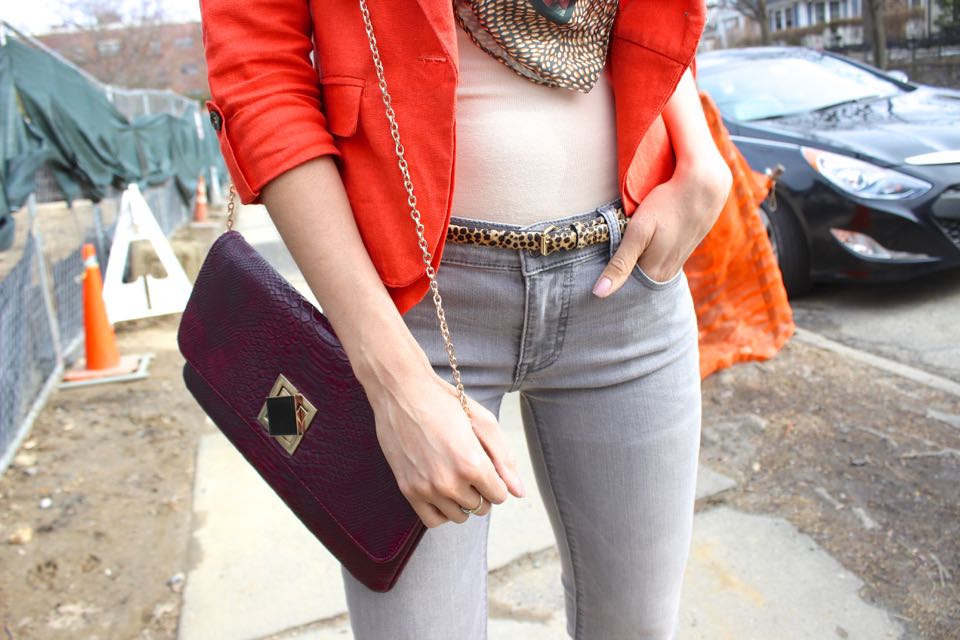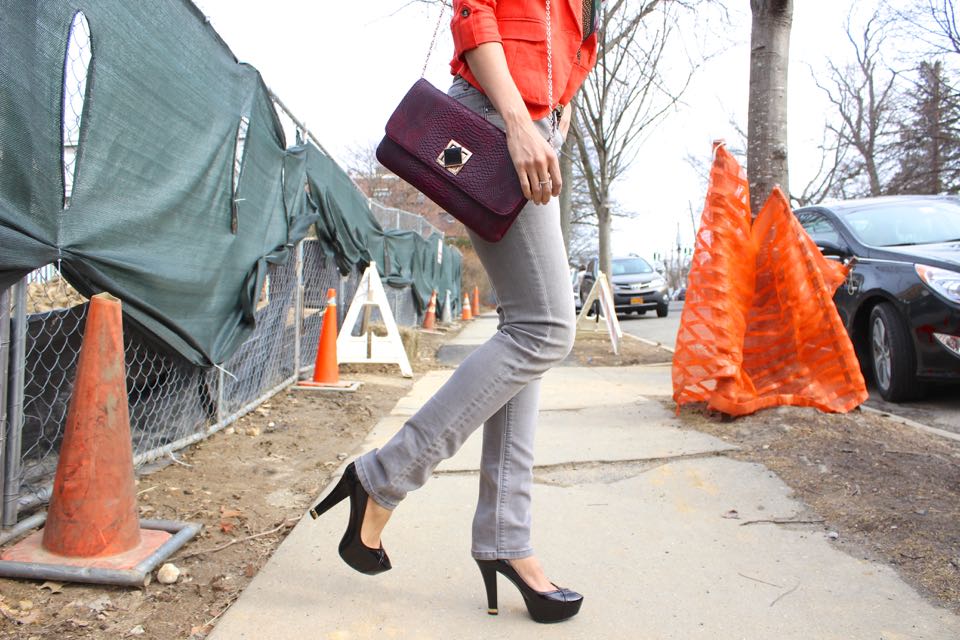 GET THE LOOK!
Blazer: Charlotte Russe (similar HERE) // Tank: Cynthia Rowley (similar HERE) // Scarf: c/o Denny Wirawan // Jeans: New York & Company (similar B1G1 50% HERE) // Belt: Thrifted (similar HERE) // Purse: Marshalls (similar ON SALE HERE) // Heels: Louis Vuitton (similar ON SALE HERE)

Happy Hump Day, beauties!
It's finally beginning to feel a little like spring and that makes this girl over here very happy! Although I can't really complain because we only had one major snow storm this winter and about 2 other snow showers since then. Plus, we had an incredibly mild holiday season, but I still love spring because it's neither too hot or cold, the temps are just right. I guess you can consider me the modern day Goldilocks, but a brunette version, haha. While we aren't experiencing full on spring weather just yet, some days, I find myself ditching my puffer coat and that in itself makes me happy!
There's a color that popped up frequently on the spring runways and that's orange. It's a color that I personally love, but not too many do, which I can understand. The ladies that I've spoken to that aren't too fond of the color usually say it's because it's a little too bold or they have difficulty pairing it with colors that work well with it and if that's you, hopefully this pairing will give you an idea on how you can wear it! For summer, I love the idea of hot pink and orange, which look gorgeous against golden, bronzed skin. During these transition months, however, I like to wear it with darker shades with softer neutrals, so that you get both the winter mix and springtime feel. As you can see in the outfit, I added pops of burgundy and heather grey, which give it that "it's still winter around here" vibe, while mixing it with nude and a beautiful floral printed satin scarf that exudes spring. I've really been feeling satin scarves lately and have rediscovered some in my scarf collection that I intend on wearing more. I feel they add a nice classy element and I love that they're not bulky, serving as both a statement and a bit of warmth during these transitional months.
So what do you think, will you be trying your hand at some orange pieces this season? It's a color that flatters every skin tone, so I definitely suggest you give it a try, even in the slightest form, such as with a nail color. I hope you have a wonderful day, my dear friends, thanks so much for stopping by and I'll catch you again in tomorrow's post!
XO,