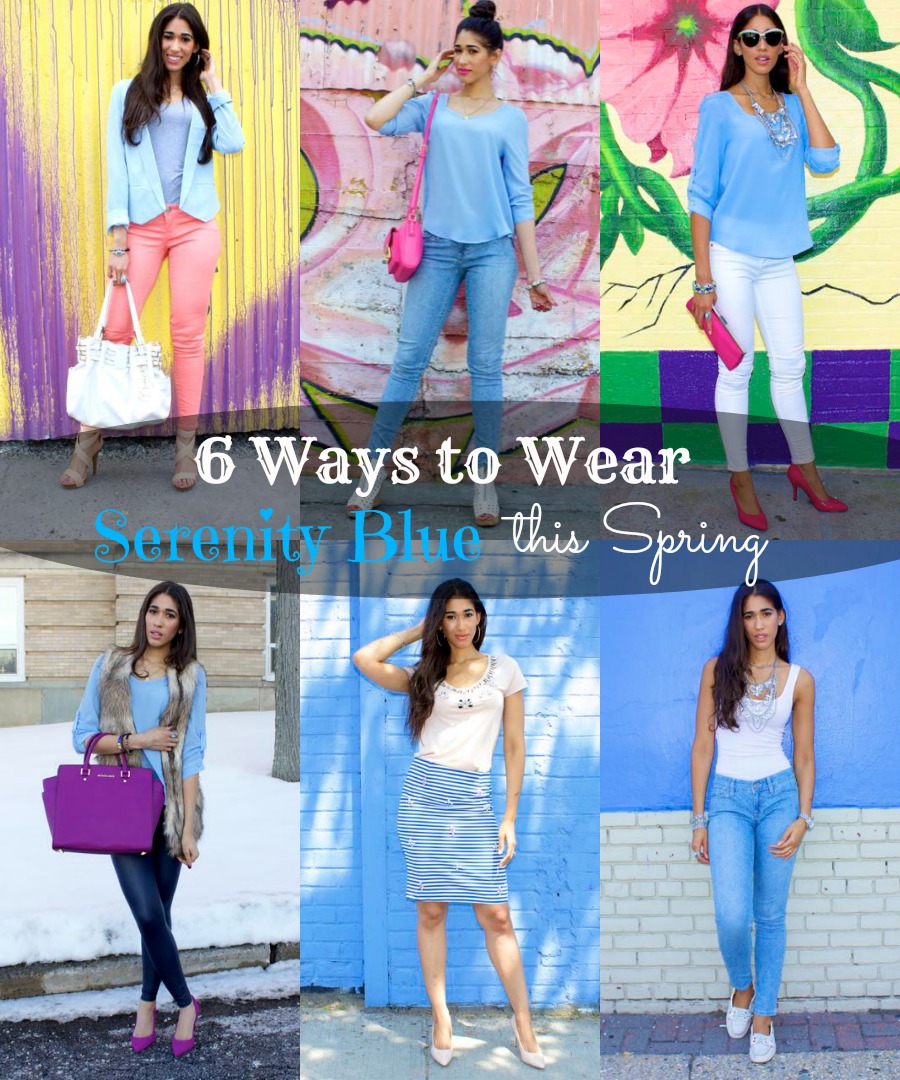 Happy Tuesday, friends!
As many of you know, one of this year's "it" colors is serenity blue, which is basically a baby blue. It's a very beautiful shade that's perfect for spring and has a very calming and soothing feel to it, which is why it's most often associated with baby clothing. Today I'm sharing 6 different ways you can wear it this spring, featuring previous looks I've styled. I will be linking the original posts, so you can check them out in detail, if you're interested. Hopefully, this post will give you some ideas on how to style this shade in a flattering way for your specific body shape and/or height, while providing color combo ideas as well. So let's get started with our first look, which would be a great option for all body shapes!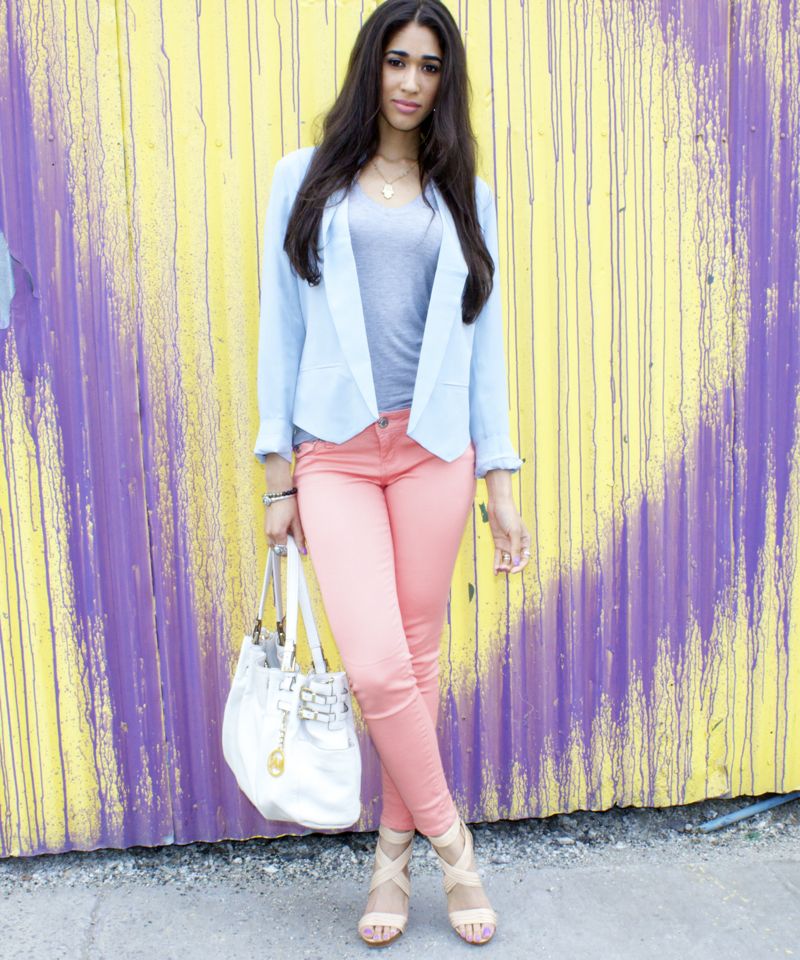 Original Blog Post: Pastel Sorbet
This look would be a great outfit idea for all body shapes because there's an equal distribution of color on both the top and bottom, both of which are pastels, so not one area of the body is being highlighted more than the other!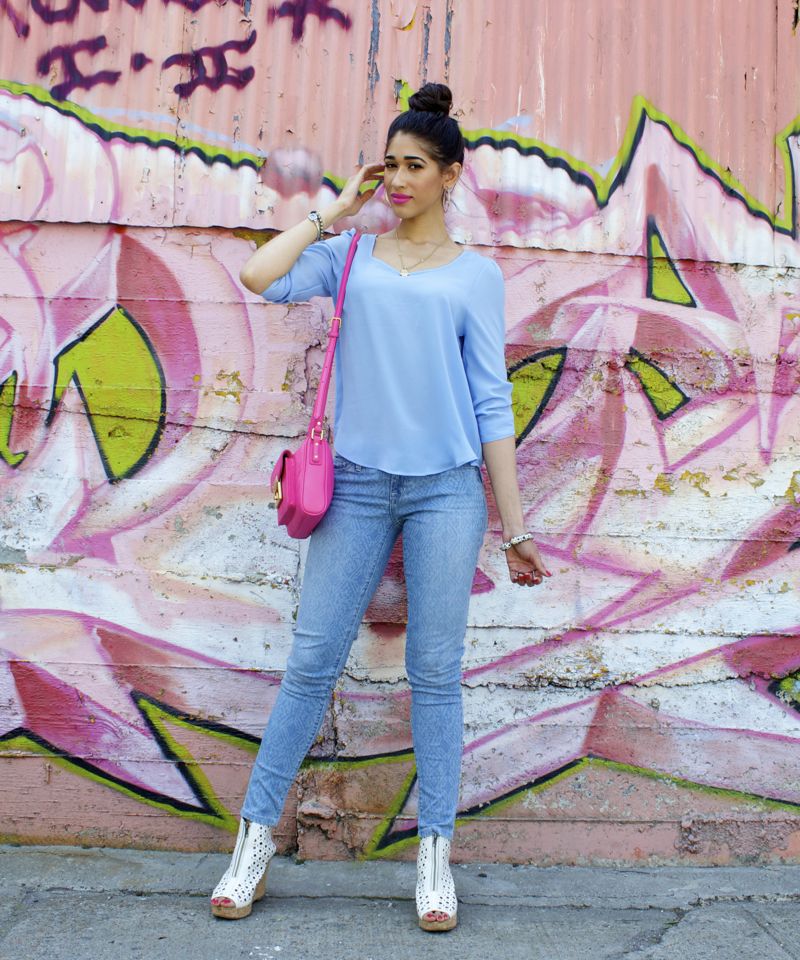 Original Blog Post: Ice Blue with Hints of Pink
This particular pairing would be a great option for those of you who are petite, have either a short torso or short legs or who just wish to look taller ;) The reason is that this is a monochrome outfit, which always creates a heightened streamline effect; any outfit that you create that's predominately one color, will create the illusion of a taller and leaner body frame. If you are a petite rectangular shape, I'd suggest half tucking or fully tucking in your top, as mentioned in the previous look, to avoid loosing your shape, while creating a more contoured waist.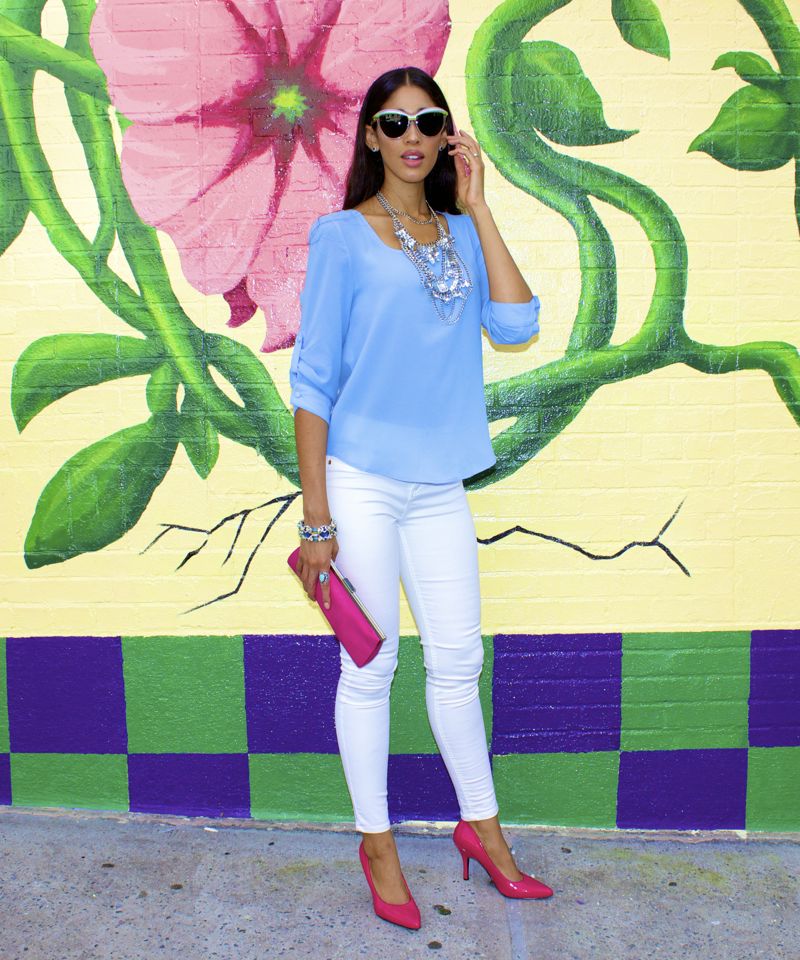 Original Blog Post: Happy Labor Day!
These two shapes look great when both the top and bottom of the body are highlighted. Although, if you have either of these two shapes, you can also choose where you'd like to create more emphasis, since these shapes are rather proportional. One thing to consider if you are a rectangular shape, however, is that you may want wear a belt (either waist or hip) tuck in your top or wear a more fitted top at the waist, which will visually distinguish your upper and lower portions.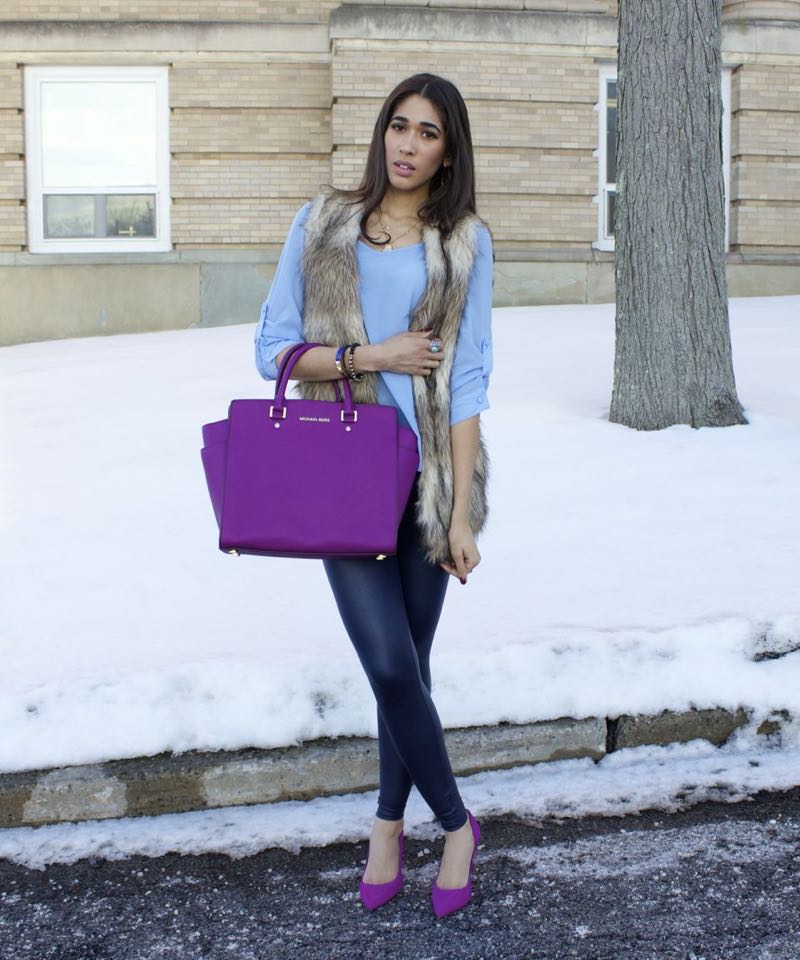 Original Blog Post: Blue, Beige & Orchid
This pairing is a great option for all of my fellow pear shapes because most of the focus in this look is up top. We have the serenity blue, which is lighter than the navy leggings, as well as a light colored beige fur vest, which adds warmth to those chilly spring days, as well as dimension to the upper body.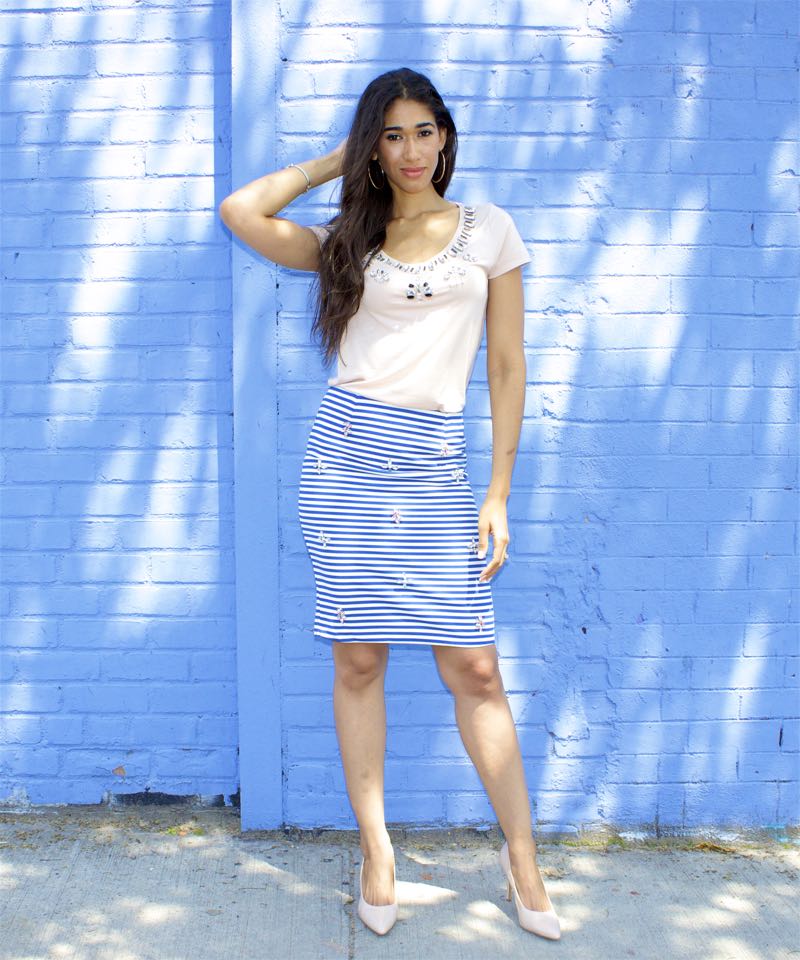 Original Blog Post: Embellished
This look is a perfect idea for the apple shape because this particular skirt has blue stripes with embellishments, which will help to not only bring attention to your lean legs, but also add visual width. The top I paired the skirt with is a v-neck, which helps to visually slim the upper body, while also creating a lengthening effect to the neck area.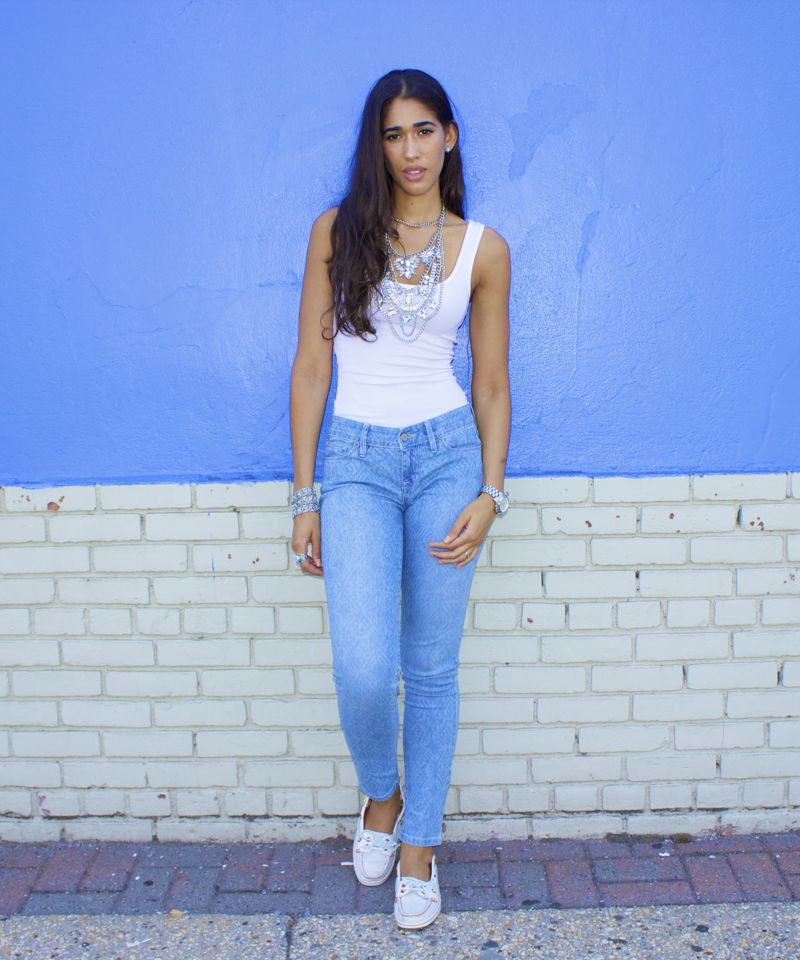 Original Post: Ice, Ice, Baby
This look is an outfit idea you can try if you don't have anything that's technically serenity blue, other than a pair of light wash jeans. If that's the case, wearing a lighter denim will still exude this feel, especially when paired with lighter colors, such as white. Keep in mind that if you're an apple or inverted triangle shape, the best way to recreate this look, would be to wear a v-neck white top that skims the surface of the upper body, as it will flatter your shape best!
SIMILAR PIECES:

I hope you all enjoyed this post and most importantly, found inspiration in it for wearing one of this year's hottest colors for your body shape and height, as well as some color combinations you could work with. If you did find it helpful, feel free to share this post! Thanks so much for stopping by and I hope your day is as fabulous as YOU, my dear friends!
XO,