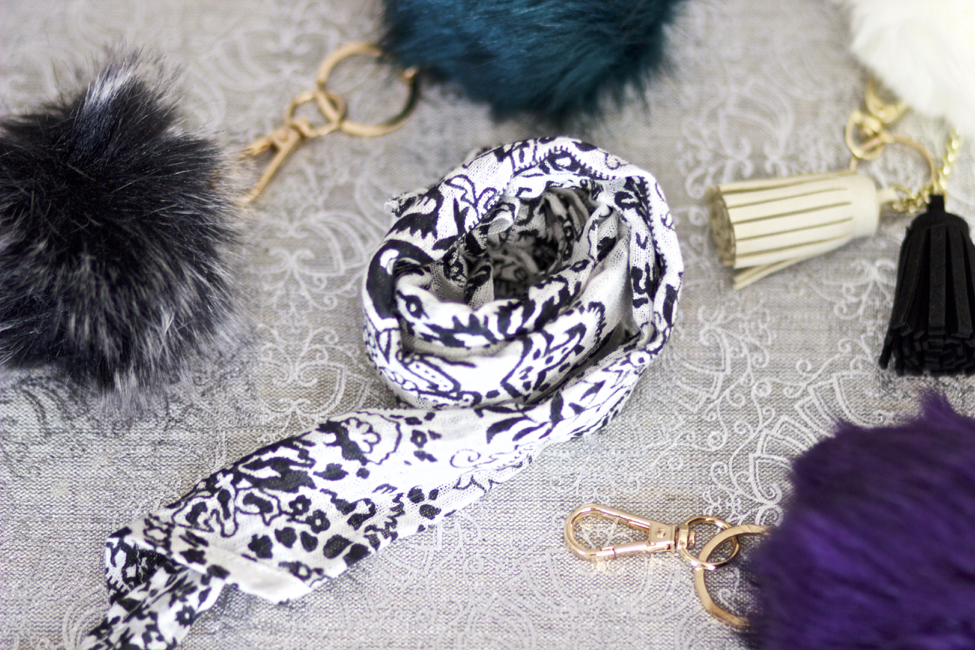 SHOP BAG CHARMS

Happy Tuesday, my beautiful friends!
During the fall and winter months, I tend to carry around my larger satchels more than I do during the summer because it's just too hot to lug around a big bag, in which I just can't be bothered, so I typically wear crossbody styles instead (I wear them during the colder months, too!).
As we're beginning to transition into fall, I'm reaching for those larger bags more and I often find myself adding little details to them to help enhance my overall outfit, most of which I'm sure you're already familiar with, such as pom pom keychains, tassels, and scarves. I'm not starting a new trend here, but I do want to share why I think you should consider adding them to your purses if you don't.
Pom Poms & Tassels Add Texture
Though I've added pom pom keychains to my purses both during the spring and summer, I think they're even more appreciated come fall and winter because of the texture they add, most commonly associated with the season. I think in the case with tassels, they don't have more or less of a seasonal vibe, since in essence they're a lot like fringe, but they still add both texture and movement.
Pop of Color
For those who prefer an all black everything look, perhaps aren't the biggest fans of color, or have more of a minimalistic style, bag charms or scarves can add a nice small dose of color to your overall look. It's also a great way to wear a color that you may love, but don't necessarily feel works best for you in clothing. In the case of scarves, they can not only add a nice pop of color, but print, too! You can simply knot it on the handle or if your purse has two straps, you can wrap it around both to create a single one! This is one that I haven't tried yet myself, but am excited to do so this season!
Detail
It recently dawned on me that I can use one of my necklaces as a charm as well; I honestly don't know why I hadn't thought of this earlier, but I'm looking to possibly give it a try and maybe you will, too?! What gave me the idea was a broken necklace I love. It's not a genuine piece, so it doesn't make sense at all to take it to a jeweler for repair, but I just can't toss it! So, I kept thinking about what I could do with it and this idea came to me!
Again, these aren't new trends for the season, but I wanted to share some ideas and reasons why I personally love using these accessories or have an interest in trying to help add the extra bit of somethin' to my look. The good news is that since pom poms aren't a new trend, more retailers are selling them, so you can get your hands on some that are affordable because they can be a bit pricey. I actually snagged a couple at Bed Bath & Beyond (near the checkout) marked at $5.99, but got them cheaper because I used my 20% off coupon I always get in the mail. Side note, if you get them in the mail all the time as well, SAVE them; they still accept them, even if they're expired ;)
I hope you all enjoyed this post, my beautiful friends, and thanks so much for stopping by, I hope your day is as amazing as YOU and let me know if you like the idea of adding these accessories to your bags!
XO,