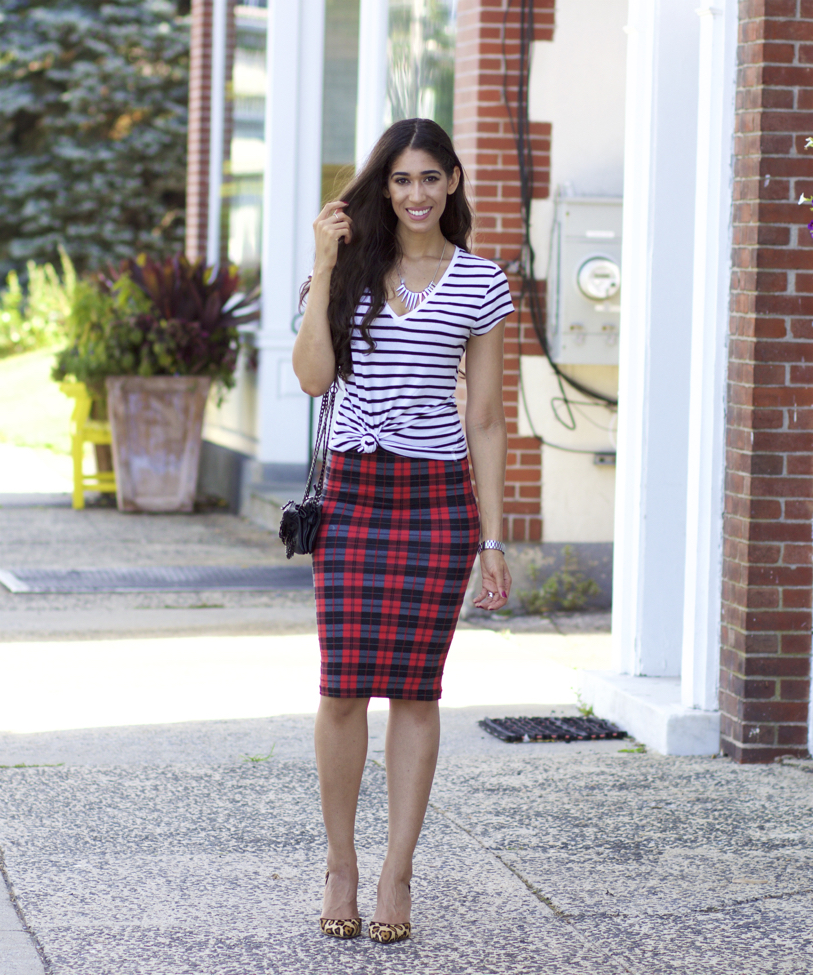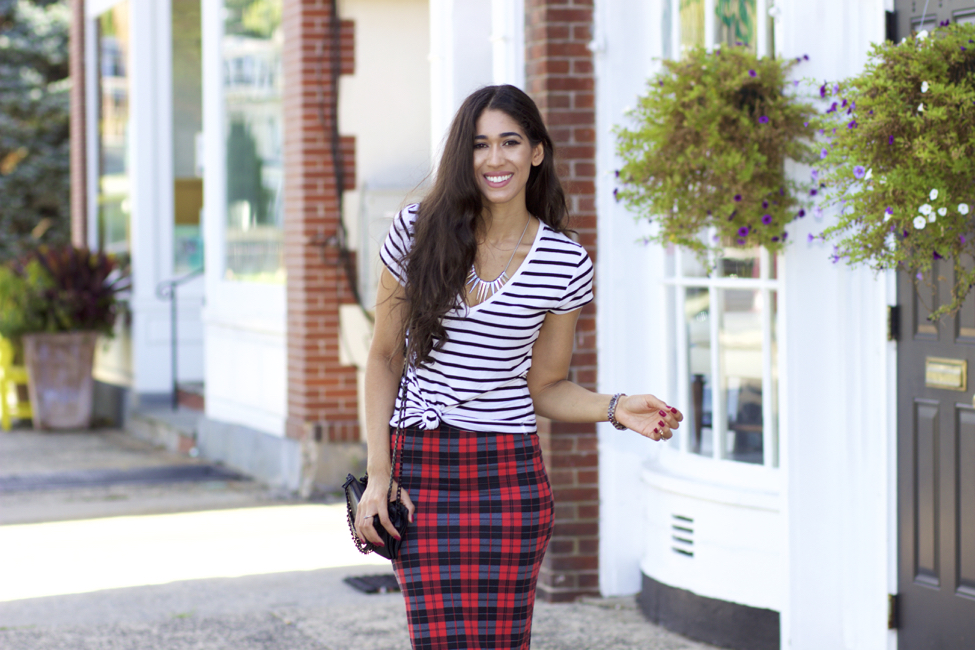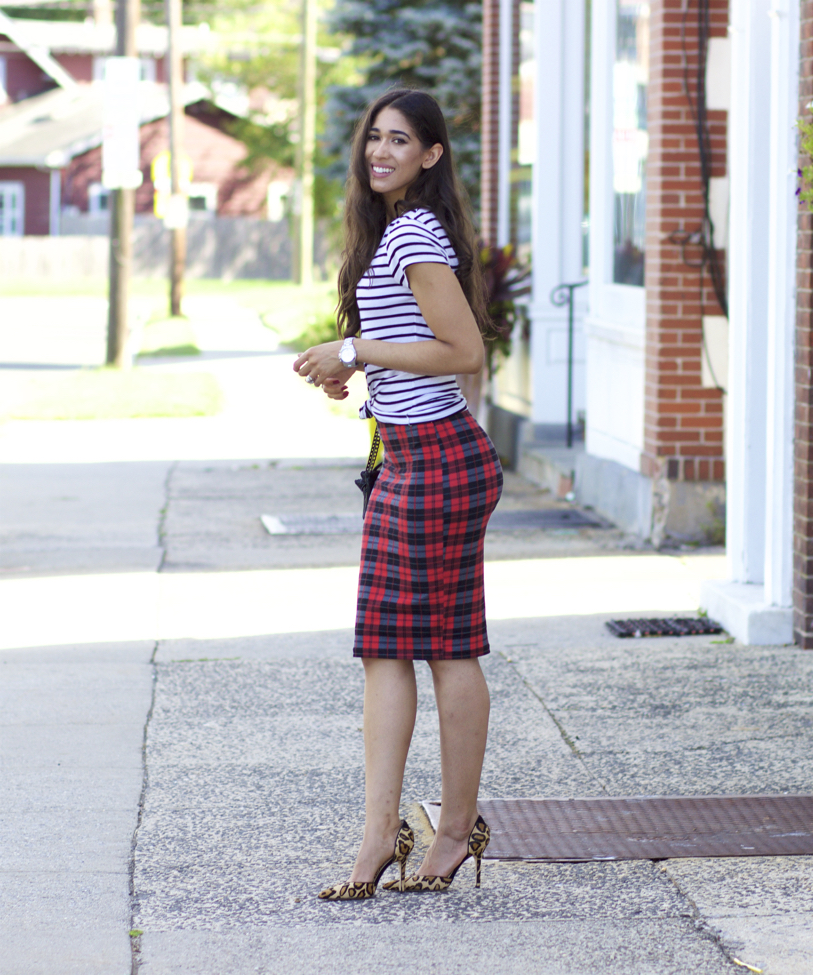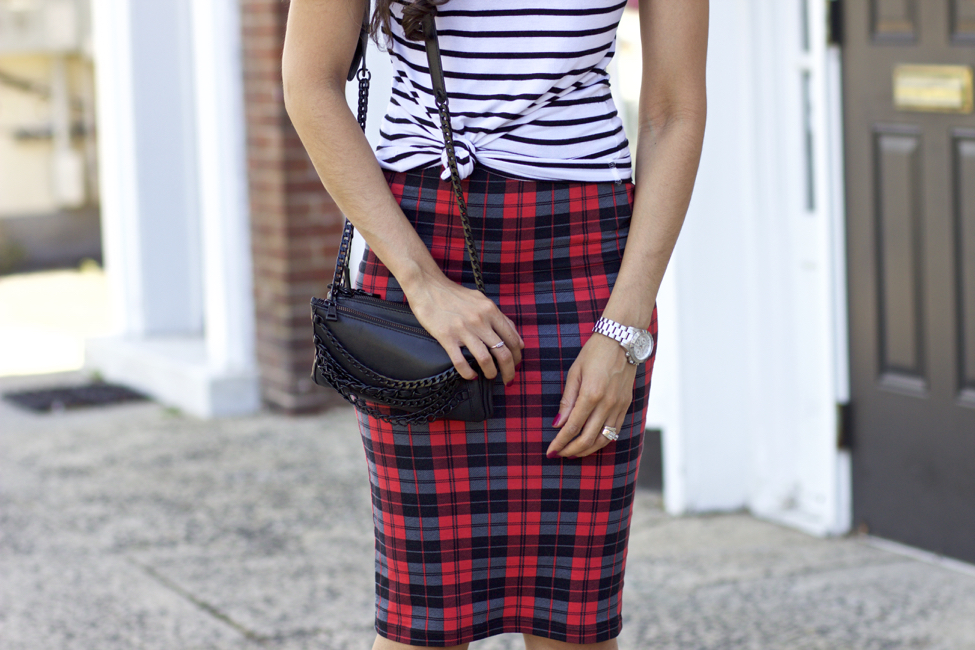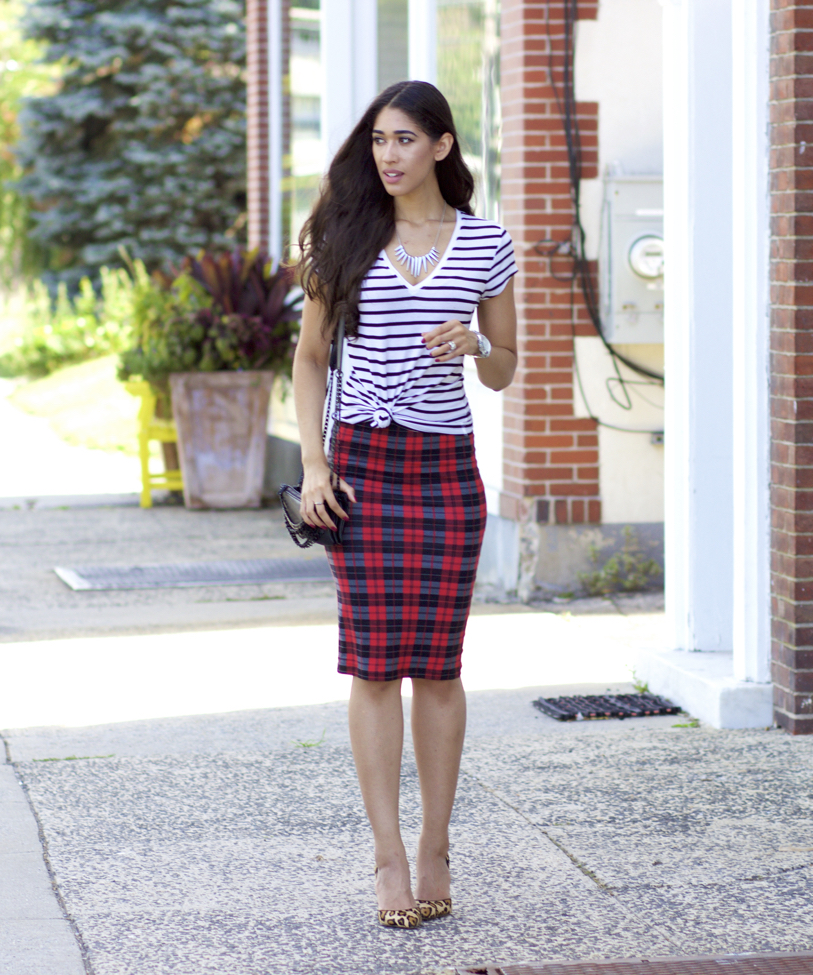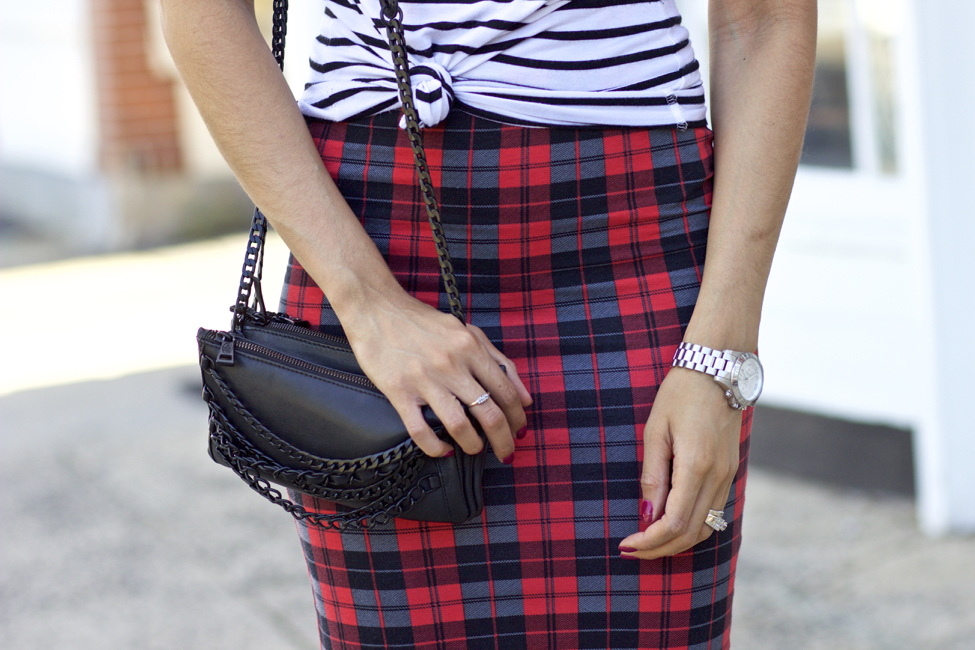 OUTFIT DETAILS:
Tee: Max Studio (similar HERE) // Skirt: Sans Soucci (simiar HERE) // Necklace: Express (HERE) // Purse: Ash (love this color HERE) // Shoes: Sam Edelman (HERE)

Happy Monday my dear friends!
How was your weekend? Mine was really fun. On Saturday, I caught up with my cousin with brunch and yesterday, Eddie, Destiny (my step-daughter) and I went to the annual Greek Festival in New Rochelle (Westchester) NY. It's one of the largest and most popular Greek festivals in New York. Many Greek celebrities and news anchors attend; the food is amazing you guys! It's only once a year, every September; I highly suggest you attend if you're ever around this time of year!
It was also an emotional and significant weekend for our country, as it was 9/11 yesterday as well. I don't recall it ever falling on a Sunday before. You know, at this point, I feel like it should be observed as a national holiday or day of observance. I mean, it's the largest terror attack that ever took place on American soil, people should be able to have the day and observe without having to worry about taking the day off or working around their work schedules to attend memorial services, wouldn't you agree?
Random Fact: Eddie was an NYPD officer a couple of years before the attack and I come from a line of NYPD offers, my great grandfather was a caption for the NYPD.
Moving right along to the main topic of today's post and that's an easy, no fuss pattern mix for fall: classic stripes, plaid, and leopard print. These three always look great together and are a no fail, so it's a great start for anyone wanting to try their hand at pattern mixing this fall. I tend to prefer wearing either the stripes or plaid in the clothing and save the leopard print for the shoes, but the choice is yours as I mentioned, they all look so good together either way.
One thing I'd like to point out is if you have wider hips and don't want to make them appear wider, I'd suggest you opt for a plaid pencil skirt, as I've done here, to prevent further exaggeration to the area and pair it with a striped top or leopard top, depending on which print you want to wear. The striped top will help widen the upper body visually and keep the hips in balance, not taking or adding from your natural curves.
If, on the other hand, you wish to create some visual curves to your hips, I'd suggest you wear a horizontal striped skirt and a plaid shirt. The horizontal stripes will cause the eyes to move across your hips, creating visual width. If you have a larger bust, like with the plaid skirt mentioned above, it won't take away or add to your bust. When working with a loose fitting tee or shirt, knotting it as I've done, will create an emphasis to the waistline, creating a flattering effect, as we've talked about in Friday's post. You guys, I'm really obsessed with this whole tee and pencil skirt look lately, I really can't help myself, haha!
PIECES FOR THE OPPOSITE EFFECT:

What are some fun patterns YOU like to mix come fall? Thanks so much for stopping by my gorgeous friends and I hope your week is as fabulous as YOU!
XO,