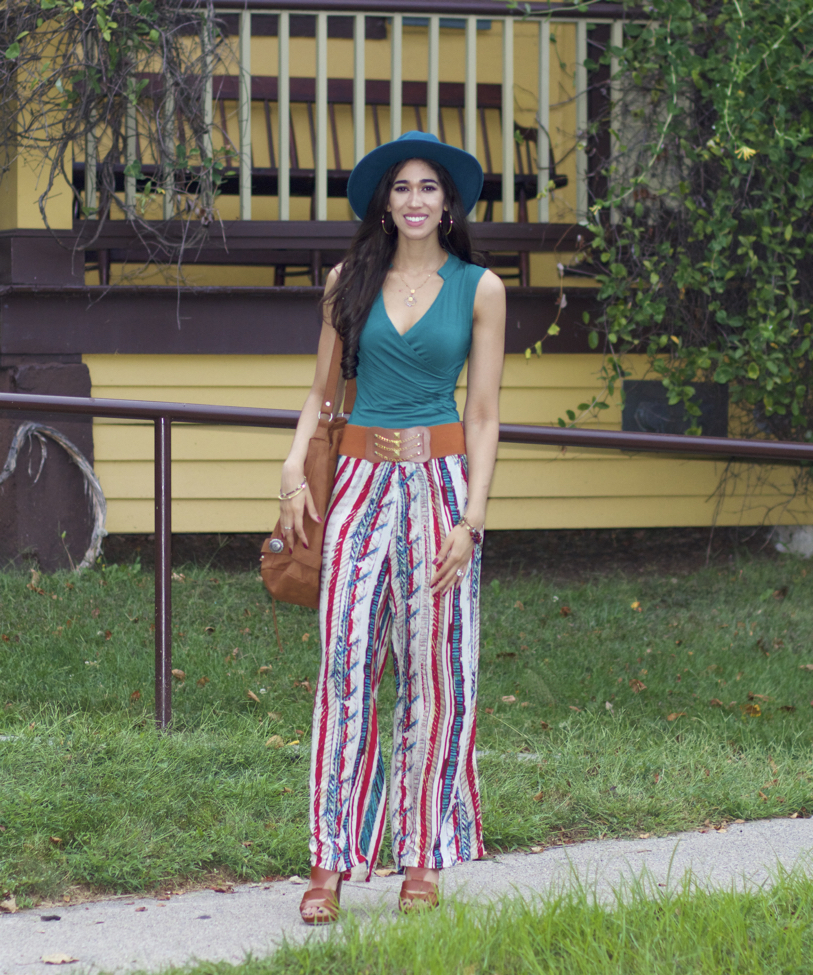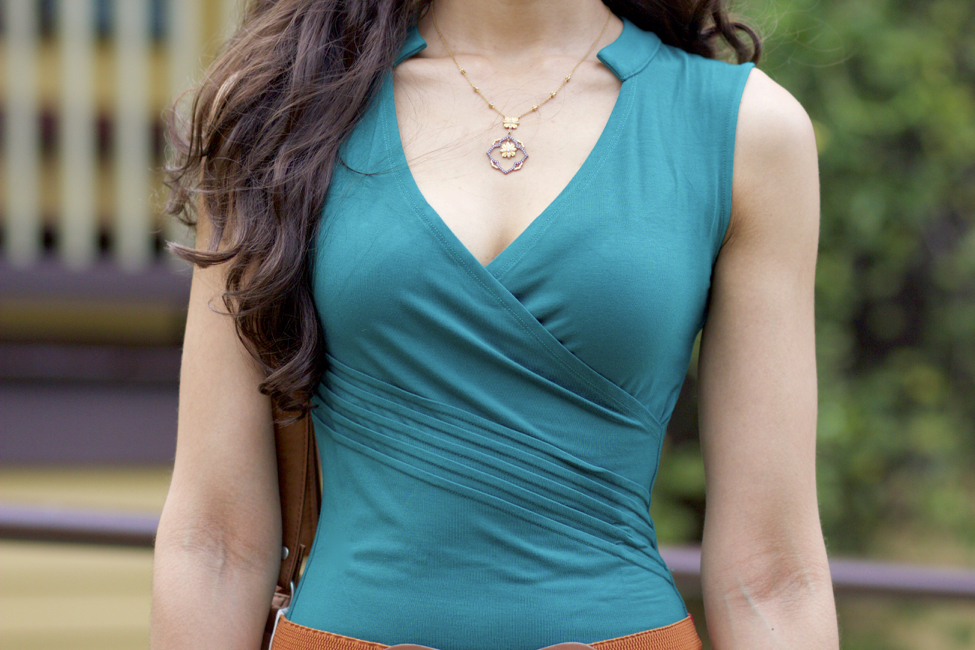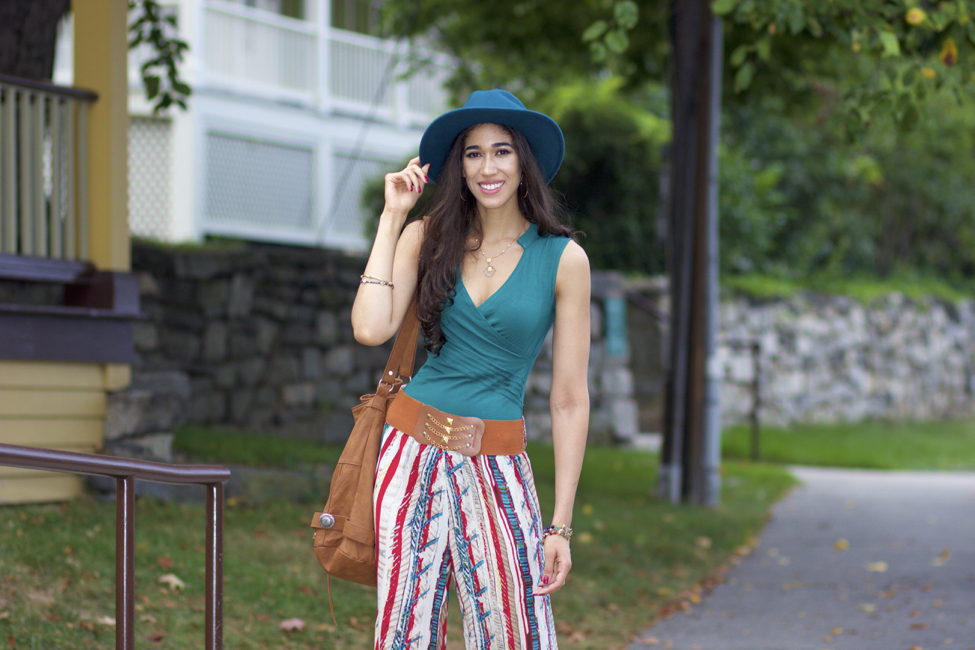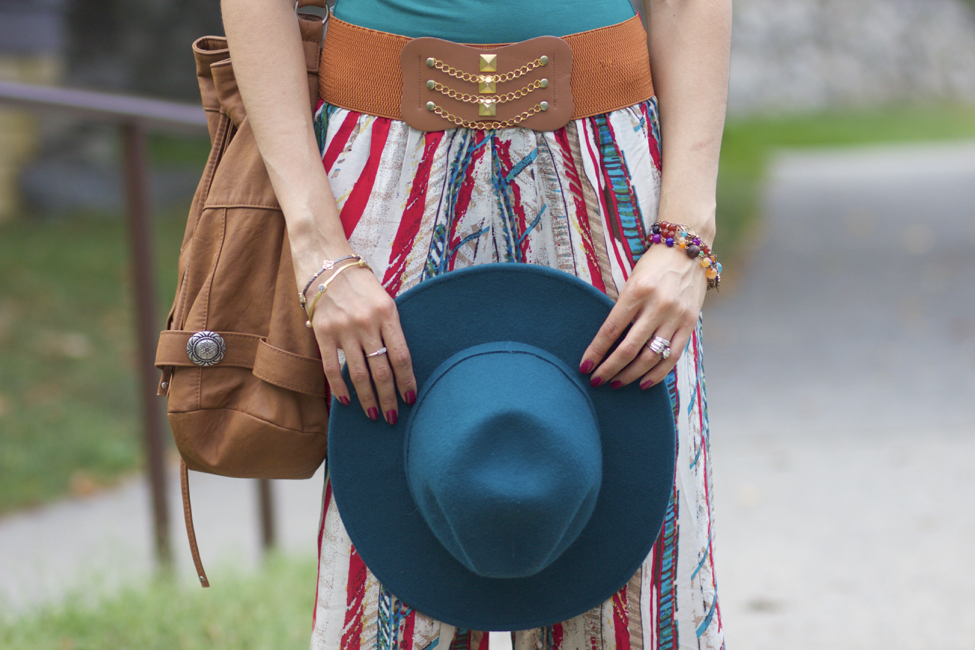 :GET THE LOOK:
---
Bodysuit: c/o Les Lunes (HERE, similar HERE) // Necklace: c/o Joey J. Jewelry (HERE) // Hat: Zara (HERE) // Pants: Dorothy Perkins (similar HERE) // Bag: c/o Gentlefawn (similar HERE) // Sandals: Kenneth Cole (similar HERE)
---
Happy Wednesday gorgeous girlies!
First off, I have to point out the obvious, which is that this look is on the complete opposite end of the style spectrum compared to Monday's pairing. If I were asked to describe my personal style, it would defiantly be eclectic because I love a little bit of everything and that pertains to every area of my life: food, music, books I read, movies I watch and so, it's not out of the norm for me to be inspired by a more grungy style one day and boho or even glam the next, though I tend to take a particular interest to both '60s and '70s fashion. I'm sure regardless of your personal style, we share the same loves and hopefully you can find some looks and tips that will resonate with your style from time to time!
Today, I'm featuring one of my newest favorites and that's this v-neck wrap bodysuit from Les Lunes. You may remember about a month ago, I shared a love for a cami I've had for a number of years from this brand. Shortly after, Les Lunes discovered the post and was pleased to know that I'm still wearing the piece they sent me a couple of years ago and reached out to present me with opportunity to review another one of their pieces and I selected this v-neck wrap bodysuit.
You guys, when I tell you that this bodysuit is super comfy, I'm telling you that it's SUPER comfy! I recently purchased a couple of other bodysuits from another brand (fast fashion) and it's nothing to be compared to in both quality and fit. As with most wrap style pieces, it's one that would flatter all body shapes, in my opinion.
The wrap design and diagonal pleats create a slimming effect to the midsection, making it an even more favorable option if you either wish to conceal your midsection a bit or want to flatter a growing baby bump (I'm not throwing around a hint here, haha).
As a side note: I think it's the way that I'm positioned that's making it appear wrinkled in the midsection, but I can assure you it wasn't :)
You can be rest assured that I'll be wearing this bodysuit throughout the fall season. I'm thinking to wear it with a plain pair of skinny jeans and ankle boots the next time around, but as you can see here and as mentioned at the start of the post, I decided to create a more fall time boho vibe with it. I decided to pair it with printed palazzo pants that I've had for some time now because I wanted to pull out the teal in the print and felt they looked so good together. I added a teal hat as well, but decided to balance out all the teal happiness (I love me some teal come fall) with camel colored accessories.
Speaking of teal, I find that it's one of those colors that look good on every skin tone and can really enhance blonde and red hair colors, so do experiment with it this fall. girl!
Do YOU like wearing bodysuits? I've been kind of obsessed lately and now have three from not having any within a couple of weeks. I love the idea of not tucking because it's so annoying to constantly fix myself each time I get up, haha.
Also, how would YOU define your personal style and where do you find inspiration, do you have a muse?
Thanks so much for stopping by, my dear friends, and I hope you're having the best week so far!
XO,