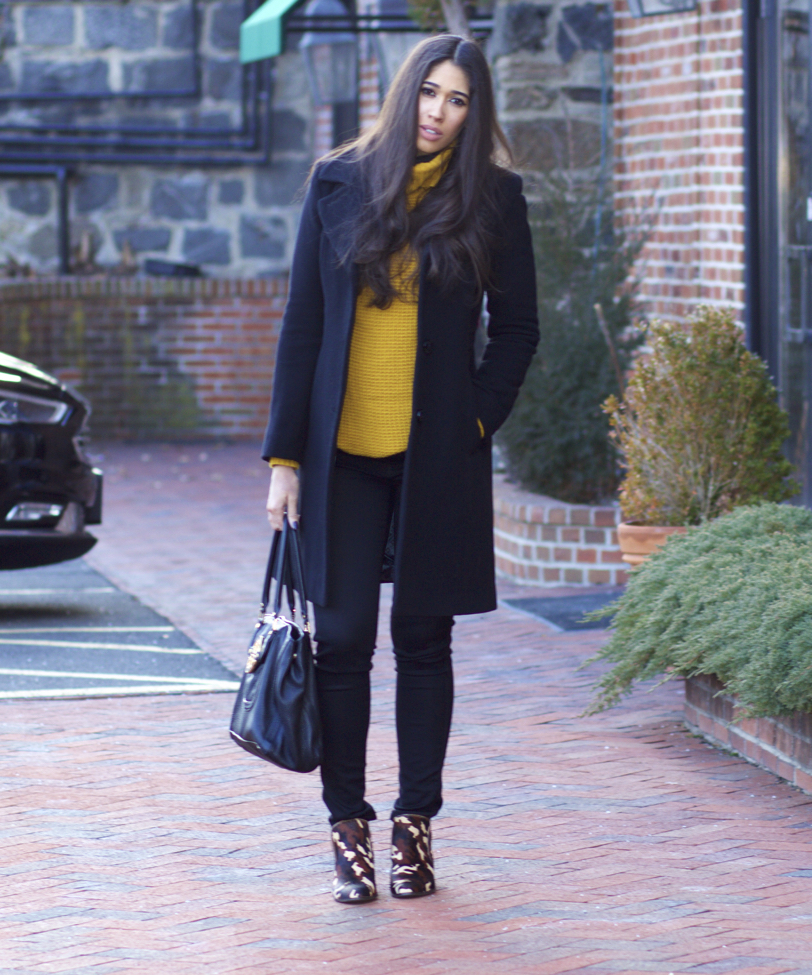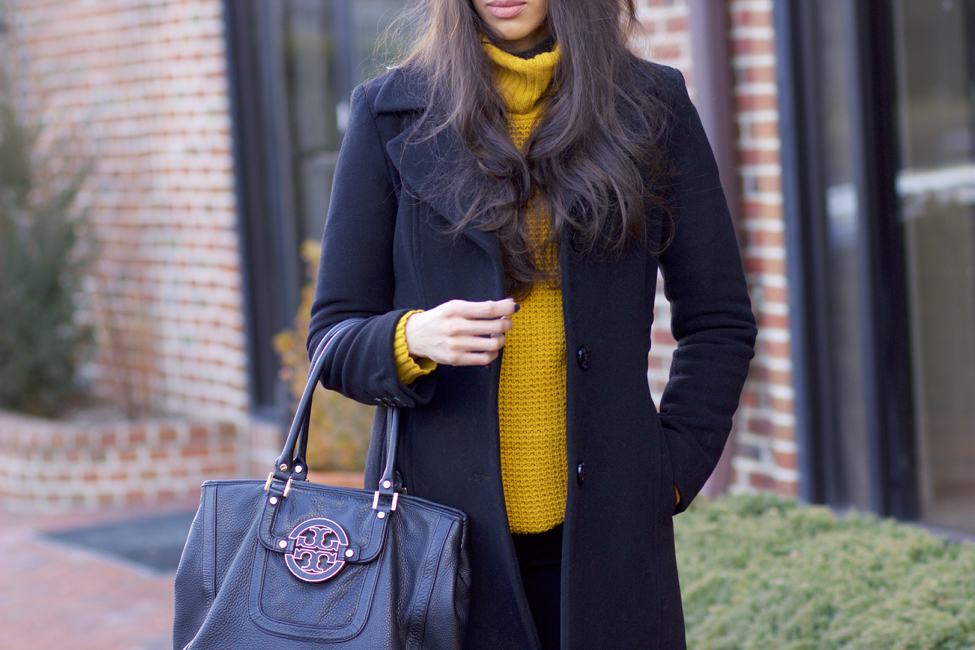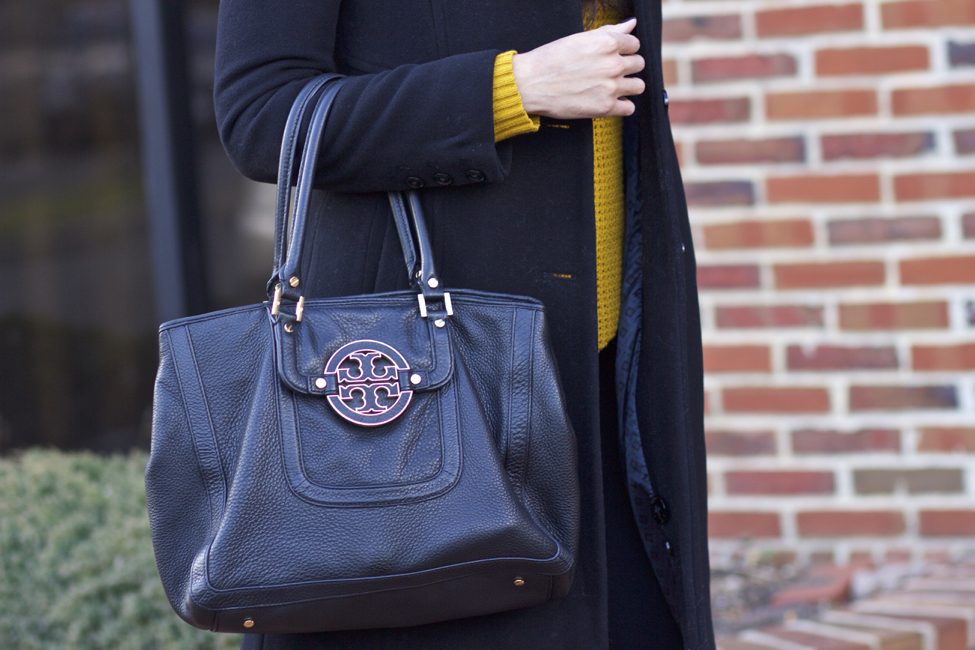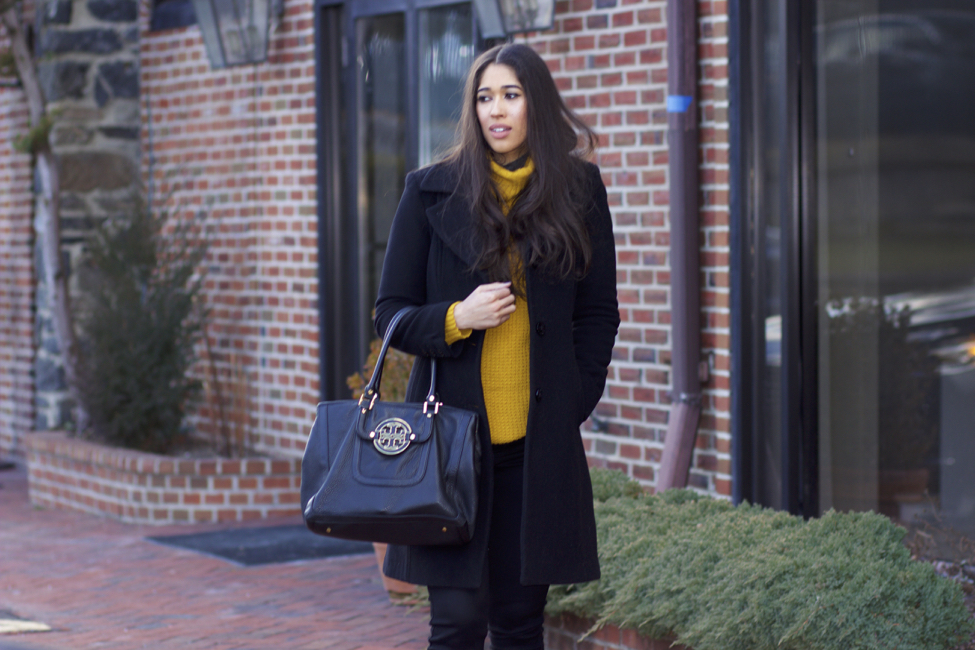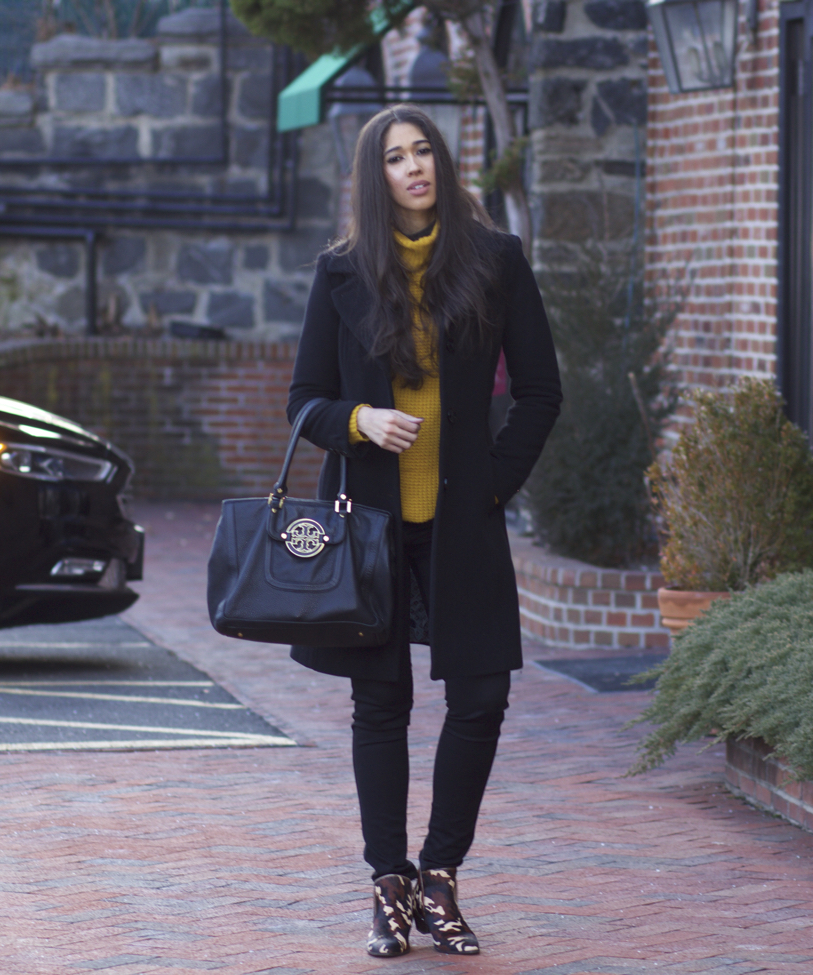 Coat: Anne Klein | Sweater: Similar Here | Jeans: New York & Company | Bag: Tory Burch (I love this one!) | Boots: Nina Originals
Happy Friday my beautiful friends!
These photos were obviously taken before the snowstorm we had yesterday, it snowed SO much!! I always love when it first snows, but after?! Not so much, haha. Maneuvering around it can be quite the challenge, either people are way too cautious on the road or drive like maniacs, very rarely is there a medium, haha.
Anyway, you want to know something really funny and weird? When I was in my first trimester, I hated mustard yellow, I couldn't even look at it without feeling nauseous (thankfully I haven't thrown up once!). Every time I would open my closet and see this sweater, it would make me feel so queasy, I had to shove it at the back of my closet, until now. Shortly after purchasing this sweater and wearing it once is when I started to feel that way, which is why I've only worn it once so far. Weird!
Colors are so impactful, they can affect your mood and that of those around you, enhance an outfit, and define a specific season, though with the latter I like to break free of any limitations and wear colors I love year round, just combined with other colors and/or hues that maintain that seasonal vibe, like in today's outfit. Mustard yellow is typically worn during the fall months, but pairing it with black or navy can make it a great option for the winter. Grey and white also look beautiful paired with it, but I typically combine them when transitioning into spring and summer (check out how I styled a fall orange sweater during last year's snow storm here).
Lastly I wanted to touch upon the coat I'm wearing, I absolutely love it! I've spoken about coats quite often this season, providing tips on what to look for when selecting a flattering style; this is one that's universally flattering. The straight cut and single breasted buttons create a nice slimming and lengthening effect to the body, making it a great option for women of all body shapes and sizes.
I hope you found some inspiration in today's post! Is there a particular color that's usually associated with a specific season that you love to wear all year long? I also wanted to apologize for my delay in responding to comments, as mentioned before, my only symptom throughout my pregnancy has been fatigue and well, it causes me to move at a really slow pace, haha. Thank you for your patience and understanding, my friends, and I hope you have the best weekend ahead!

XO,