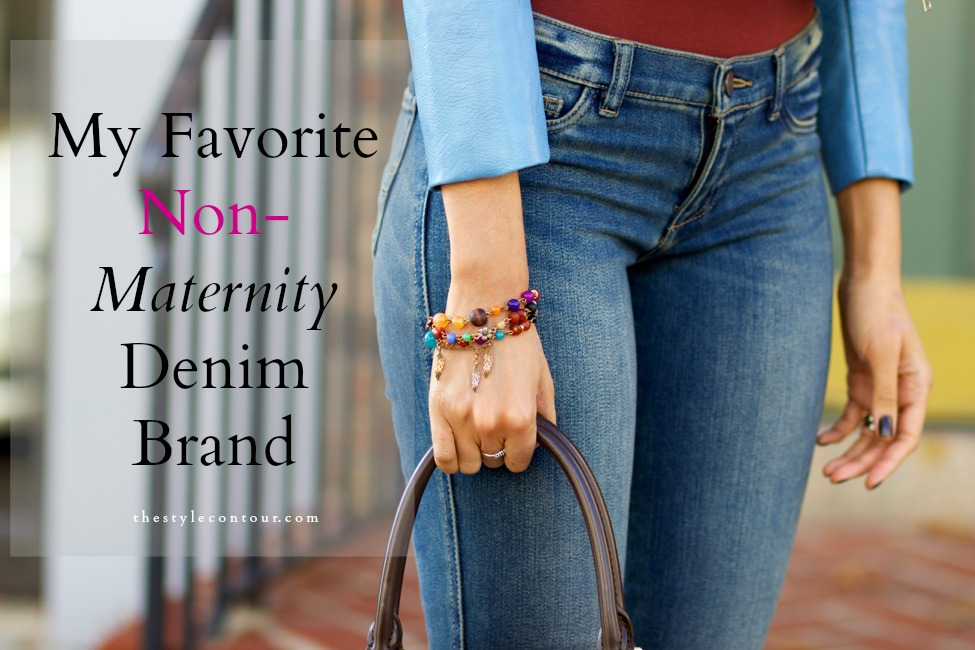 Happy Monday, my dear friends!
How was your weekend?! Mine was full of online shopping for baby girl...a little too much shopping, but hey, you can never have enough cute baby clothes, am I right!? I'm thinking of sharing a haul either on IG Stories or here on the blog, feel free to let me know if you have a preference; I know you guys will LOVE the pieces!
This week, I'm officially 20 weeks, I'm half way there, can you believe it!? I can't. Time is going by way too fast! I feel her kicking and she's developing a bit of a pattern with her kicks. She'll begin as soon as I wake up in the morning, after I eat, whenever I say, "baby girl", "little girl" or "princess" and when I play Baby Mozart, she loves it! She also does it when she hears Eddie's voice, how cute!?
Since I'm at the halfway mark, I've been noticing some clothing no longer fitting comfortably. At the same time, I've noticed that there's one particular brand of denim that I own that has surprised me and surpassed all expectations in terms of quality and durability and that's New York & Company. If you're a longtime reader of The Style Contour, then you've most likely realized that they're one of my most worn denim brands. I'm particularly fond of their Soho collection with the 'curve creator' design, but all of the entire is amazing. I've been wearing their jeans for years now (about 5-6) and all I can say is that for the price, they surpass the stretch and comfort of some of my higher end denim brands.
When you're pregnant, your hips begin to widen out in preparation for birth, you gain weight, and of course, your belly grows, which can prevent you from fully buttoning up your jeans, that hasn't been my experience with these jeans (the ones I wear aren't high waisted). This is not to say that it may not eventually happen, but I've come across a few articles in which women stated they were having a hard time at 16 weeks with their clothing.
That said, I highly suggest New York & Company jeans in general, pregnant or not. If you want to make your booty look good (who doesn't, right!?) they're curve creator is the way to go. The seams are designed in way that contours your figure and creates the illusion of a firm and toned butt, whether you naturally have one or not; they make you look and feel good. They're soft and move with you, they don't have that stiff denim feel. What's even better is that they often have B1G1 50% off or free, which is when I had stocked up on the pairs that I have; they run large, so size down (they also carry tall & petites, sizes 0-20!).
What's YOUR favorite denim brand (both maternity and non maternity suggestions welcomed)? Thanks so much for stopping by, my dear friends, and I hope you're having the best start to your week so far!
SOME OF MY FAVORITES FROM THE SOHO COLLECTION

XO,