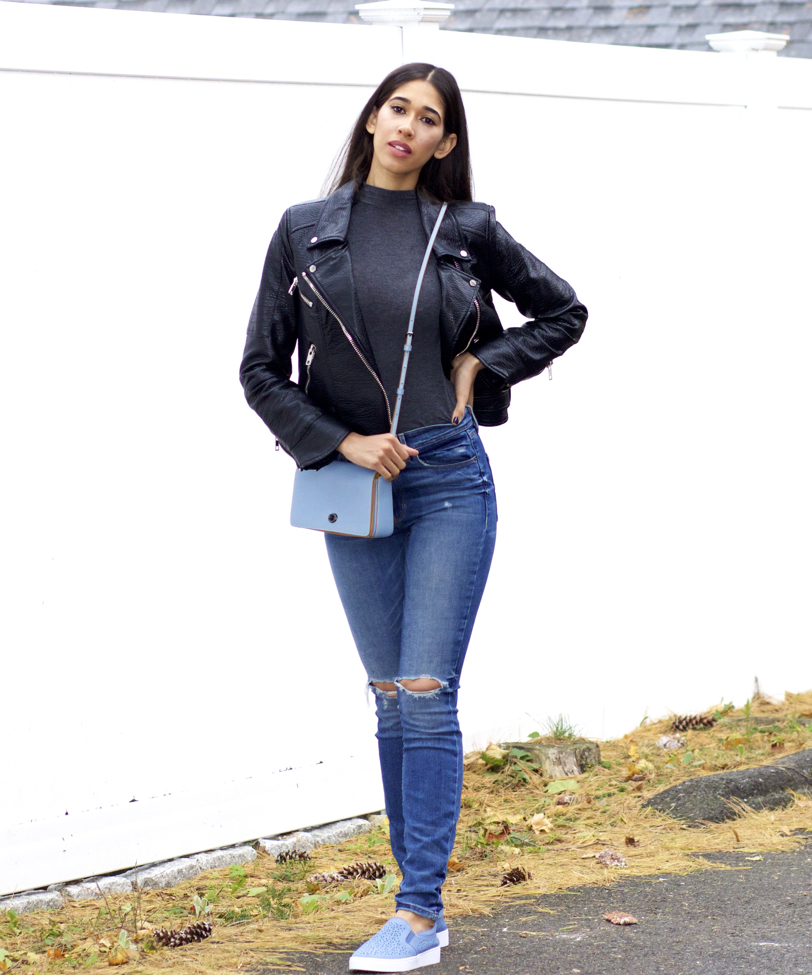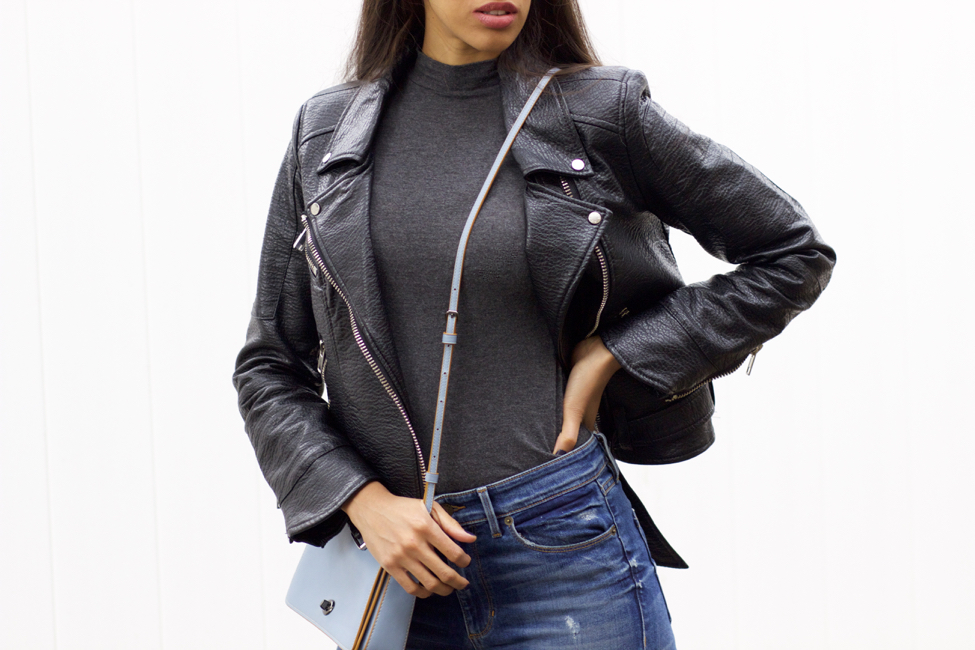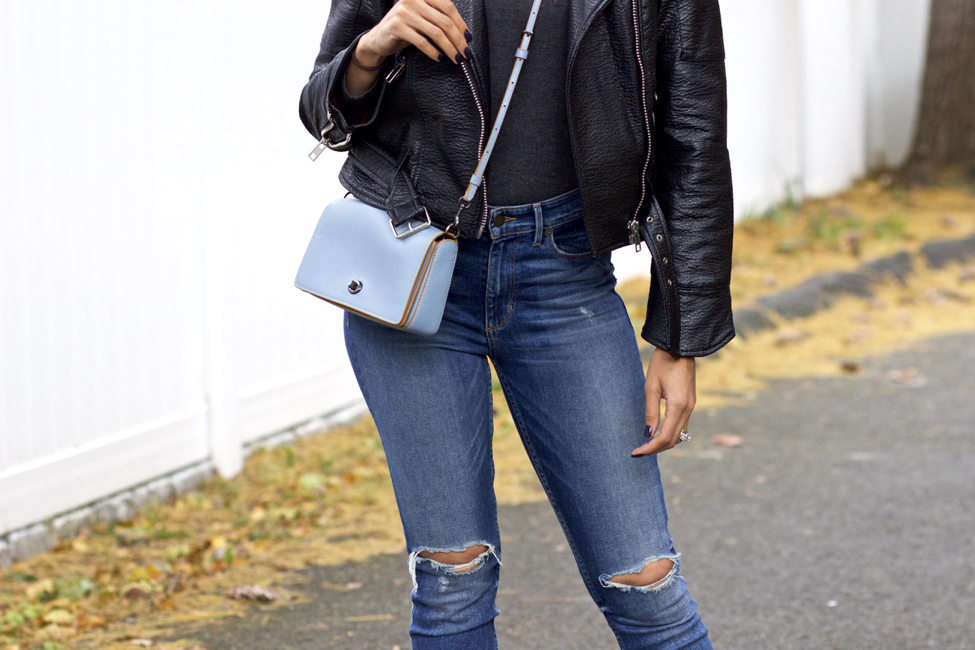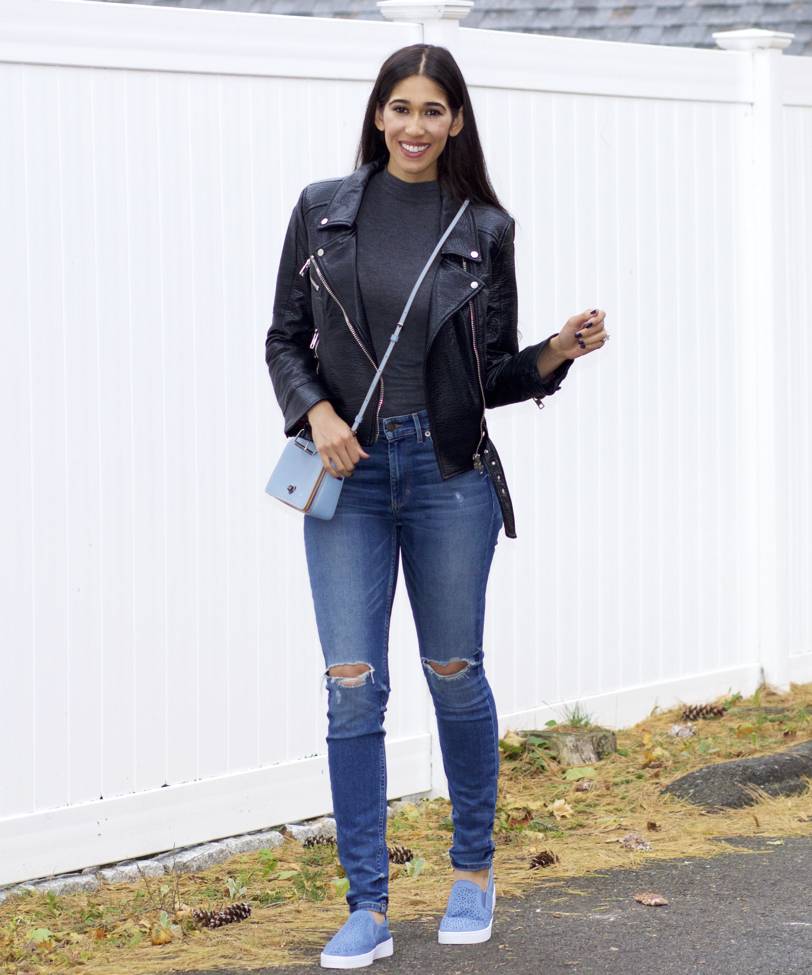 Jacket:Similar | Turtleneck: Similar | Jeans: Similar | Bag c/o | Shoes c/o
---
---
Happy Wednesday my sweet friends!
It kind of went from fall to winter here in Connecticut and to be honest, I'm not all too happy about it. I love getting the most out of every season and so when one seems to end abruptly, I'm bummed. This is supposed to be the time of year that the leaves reach their peak here in the northeast, but most of the leaves are dead or have fallen. Boo.
I wore this outfit the other day when it wasn't too cold and it made for a more practical combination. When fall rolls around, I look forward to breaking out all of my leather pieces. Along with faux fur, it's one of my fall obsessions, as well as blanket scarves, as mentioned in Friday's post.
Though they're one of my favorite pieces, I must admit that finding one that ticks all the right boxes can be quite the challenge. You may have a set budget, prefer faux or genuine, color, shape, length, fit, details, etc. I will say that a black one is more practical for most people's wardrobe, regardless of personal style. When it comes to moto or a more tailored fit, you should consider when and where you'll be wearing it most. If it's for more casual looks and settings, then a moto would be a great option and they're quite easy to find, since they're one of the most popular styles.
However, with the moto styles comes a risk of bulkiness, since the lapels tend to be large and wide, though this isn't always the case. If you happen to come across one you love that is and you feel it makes you appear bustier than you'd like as a result, then I'd suggest you opt for a longer style that isn't cropped, falling around the hip bone. Other than that, when it comes to black moto jackets, I think everyone can embrace them as opposed to other colors in the style. As we know, black visually slims, so there's not much of a difference when done with textures, such as leather.
If you'd like to read more on what I have to say about leather jackets, check out my Fall Essential: Leather Jackets post, in case you've missed it!
I hope you're all having a great start so far and I look forward to chatting with you again in Friday's post!
XO,