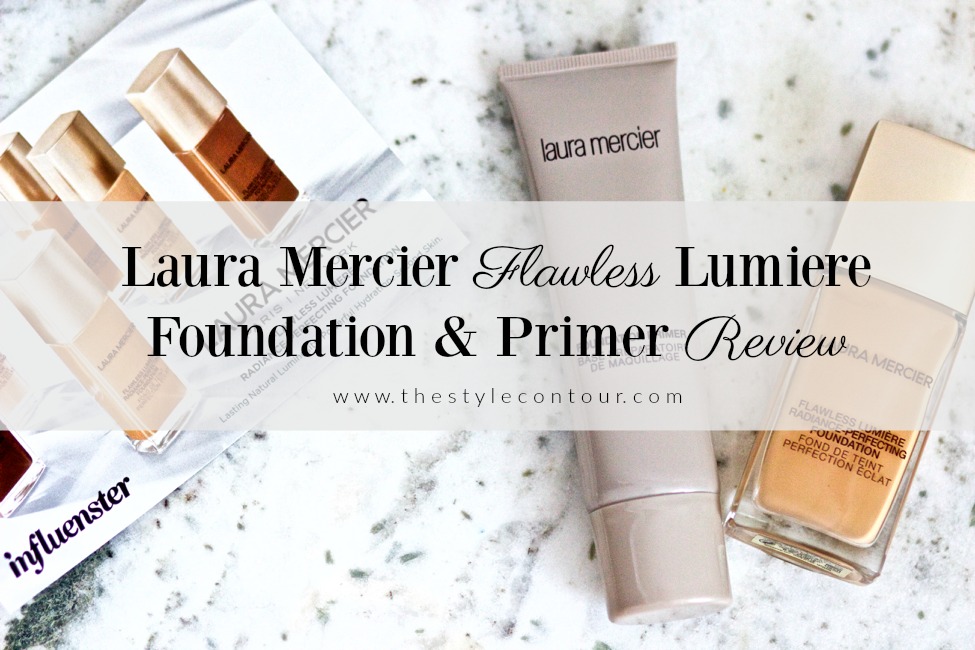 ::SHOP THE POST::
---

---
Happy Tuesday beauties!
Towards the end of January, I received the Laura Mercier Flawless Lumiere Foundation Vox Box, courtesy of Influenster. I've personally never tried any Laura Mercier products before, but have heard such great things about the brand overall, but specifically on the cult favorite translucent powder, which I've yet to try by the way. Have you?
This box showed up at the perfect time because I was running low on both primer and foundation. Though the Vox Box campaign is named solely after the Lumiere foundation, they also included the basic Foundation Primer as well. I not only tested how both worked together, but how each worked individually using either another primer or foundation from another brand to see if there was a notable difference, which there was...continue reading to find out more!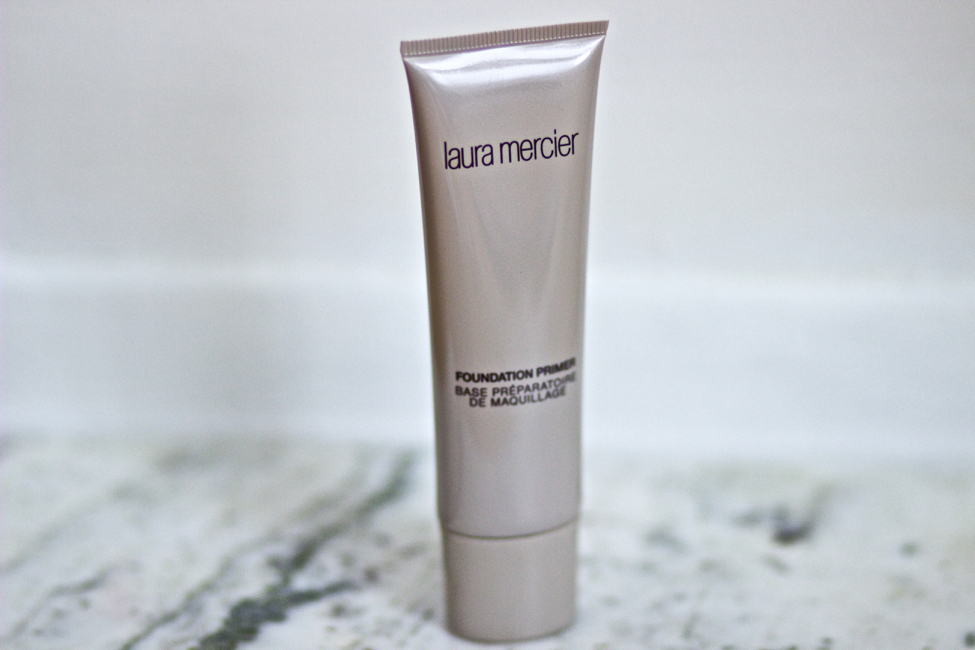 On Sephora's site, this primer claims that your makeup will stay fresh and will expertly hold your foundation for hours. That wasn't the case with me. I have combination/oily skin, which can make finding the right primer and foundation that much more challenging because after quite a few hours, your makeup can look like it's literally melting off. So for me, it's essential to have both work together (not necessarily from the same brand) in creating somewhat of a matte surface for more than just a couple of hours.
I've tested this out two ways. The first time, I tested it out with the foundation and after about 4hrs or so, I noticed that my makeup started to separate around the center of my face where I get the most oily. It eventually started to separate and look blotchy. I then tested it out with a foundation from a different brand and noticed the same results, which lead me to believe that it was the primer and perhaps not the foundation.
As you all know, I highly prefer all natural brands or at least those that don't contain all the parabens and chemicals found in most cosmetics. I was disappointed to learn that this product isn't at least somewhat clean. I know there are brands that aren't entirely clean or organic, but at least offer some products within the brand that are. Not this one and though it does boast of some good for your skin ingredients, such as vitamins A, C, and E, I don't see how you can truly get the benefits that these vitamins would otherwise provide, if they're mixed in with a bunch of chemicals that aren't good for your overall health, including your skin. For that reason and the fact that it didn't deliver in its claims for my skin, I will not continue to use it nor suggest it, particularly if you have combination/oily skin and/or prefer cleaner alternatives.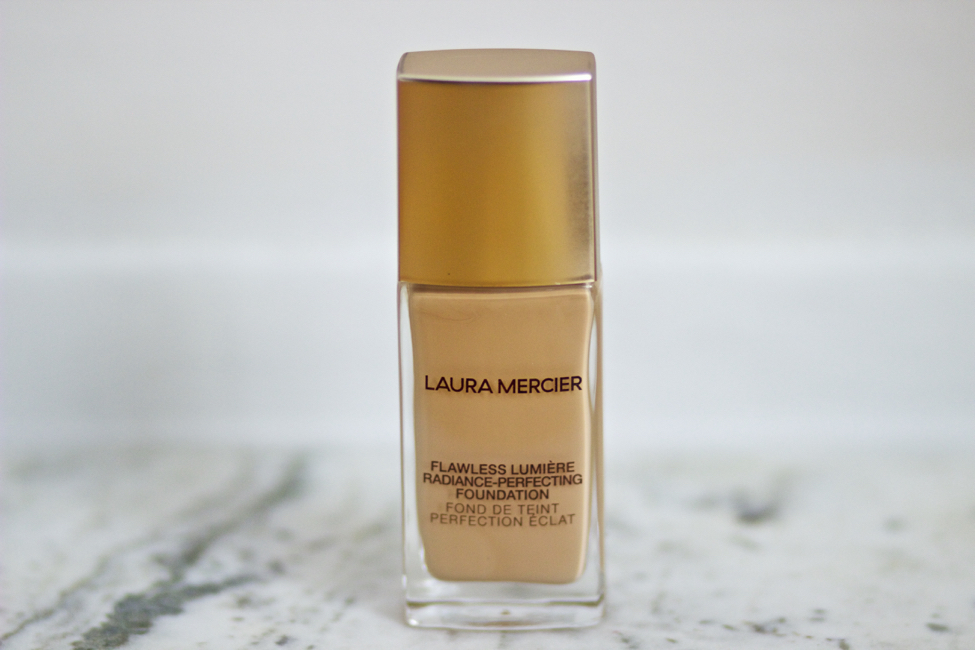 FLAWLESS LUMIERE RADIANCE PERFECTING FOUNDATION
I first want to take the time to applaud whoever was in charge of color matching in putting this Vox Box together. I was simply given a quiz with a bunch of swatches and asked which ones looked the closest to my skin color and tone. I was given 3C1 Dune and it was such a perfect match! At first it looked as though it would be a bit too light, but once blended in and applied with the rest of my makeup, it made for a perfect match.
I like the fact that it's in a glass bottle, as it's easier to see how much product you have left. I also love the fact that it has a pump dispenser, which makes dispersing the product that much easier. The gold cap adds a nice luxurious touch, which would look pretty displayed on a vanity. Presentation aside, I'm sure you want to know how the foundation looked once applied and how it held up throughout the day. I would describe this as a medium, build able coverage, which is what I tend to go for when shopping for foundations, at least during the fall and winter months.
On Sephora's site, the foundation claims to create a radiant effect, which I personally didn't notice. In fact, I noticed more of a matte finish and matte and radiant don't typically go hand in hand, at least in my book. I typically associate radiant with more of a dewy, satin-like finish. The claims are based off a study done on 29 women and having a background in science, that isn't enough solid data to present claims off of.
It also claims to resist oxidation, due to its color true pigments and I can certainly attest to this. As with the primer, I tested the foundation with the primer I was given, as well as one from another brand that I've used for several months. It worked better with the one from the other brand than with the Laura Mercier one. I didn't notice any separation and my skin didn't look oily. It contains silver ear mushroom, which is supposed to help in diminishing the appearance of fine lines and wrinkles, which I didn't notice, though I don't have many. I love the fact that it contains vitamin C, which as many of us know, is so good for your skin. I always feel good when wearing foundation that contains it because I also use skincare products that have it as well, so I feel like I'm giving my skin a double boost.
In addition to the good for you vitamin C, the foundation doesn't contain sulfates SLS and SLES. Though I think that's great, I would've liked for it not to contain any other forms of sulfates, as well as parabens. Why were those two able to be omitted? Go the extra step and eliminate all! For a foundation that's nearly $50, I would expect for the ingredients to be clean. The other foundations I use from brands, such as Tarte and Mineral Fusion are cheaper and don't contain those ingredients, but this is my particular preference.
Aside from ingredients, I think this foundation, overall, held up to its claims. I personally won't repurchase since foundation is a product I use most often, therefore, would want cleaner ingredients. When it comes to blush or highlighter, I could be a bit more lenient because I can switch up different brands and colors, not the case with primer or foundation.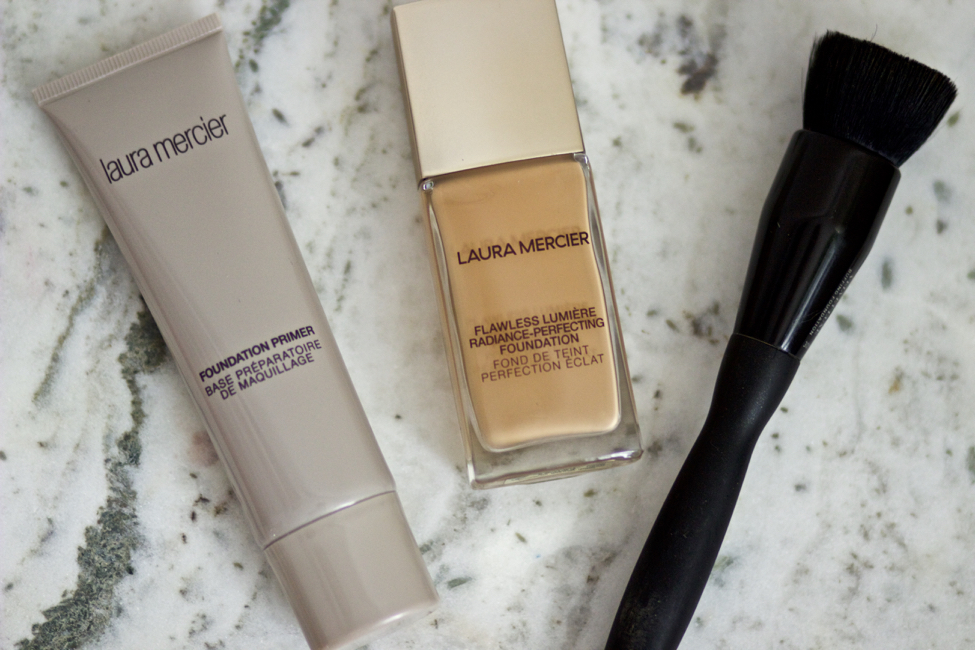 I hope you found this review helpful, especially if you're in the market for a new primer or foundation. Or perhaps you're like me and have been curious about the Laura Mercier brand. Though this review isn't one on the brand as a whole, it shares some thoughts on a couple of her products out of the many. Thanks so much for stopping by and I look forward to seeing you all in tomorrow's post!