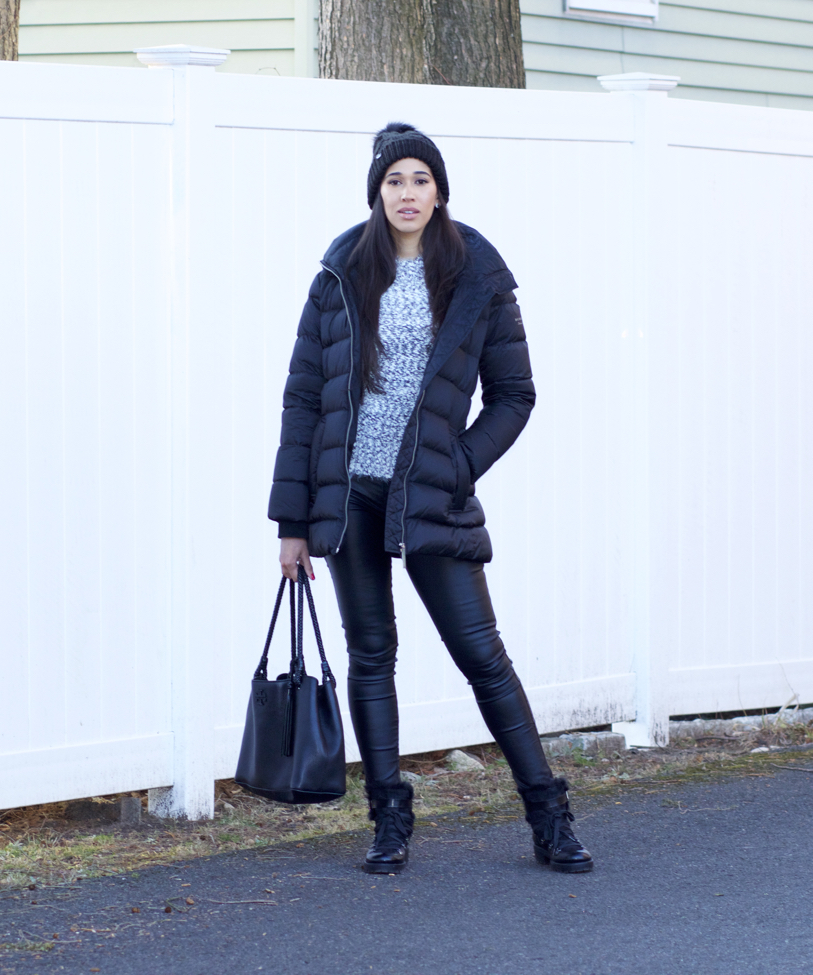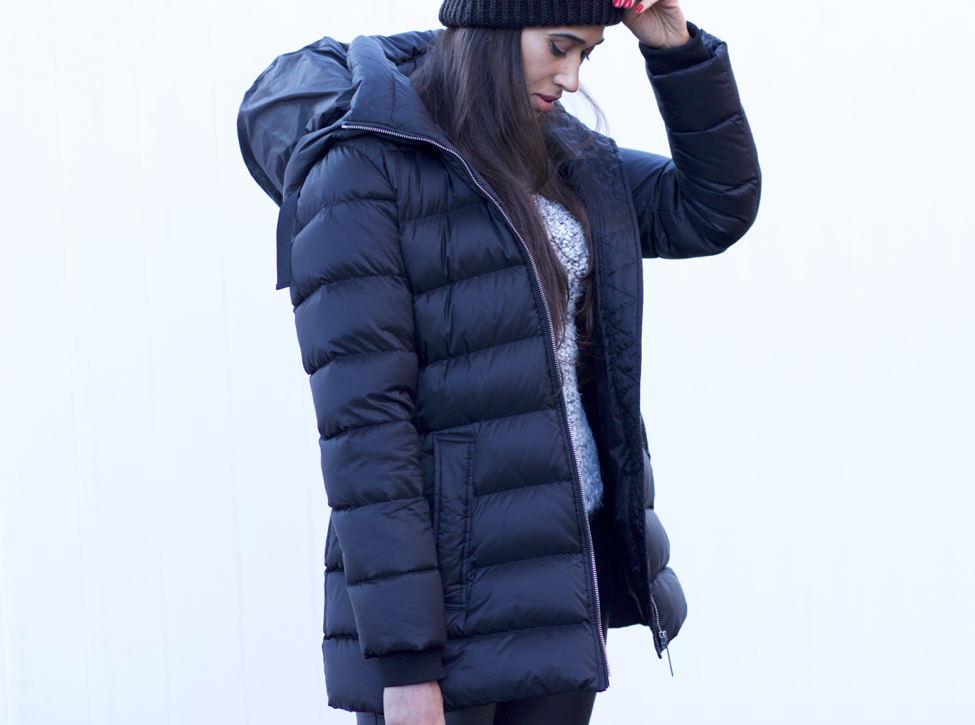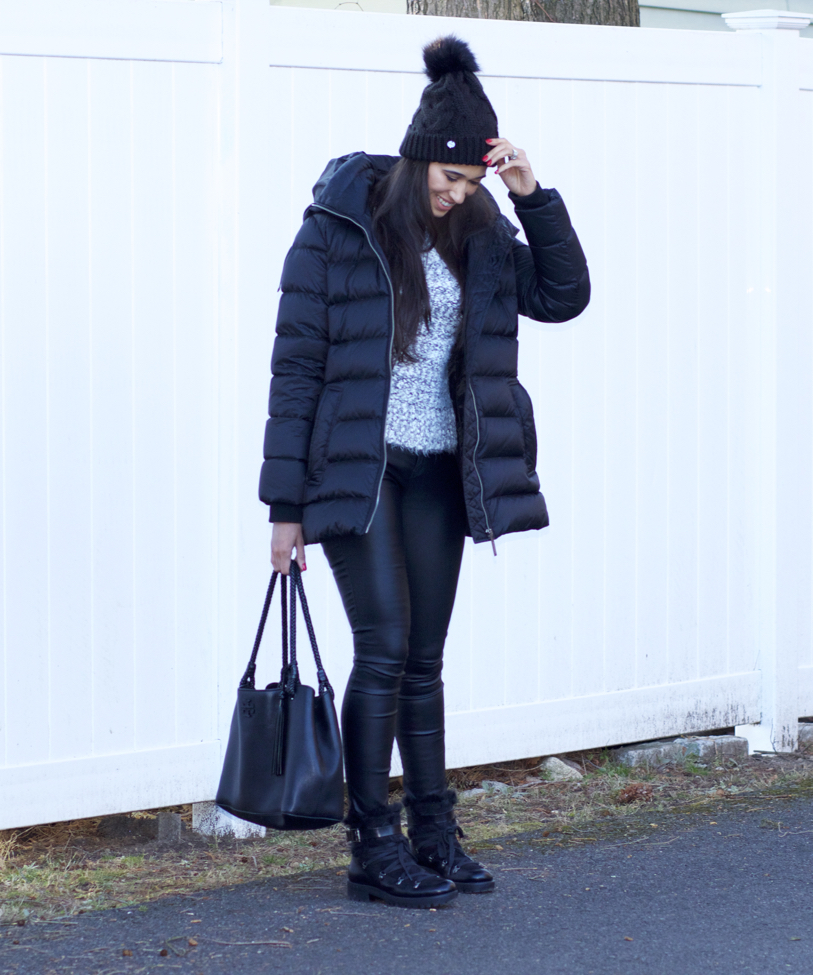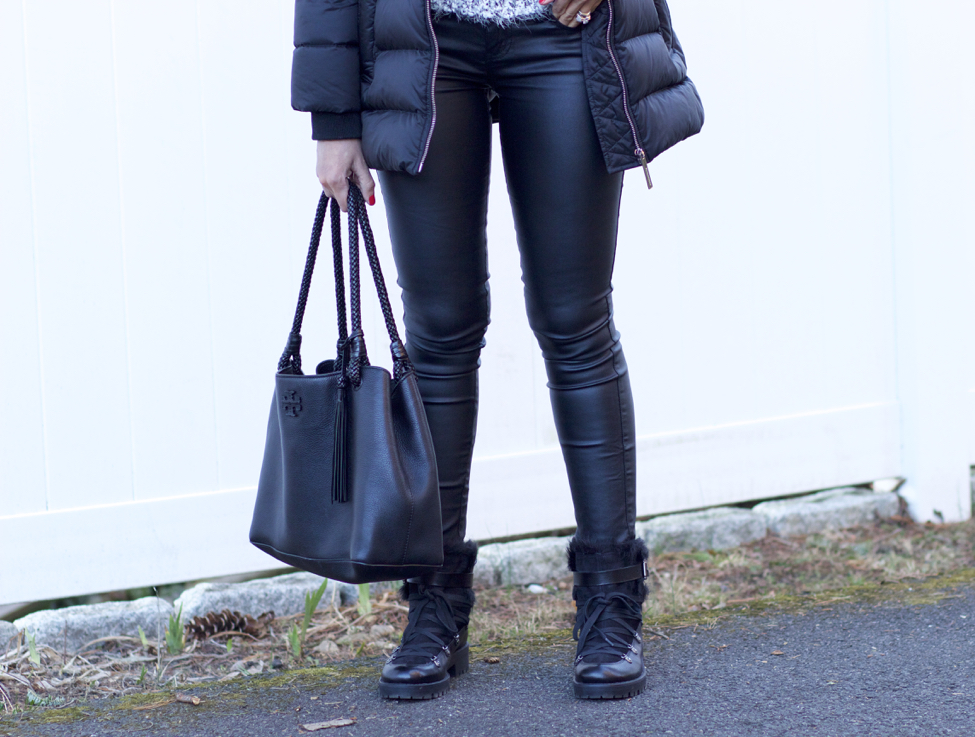 COAT (on sale 30% off!) | SWEATER: Similar) | COATED JEANS: Similar) | BAG (on sale! Black sold out) | HAT: Similar | BOOTS: Similar
---

---
Happy Monday friends!
I hope you all had a wonderful weekend! We had our first snowfall this year, which was exciting because my sister-in-law gifted the girls some snow toys for Christmas. One of which was a snow mold, which is pretty cool and makes for something different to do other than making plain snowballs. These photos were taken before it snowed and is the kind of outfit I like to wear when I'm out and about after a snowfall or when it's just plain cold! The goal is always to be practical first, while keeping a cute, put together look in mind.
For starters, you need a warm coat. I have quite a few coat styles in my collection that server their purpose and a good puffer is perfect for the snow. They're often insulated, which helps keep you extra warm. This one came with a belt, but it became a hassle, so I just removed it. I don't mind how it looks without it, since it's still very flattering. Though this is a very warm coat, I always wear a sweater underneath. I'm definitely not one of those who can sport a t-shirt under a puffer. I've seen quite a few people do this and I usually have a blank stare, like HOW? I love this fuzzy one because it can easily be dressed up or down. I've actually worn it a few years back with a blue suede mini skirt (check out that post here). Today, I went for an edgier and more suitable combination for the frigid temps by pairing it with leather coated jeans.
Leather coated jeans are something I feel that every woman needs in her wardrobe. Regardless of your overall personal style, it's a great alternative to denim and a more dressy, yet edgy substitute for plain black jeans or leggings. I love the way the pair I'm wearing here look with the fuzzy sweater, as it's a nice texture mix. That's key when putting together a comfortable, yet stylish outfit when it's freezing. There's really no other time of year that you can experiment with various texture combinations, so make the most of the season by exploring and seeing what works for you!
With that, my shoe collection has grown immensely since first having Aviah, mainly my flat shoe collection. I've always had a deep love obsession for heels, but I must admit that they're not always practical for my lifestyle with two babies. Since I've had to consider this huge lifestyle change, I've made it my point of interest to purchase flats that are unique in their own right. I want to want to reach for them, even when I'm dolo. Is that word even around still? Lol!
Anyway, I love that these hiker style boots have a little faux fur and leather, fusing edgy and fab. I found this pair, which are quite similar.
If I know I won't be carrying Ariah in her baby carrier, I'll typically have a blanket scarf. They're not only an essential, especially if you commute, but there are so many different styles out there, I'd say they're one of the easiest and most affordable ways to make your winter look stylish. 90% of your outfit is covered up by a coat anyway, so cute hats, scarves and gloves can really help to switch things up, especially if you tend to wear the same coat everyday, which most of us do.
I hope you enjoyed this post and found some helpful ideas and inspiration to pull from when getting dressed to stay warm and cute! Thanks so much for stopping by, my friends, and I hope you have a great start to your week!