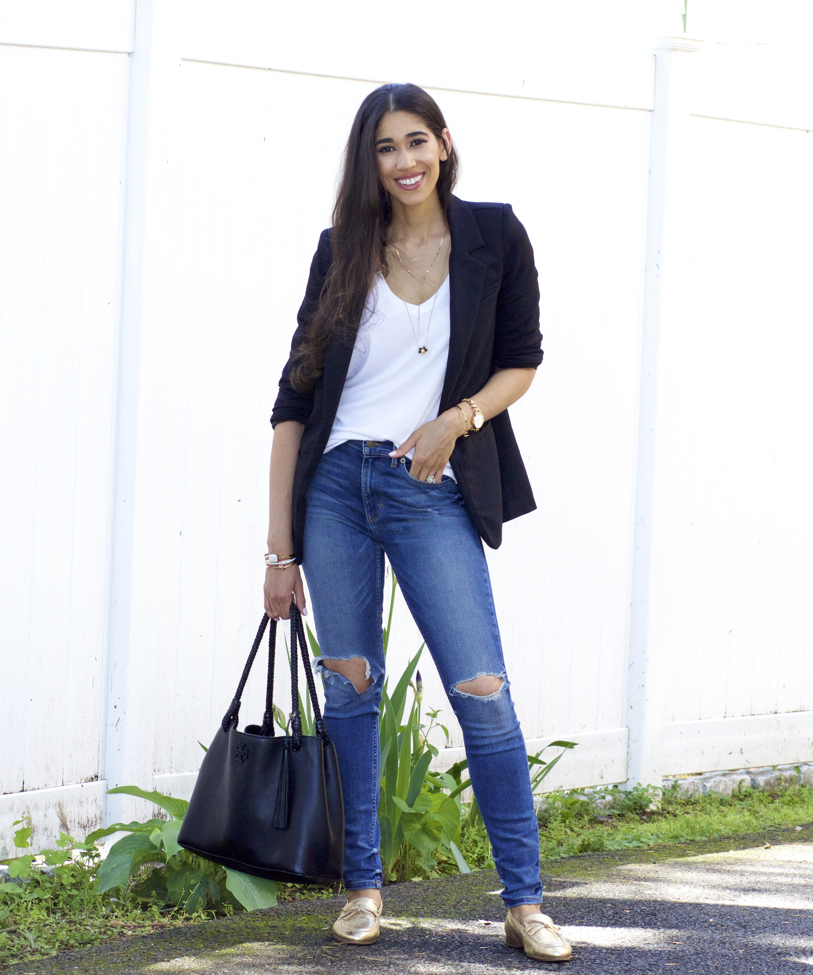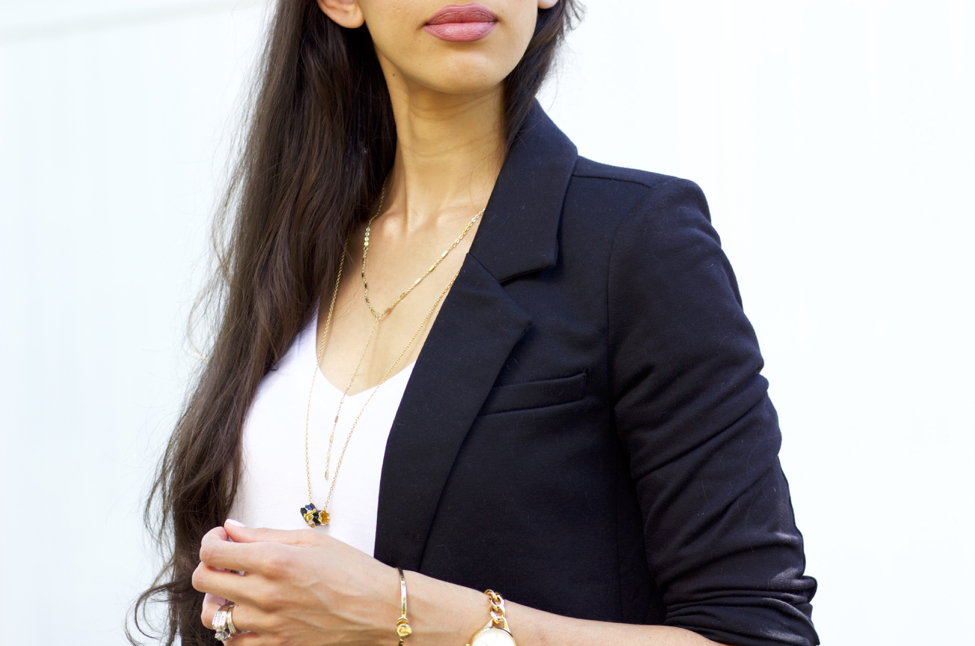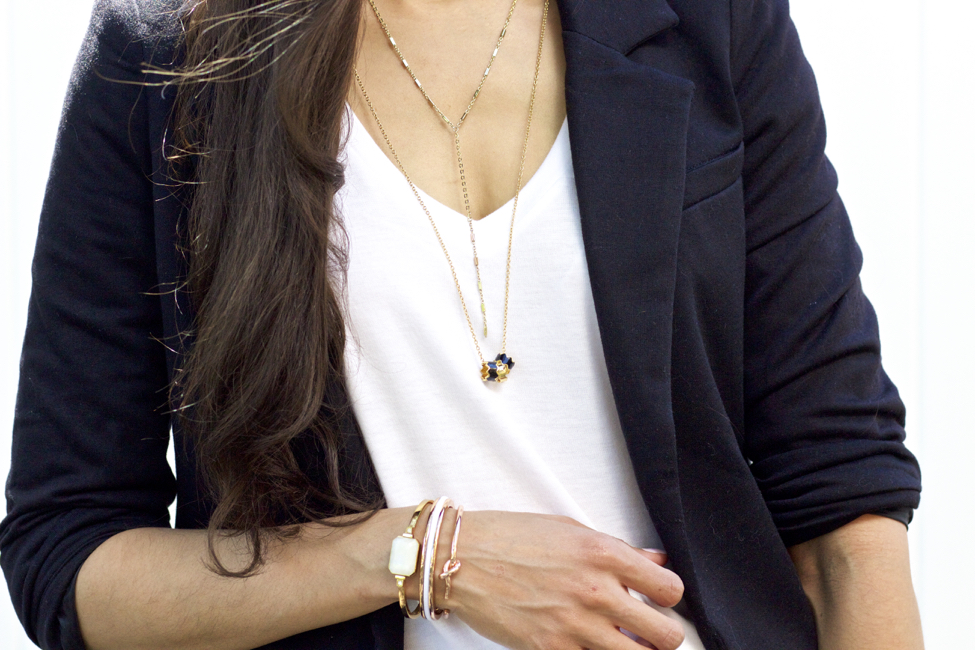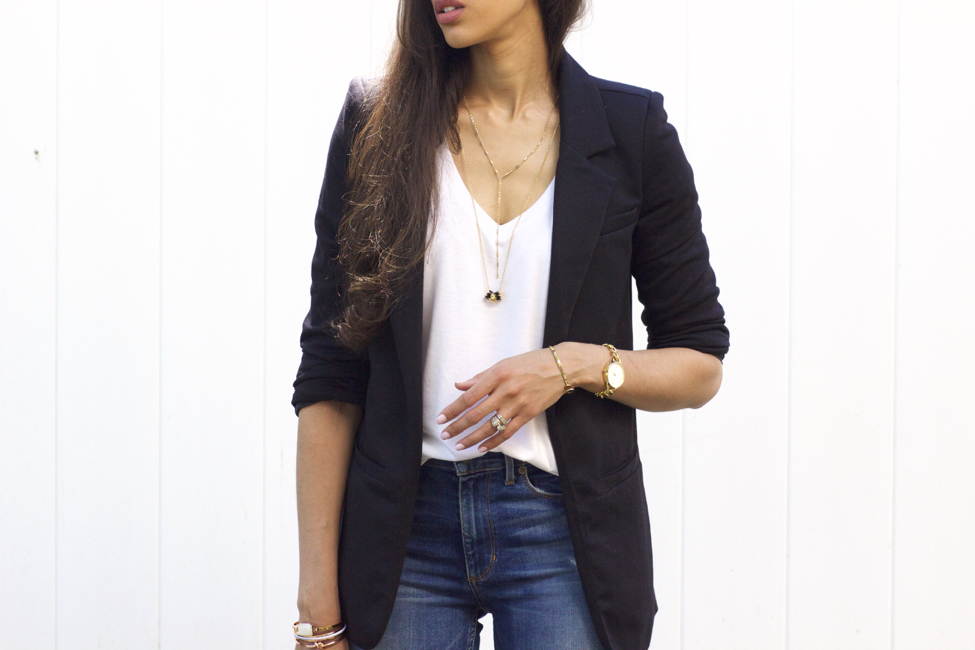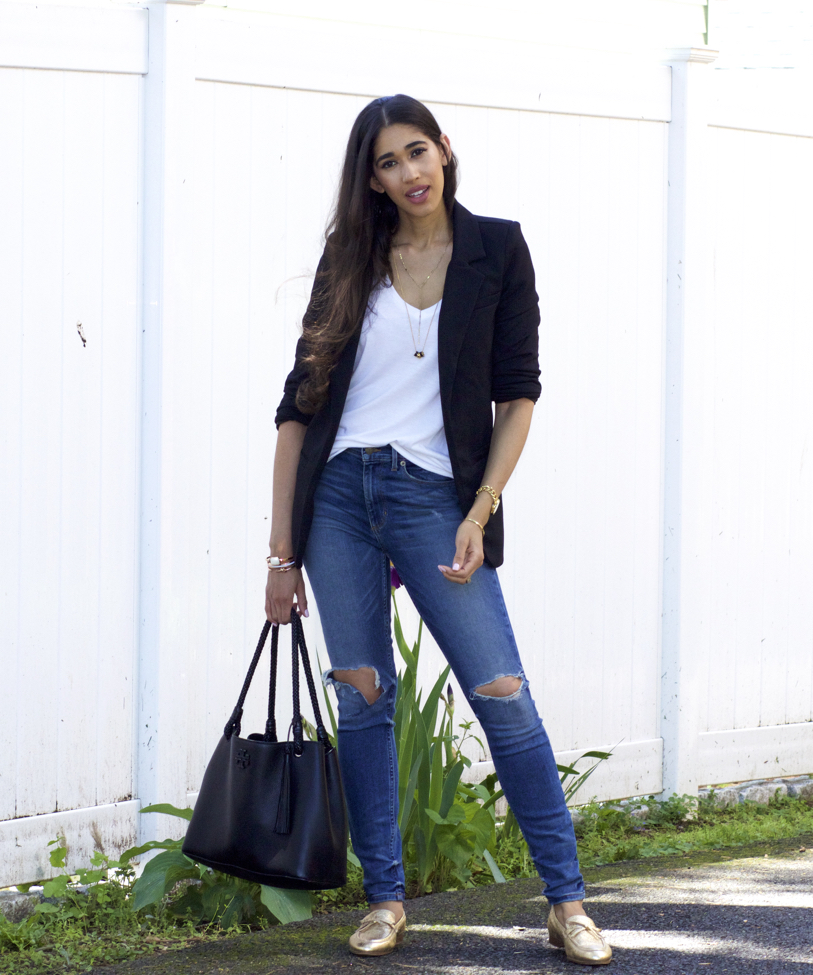 BLAZER: Similar | TEE *ON SALE FOR UNDER $15!| JEANS: Similar | LIAT NECKLACE C/O | WATCH C/O | LOAFERS: Similar | BAG: Similar
---
---
Happy Friday my beautiful friends!
I'm sure many of you, like me, find yourselves on a crunch for time when getting ready to head out the door sometimes. On days like this, there's usually something that happens that disturbs the flow of me getting ready and before you know it, I look at the clock and I have about 20 minutes to get both me and Aviah ready to head out the door. Whether you're a mom on the go, heading to work or school, we all experience this every now and then and want no fail looks that we can turn to for days like this as a result.
YOUR ALWAYS CHIC 3 GO-TO PIECES WHEN ON A CRUNCH FOR TIME
My best solution is a blazer, layered necklaces, and chic flats—that's it. Your top and bottoms will vary depending on where you're going and the dress code required. If you work in a more creative environment or one that's more lax with their dress code policy, you may get away with a tee and jeans. Otherwise, you can layer a pretty blouse paired with a skirt/pants. I will say that on days when you're short on time, avoid wearing printed tops. It will require you to pair it with a blazer that compliments the print.
Instead, opt for either a white or black blouse and allow for the blazer to be your statement and finishing touch. Even if it's a white and black contrast, like the one I'm wearing, the contrast is quite stark, so it makes for an instant statement. A layered necklace always adds a nice touch; you can find ones that have a layered design already, so you don't have to do any of the work of adding piece by piece, which can take up extra time.
Lastly, you can never go wrong with a pair pointed toe flats. What I love about them is that though you don't have the heel for added height, the pointed shape alone can create an elongated effect and can refine your look.
Now you have 3 go-to pieces for when you're on a crunch for time!
When it comes to makeup, I like to concentrate more on my eyes by lining both my upper and lower lids and add some mascara. It makes for a dramatic and intense look without having to apply eyeshadow. I'll also add in a bit highlight in my inner tear duct to brighten the eye a bit. I'll then add some blush and a sweep of highlight for a glow to the face. Lastly, when it comes to lips, I often go for a nude with either a pink or brown undertone.
I'd love to know what are some of your go-to looks for both getting dressed and doing your makeup when you're on a crunch for time?
Thanks so much for stopping by, my dear friends, and I hope you have a great weekend ahead!
XO,