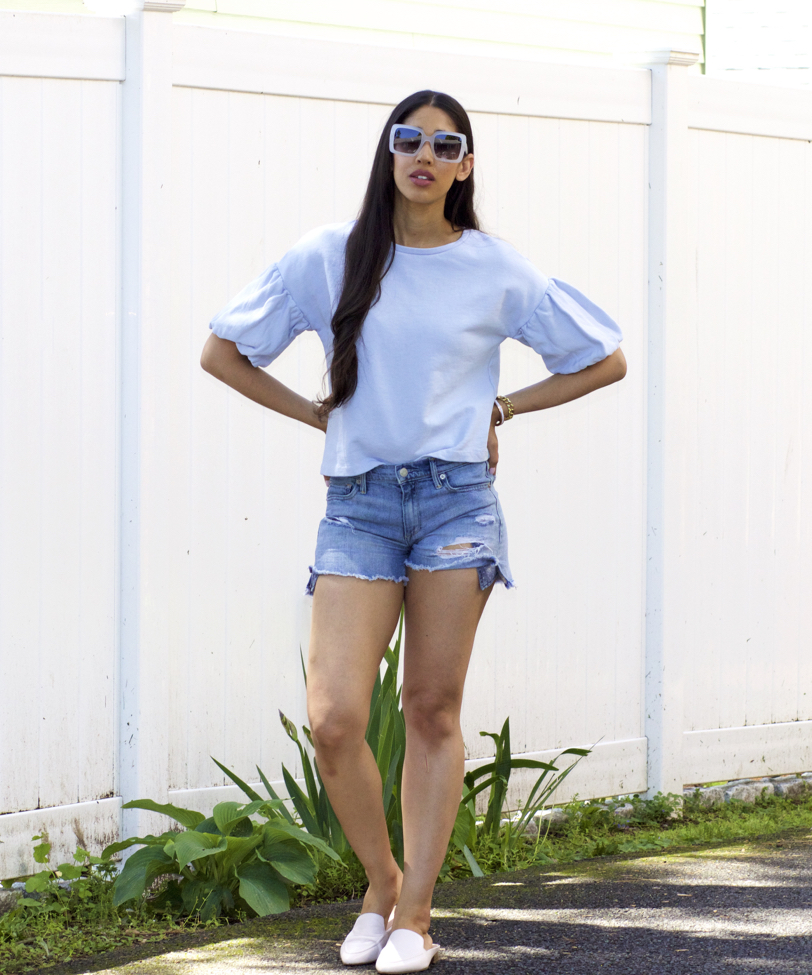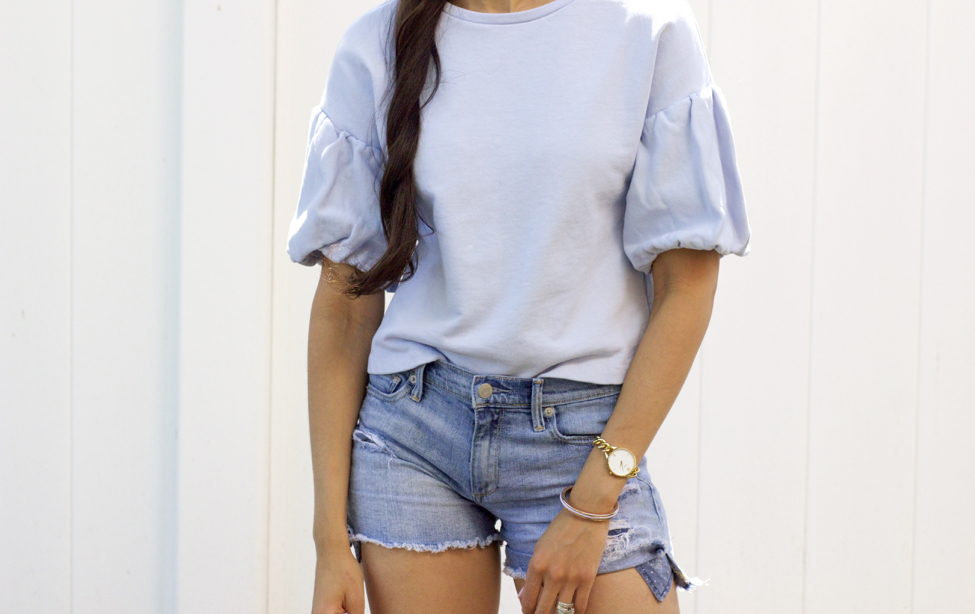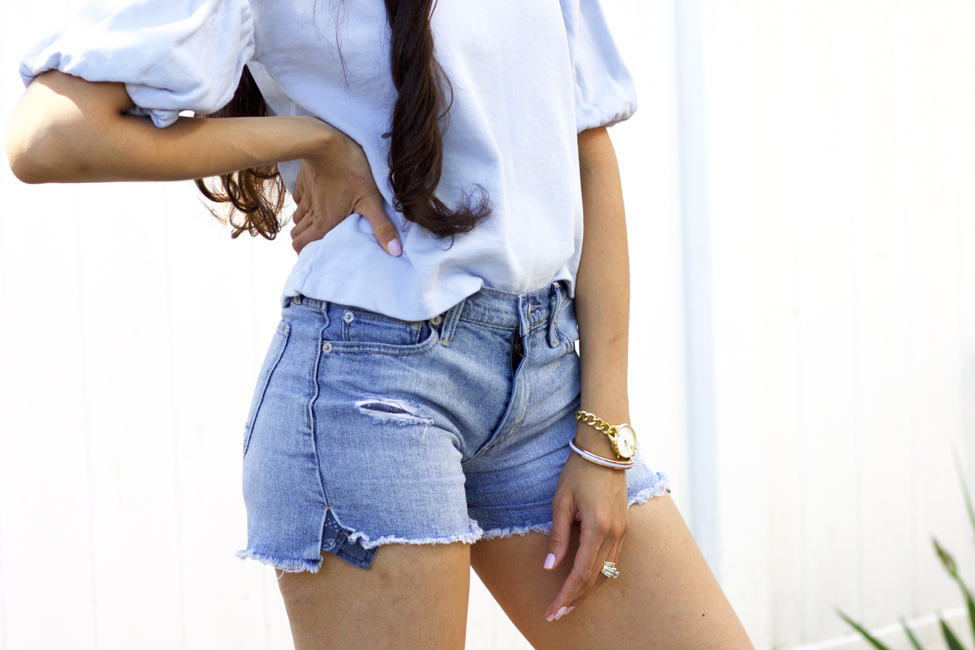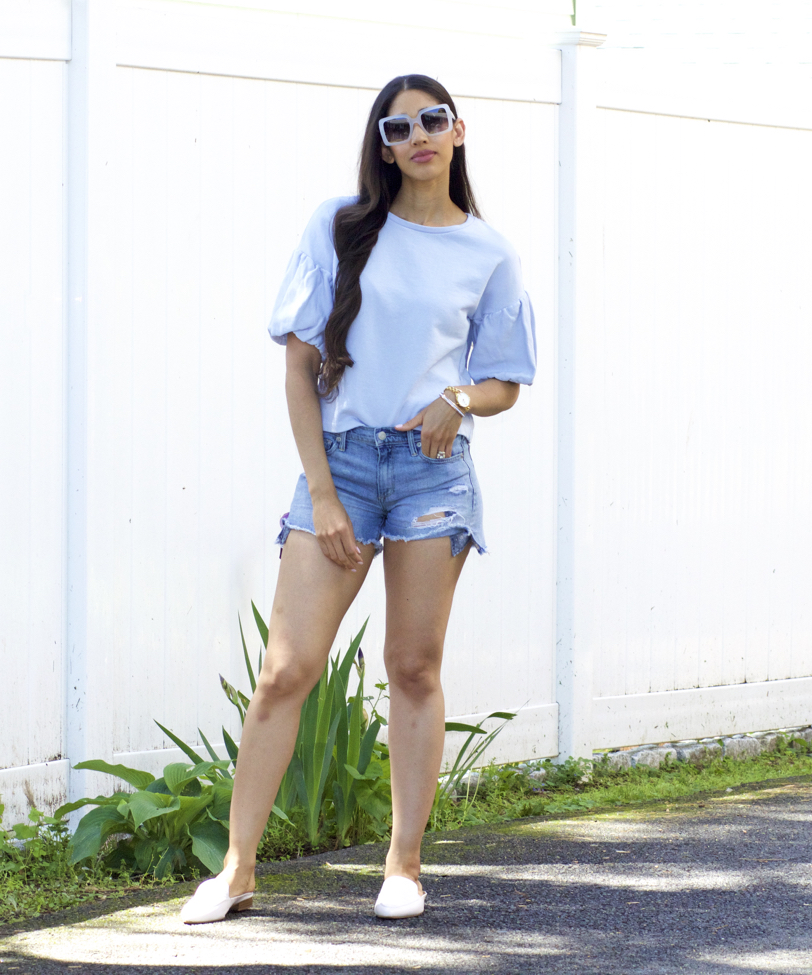 SWEATSHIRT: Similar | SHORTS: Similar | SUNGLASSES & WATCH C/O *USE CODE THESTYLECONTOUR TO RECEIVE $15 OFF YOUR ORDER!* | MULES
---
---
Happy Wednesday my sweet friends!
How was your holiday weekend? We had a great time grilling, though it was a bit chilly and gloomy. The weather has been so crazy these past couple of months especially. One day it's extremely hot and humid and the next it's chilly and rainy and what's even more crazy is that we're about to enter into June! How's the weather where you are?
Anyway, let me first start off by saying these shorts aren't as short as they look in these photos. I think it's the way I'm standing that's making them look like they're booty shorts, but I assure you they're not, lol. They're from GAP a few years ago and they've been by most worn, favorite pair. I've tried my luck on snagging a pair of black ones during one of their amazing sales, but they were really short and had to go back. Wish me luck in my search because I'm in need of a pair of black shorts!
Today, I'm styling these blue denim pair with a balloon sleeve sweatshirt I picked up during the winter and shared in this blog post. It's unfortunately sold out, since it's taken me forever to wear it, but I found one that's quite similar here.
I've mentioned time and time again that since having Aviah, I look for pieces that are comfortable, yet have some sort of detail that dresses up the look, adding something interesting. I think many of us tend to look for this in our clothing during the summer months especially because who wants to sit in front of their closet thinking of what to wear when it's just way too hot to even think?
BALLOON SLEEVES, ARE THEY FLATTERING?
You all know how much I loved balloon sleeves during the winter, as I styled quite a few sweaters with the detail. I'm glad to see that it's transferred over to summer clothing with short sleeves, too. It adds such nice touch of drama that's practical, though I will warn that with the short sleeved versions, it can make the arms appear larger. So, if your arms are something you're insecure about or don't wish to draw attention to, then you may want to avoid the short sleeved styles. The longer sleeves don't have that same visual effect, since they don't stop at the fullest part of the arm. Of course some basic styling strategies, such as distressed jeans, ruffle denim, or flares can help to offset the effect. If, however, you wish to balance out your bottom curves or draw attention to your upper body, then the voluminous sleeves will help do just that.
CURRENT HOLIDAY SALES
Have any of you been taking advantage of the sales that have been going on this week? Nordstrom has their half yearly sale going on, but I actually did a bit of shopping at Nordstrom Rack. I got these Marc Fisher wedges that are under $100 and can't wait to begin styling them! They're so unique and I've read such great things about their wedges and how comfy they are. As you know, I've been wearing a lot of chic flats, since they're more practical for when I'm out and about with Aviah. Having shoes that can provide both hight and comfort is definitely appealing to me, so I'm looking forward to wearing them.
I also snagged these super cute frayed ruffle hem jeans that were almost 60% off by BLANKNYC. I love their vegan leather jackets (I have two), but have never tried their denim, which I've also heard great things about. I also got another pair of their jeans, but just a fairly basic black distressed pair.
Well, I hope you're all having a great week so far, my sweet friends, and that you enjoyed this post. I look forward to chatting with you and seeing you all again in Friday's blog post!
XO,