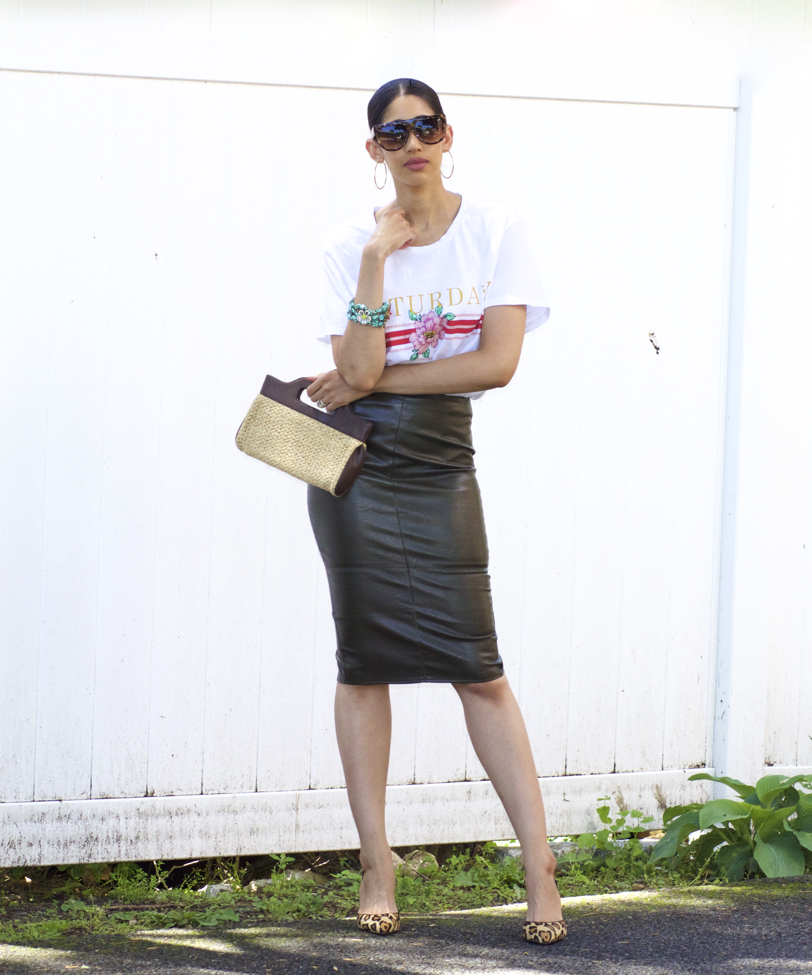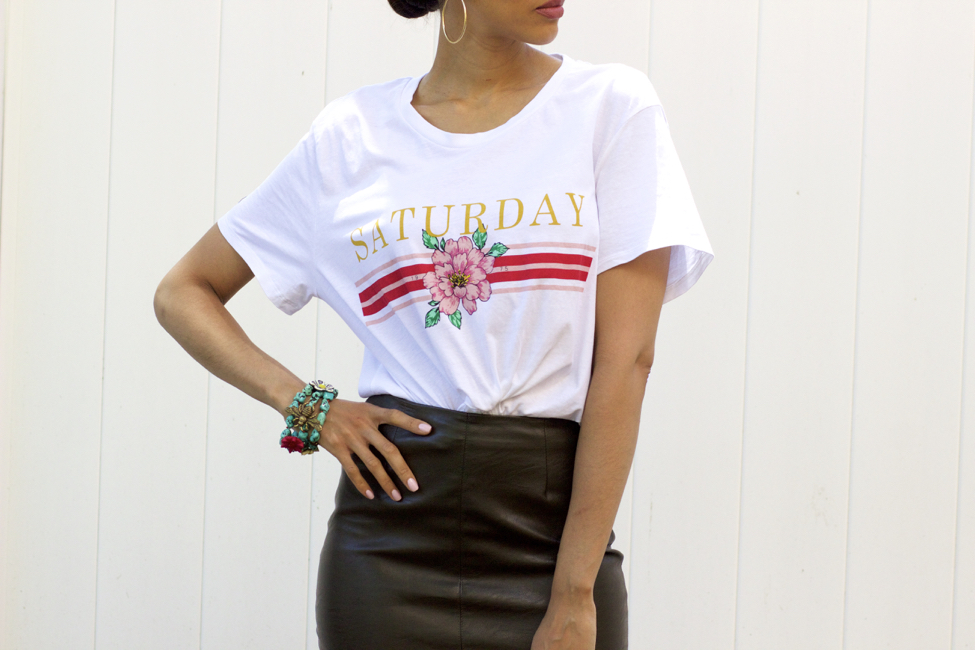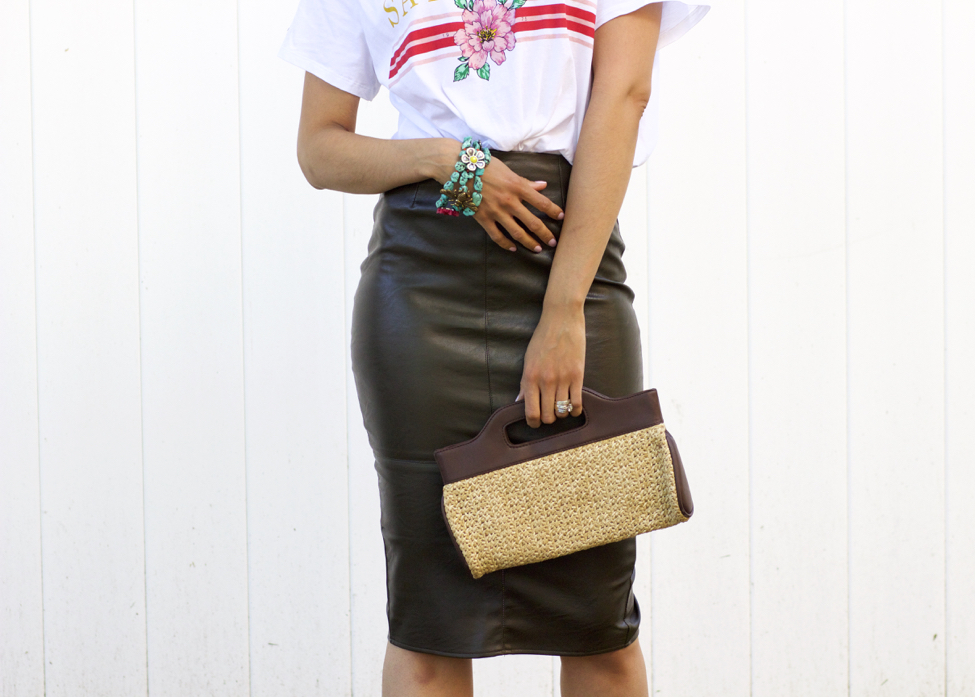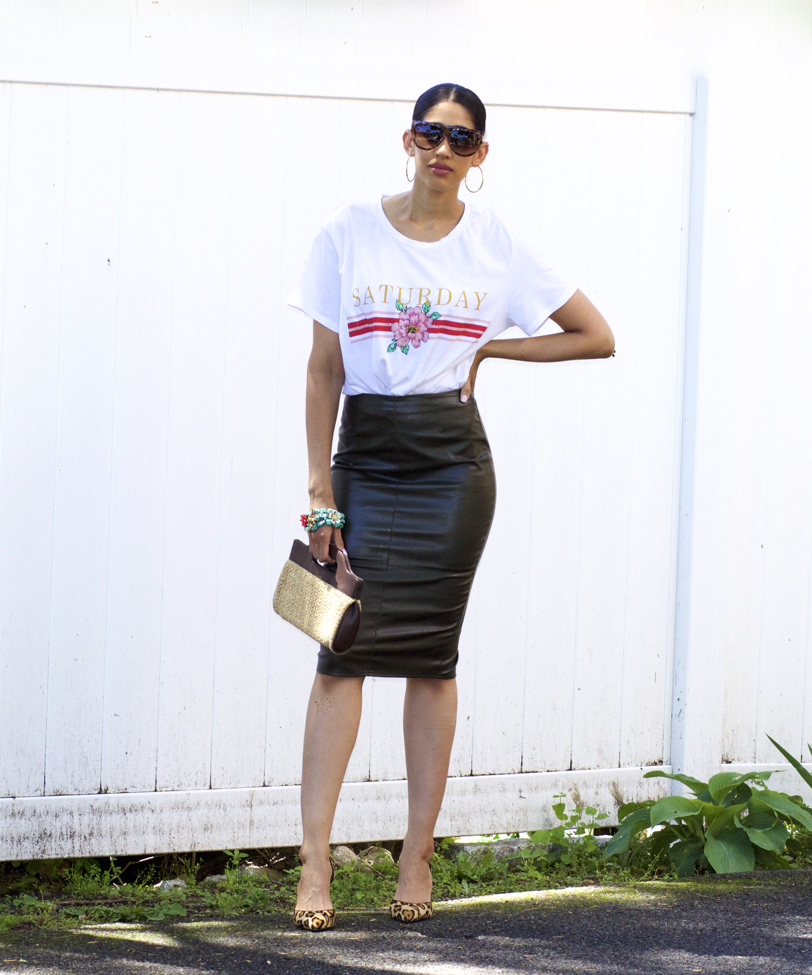 TEE | SKIRT: Similar | SUNGLASSES | CLUTCH: Similar | BRACELET: Similar | SHOES: Similar
---
---
Happy Monday my beautiful friends!
You all know how much I love graphic tees, I've talked about them quite often here on the blog and wore them a lot when I was pregnant especially. I noticed that I often talk about dressing them up with blazers (see examples here & here), but there are definitely other ways you can dress them up, such as with a pencil skirt, as I've done today. The one I'm wearing is faux leather, so it's not heavy for the summer months, making it a great option for a summer night out when you know it'll be a bit cooler.
Yes, faux leather can be worn all year long.
Graphic, slogan, and logo tees have been trending hard for the past few seasons, especially logo tees, with GUCCI taking the lead. Due to its popularity, many brands have drawn inspiration copied the design and have made it easy to get the same look for less. The one I'm wearing is from H&M and is a cropped style. I've styled it once before, where I mentioned the sizing and fit, which you can check out if you'd like a reference and to also see how I styled it in another look.
If you feel the leather isn't practical for you, you can opt for a stretchy cotton pencil, it'll create a very similar feel, since it's a fitted skirt. Fitted skirts and dresses can still have a more dressier feel regardless of fabric as opposed to looser options that have a more casual feel. Plus, they tend to create and highlight one's shape, making them a flattering option for anyone, since it draws attention to the smallest part of the waist and when paired with a slightly oversized graphic tee, you get that perfect cinched effect.
How are you all feeling about the graphic and logo tees trending? Have you jumped on board to support your love for some of your favorite brands?
Thanks so much for stopping by, my sweet friends, and I hope you have a great week ahead!
XO,