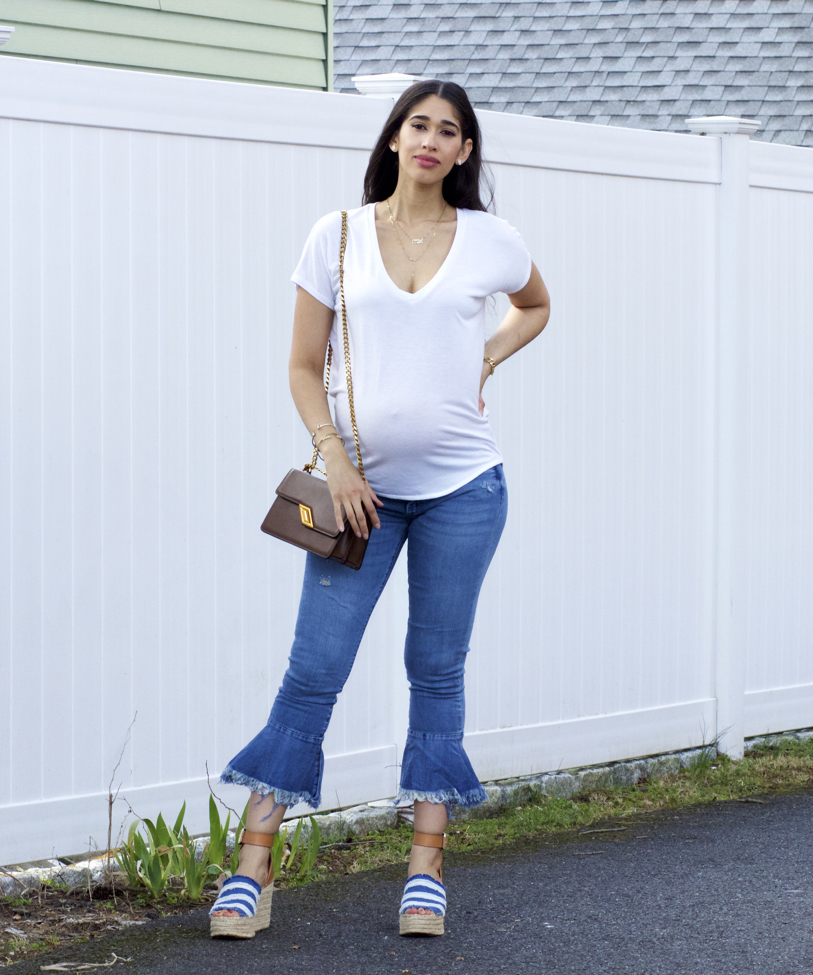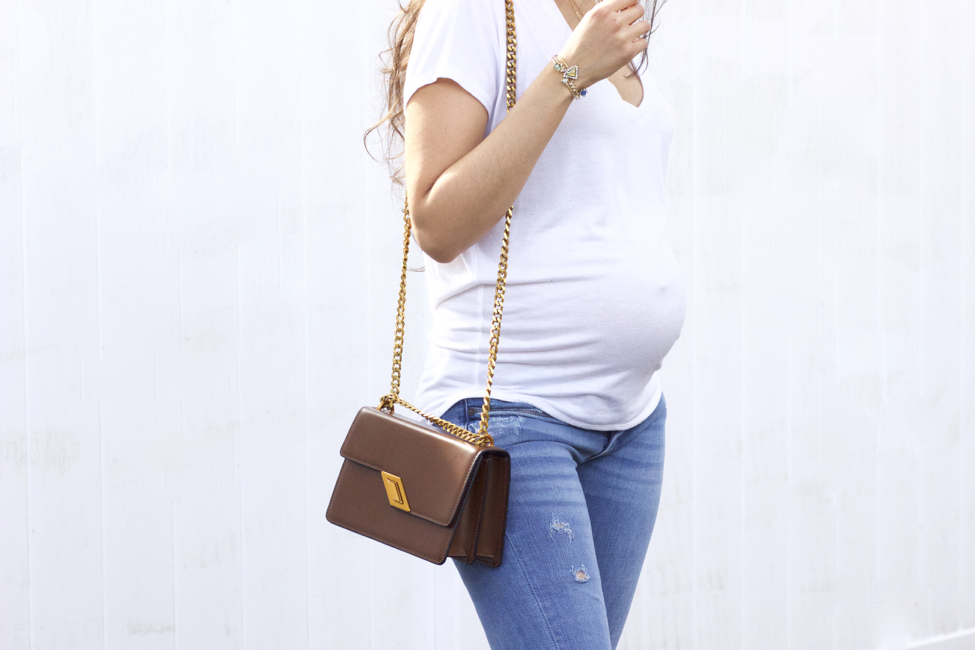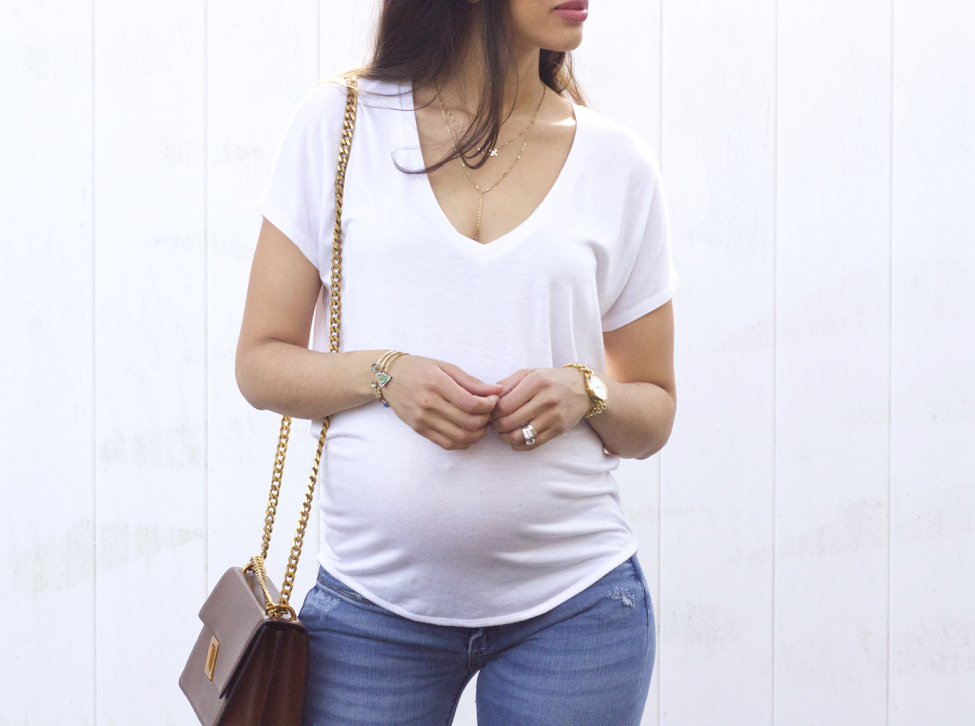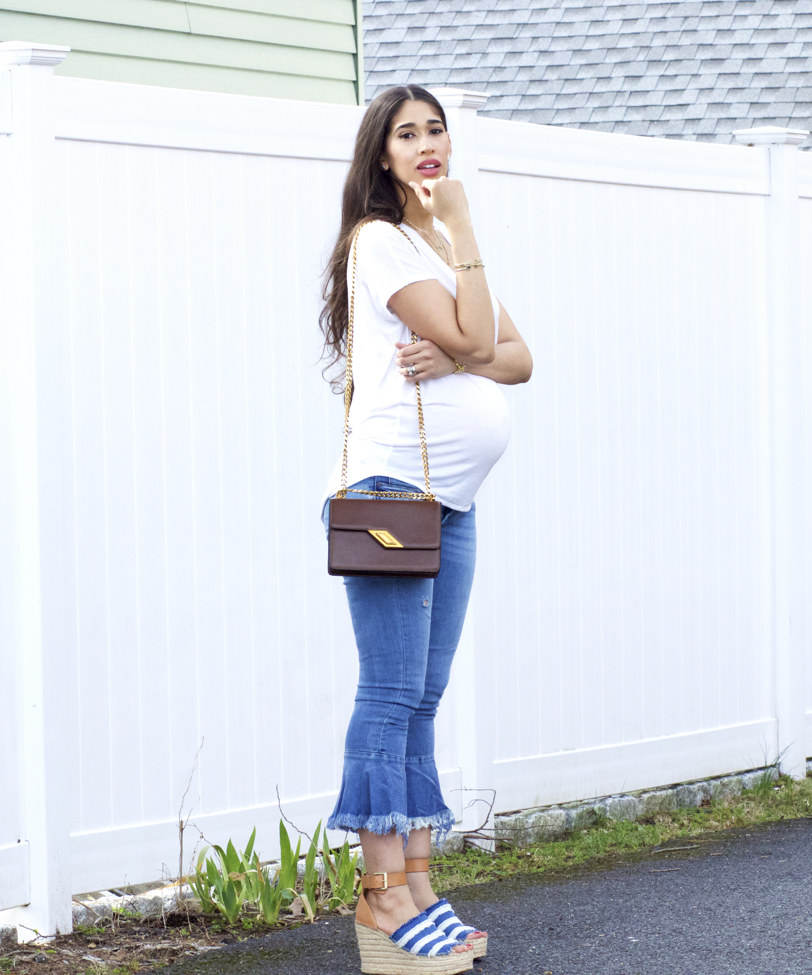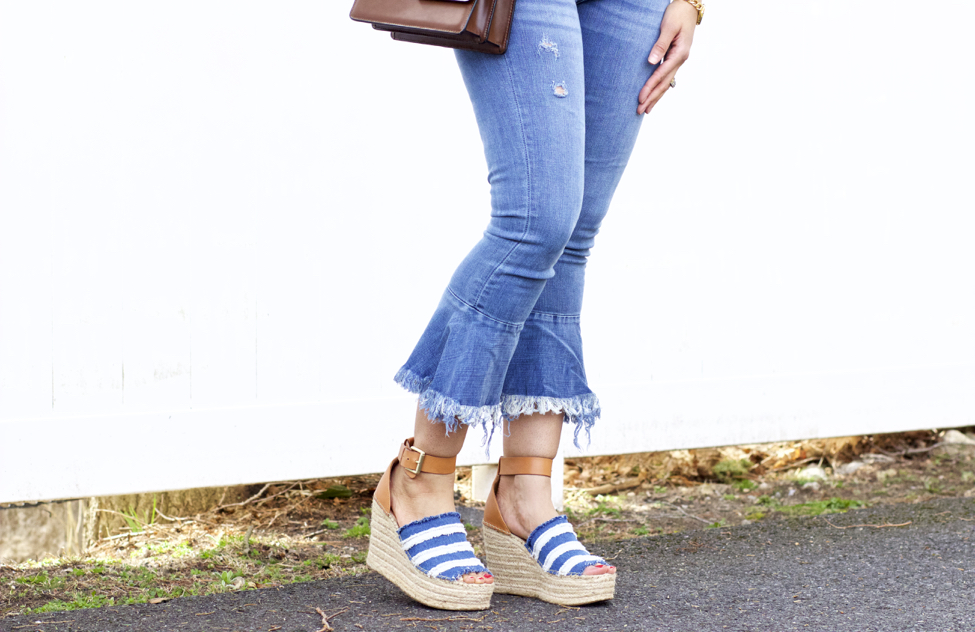 TEE (they run large, size down for a snugger fit) | JEANS: Similar | BAG: Similar | SHOES: Similar
---
---
Happy Monday and Happy May my beautiful friends!
It certainly feels like forever since my last post, which was roughly a month ago. I kid you not, every time I would have the intention to prep a post, something would come up that would get in the way. In addition, I'm sure you can imagine how hectic things are getting by the day with being 7 months pregnant now with a toddler! Aviah is home with me full time. I don't have any assistance from family members or a nanny and Eddie has 60hr work weeks, so it gets pretty challenging. Once I find a formula that works, I can promise more consistency. Until then, I urge you to subscribe to my blog via Bloglovin', so you'll know when a new post is up!
Today's look and photos were actually taken a few weeks ago, but I didn't get a chance (as mentioned) to share. My belly is much bigger now! I have a feeling this one is going to be both heavier and longer than Aviah, which I hear is relatively common with proceeding pregnancies? I definitely feel bigger, even though I'm on track to gain just about the same amount of weight I did the first time around. I just feel her moving around hitting the ribs all the way to the side of my waist and down. She seems much more cramped than Aviah did.
Since it's May, we're of course still in the midst of spring, which means that the weather is constantly fluctuating and during months like this, many of us are wearing denim. Today we're narrowing in on jeans, since denim does come in many forms. I'm sure that many of you wear jeans in the summer as well, as do I, but we do have more options in wearing dresses or skirts than we do during colder or transitional months. That said, we can often fall into a rut with our jean choices—perhaps without even realizing it. How? When you just find yourself ill inspired and bored with your wardrobe, feeling the urge to go out and shop when you may not necessarily need something new.
So what's the solution to preventing such feelings and dilemmas?
Well, to be entirely honest, I don't think that feeling is one that can ever really vanish entirely because we're constantly being inspired to try new looks and trends or at least we should be, even just the slightest. We can, however, prevent it from happening too often and one way to do so is to experiment more with your jean styles. Nowadays, there are so many different styles to choose from that can easily work well with your personal style and the vibes you wish to create with each outfit you put together. If you find yourself staring at 20 pairs of skinny jeans, it may be time for a change, lol!
I'm not suggesting you go out and purchase an entirely new eclectic denim collection, so don't get nervous. What I am suggesting is that you allow yourself to experiment with some styles that are more interesting or slightly different than what you'd typically go for. But, If you're completely devoted to skinny jeans and don't want to compromise, perhaps you could go for a style that has a really fun twist on the hem, such as this pair with the lace detail, or this pair with the grommet hem details, which would look so cute with a classic white button down.
Perhaps, for you, it's not necessarily the details on the hem or jeans itself that you're interesting in changing, but the color. For a while I found myself staring into a dark sea of blue skinny jeans and realized I need a change. So, I added a couple of white, black and grey pairs into the mix and it helped transform some of my outfit formulas. A pair of skinny blue jeans don't have the same tone and vibe of a pair of distressed black, which have more of any edgier feel. So, if I'm feeling edgy one day, I can instead reach for that pair and put it together with a simple white tee and not necessarily have to try to create the vibe I want, whereas with the plain blue, I'd have to think more about accessories to create the same effect. Makes sense?
For today's outfit, I was going for more of a relaxed, boho-ish kind of look (perfect for spring by the way) and the cropped flared frayed (say that outlaid three times, lol) jeans did it for me, especially when worn with the denim wedges. A relatively simple outfit, while still denoting a particular tone or style. I was actually quite surprised that they fit, considering they're not maternity. They are quite stretchy, but I don't think I'd be able to squeeze into them now, lol.
I want to know what are some jean trends or styles are you loving or eager to embrace?
I hope this post inspired you and gave you that gentle nudge to switch things up a bit! Thanks so much for stopping by and do check back on Wednesday. I'll be sharing a tone of products I purchased Eddie and I (yes, I encourage him to follow a skincare routine, lol) during the Sephora spring sale, which ends today, so stock up if you need to!