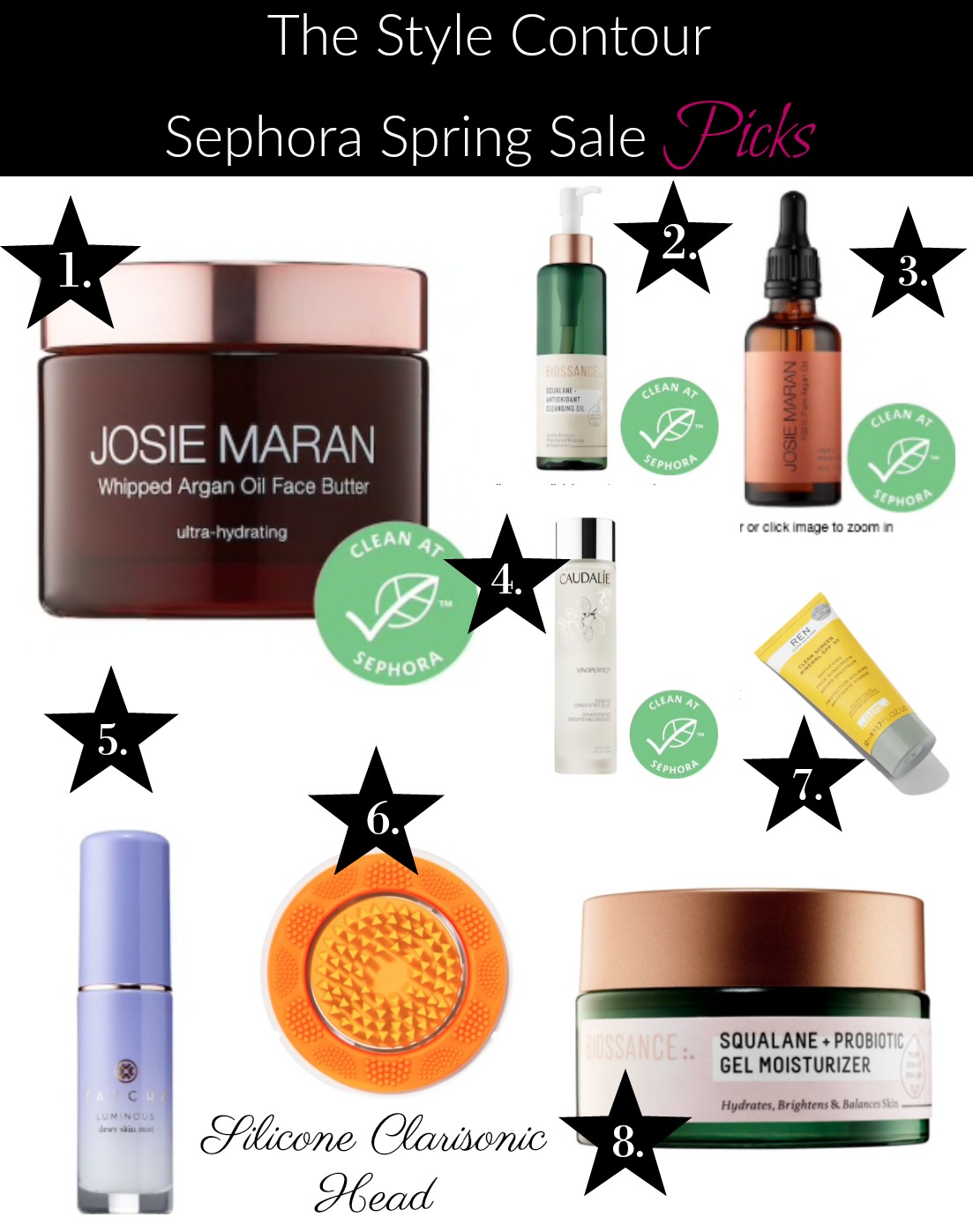 ::SHOP THE COLLAGE::
---
---
Happy Wednesday friends!
If you're a Sephora shopper then you know they just ended their annual spring sale on Monday. I've only been shopping the sale since last year, which I had shared on stories that I had gotten the Fresh Brown Sugar Body Polish Exfoliator and Caudalie's Deep Cleansing Exfoliator. I ended up really loving both products and did a review on the Caudalie exfoliator, which you can read here.
All of the brands I purchased from, with the exception of the Clarisonic, are new to me in that though I've heard of them, I've personally never tried anything from each brand. The brand I'm most excited about exploring is Tatcha.I'm going to start off with the cult favorite Luminous Dewy Skin Mist. I've heard nothing but great things about it and I haven't been using a makeup setting spray for a while, since I've parted ways with the one I'd been previously using from L'Oreal a few years ago. Though I do have combination/oily skin, I do like a dewy, healthy glow finish to my makeup and I'm curious to see how it would work with my skin and makeup overall.
I'm also really looking forward to trying out this Biossance Squalane + Probiotic Gel Moisturizer. It's another brand I've heard such great things about and this particular moisturizer is always selling out. I've had it in my 'loves' for a few weeks and it kept saying sold out. When I was ready to purchase everything and checked to see if it was back in stock, I literally rubbed my eyes because it was indeed back in stock. As I'm typing this up (Tuesday night) it's sold out again. But, just add it to your loves, like I did, if you've been wanting to try it out too and eventually it'll be restocked. I'm also intrigued by it being a gel moisturizer, a formula I've personally never tried before.
I'm also quite excited to try this Clarisonic silicone brush head. I've had my Clarisonic for years and have tried nearly every brush, except this one. Silicone is much more sanitary, so I'm assuming I wouldn't need to replace it as often and it would be much easier to clean.
One last thing I want to mention is that all of the products here are rathed clean at Sephora, which simply means that they don't contain harsh chemical additives, such as parabens or sulfates. I actually went a step further before purchasing everything by copying and pasting the product names into EWG's Skin Deep Cosmetics Database to see their ratings. I've been trying to be more informed about the ingredients in the products I eat and consume and not just because I'm pregnant. I've realized how much of a negative impact certain chemicals can have on our overall health, especially when used everyday. This isn't to say that I only use products that are completely free of certain chemicals, but the vast majority of the products I use in recent years are and will continue to be. I encourage you to type in some of your favorite brands and product names into the EWG database to learn more about the products you're using. It'll tell you if the chemicals found in them are linked to fertility issues or even cancer.
I'm excited to receive these products in the mail, they're supposed to arrive tomorrow. I'll get started on trying them out right away, so I can review each and let you know my thoughts.
Did any of you shop the sale? If so, what did you get? Are you familiar with any of the brands and products I've shown here? I'd love to know your thoughts!
Thanks so much for stopping by, my friends, and I'll see you all on Friday with a new post!