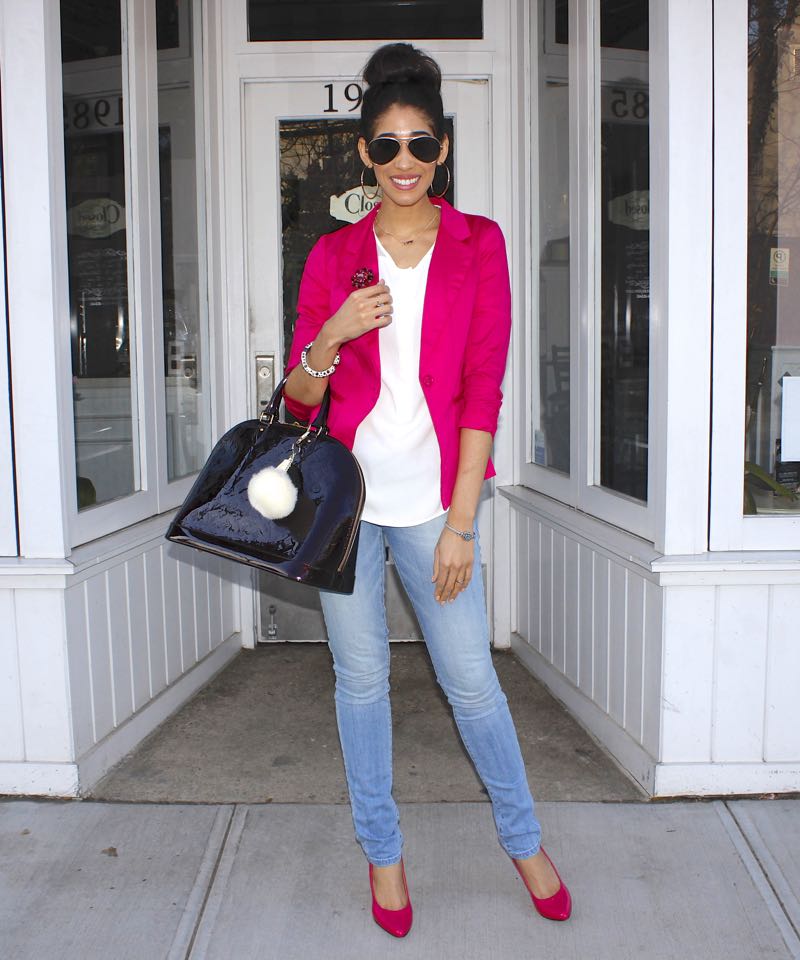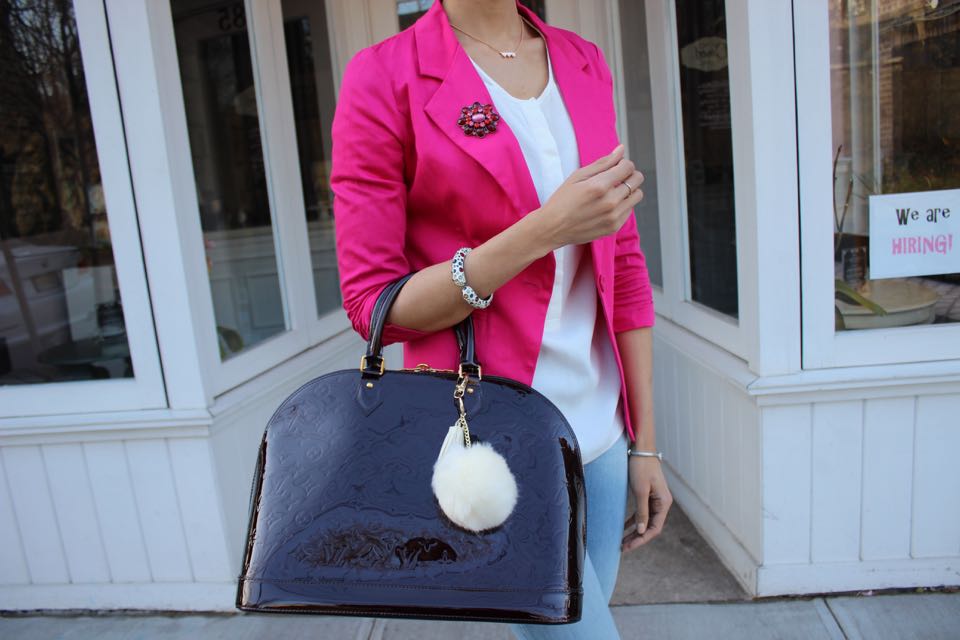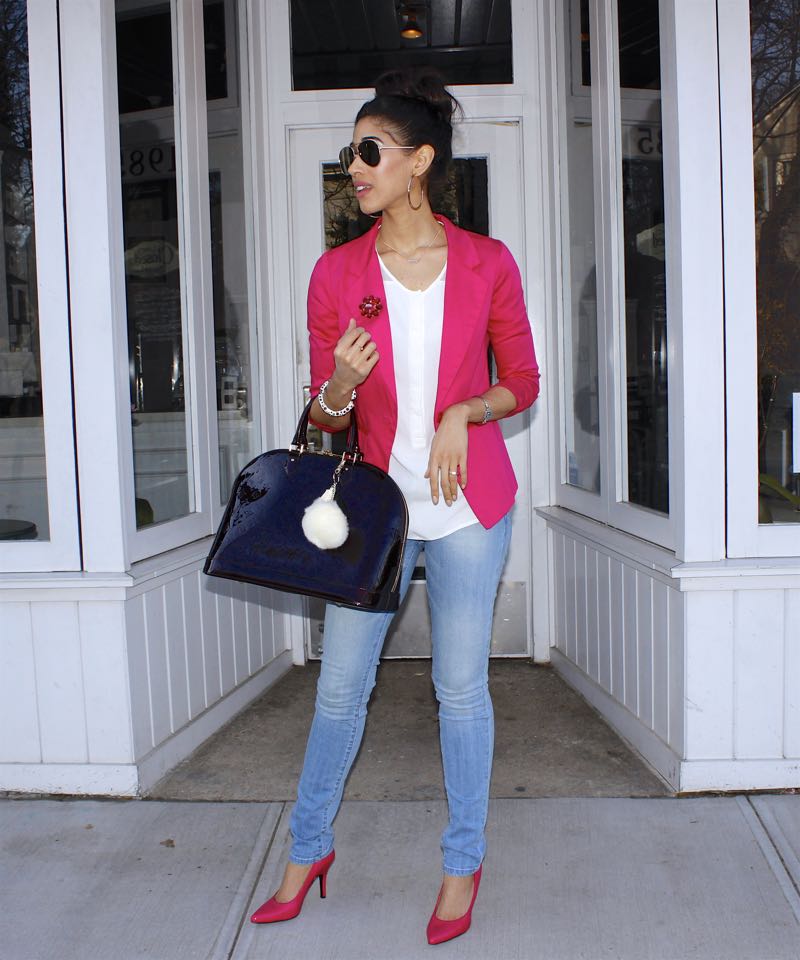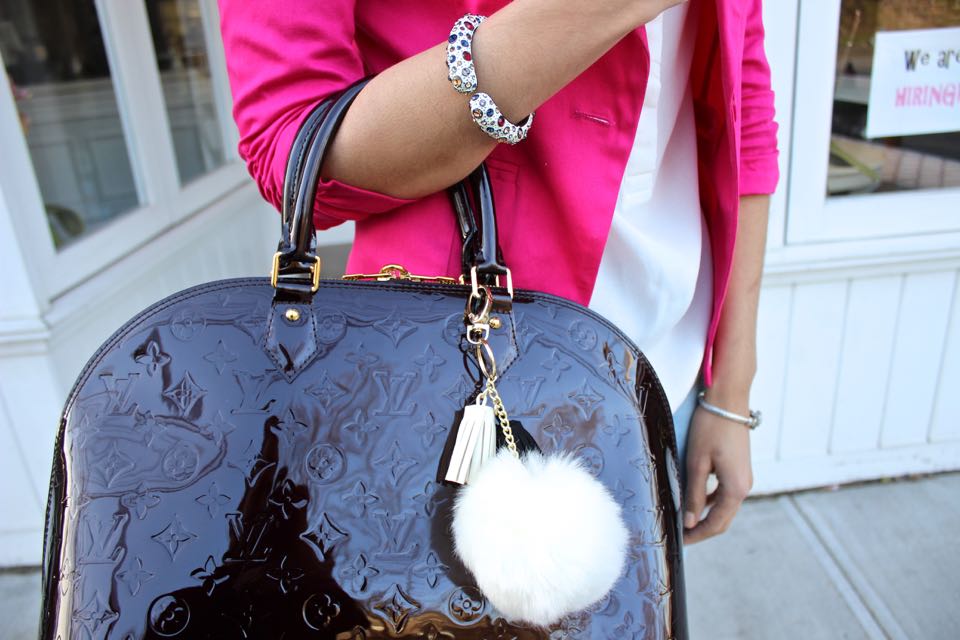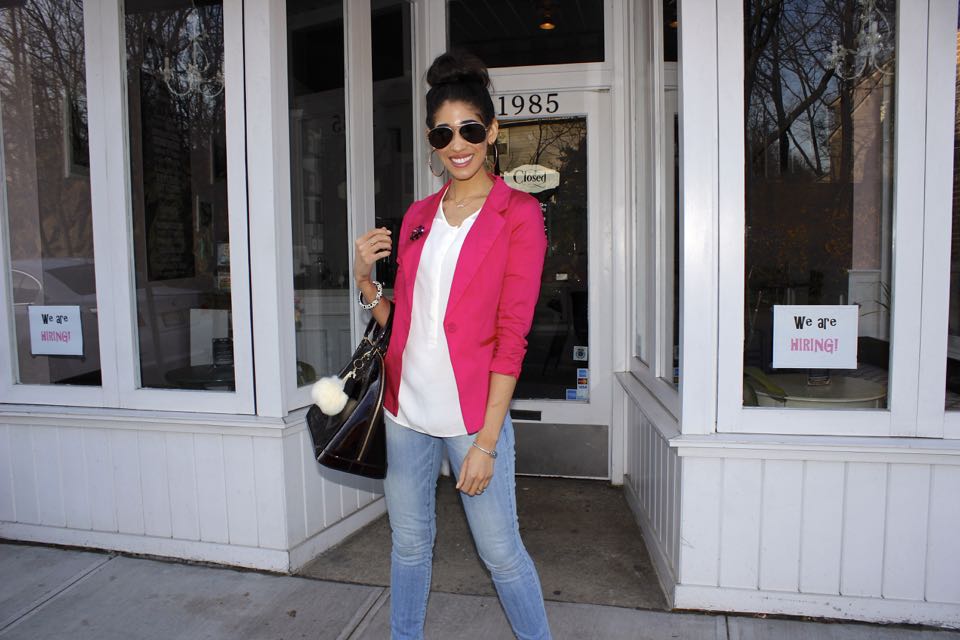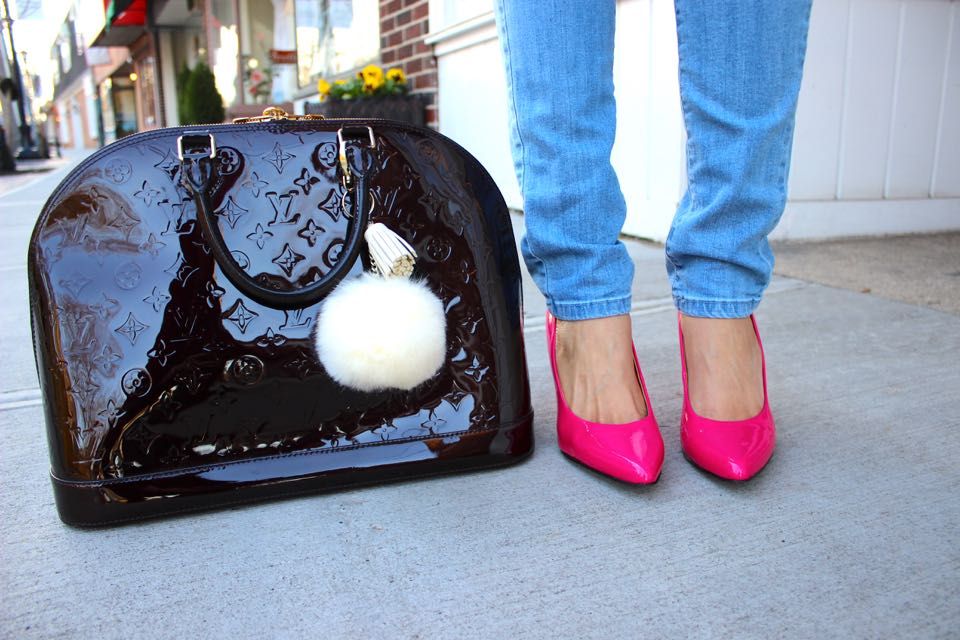 GET THE LOOK!
Blazer: Charlotte Russe (similar style HERE) // Brooch: Gifted (similar HERE) // Blouse: Marshalls (similar ON SALE 25% OFF HERE) // Jeans: GUESS (similar HERE) // Heels: Nine West (similar HERE) // Purse: Louis Vuitton (similar HERE) // Gold mirrored aviators: Marshalls (similar HERE)

Happy Wednesday, friends!
I promise that I haven't committed to wearing only pink from now on, but for some reason, I've been reaching for it a lot lately and I really don't know why! In fact, I didn't even realize how many pink pieces I have in my closet until recently. It's almost as though one just randomly appears upon opening my closet. Can you imagine if that really happened? Each time you opened your closet, something new would just be hanging there waiting for you? Hey, a girl can certainly dream and I'm all about turning dreams into a reality, although I'm not sure how that one would work, haha!
Anyway, if you've been following this blog for some time now, then you know how much I love wearing color. Don't get me wrong, I'm all for a neutral monochrome pairing or an all black everything look, but I just instinctively reach for colors and patterns more. While there is no doubt you'd get more use out of a neutral solid piece than you would one that's in a vibrant color or print, there are certainly creative ways to style them differently each time around. One way I love to wear color is to color block. Although color blocking has been labeled a trend in seasons past, I don't necessarily view it as a trend, but more like an approach or styling technique. If you're unfamiliar with what color blocking is exactly, then I suggest you take a look at my post, Color Blocking: Understanding the Color Wheel, where I really get into depth about the technique.
Today I'm giving you a simple, quick tip and that's to reach for colors that are within the same color, but have a different hue. For example, for today's look, I combined my fuchsia blazer and heels with a very deep and rich burgundy satchel; the combination is further depicted and enhanced in my brooch. In short, think bright and dark for the color you wish to experiment with (blue is a very popular color this season, feel free to take a look at how I used this same technique for styling it here here).
One last tip would be to wear the lightest hue in an area that you're confident about and wish to highlight and the darker hue in an area you either wish to conceal or down play. This strategy has the same effect on the body visually as wearing black and white, the most classic and simple color blocking duo.
As always, I hope you found this post helpful, my dear friends! Is there a color you like or wish to color block with? Thanks so much for sharing and I hope your day is as lovely as YOU!
XO,